Malham Tarn, Fountains Fell and Out Fell
Google Maps
Open Source Maps
| Statistics | |
| --- | --- |
| Start: Malham Tarn | Distance: 11.2 miles (18.0 km) |
| Climbing: 464 metres | Grid Ref: SD 89432 65804 |
| Time: 4-5 hours | Rating: Hard |
| GPX Route File | Google Earth File |
Ordnance Survey Explorer Map (1:25,000)
---
Exclusive Sale: Ordnance Survey Maps App
:
Full coverage of England, Scotland and Wales - All mapping scales. *Offer ends 14 February 2021. Apply voucher code at checkout STAYLOCAL to get one month for just £1
---
Summary: The first walk of 2019, on New Year's Day, was on new trails for me. I had been up Fountain's Fell before, just once, from Silverdale on the north side of the fell. Then it had been a quick up and down to see what was there and I found lots of bogs and peat hags which the fell is noted for. This time I choose to climb Fountain's Fell from the south by following the Pennine Way from Malham Tarn and then returning via seldom explored Out Fell and by finally following the quiet moor road east back to the start. In all, around 12 miles of pleasure to welcome in the year 2019.
---
The Walk: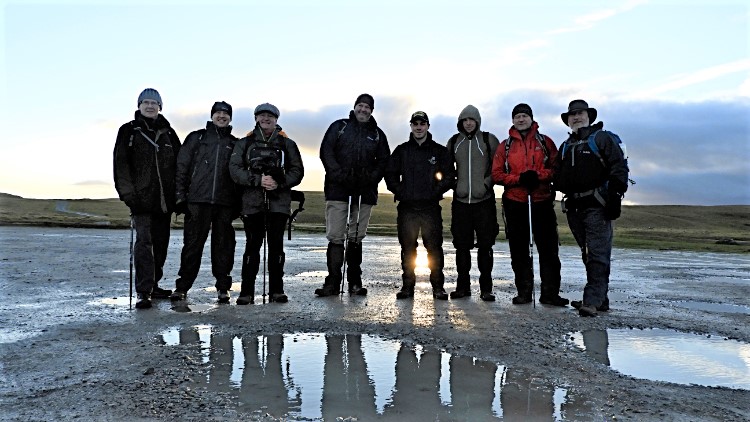 Eugene, Adam, Dave, Tim, Adam, Thomas, Mark and Steve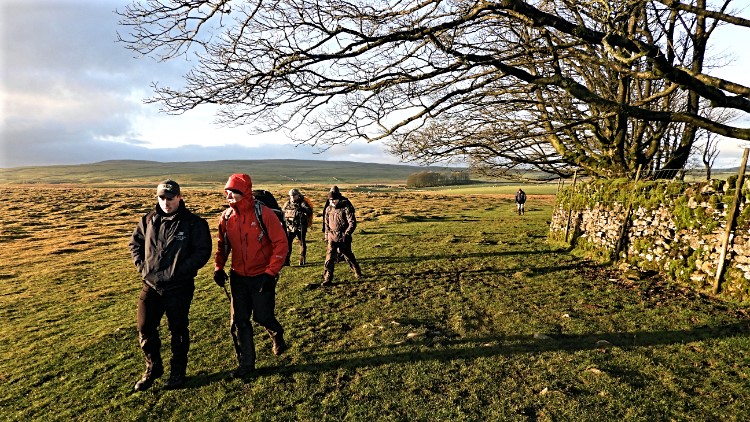 Making new friends at Lings Plantation
The first walk of the new year is always exciting. I cannot recall the last time I had not been out and about walking in the countryside; it has become an essential event for me. In recent years I have put out the call for people to join me if they wish to and this time 1-1-2019 set a record. We set off as nine and soon would be ten. It was a great day before a step had been taken. First, on traveling from Gargrave to Malham I was stopped in the road by the biggest congregation of birds transiting from field to field in search of food. They blacked the brightening sky as they crossed over, filling the view from my windscreen with flapping wings. All gulls, it was a magical sight to start my wildlife sights of the year. Then at Malham Tarn I parked up and met the walkers who were joining me. Good old Tim, he is always there. He has been for the last few New Year's Day walks and more besides. And there were Adam and Thomas from Menston and Keighley. Previous New Year's Day walking pals. Eugene and Adam were new, father and son from up Bolton way. And Dave from Blackpool who had quite a story to tell. More on that later. Mark the adventurer from West Yorkshire and Steve the retired walker from the Bradford area made up the immediate team. I would get time to chat to all on the way around.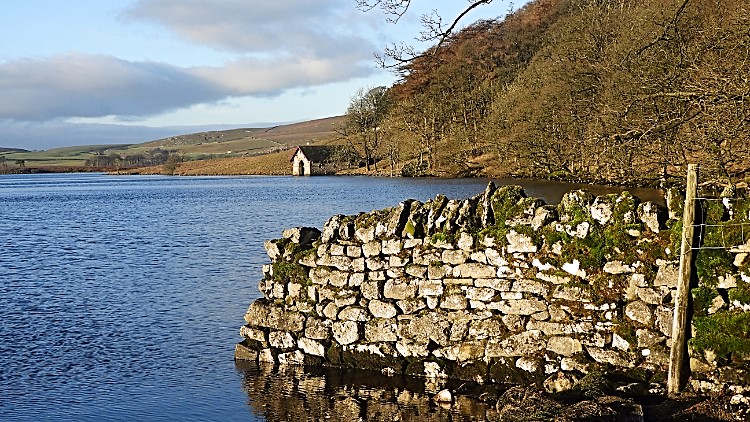 Malham Tarn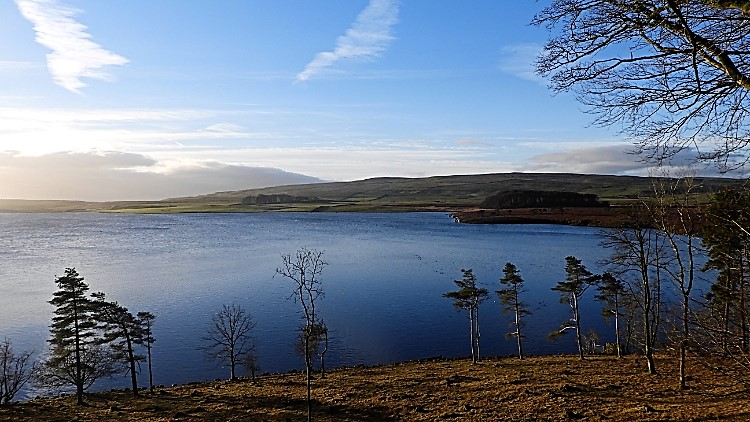 View across the water
It was a good start to the year. The morning was calm and the milky winter sun was beginning to shine from its ever low January orbit, casting long shadows for everything in its gaze. While it did not warm me in temperature it did warm me in mind. Winter sunshine creates shadowy shapes of interest which force attention. Our shadows cast before us were taller than us and tree trunk shadows extended to giant proportions. And while the sun was low it did not fail to light up the land. In fact it felt more highlighted by the giant torch sun shining on it. Malham Tarn looked stunning in the highlight of light, much more so than when blaring summer sun hazes it. Everything about the water was crisp and clear. The local and distant dry stone walls cast in light were dazzlingly bright too. There is much more to notice in focused winter light.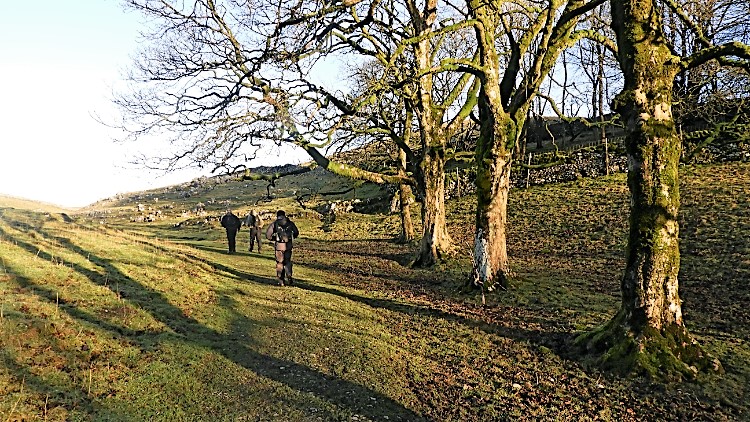 On the Pennine Way from Malham Tarn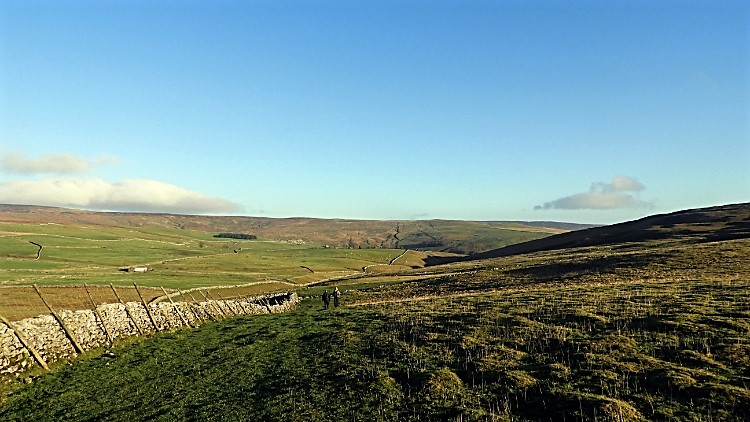 Great Hill, Pennine Way
We followed the Pennine Way path around the east and north side of Malham Tarn while observing and talking. Getting to know each other. Acquaintances were being made and stories were being told as we left the environs of Malham Tarn and began the undulating country walk to Great Hill, precursor to Fountain's Fell. We passed a line of mature trees with much taller shadow trunks. Then we left the region of trees and crossed open land, first hemmed in by field boundary dry stone walls to reach the Malham to Arncliffe road. No traffic lights required, this road and remote and almost exclusively used by the locals. There was not a car to be seen on this New Year's Day. Not in the fifteen or so minutes of our approach and our crossing. At the roadside the exposed limestone cliff of Great Hill Scar shone brightly. A small patch of white in the vast green canvas surrounding it. From the road we left the scar behind and passed close to Tennant Gill Farm to access the nursery slopes of Fountain's Fell. The climb was upon us.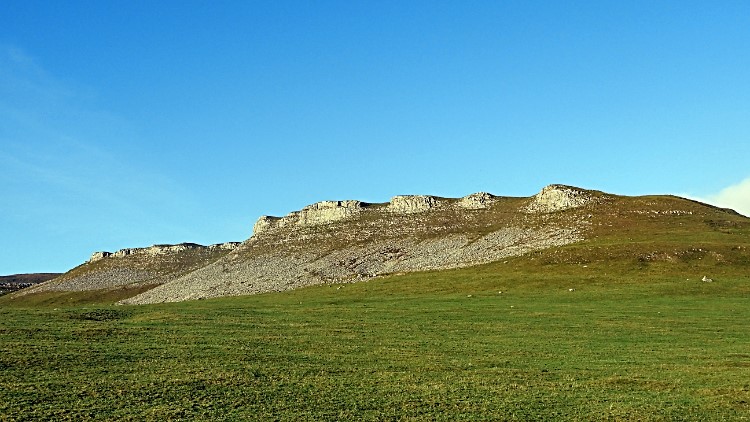 Great Hill Scar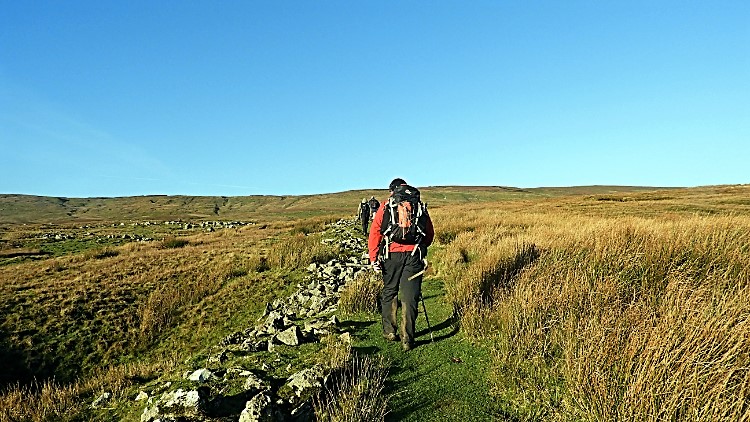 Beginning the climb to Fountain's Fell
The climbing was steady. A nice ascent had begun, not too taxing. In the next three miles of walking we would gain 900 feet, around 300 metres to the high point of Fountain's Fell at 668 meters. Being on the Pennine Way the path was also good and well maintained throughout so bog hopping was not an issue. That would come later on. While on the climb, which we took at a steady pace, small walking and talking groups formed. After a while they changed so most of the group got to know each other. And soon nine of us became a team of ten. Plus two dogs. I saw the dogs first, running up the fell behind with their master behind. Then as they drew closer I recognised Adrian. We had walked before and though a little late on his commute from York he had decided to join us. It was nice to see him. And to make my acquaintance with the lovely Labrador Ruby, also known as the Walking Dog. Ruby brought a new friend along too, Ella the Apprentice Spaniel.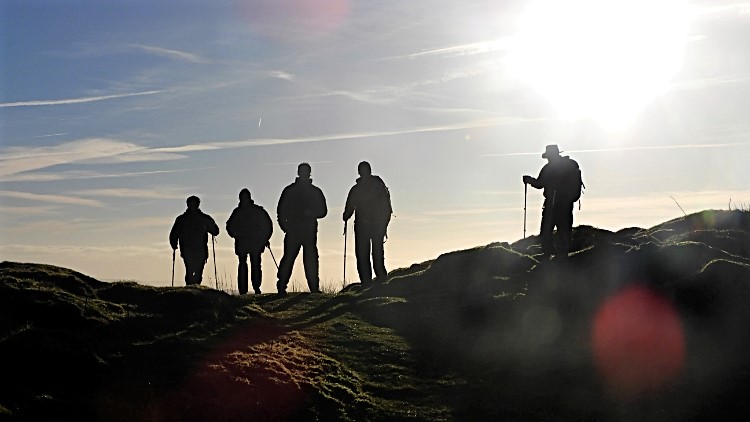 Silhouette's on the fell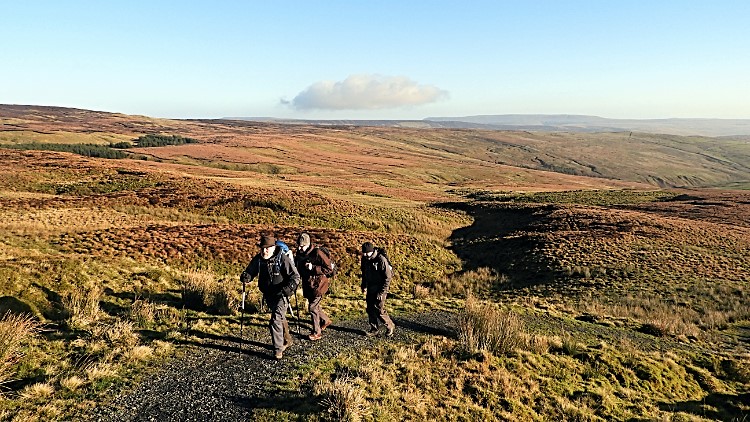 Pleasurable walking across wide open spaces
We all continued to converse as we continued the climb. Most of the group had not met any other before today. I was the catalyst for the encounter and I only knew four of the other nine before today so I made the effort to chat to the other five. Dave's story of how he was planning to do the Great Outdoors Challenge later in the year grasped my attention. Knowing it is a tough undertaking which many participants drop out of during the effort, even seasoned walkers, I wished him well. He reassured me he would prepare well and go all out to complete it. Then there was Mark and his passion for solo walking which takes him far and wide, sometimes at conflict with family commitments. He, like I, loves to walks solo and explore. I well know it is intoxicating and a habit requiring a certain kind of walk/life balance. Steve after an army life was enjoying retirement and loving being outdoors as much as possible. As were father Eugene and son Adam. They both shared a love for our countryside and that shared passion bonded them closer as they walked together. It was a lovely day out in great company and I felt invigorated long before we reached the top of Fountain's Fell.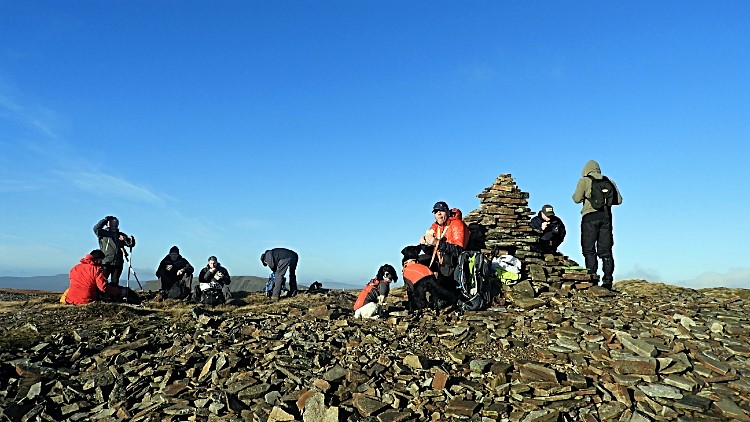 Lunchtime at the summit of Fountain's Fell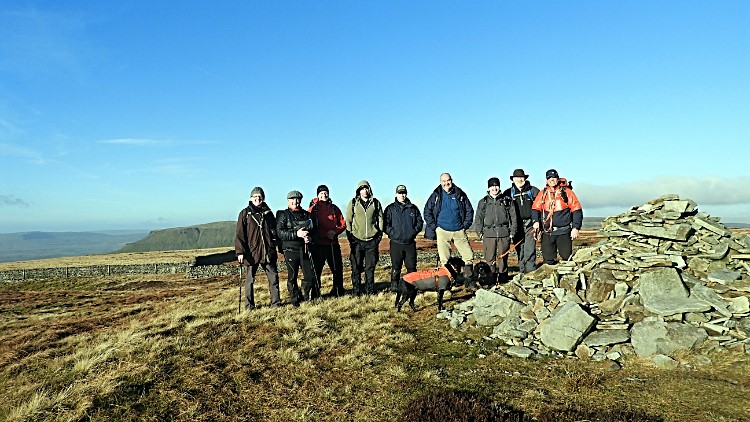 First group photograph 2019
While walking and talking I still had plenty of time for observing. And for admiring. The path itself, following the Pennine Way up to the cap of Fountain's Fell was interesting in itself. From Great Hill Scar first it twisted and turned, navigating around the west and north side of Little Fell. Here the path passes small limestone scars, generally the size of adult people. Sheltered the path was, just enough to keep the breeze off if there had been any. Generally it was flat calm. And sunny. We could not have wished for a better New Year's Day. After Little Fell was left behind the path beelined to the top of the fell, in a straight north and west direction, on a line about 30 degrees off true north. The land was open all around now, presenting wonderful widespread views of the rust and brown landscape. Gorgeous is the word. Walking, talking, viewing, admiring took us to the top point of our walk without the effort being really noticed. Not for me anyway. Once at the summit cairn on Fountain's Fell we stopped for lunch. The first lunch of the new year. Christmas Cake, home baked buns, left over Turkey sandwiches. Each were on someone's dinner menu. And hot drinks, most welcome as the chill set in soon after we had stopped working.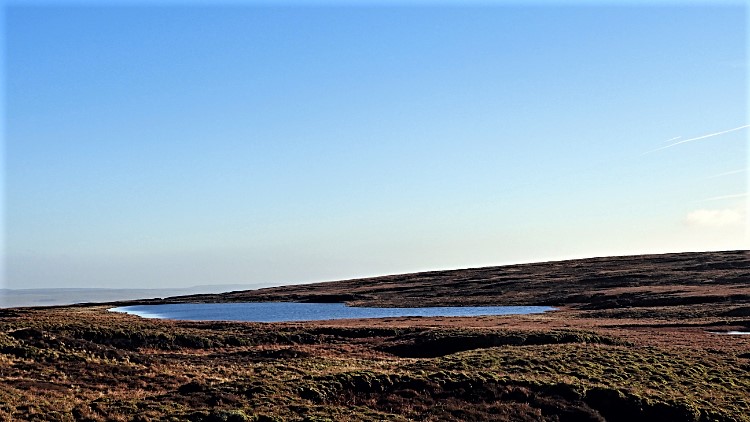 Fountain's Fell Tarn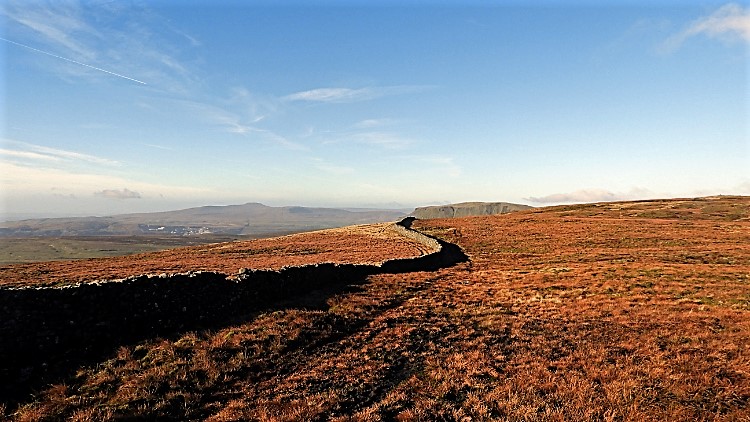 High plateau of Fountain's Fell
After lunch we left the route of the Pennine Way and tracked south-west across to the site of some disused coal pits. I could not find evidence of the industry, just a collapsed building near a cairn. From the cairn we turned left and tracked south east using a dry stone wall as route verifier. Now i was on the Fountain's Fell ground I remembered from the first visit. Boggy, squelchy and dominated by peat hags. Knowing Fountain's Fell Tarn would come into view on my left I looked for it and did not have to wait long. It was holding plenty of water, sitting central on the table top plateau of Fountain's Fell which extends across a 500 meter square. It was a luminescent golden brown in the glare of winter sun.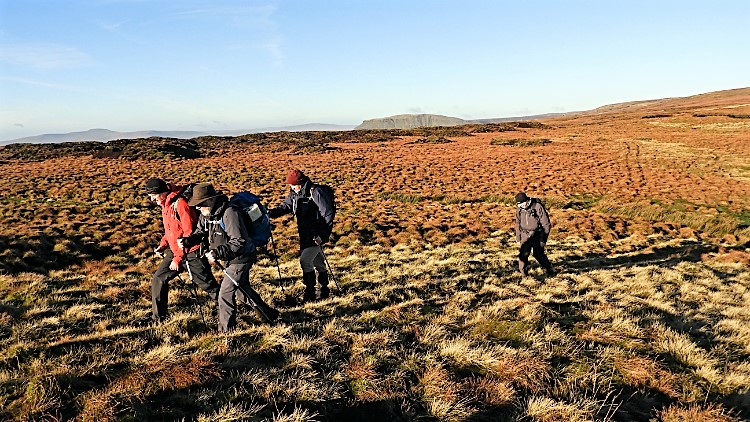 Making a trail to Out Moor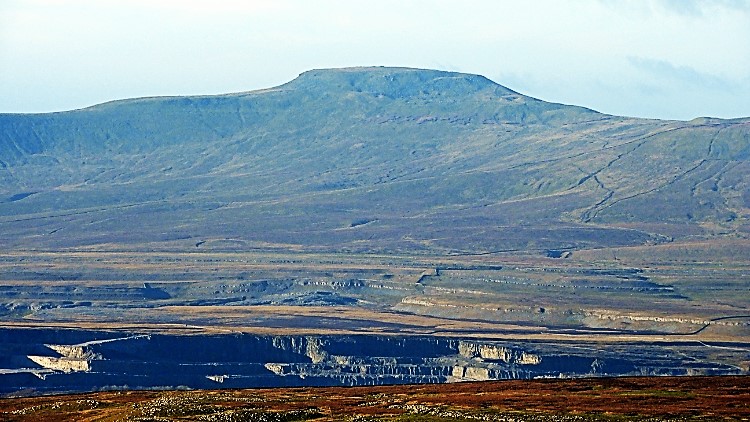 View over Horton Quarry to Ingleborough
We continued on the south east course and turned to due south once we walked off the table top. To our right came two magnificent views. First, one of Ingleborough, shimmering in full sunlight and distant, eight miles west of us. The artificial chasm of Horton Quarry stood directly between us and the mountain. Second, the stunning south east profile of Pen y ghent dominated that line of sight. At just two miles away and in full aspect, seen across the Silverdale gap, the mountain was much clearer. Less inhibited by air space between us. The line of scars halfway down the face of the mountain showed a clear fault line which is not seen as well on the other more familiar side of the mountain. I recalled revelling in a scramble between some of the scars pinnacles some time past. A carpet of golden brown moor completed the pristine picture. I declared Fountain's Fell a connoisseurs viewpoint for both mountains.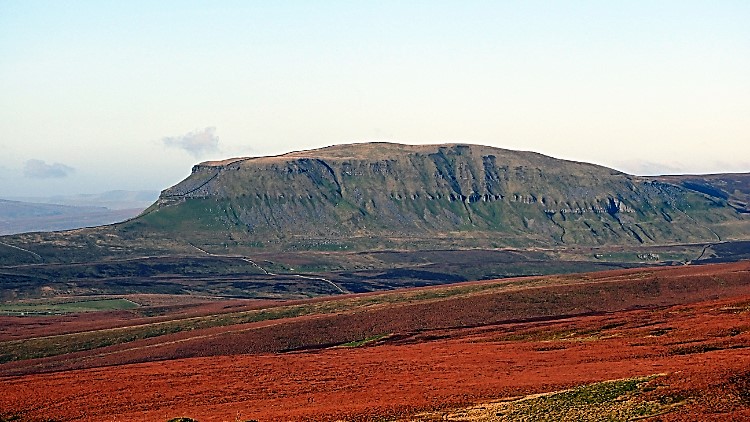 View to Pen y ghent from Out Moor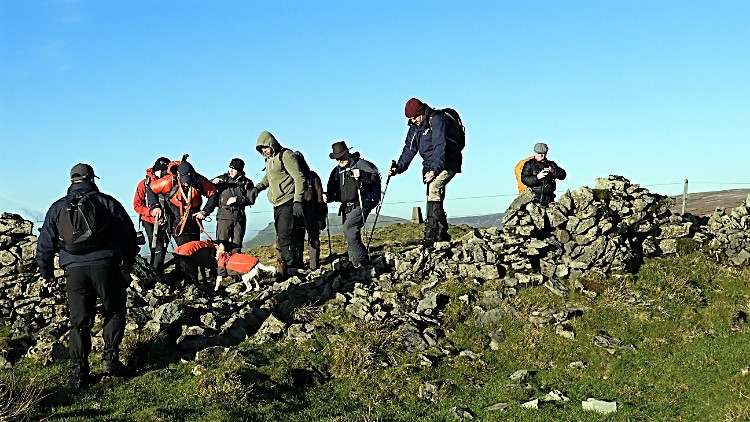 Near the trig pillar on Out Moor
Continuing south from Fountain's Fell and on to Out Fell, the paths of walkers preceding us fragmented and disappeared. Sometimes, as they often do, remnants of path appeared again. And then dispersed or disappeared again, usually in a boggy rut where everyone took their own decision of where to cross the mire. And regain the dry side without falling below the top level of the boot. Fortunately, as we were on a right to roam route now, a wall line kept us on the course of near true, though now and again we had to cross over the wall. No problem of collapsing it though, much of the wall was already at step over level. It was not a fully functioning wall in any sense of the word any more. No damage was done as we homed in on the object of Out Moor. My per-determined target had been a remote trig pillar in the middle of the open moor. I spotted it a made a direct line, walking to grid reference SD 86644 68559. We took a final short break at the trig pillar, a 593 meters high break.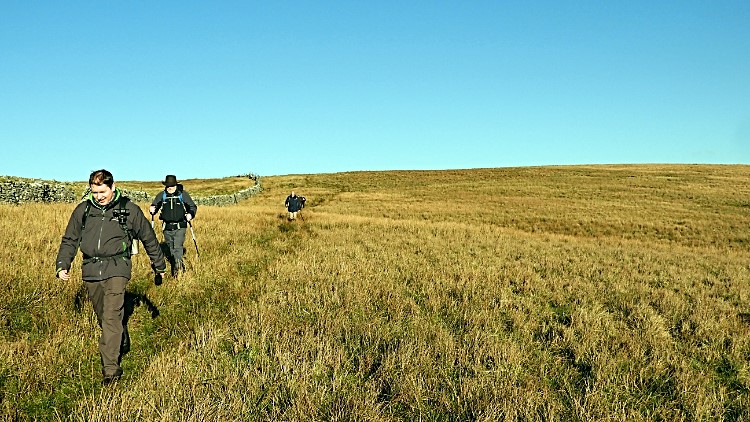 Tracking down Out Moor to the road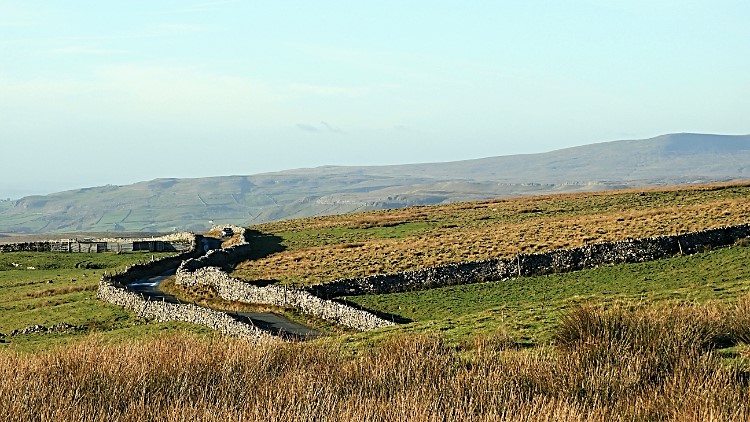 Dry stone walls show the way home
From the trig point the plan was to keep on the line of the drystone wall which would lead us to the Stainforth to Malham Tarn road and sure enough we first did that. While on the way down from Out Fell towards the road I took a chance read of the Ordnance Survey Explorer map and spotted the line of a path which would lead us down, a little away from the wall. We all agreed to follow it and so I led the line. About 50 meters on I put my left foot down and it kept going. My left bum cheek arrested my fall towards the center of the earth and with one foot about two feet lower than the other I collapsed in a heap. A narrow drainage trough it was and there were more around. "Darn this for a game of soldiers" I exclaimed. "About turn" suggested one of the team. Back to the wall we went which we followed safely most of the way down. Only when we spotted a field gate across the low part of the moor side field did we leave the security of our guide wall. Soon after we arrived at the sure tread of the metalled road.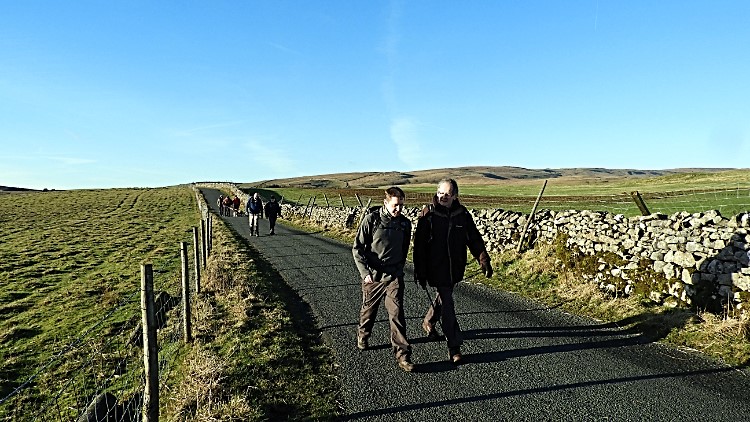 Enjoying a good chat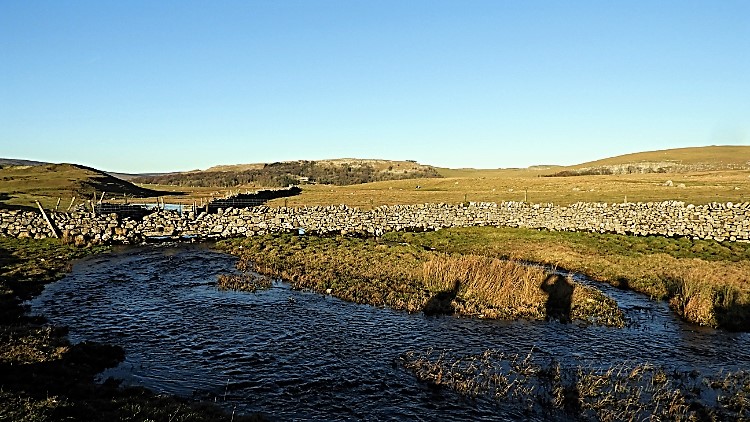 Malham Tarn Beck
On the road it was time to relax, amble and chat in small groups once more. Everyone was happy, or so it seemed. Smiling a laughing, walking and talking freely as it should be at the scrag end of a good day out rambling. Adam and Thomas garnered a little pace and led the way homeward. They got about 50 meters ahead of us all by the time they reached a junction in the road, left fork leading to Arncliffe, right fork leading to where the cars were parked. Inevitably they took the wrong one so I had to shout them back. By the time they heard me the 50 yards of gain was a deficit to half the group. They were safely back in the train though and in tight line we all walked casually back to the cars. In two miles of road walking the number of cars which passed us could be counted on one hand. It was no inconvenience at all. Back at the start we all agreed it had been a lovely day out and a great walk to boot. It certainly had.

Afternote: Dave managed to complete the Great Outdoors Challenge. Well done Dave!
Copyright © 2003-2021 Walking Englishman. All rights reserved.