Il Rogolone and Bosco Impero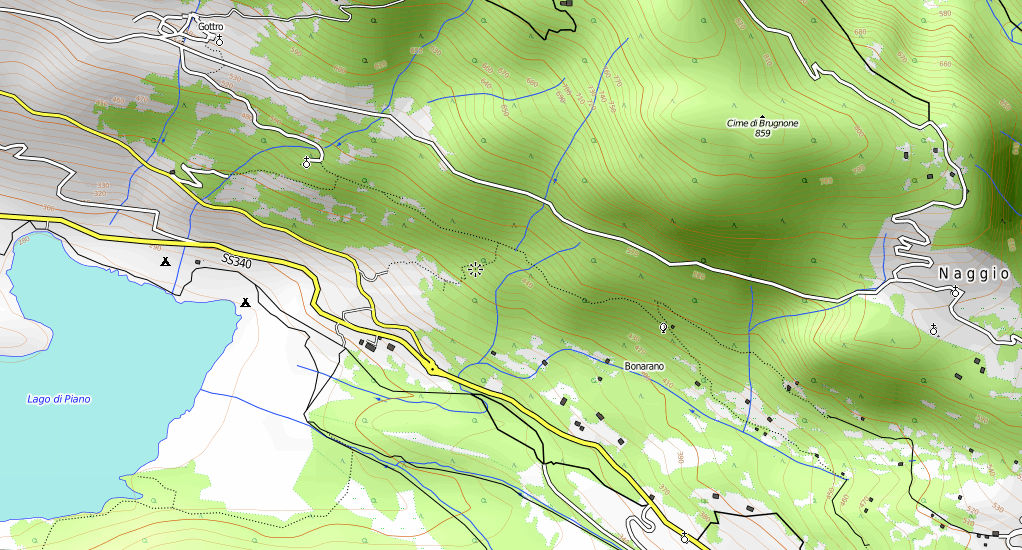 | Statistics and Files | | |
| --- | --- | --- |
| Start: Codogna | Distance: 3.5 km | Climbing: 100 metres |
| Grid Ref: N/A | Time: 2 hours | Rating: Easy |
| Statistics | |
| --- | --- |
| Start: Codogna | Distance: 3.5 km |
| Grid Ref: N/A | Time: 2 hours |
| Climbing: 100 metres | Rating: Easy |
Map
Lago di Como & Lugano 91 GPS D/I kompass (Aqua3 Kompass)
---
The Walk: This was the first walk of our Italian Lakes and Mountains holiday of 2007. I wanted to do a gentle walk of some interest in order to get Lil into the walking mood for the rest of the holiday. The short linear walk from Codogna to Il Rogolone, Bosco Impero and finishing in Scarpignana seemed ideal. And it would have been had it not been for the infuriating public transport system in these parts. More about that at the end. Meanwhile enjoy the 'walk' as we did.
Setting off from Codogna to Rogolone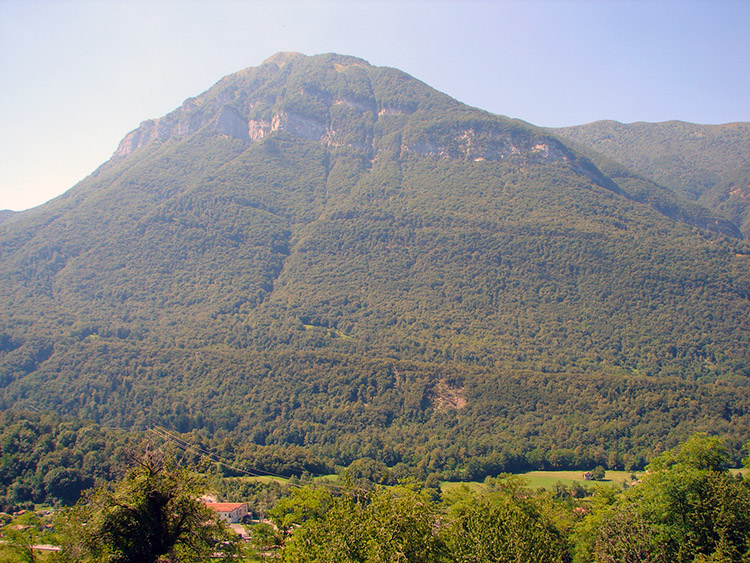 Mountain Glory
The walk starts in Codogna by the side of the war memorial. There is a bus service up to Codogna from Menaggio but we were staying nearby so we walked up from Cardano. Once at the war memorial we left the road by following a track on the left signed to 'Rogolone'. The track is on a flat gradient for the first part and it offers fantastic views to the south hills including Monte Di Tremezzo. First walk in Italy and already in walking paradise. I was going to enjoy this.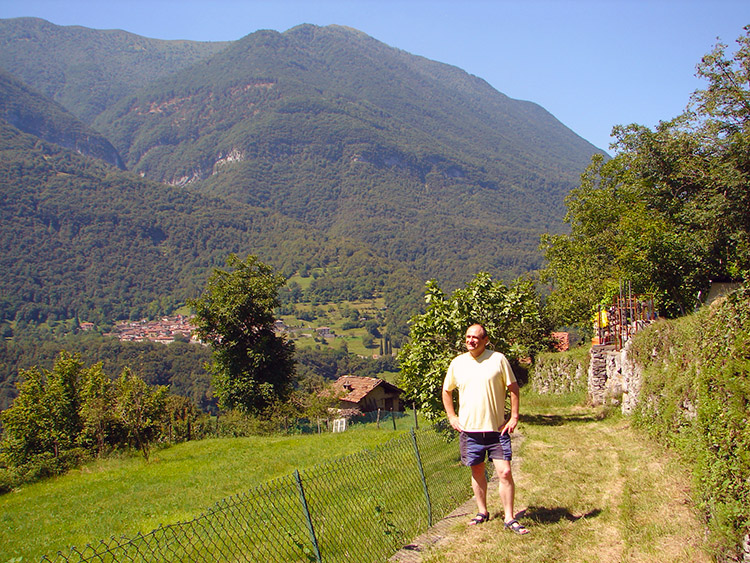 Lil insists I pose on the track during the walk to Il Rogolone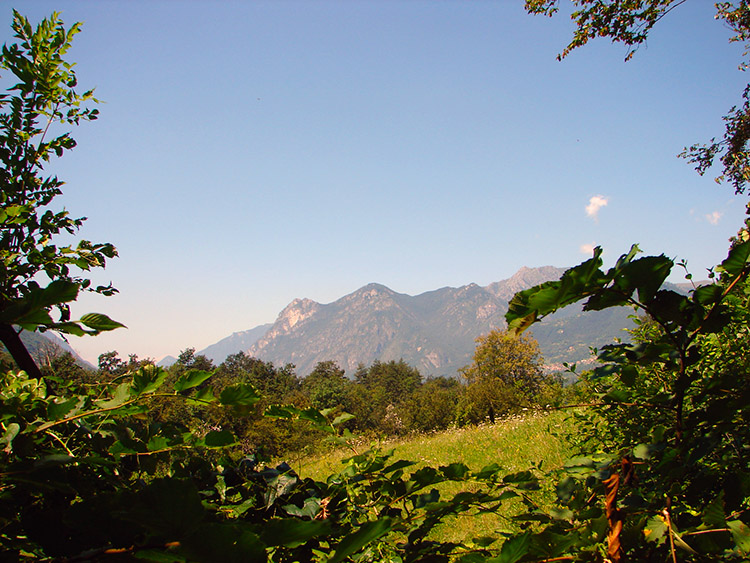 A super view of Monte Di Tremezzo from the Codogna to Rogolone track
What was more enjoyable was that Lil was happy too. Not the most enthusiastic walker at times my wife but the walking to Rogolone was just perfect for her. She enjoyed all bar the creepy crawlies that jumped out of the way as we approached and enjoyed even less the ones that jumped on her for a bit of a nibble! The track closed in at times sometimes by hedgerow, sometimes by copse and sometimes by walls built by the local farmers. We also came across our first stock cows with bells on. They were not doing much as the heat was building now.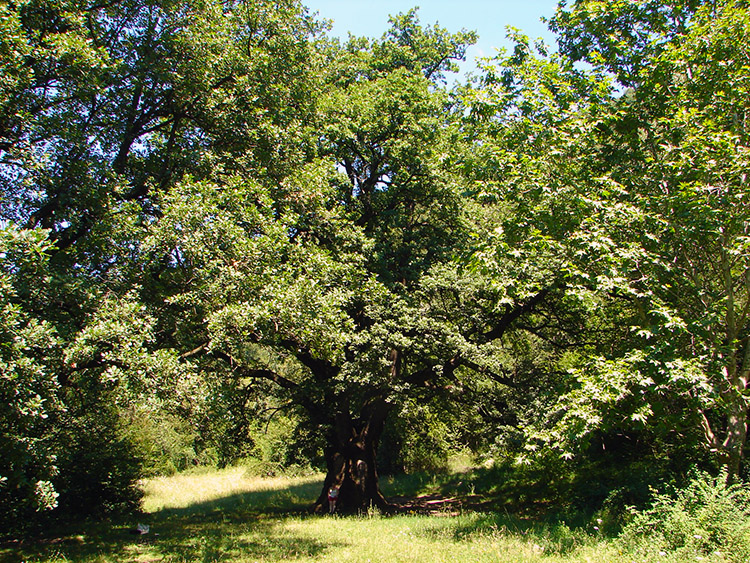 Il Rogolone Oak Tree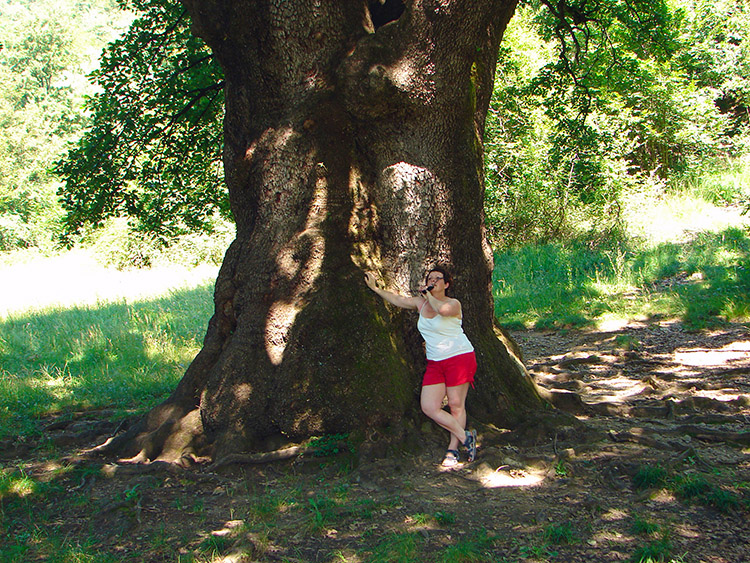 The mighty Oak
The woodland track, as it was now became more undulating with small creeks crossing the way. Some tracks crossed and junctions were met but there was no chance of getting lost for the signs to Il Rogolone were frequent and informative with distances given. One said 'Rogolone 100m'. We knew we were getting close and right enough after a little steep climb out of the wood we were in a pasture and stood in front of a big oak tree. Wow, Il Rogolone is an enormous oak tree. Querncia Secolare measures 25 metres in height and 8 metres in width. The tree is over 300 years old and it was our great pleasure to be stood by it. The tree stands in majesty in a little clearing and the area seems timeless. There is also another great oak tree by its side. Should be 'Rogolone's Pal' I think as it is not far behind in maturity and certainly has its own character. It was a suitable setting for us to take lunch in peace and in harmony with nature at its best. A lovely experience and unknowingly at the time there was another to come.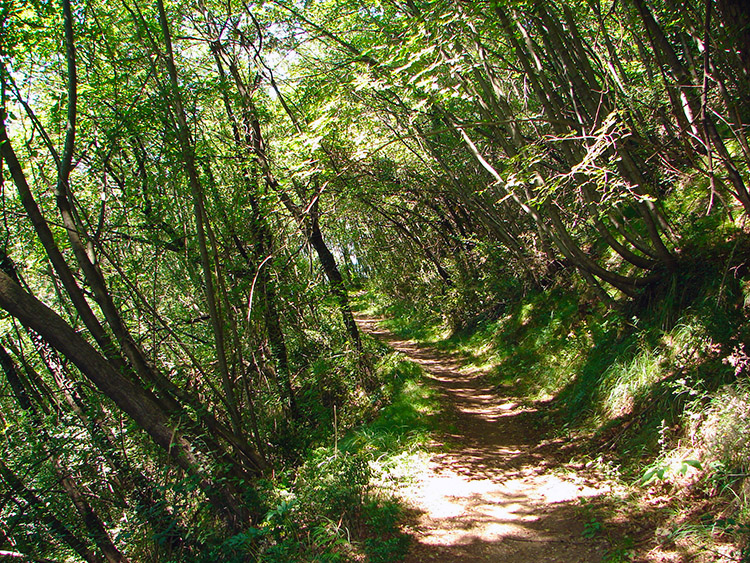 The woodland track from Rogolone to Bosco Impero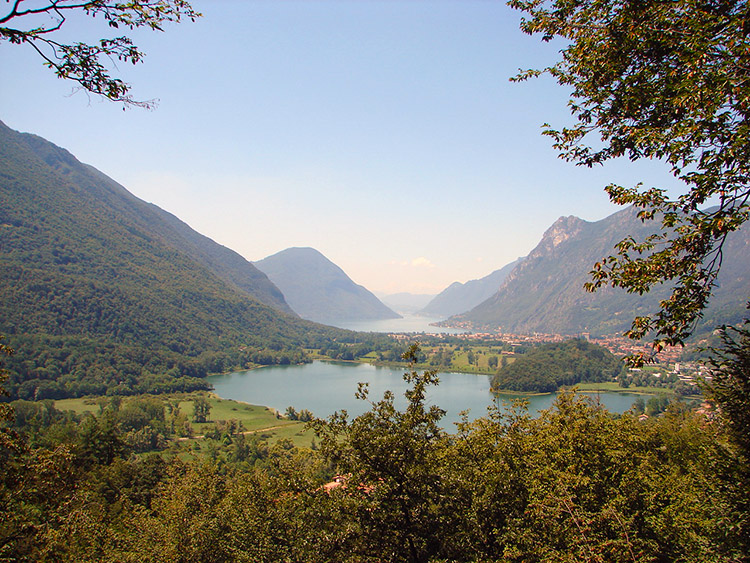 Lago Di Piano and Lake Lugano as seen from Bosco Impero
It was not easy to leave Il Rogolone and it's squire behind but we had to go and so we followed a sign to Gottro which would lead us through more sublime woodland to Bosco Impero. The guides had not told us much about Bosco Impero but suggested it was a park. We found trails and information boards about the geology and fauna and more trails. We also found a bench near another information board. This was to give us one of the most fantastic views. From the bench a gap in the foliage gave a landscape view that would befit any masterpiece painting. To the left we could see the hills of Monte Calbiga leading down to the nature reserve of Lago Di Piano. The small lake was immediately ahead and below with Lake Lugano just beyond in the same eyeline. Porlezza guarded the eastern end of the Italian end of the lake. Mountains shielding the Lake including Pizzoni stood above us. The moment was yet another wow factor and another place from which I was sad to leave.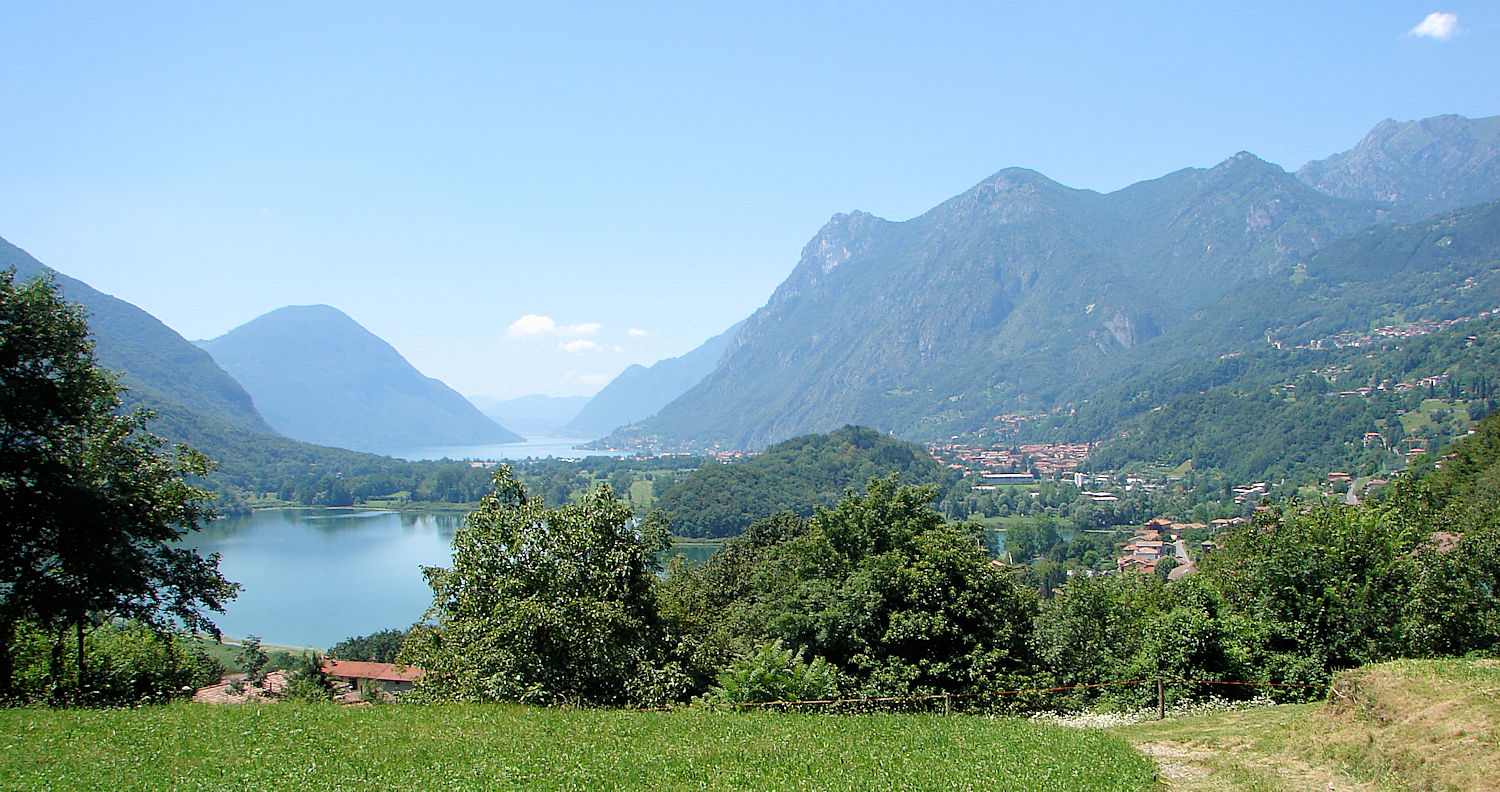 The views of the Lakes and Mountains were breathtaking during the finale
After Bosco Impero we came out into light walked through meadow to Scarpignana. Clearly I could tell Lil had enjoyed the walk, full of nice moments and never too tough despite the heat which was now into the mid thirties. We walked down onto a side road and then down to the main road between Como and Lugano to get a bus ticket and then sit in the sun waiting for a bus to take us home. BIG MISTAKE. In this area of Italy you have to get your tickets from outlets before you get access onto the bus. Fair enough, find a shop, bar or somewhere that sells tickets. We walked towards Lugano because homeward bound the road was too narrow. We stopped at a restaurant - no tickets. We stopped at a bar - no tickets. We stopped at a supermarket - no tickets. We stopped at a shop - no tickets. We ended up in Porlezzo having walked the same distance we had on our proper walk. We were jiggered and finally got tickets by the shore of Lake Lugano. The message here is - GET TICKETS FIRST.

Our intended walk was absolutely brilliant and had we bought tickets before we set off their was a bus stop exactly where we wanted it on the junction of the Scarpignana junction. Please plan to do that and you will have a really fantastic amble. Il Rogolone and Bosco Impero are memories that won't fade easily.
Copyright © 2003-2021 Walking Englishman. All rights reserved.