Tour du Mont Blanc

Summary: The Tour du Mont Blanc or is one of the most popular long distance walks in Europe. It circles the Mont Blanc Massif covering a distance of roughly 170 km with 10 km of ascent/descent and passes through parts of Switzerland, Italy and France. Having already been to foot of Everest high up in the Himalayas this seemed to be the next logical step for me in my quest to walk some of the best available long distance walks the world has to offer. This is my account of a fantastic adventure with wonderful scenery and great company. I hope you enjoy it.

(Note: This walk is kindly contributed by Neal Lever)
---
Day 1, 23rd June 2012:
A pint of beer and a bowl of pasta at Giraffes help me pass the time away whilst waiting for my flight to Geneva. I am feeling really good too having just witnessed the Olympic relay torch for the forth coming games pass through my home town of Rochdale. What with England in the Quarter finals against Italy tomorrow night (be sure to lose on pens again) and I am on my way to the Les Bossons campsite just outside Chamonix. All I need now is someone to turn the blasted tannoy off in the airport and the day would be perfect. With a sip of beer I forget about the tannoy, well almost.

After one of the shortest flights I have been on in more recent times (1hour 35mins) I arrive at Geneva airport in Switzerland and to my pleasant surprise my kitbag is first off the conveyer belt. How smug I felt. With a cheeky smirk on my face I collect my bag and saunter off to find my transport connection which is a company called Mountain Drop Offs which I pre-booked on the internet. The driver of the mini bus somewhat surprised me by ringing my mobile and within minutes I was on my way. There were only two of us on-board and both of us were going to the Chamonix region so there was no detour which was good. The journey was only about forty minutes long to the campsite. The light was fading fast when I got my first glimpse of Mont Blanc. It just seemed to shimmer with its dusty white coat on before disappearing silently into the night. The mountains were close and it felt really good. By the time I arrived at the campsite it was late, about ten thirty to be precise. All was quiet apart from the fresh face of Lewis who was still up to greet me and after a short chat he showed me to my tent for the night.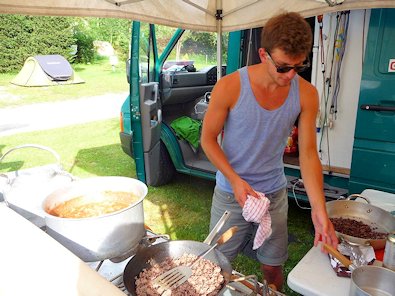 Head chef and all round good guy Lewis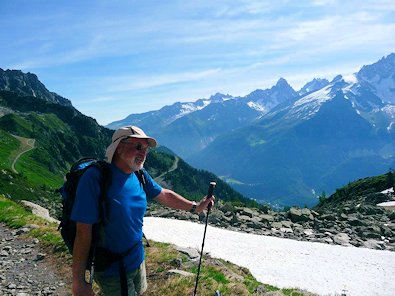 Top man, top guide, Graham
Lewis is a twenty one year old student doctor studying at Leeds University and during the holidays he is running the support vehicle and head chef for the duration of the trip. Because I was late he had kindly set up another tent for me for the night but tomorrow I would meet my tent mate for the tour. He is a seventy three year old Aussie who will feature heavily in my journal. A lovely man who's charm and whit captured everyone during the trip. Graham our tour guide and the rest of the expedition team I would meet in the morning. Good night, breakfast at six thirty.
Copyright © 2003-2021 Walking Englishman. All rights reserved.