The Great British Walk
A personal record of my three month walk of the full length of Great Britain from north to south with written journal and photographs. Tracklogs for GPS units and for use with Google Earth are available for download for each stage.
---
Stage 36: Carlisle to Caldbeck
Google Maps
Open Source Maps
| Statistics | |
| --- | --- |
| Start: Carlisle | Finish: Caldbeck |
| Distance: 15.5 miles (25.0 km) | Time: 6-7 hours |
| Climbing: 318 metres | Total Distance: 457.2 miles |
| GPX Route File | Google Earth File |
Ordnance Survey Explorer Map (1:25,000)
Summary
A walk to prove you do not need to climb a hill to have a great day out. This stage followed the Cumbria Way from Carlisle its northern extremity to the village of Caldbeck which lies on the northern edge of the Lake District. It is a delightful stretch of walking with riverside paths, woodland trails and beautiful countryside interspersed with visits to some picturesque Cumbria villages.
(Note: My walk of Cumbria and the Lake District was a part of my
Great British Walk
from the north coast of Scotland to the south coast of England)
---
Stage Report
Another lovely morning in late June was already drawing out the people of Carlisle when Steve and I set off from our accommodation to follow the streets of Carlisle necessary for us to reach the northern end of the Cumbria Way footpath. I was so much looking forward to this walk after three fairly ordinary days getting to Carlisle from the Scottish Southern Uplands. Now I would follow the Cumbria Way to the edge of Lakeland and having walked much of the path on my walks through Lakeland over the years this walk would more or less complete the job of walking the paths constituting the footpath.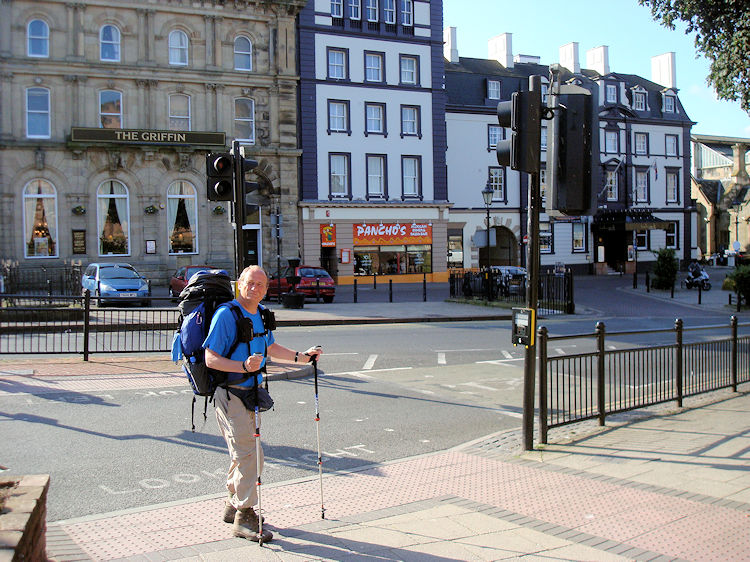 Setting off from Carlisle
Denton Holme
We had a bit of fun from the start. Trying to make our way out of the city threw up some options. At Carlisle Cathedral Steve walked one way and I walked another. His choice of way proved to be more direct than mine. I ended up going down a street which after a while proved to be leading me to a dead end. Rather than turn back my only option was to climb some steps up the side of a high retaining wall. He was waiting for me at the top of the steps. "Enjoy that did you" he asked with a grin on his face. We then came to a row of shops and stocked up with provisions in one of the convenience stores on the row. Then we walked together from the city to the starting point of the Cumbria Way where the A595 crosses the River Caldew. We continued on our way along the Cumbria Way following the Caldew and streets abutting the river to Denton Holme.

Denton Holme was quiet as we walked along its streets but once it would have been a much noisier experience walking through the area. Today Denton Holme is mostly residential but in the nineteenth century and most of the twentieth century along with the neighbouring districts of Caldewgate and Wapping it was Carlisle's main industrial district with many textile mills, engineering works and other factories such as car seat manufacturers and confectioners. Having walked through the streets of Denton Holme we came to a huge mill complex now converted into residential flats. Beside the large building a weir spanned the river which once having an industrial function was now a pretty sight to behold.

There were benches in a garden area beside the complex with a grand view of the weir with waters of River Caldew cascading over. We stopped in the garden area, took temporary possession of a bench and enjoyed breakfast. Rather than opt for the Travelodge option which was an additional extra we had chosen to buy out an eat al-fresco. It was a good decision. This was a lovely setting for breakfast, much better than the spartan Travelodge alternative. And as we enjoyed our breakfast we looked south beyond the weir to open countryside. It was enticing us.
Cumbria Way signpost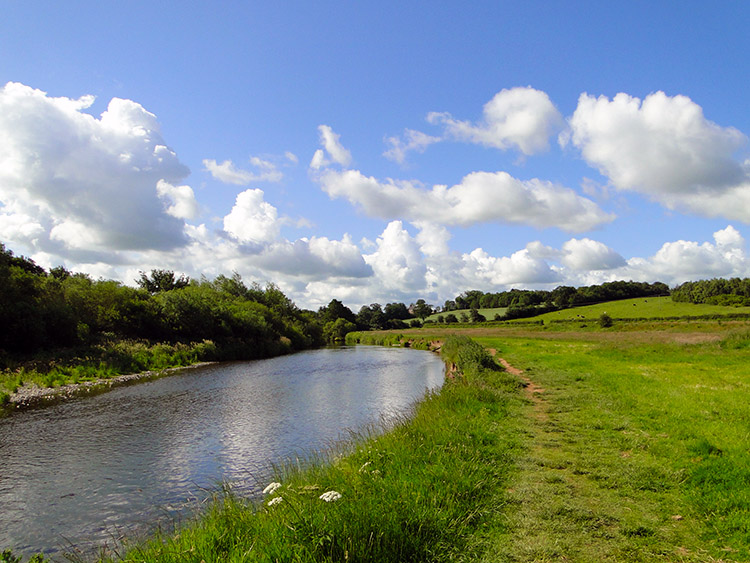 River Caldew
From the complex of flats in the old mill building at Denton Holme we stepped though a gate into sumptuous countryside. Urban to rural in a step. Suddenly we were in the company of Swallows soaring across a field beside the River Caldew. They were having their breakfasts too. Our other companionship was with the residents of Denton Holme or of residents of the neighbouring village of Cummersdale out walking their dogs. All encounters were pleasant as befitted the pleasantry of the day. As we walked on our way following the river upstream high fluffy clouds of no intimidating nature crossed the blue sky. They painted a pretty picture.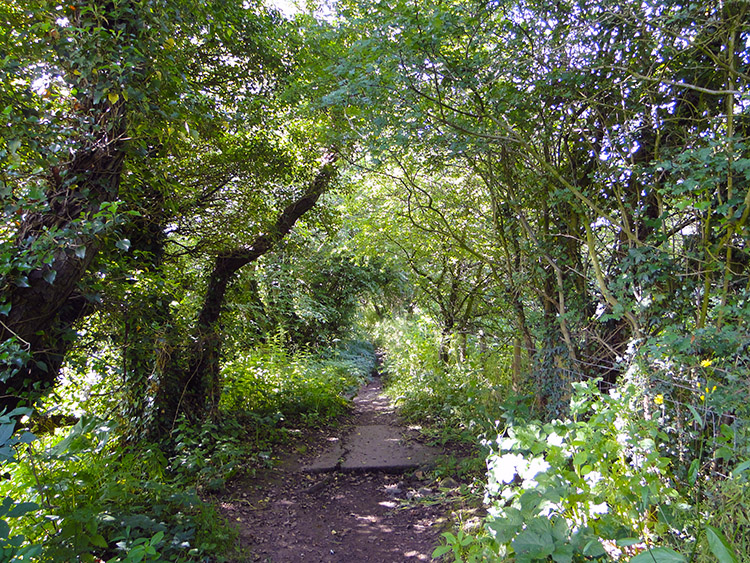 Woodland walking near Dalston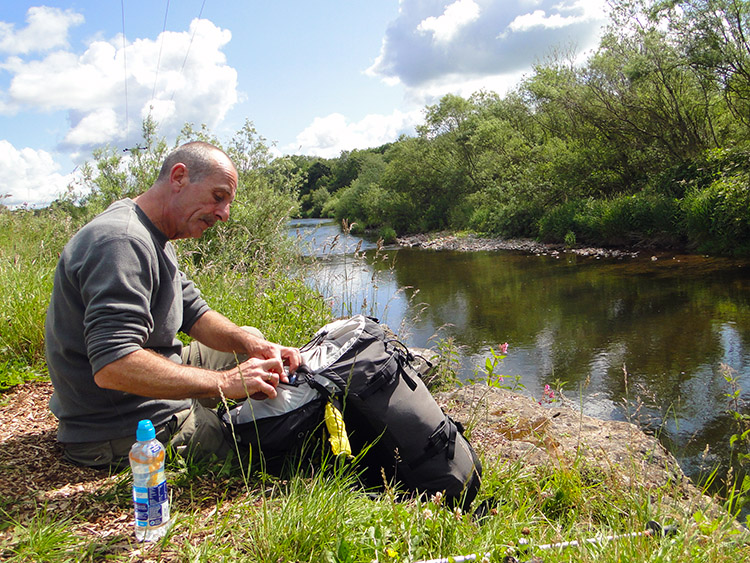 The perfect place for a five minute break
We carried on walking in the most brilliant weather conditions. In fact, ever since Steve had arrived to join me on the Great British Walk in Langholm three days earlier the weather had turned very much for the better. I had walked into my last Scottish outpost drenched and cold after finishing the day walking in incessant rain. Since walking out of Langholm the following morning with my guardian angel (correction: for guardian angel read best pal) the rain clouds had gone. Long should it continue I hoped, today being no worry at all. We continued following the river upstream towards Dalston. Sometimes the riverside path across open fields ceded to woodland trails before they ceded back to open plan walking. We stopped for a short break in the perfect morning conditions and watched the river flow.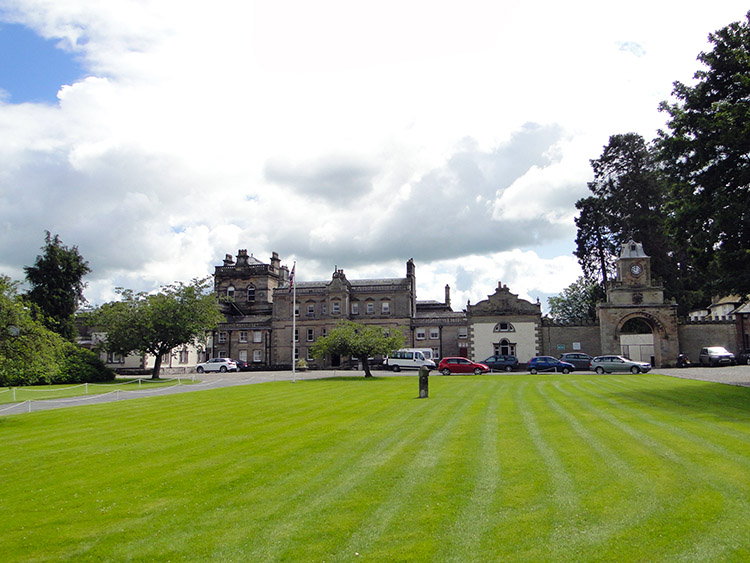 Dalston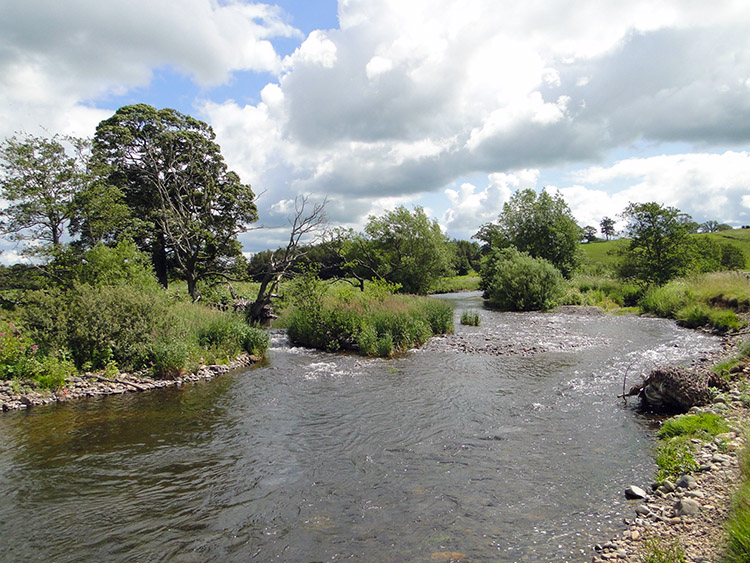 River Caldew near Buckabank
After a little over five miles of walking we arrived in the village of Dalston. I fancied a cup of tea so with the fine day bringing out the villagers and local farming population we stopped and joined the jovial community to enjoying the morning society. Steve itched to get on and back into the austerity of walking solitude. I did too I but I took my time enjoying the warm drink and equally warm conviviality first.

From Dalston we carried on following the Cumbria Way to Buckabank, Bridge End, Hawksdale Hall and the palatial grounds of Lime House School. It dripped of posh on this stretch of the path, all the houses being lovely, some humble and some very grand and large. Irrespective of size or status all were being pristinely managed. Gardens were so lovingly tended not a flower or shrub looked neglected or out of place. And not a weed or drop of litter in sight. See, we can do it if we care enough.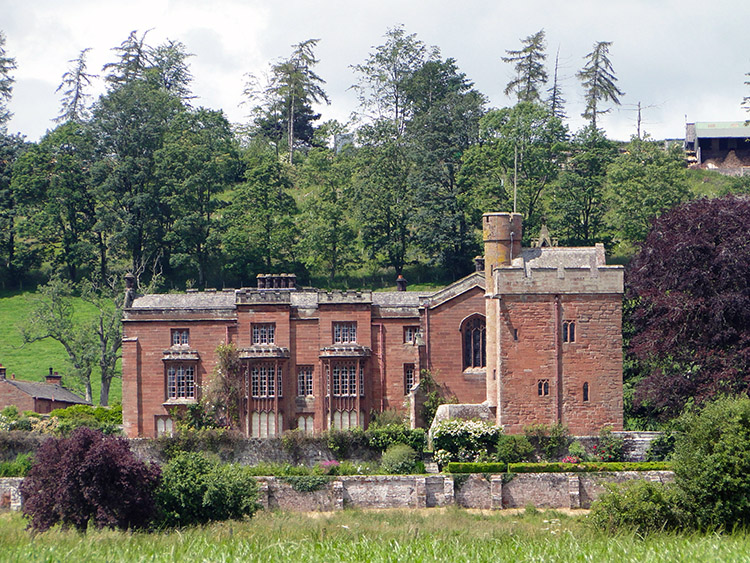 Rose Castle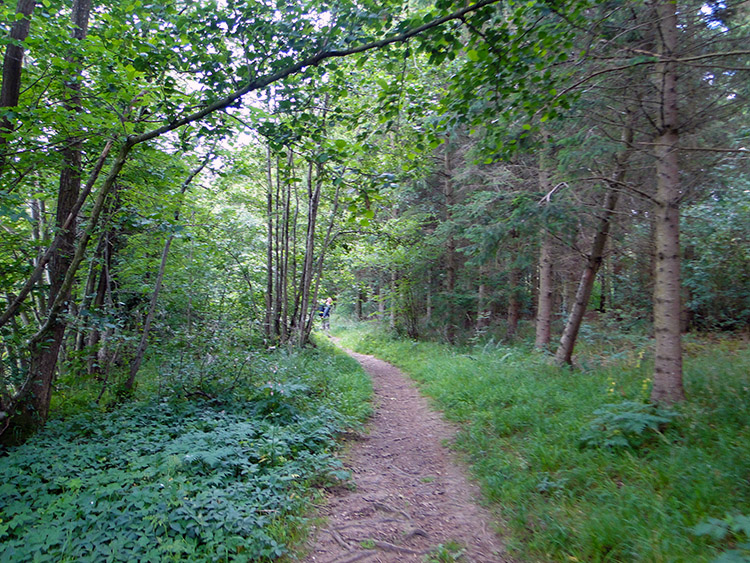 Woodland near Bog Bridge
Our next point of interest on the walk was one mile south of Lime House School. We reached Rose Bridge from where over a field to our right we could see a grand building. An information board near the bridge told us all we needed to know about our new find. We were looking at Rose Castle which is the palace of the Bishops of Carlisle. Rose Castle is very old and though rebuilt and improved time upon time the oldest remaining part is Strickland's Tower of 1340 which is probably built on the site of an earlier Motte and Bailey castle. Rose Castle suffered much damage in the Civil War and it was remodelled during the time of Bishop Percy (1826-56). So now we know. Leaving the turmoil of history behind we continued our walk through the present and into the future.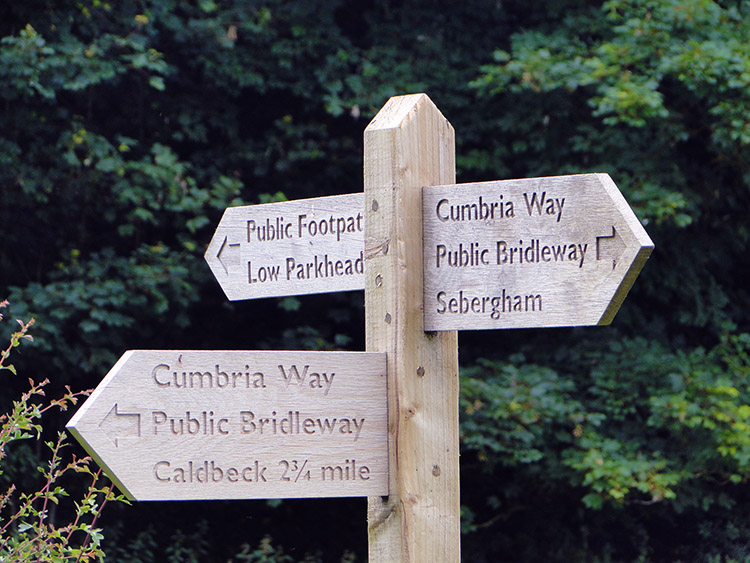 Ways to go at Sebergham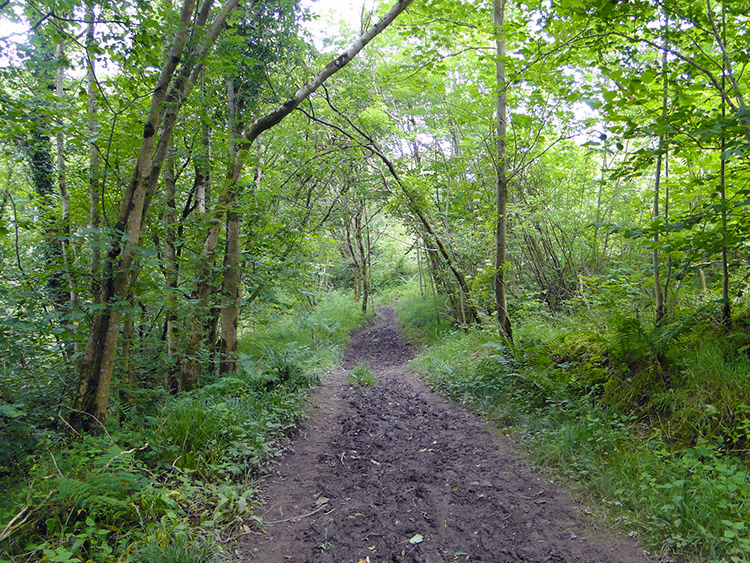 Dentonside Wood
Steve and I enjoyed the next four miles of walking through the heart of pastoral Cumbria. The path from Rose Bridge to Sebergham is enjoyed walking close to the River Caldew and beside considerately farmed fields and managed pastures. We saw lots of Oyster Catchers on this part of the walk and more Swallows too. Even the insect life seemed friendly enough, not like the aggressive Midges, Gnats and Fleas of earlier days. It was more of Dragonfly, Damsel Fly and Butterfly now. We also passed a series of quaintly named small bridges over the River Caldew now with Rose Bridge and Bog Bridge being followed by Bell Bridge and Sebergham Bridge. Here we met a couple of ladies following the Cumbria Way north to Carlisle. We told them they were in for a treat.

From Sebergham Bridge we walked though Dentonside Wood which started by walking on a path near a wetland full of giant broad leaved plants and Bulrushes. Dragonflies we had seen earlier were in more abundant numbers here, skitting, hovering and darting though the undergrowth and across the shallow waters. A mile into the wood we climbed a proper hill for the first time in a few days. Oakbank Hill took us to the heady heights between 170 and 190 metres. Now in Parson's Park when we could see through the clearings in the wood we spotted Back O'Skiddaw and more immediately we spotted Caldbeck. Our fantastic day of walking on the Cumbria Way was coming to an end.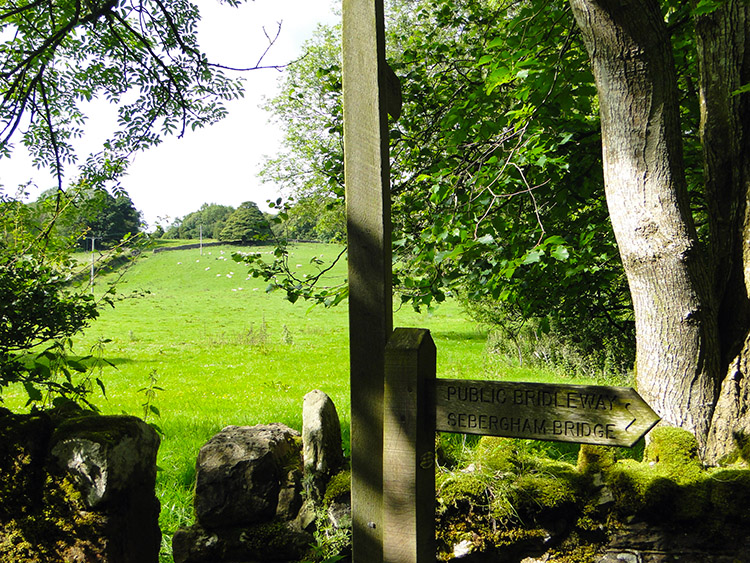 The way from Parson's Park to Caldbeck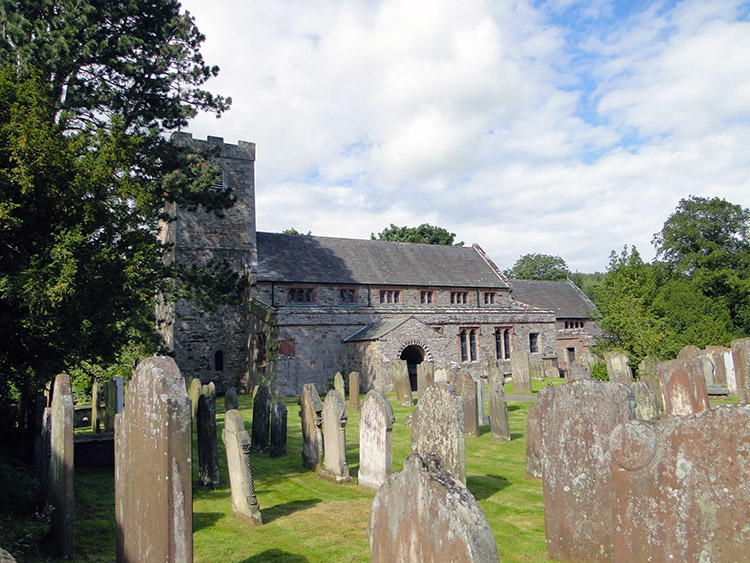 Caldbeck Church
From Parson's Park we emerged into the openness a field of pasture just east of Caldbeck. We crossed the field to enter the village beside Caldbeck Church. The village is small and compact so finding our accommodation at the local pub was not a problem. Near the pub was a village square with a seat and on the square was a shop which I visited to buy a newspaper to read in the evening. When doing all this I did not realise I had made a significant mistake. It was to cause chaos the following morning.

(Note: Walking on the Cumbria Way from Carlisle to Caldbeck was extra special. I would recommend it to anyone considering walking the Cumbria Way. This lowland section of the Cumbria Way is a delight rather than an inconvenience. Having to complete the walk on this section after the excitement of the walk through the Lake District should not disappoint anyone at all).
Continue the walk
Great British Walk