The Great British Walk
A personal record of my three month walk of the full length of Great Britain from north to south with written journal and photographs. Tracklogs for GPS units and for use with Google Earth are available for download for each stage.
---
Stage 38: Keswick to Rydal
Google Maps
Open Source Maps
| Statistics | |
| --- | --- |
| Start: Keswick | Finish: Rydal |
| Distance: 17.3 miles (27.9 km) | Time: 7-8 hours |
| Climbing: 1,038 metres | Total Distance: 489.2 miles |
| GPX Route File | Google Earth File |
Ordnance Survey Explorer Map (1:25,000)
Summary
After six weeks of walking from the far north I was now on familiar ground. For the first time in thirty eight stages of walking I would be walking on paths I had walked along before in the gorgeous Lake District. With this knowledge in mind I looked forward to a great day walking with Steve southwards through Lakeland by leaving Keswick, following the west shore of Derwent Water into Borrowdale and continuing through the valley to Rosthwaite. From here we would follow the Coast to Coast route through Stonethwaite Dale and over Greenup Edge to Easedale and to Grasmere before finding a place to camp around Nab Scar near Rydal.
(Note: My walk of Cumbria and the Lake District was a part of my
Great British Walk
from the north coast of Scotland to the south coast of England)
---
Stage Report
The great spell of settled weather continued. Steve and I could hardly believe our luck. To walk in dry, warm and sunny conditions for five consecutive days in England was one thing. To enjoy such fortune in Border country and the Lake District was another. After another great night of hospitality which is typical of British Bed and Breakfast establishments we left our latest excellent turn of support at Lyndhurst in Keswick with much gusto. The sun shined down brightly as we walked down Southey Street to the town centre where we went through the usual routine of buying provisions for the day. We would stock up for our night camp later in the day.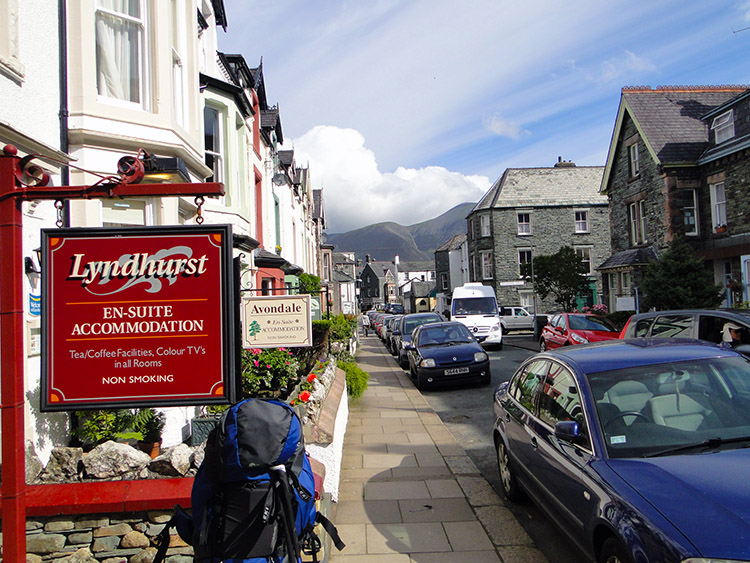 Lyndhurst looked after us very well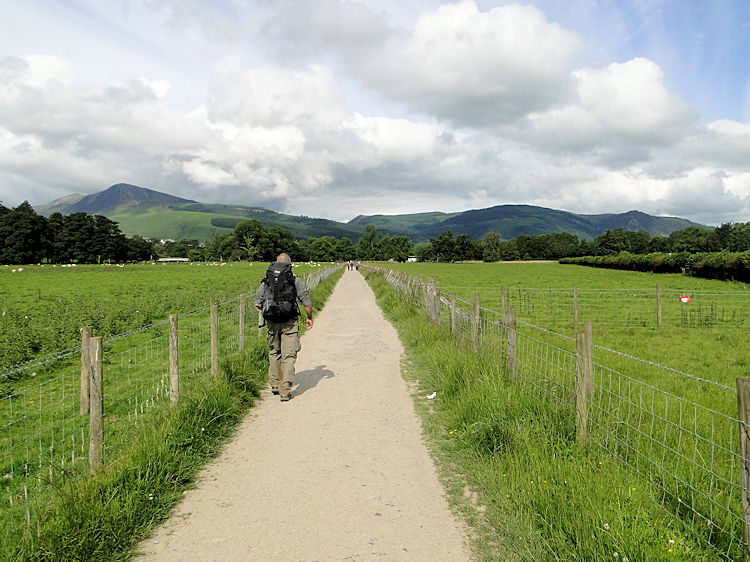 Walking to Portinscale
It was fitting I would pass the 500 mile mark of my Great British Walk on this stage. To reach such a milestone in one of the regions which had cultivated my love for long distance walking seemed right. That had been in 1994 on my first Coast to Coast walk and this stage would see me tread some of the very steps I trod during that inaugural long distance walk. Albeit in the opposite direction.

After stocking up with food and drink for the walking day in Keswick we set off walking by following the Cumbria Way towards Portinscale. We would still follow the path we had joined at its northern terminus in Carlisle for some more miles before parting from its course. We walked with gusto.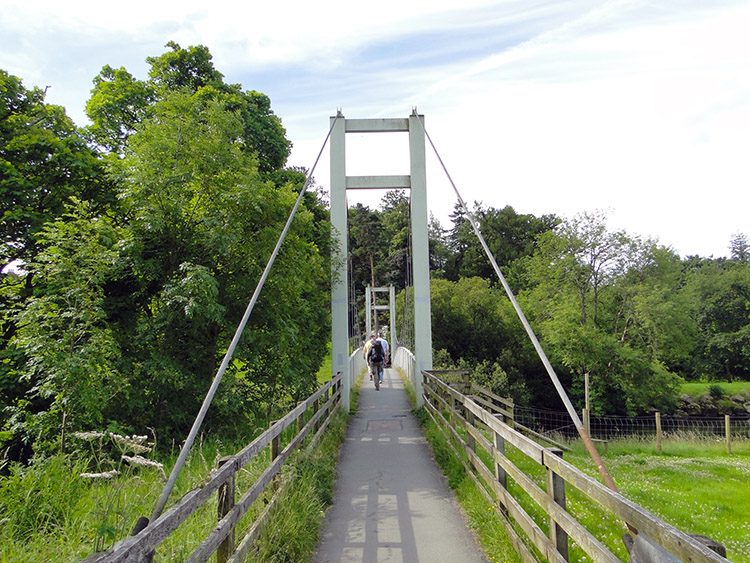 Footbridge over River Derwent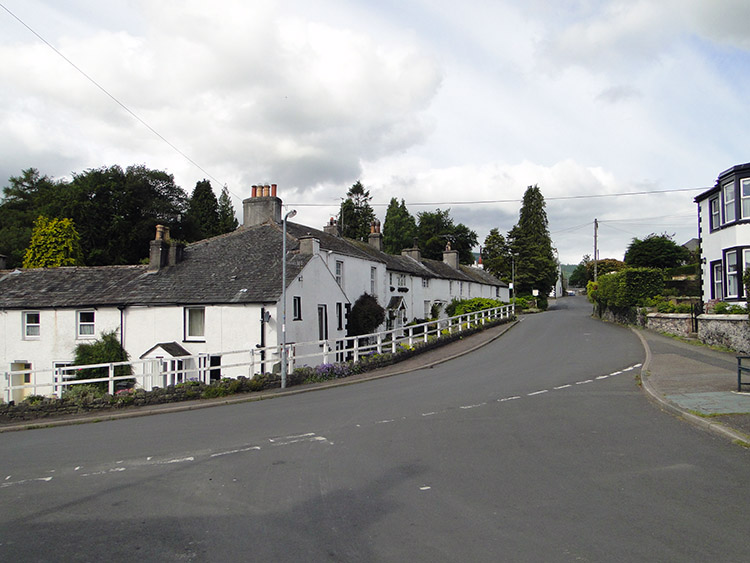 Portinscale
I did not have to turn back this time. All my morning routines had been performed and all was where it should be. Including my walking poles which were attached to my hands. We came to the footbridge which led us across the River Derwent and soon later we came to the village of Portinscale. Despite being the closest village to Keswick I did not know Portinscale. The first thing I noticed was that every building was painted white. I presume it is a rule for buildings to be painted white in Portinscale. The village was sleepy as Steve and I walked through.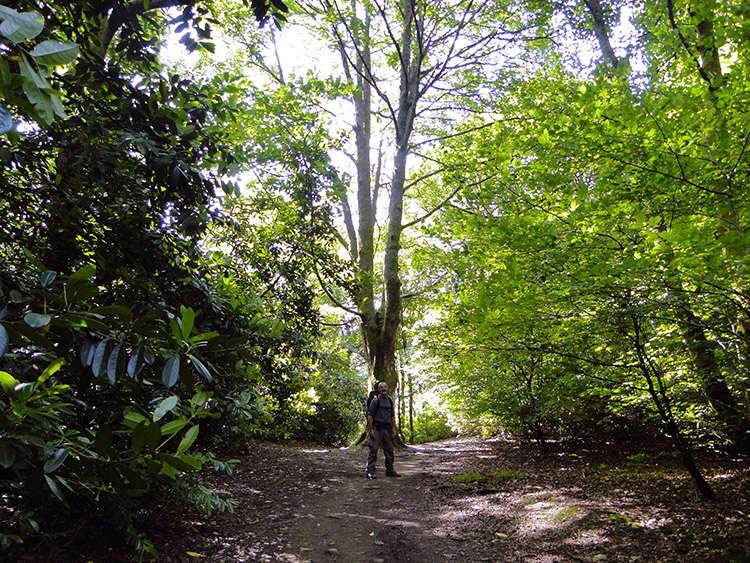 Fawe Park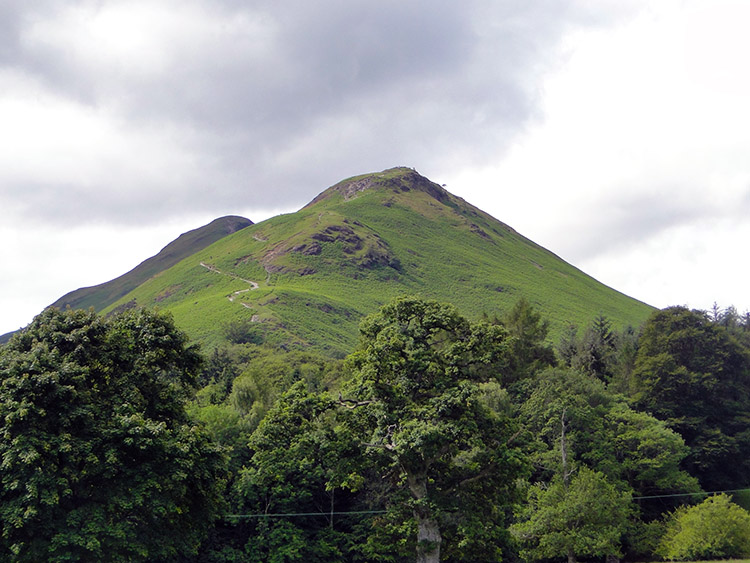 Cat Bells
From Portinscale we walked along a road for a short while before entering beautiful Fawe Park. Immediately my senses were raised. The morning sunshine had broken through the tree canopy and was casting slowly shifting patterns of light and shade on the ground. It was kaleidoscopic. I walked through looking left and right and up and down to catch as much sensory delight as I could. Fawe Park ceded to Overside Wood. My imagination ran right much the same in the wood as it had in the park. There was no discernible difference. Then something else took my attention as it came into sight by rising above the trees. We were approaching Cat Bells.

From Overside Wood Steve and I walked through the Park and passed Derwent Bay. We reached a road and it was around this time we noticed walkers appearing from every direction. The solitude we had experienced since leaving Keswick was at an end. We were near Hause End Outdoor Centre and the activity seekers were stirring. Some were heading off to climb Cat Bells. It is one of the Lake District's most alluring hills. Not too high to put off casual walkers and with a view to die for Cat Bells will always draw people to its summit. Cat Bells was not on our agenda though this day. Others, in particular groups of younger folk, were not climbing Cat Bells. They were heading for the water. Canoeing was the intention.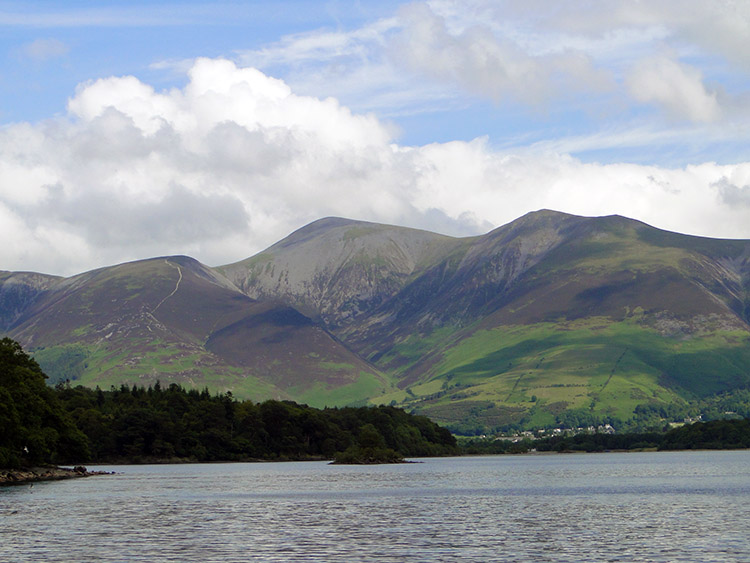 Derwent Water and Skiddaw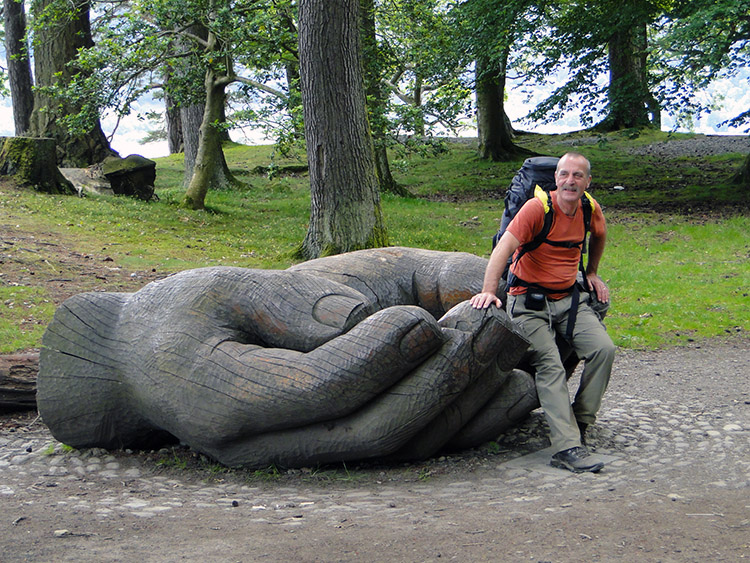 Lending a hand
We reached the shore of Derwent Water at Otterbield Bay. For Steve it was a return to the waterside. For me it was a first though I should have been with him and other pals on a circuit of Derwent Water two years earlier. An overindulgent night while we were staying in Penrith had put paid to that. It was the last time I had missed a days walking due to excess. On the walk around Derwent Water which I had missed out on it had been a terrible day so I would probably have not seen the view I enjoyed from Otterbield Bay. The view north across Derwent Water to the Skiddaw range was staggering.

From Otterbield Bay we walked to Victoria Bay and then we walked to Withesike Bay. Sometimes we came across wood carved sculptures and other folk art. Some examples gave us a helping hand. Following the shore line also afforded us plenty of views of the trainee Canoeists. Most seemed quite able and quick at learning. All appeared to be enjoying themselves and why not on such a lovely day. Walking on the path by the shore of Derwent Water was a thorough delight. In turn Brandelhow Bay, Abbot's Bay, Myrtle Bay and finally Great Bay saw us to the south end of Derwent Water. After taking time to enjoy a few more moments viewing the beautiful panoramas across the water we turned to head south by following the Cumbria Way/ Allerdale Ramble path to Grange.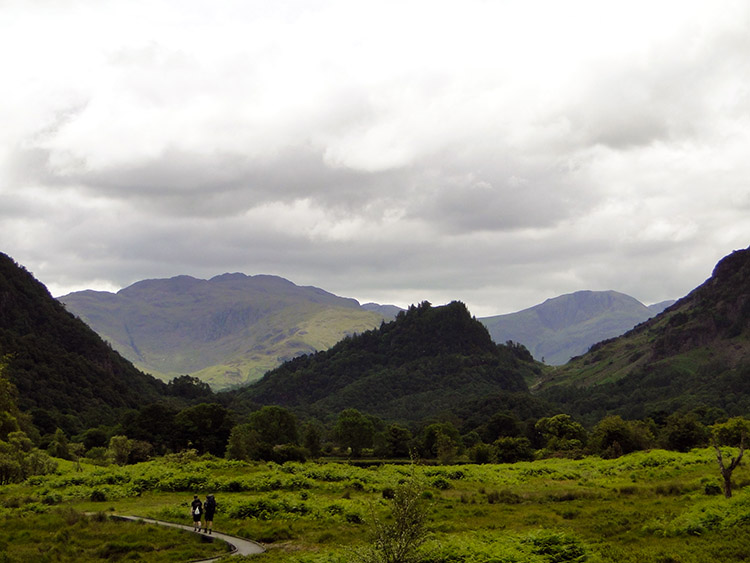 Borrowdale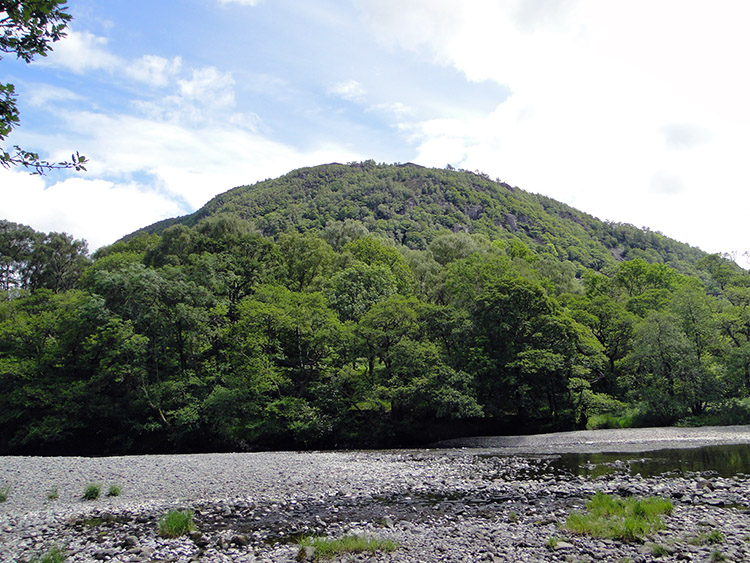 Castle Crag
We had covered almost six miles of walking when we reached Grange. We had hardly noticed. The paths we had followed were entirely flat with not an ascent and not a descent. It had been the easiest six miles of all I had done in six weeks. We walked through Grange and continued into the heart of Borrowdale. Through lowland woodland we went in the plains of Borrowdale, first via Holmcrag Wood and then through Dalt Wood. Lush grasses and ferns edged each side of the paths on this stretch of walking, some of which were duckboard footways. Another prominent hill loomed large ahead of us. Castle Crag is only 290 metres high and the lowest of all Wainwrights 214 Lakeland Fells but it looked high enough when we walked right by it. At Castle Crag we started to climb ourselves, our first ascent of the walk after over six miles.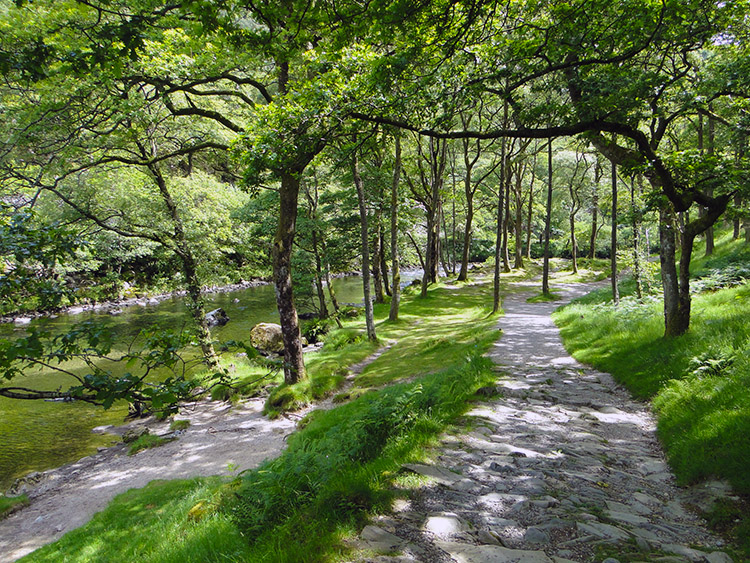 Following the Derwent upstream to Rosthwaite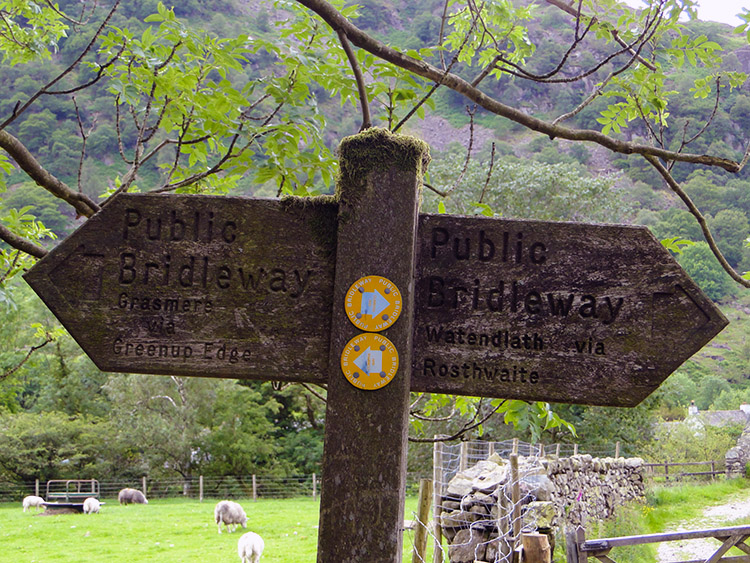 Signpost to Greenup Edge
It was good to work the lungs that little bit harder again. It was only a short sharp climb up Broadslack Gill to Lingy Bank but it was enough for us to feel ourselves into the walk proper. We knew we had a bigger test to come and this preliminary climb of just over 100 metres ascent was the perfect warm up. Once on Lingy Bank we descended every metre just gained to reach the River Derwent at New Bridge. We crossed the bridge and walked into Rosthwaite.

Steve and I stopped at the cafe in Rosthwaite for a cup of tea and a bun. A friendly Sparrow shared the bun. Then we left Rosthwaite to follow a very familiar route. By crossing the Borrowdale Road and walking down a lane we crossed Stonethwaite Beck by a footbridge. Then we headed south by following the beck upstream towards the head of the dale. Soon we would begin the great climb to Greenup Edge.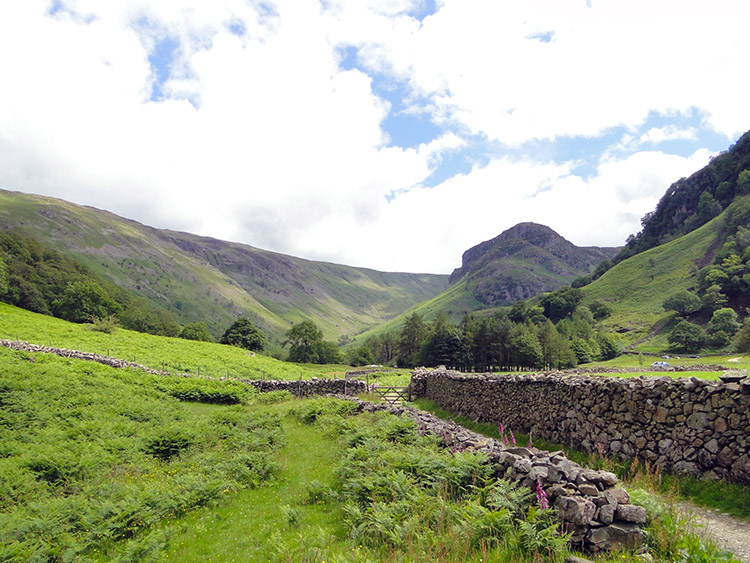 Stonethwaite Dale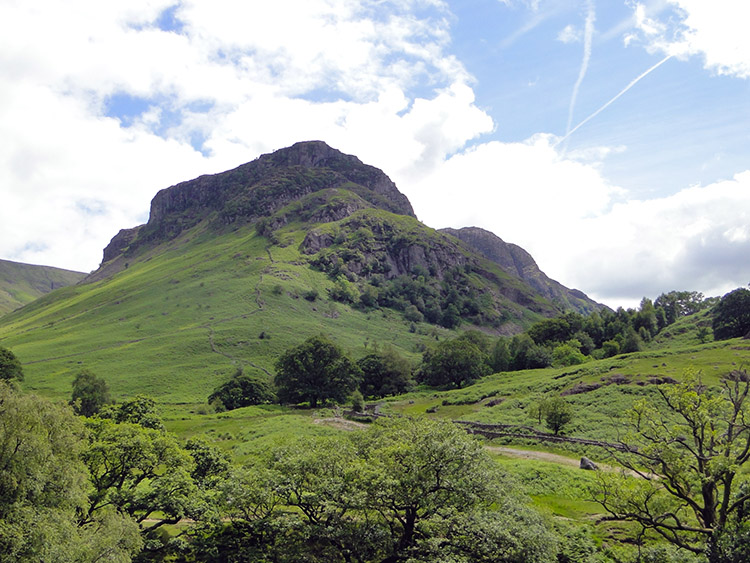 Eagle Crag
The familiar ground I mentioned I would be walking was now in front of me. I first walked across Greenup Edge from the south during my east to west walk of the Coast to Coast in 1994. On that first occasion Steve had been with me as was my brother Dave. The second time had been during my Coast to Coast walk in 1999 with my friend Deke. That was from west to east so I was following the path I had first walked in the same direction twelve years ago. I had followed the path in this direction through Stonethwaite Dale since but not all the way to Greenup Edge. Then I had left the path to walk the Borrowdale Falls including Great Crag and Brund Fell.

The beginning of the walk from Rosthwaite up the dale is a delight with the sight of Eagle Crag being an enticing draw. Quite magnetic. The first mile and a half up the dale to Smithymire Island was easy, a gentle draw uphill with Eagle Crag looming ever closer on the eye. Only 50 metres of height were gained in that stretch of walking. At Smithymire Island we reached the point of parting ways with the Cumbria Way. Smithymire Island is also the point where Stonethwaite Beck originates at the confluence of Langstrath Beck and Greenup Gill. The Cumbria Way now headed south west by crossing Stonethwaite Beck by a footbridge and continuing on to the head of Langstrathdale and across Stake Pass to Mickleden. Our course continued by following Greenup Gill upstream on a south-east course. The gentle incline we had enjoyed since leaving Borrowdale was now over as our climb steepened.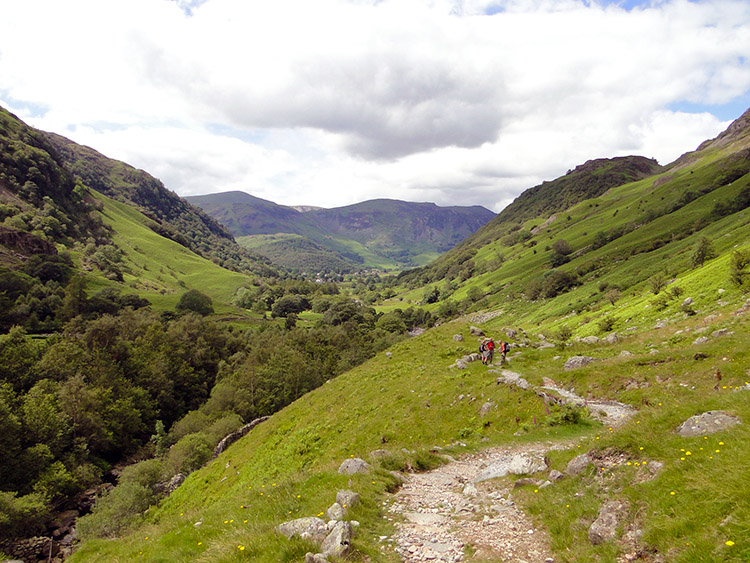 Following Greenup Gill upstream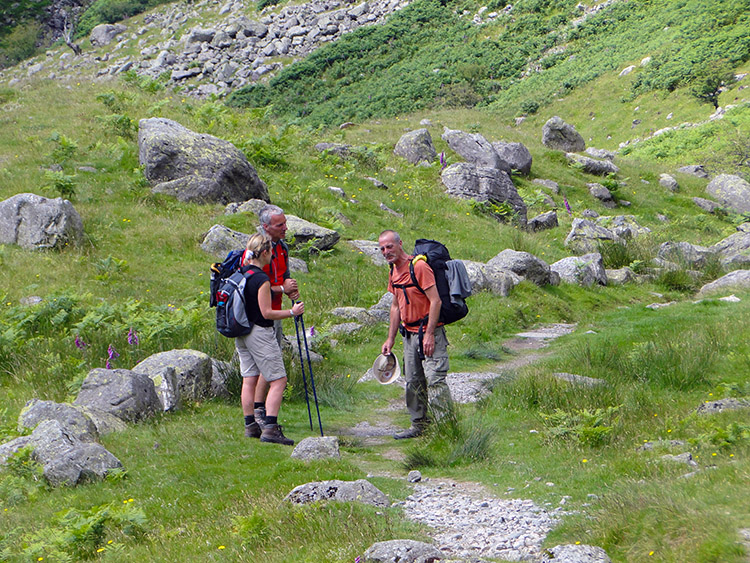 Meeting of long distance walkers
We were at 140 metres high at Smithymire Island. In just over another mile of climbing to the crest of Greenup Edge we would clear 610 metres height. With heavily laden backpacks which included all our provisions, equipment, bedding and tents it was a challenging climb. The ascent was relentless in the hot midday sun on one of the longest days of the year. It was the first day of July. I looked at the map for points of reference on the ascent and pictured targets to strike off. The first was the passing of Eagle Crag which was not achieved in one go. A few paces up the stepped path and a short break to catch breath. Again I repeated the exercise. Again and again.

For a change I was ahead of Steve and I was determined for it to stay that way. After finally getting Eagle Crag out of my sight line by getting to the south side of the magnificently shaped hill I met up with a couple of walkers coming down the trail. I took the meeting with them as a natural break to catch breath and shared a brief conversation. I asked them to say hello to Steve on the way down, a ruse to delay him so I could get to the top first. After wishing them well and saying goodbye I forged on upwards while taking glances back down the path. They met Steve on the path and they talked. While they did I made further distance between us.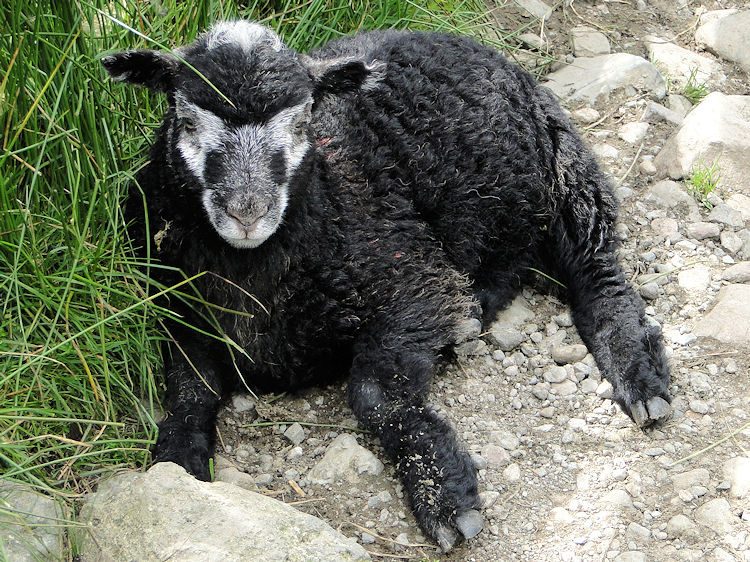 Enjoying a rest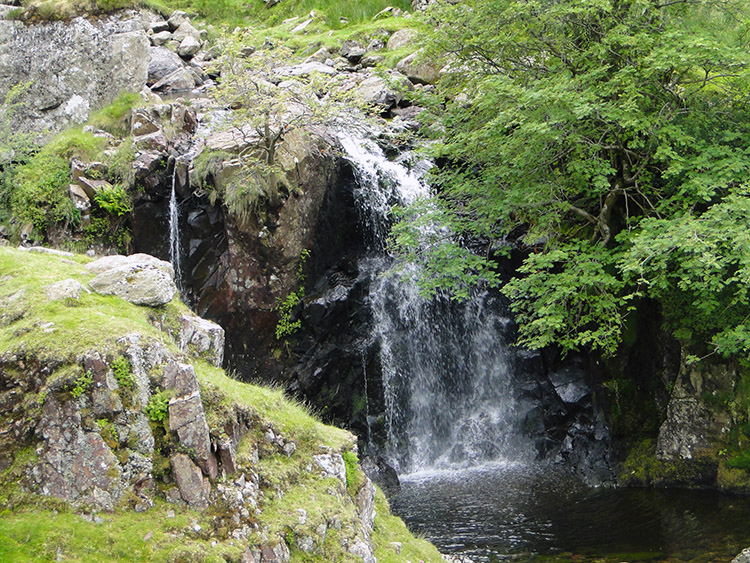 Greenup Gill
Yesterday Steve and I had met John Lister for the first time. When John had noticed Steve driving himself up the Caldbeck Fells to High Pike he noticed Steve's determination to go on ahead. I had told John how Steve often climbs the hills before anyone else. I admire his fitness and his fortitude to do so. Thus to beat him up a hill is sometimes a small victory. We never race or keep a score book but sometimes on the long distance walks it makes for a thoughtful diversion. It is also fun and a spur from one to the other to keep going. He helped me so much in this way in my early days of walking the hills after years of staying off the hills.

I came to a gate on the path just before making the final push over Lining Crag from which all that remains is a walk over a short plateau to Greenup Edge. Once through the gate I noticed a young Herdwick Sheep resting on the footpath. He did not want to move and I did not want to disturb him so I edged off the path and around. I presume it was a him? It may have been a her.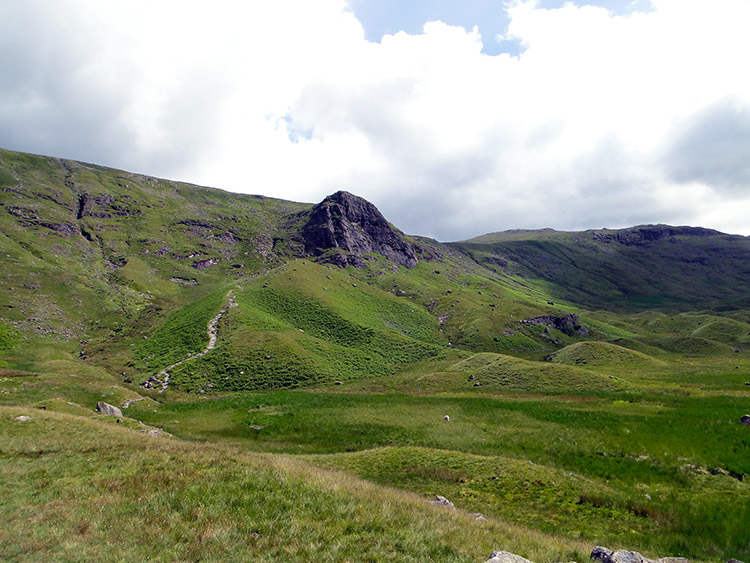 Path from Greenup Gill to Lining Crag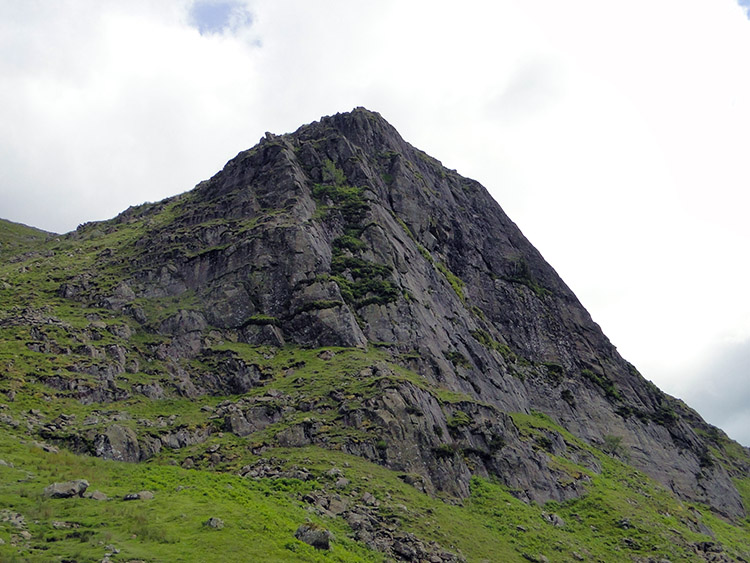 Lining Crag
A minute or two after passing the resting sheep I changed my mind about racing to the top of our immediate climb and with Lining Crag at last in my sight I stopped, took off my backpack to enjoy a proper rest and waited for Steve to catch up. We had about 100 metres of climbing still to go. I had a real sense of achievement running through my thoughts as I waited. Five hundred miles were now behind me and though I knew it would be a few days before I would reach halfway I did feel the harder miles were behind me. My feet had recovered properly, the walking poles certainly helped in that respect, and with my pal to spur me on I felt unstoppable. Steve caught me up and we continued on to crest Lining Crag together. The climb to Greenup Edge was done.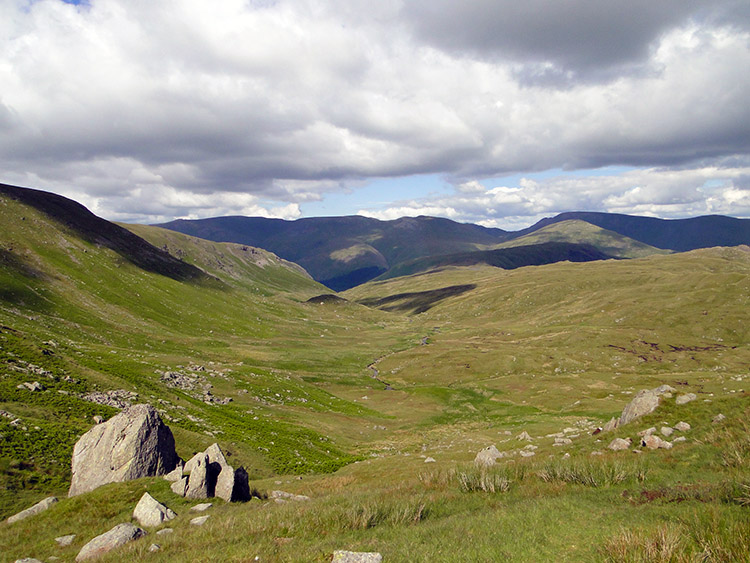 The view south from Greenup Edge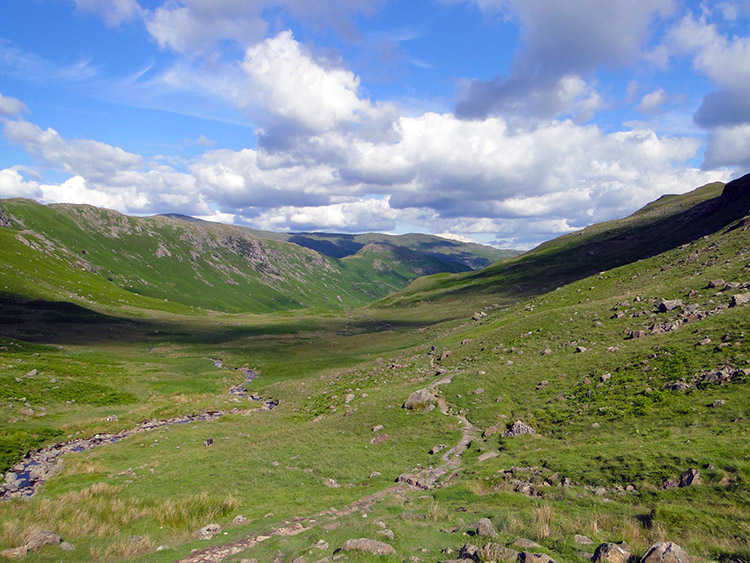 Grasmere Common
For pain there is gain and the reward for the pain of climbing to Greenup Edge from Borrowdale was the gain of the most beautiful views from the top of the pass. While climbing we had enjoyed the ones to the north with delight. After cresting Lining Crag and reaching Greenup Edge the views southwards took dominance. We could see a rise to Ulscarf to our left and a similar rise to High Raise on our right but in the summer sunshine we were blessed with the panoramic picture straight ahead of us to Grasmere Common was quite breathtaking. I find it hard to put into words how stunning it was.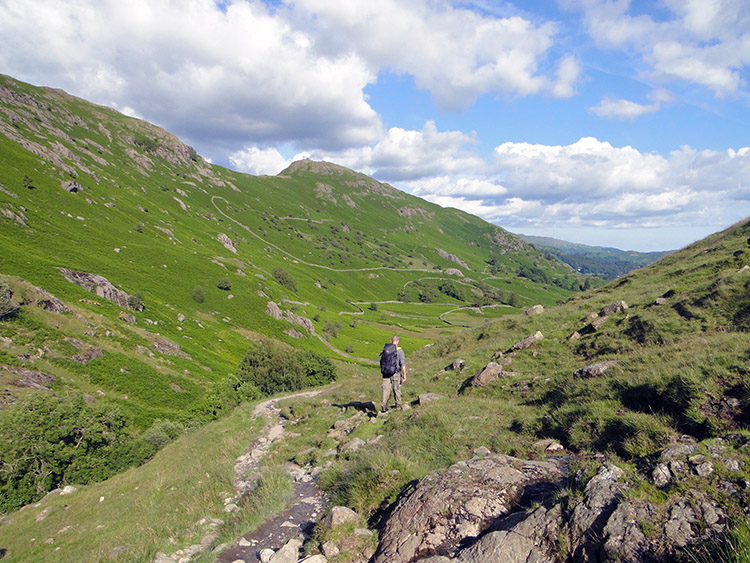 Walking across Grasmere Common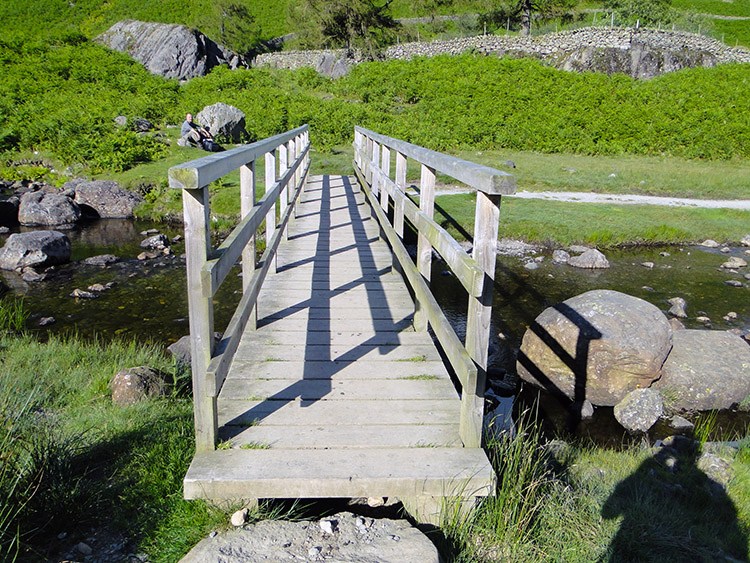 Footbridge over Far Easedale Gill
The descent from Greenup Edge across Grasmere Common to Far Easedale was almost as steep as the climb we had enjoyed up to the edge from Borrowdale. Only it did not feel like it. Barring a few short steep sections over rock outcrops it was a doddle. Perhaps the euphoria of being in such perfect Lake District surroundings and the sense of achievement in passing my 500 mile flag made it so. All I can say is that I wish I was there now doing it all again. Then again there are many other moments in many other places where I could say that. But right now as I write this record down crossing Grasmere Common is the moment and the place which is fixed in my minds eye.

We came to Far Easedale. Can we slow down please? No need, Far Easedale is another place I love. My first memory of Far Easedale is of exploring the terrain with Deke during the Coast to Coast walk in 1999. Deke was very familiar with the area so we detoured from the Coast to Coast path in order to scramble up and down waterfalls. I have mentioned it briefly in the Coast to Coast 1999 report but I can afford the story more time here. I recall climbing the waterfalls of Greenup Gill then after crossing Greenup Edge we cut off the path to reach Easedale Tarn. Looking at the map now we must have scrambled down the gills to Deer Bields and Tarn Crag and then down the gill from Tarn Crag to Easedale Tarn. Deke was quite an adventurer. All I recall is that I loved the excitement of sharing his adventure and sliding down waterfalls with a wet backside. It was Deke who introduced me to Jack's Rake too. Here's to Deke, my great pal who is gone now, I miss him a lot.

From Easedale Tarn Deke and I followed Sourmilk Gill and enjoyed more short scrambles down the watercourse to reach the footbridge across Far Easedale Gill where Steve and I are now.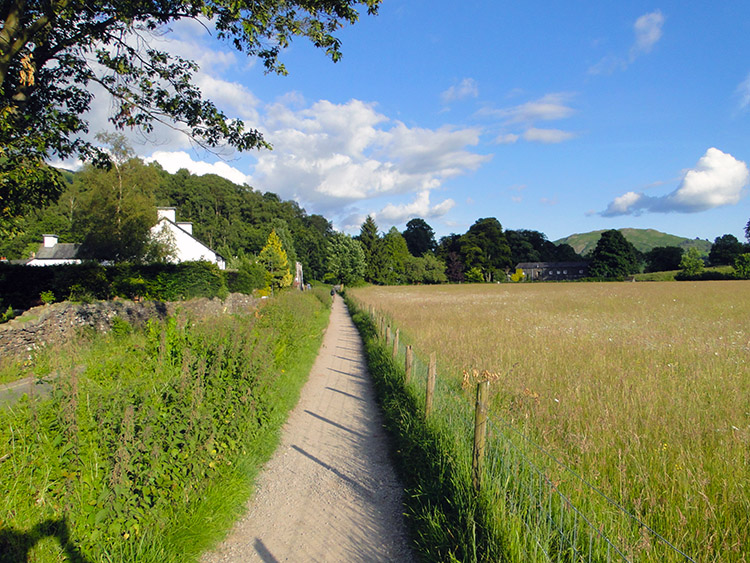 Easedale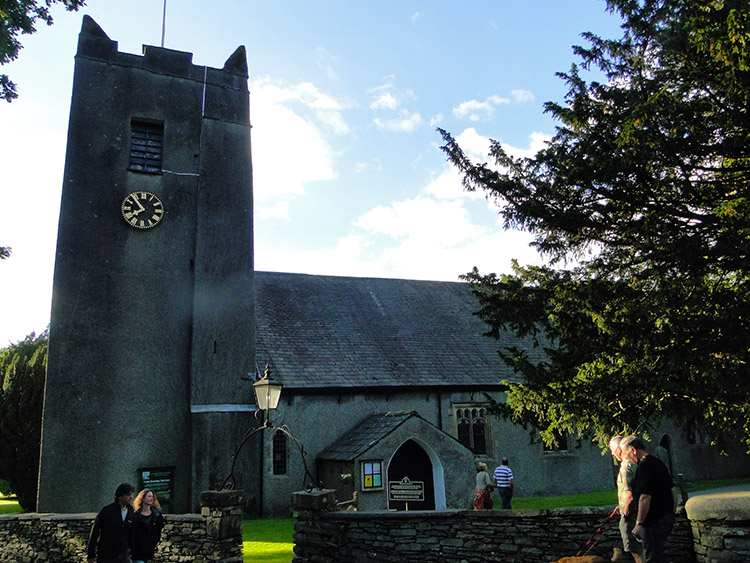 Grasmere Church
From Far Easedale Steve and I had the simple task of following Easedale Beck to Grasmere. From Lancrigg to Goody Bridge it was by walking along a lane with uncut grassed pasture either side of the path. From Goody Bridge it was by following Easedale Road into Grasmere. We had considered finding a campsite in Grasmere to pitch up and then pop into Grasmere for the evening. But we chose to do something different. It was our first camp together since meeting up over the England/ Scotland border in Langholm and we decided to camp out of town and in the foothills between Grasmere and Rydal. So we called in a convenience store and stocked up for the night.

What do two lads, albeit lads getting on a bit stock up with? Beer of course. Yes, drinks for our camp party was one of the priorities on the shopping list but we did stock up with basics too. Items such as a sandwich and a pasty or pie for our evening meal. Chocolate treats for after too. And soft drinks to wash the meal down and for the morning too. We were sorted.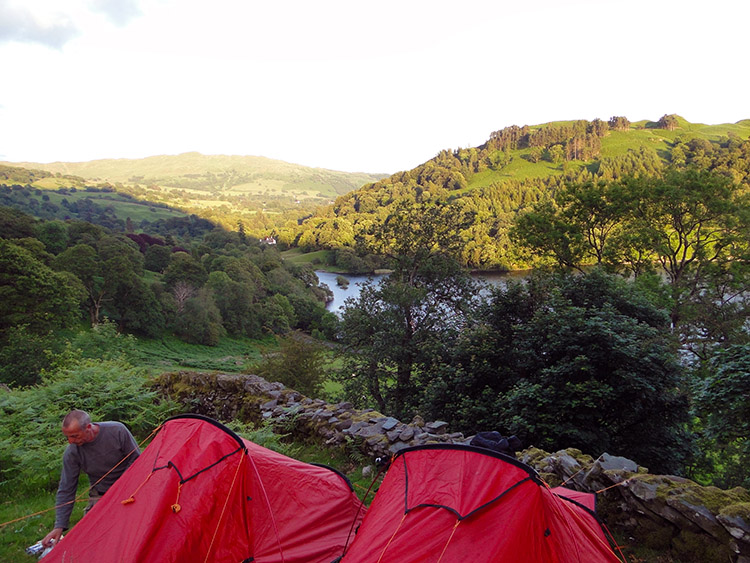 Campsite overlooking Rydal Water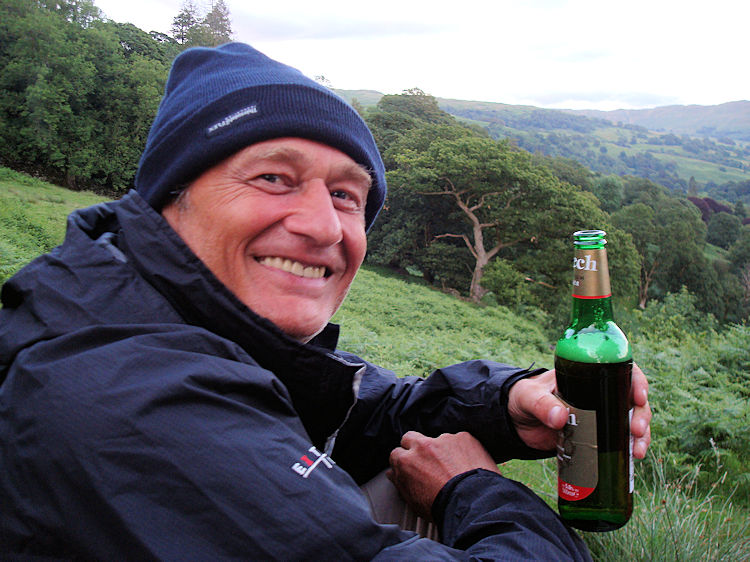 Cheers
My word the backpack was heavy before we stopped at the shop. Blooming heck it was heavy now. And we had plastic carrier bags fastened to our backpacks or in our hands too. Balance was quite a challenge but after a few steps and corrections in placement of bags we managed to get going properly. We walked from Grasmere to Town End and walked on the minor past Dove Cottage. We continued up the road to How Top and then turned left to follow the track leading to the south edge of Nab Scar. Spotting some woodland beside the track we explored it but no ground was suitable for pitching so we carried on walking. Just as we were thinking we would have to descend to Rydal we saw a small grassed area next to the path with just enough room to pitch two tents. we stopped.

We pitched our tents in the only area suitable to take them. It was a stroke of luck. Our campsite was perfect for the views too. Directly below us we could see Rydal Water. Beyond Rydal Water was Loughrigg Fell. It was a lovely setting. After pitching camp and having our meals we had our two person party. It was a great party until the Midges found us.
Continue the walk
Great British Walk