The Great British Walk
A personal record of my three month walk of the full length of Great Britain from north to south with written journal and photographs. Tracklogs for GPS units and for use with Google Earth are available for download for each stage.
---
Stage 39: Rydal to Staveley
Google Maps
Open Source Maps
| Statistics | |
| --- | --- |
| Start: Rydal | Finish: Staveley |
| Distance: 13.6 miles (21.8 km) | Time: 5-6 hours |
| Climbing: 629 metres | Total Distance: 502.8 miles |
| GPX Route File | Google Earth File |
Ordnance Survey Explorer Map (1:25,000)
Summary
This stage of the walk leads from Rydal to Staveley on the edge of the Lake District National Park. The route follows Rydal Park to Ambleside and then climbs to the popular viewpoint at Jenkin's Crag which provides a spectacular view across Lake Windermere. Paths and tracks then lead east to Low Fold near Troutbeck before more paths, tracks and Dubbs Road bridleway lead south east across low fell country to the finish in the quaint Cumbrian village.
(Note: My walk of Cumbria and the Lake District was a part of my
Great British Walk
from the north coast of Scotland to the south coast of England)
---
Stage Report
The English Lake District is full of wonderful places. It seems as if it is perfectly formed of mountains, fells, lakes, rivers and more natural wonders while sympathetically managed by man. It has been and still is romanticised by poets, writers and columnists because of its natural beauty and for the way of life conducted within it. I love it for all these values. By walking through the region on this particular journey though I have come to realise how small the Lake District is. On first sight of the towering mountains and the glistening lakes one can be led to imagine the area is vast. Yet after today I had practically walked out of the National Park. Only two days ago I had walked in. It was not fair. I had wanted more.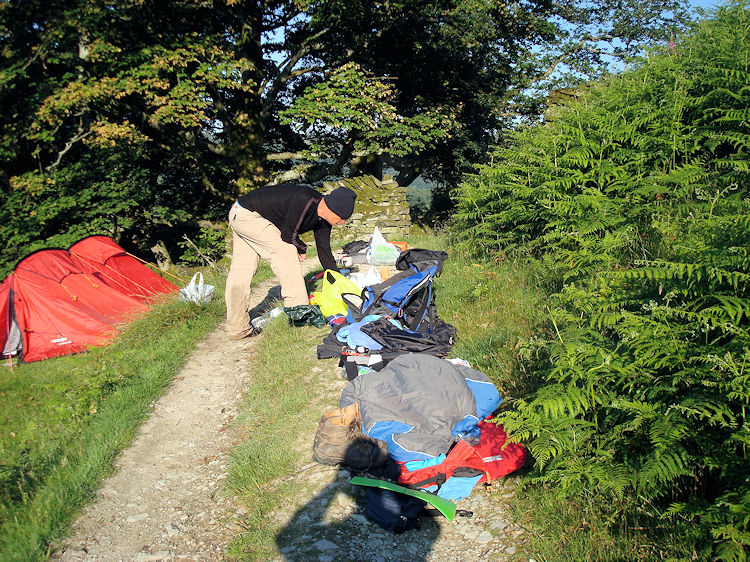 Cleaning up the campsite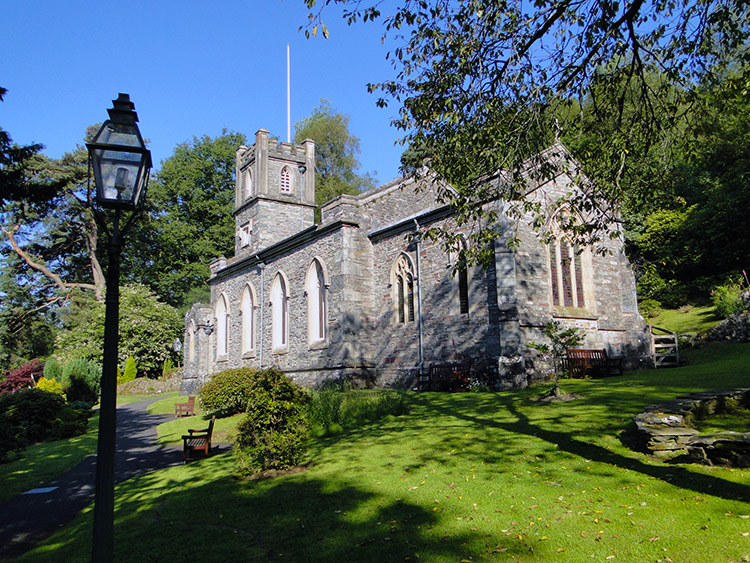 Rydal Church
In the final sentence of yesterdays report I mentioned the Midges had arrived to join our campsite party. They certainly had. I thought the limit of their range was northern Scotland. I now know they venture south of the border. The biting Midges were at our campsite. They tried to spoil our fun by their constant harassment and biting but Steve and I were undeterred. Rather a lot of hand waving and the wearing of hats was necessary though for us to carry on the frivolity until natural lights out at sometime after 10.00pm beckoned our retirement for the evening. After some more chat through our respective layers of tent canvas we settled to sleep. I had a real good nights sleep and woke laid comfortably in my tent and feeling well refreshed. Steve woke a little disgruntled and packed in a clump into a corner of his tent. He grumpily said "Next time I will make sure I pitch it on a level patch of ground".

We cleaned up our campsite as methodically as we refilled our backpacks. Nothing was left behind, all the litter accumulated during our overnight stay packed into plastic bags so we could carry it from the site to the nearest litter bin. And so with not a scrap of evidence left on site, apart from a couple of square compacted patches of grass which would spring back upright during the day, we walked down from Nab Scar to Rydal in order to deposit our litter safely and to meet with Mr Tim Nobes.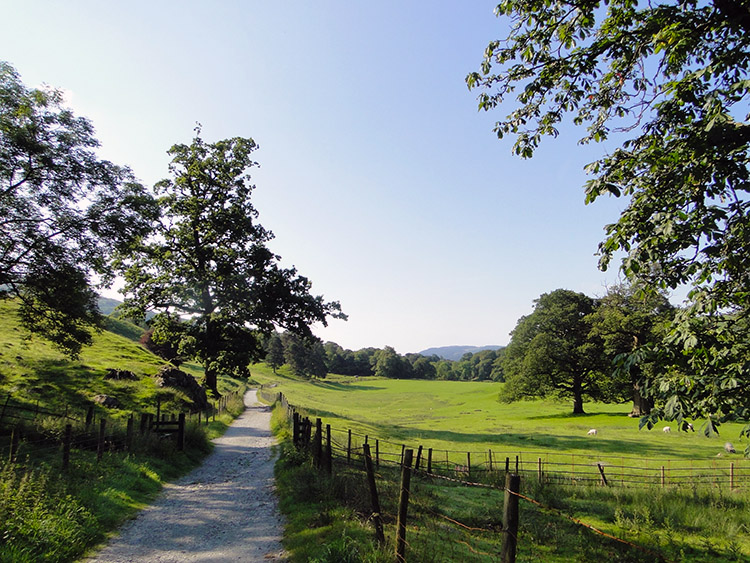 Rydal Park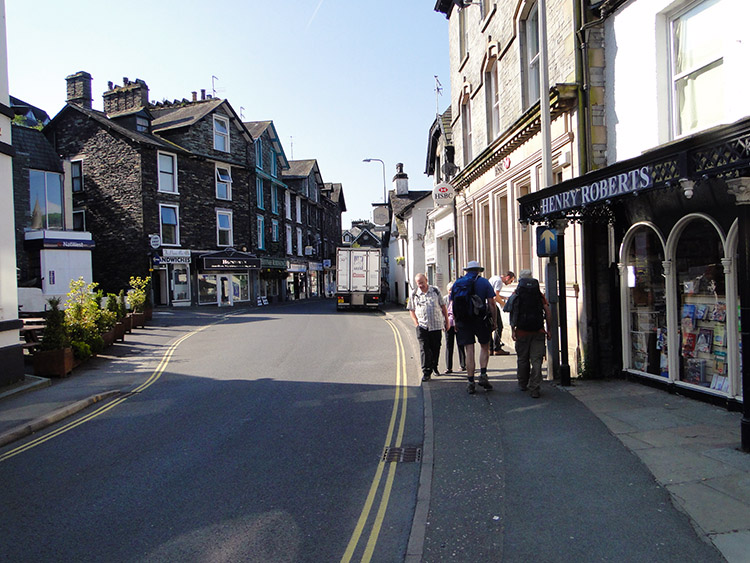 Ambleside
In Rydal we found a bin very quickly and did our public duty of depositing our rubbish tidily. Then I walked up and down the road near Rydal Church to find Tim. He had said he would meet us at the entrance to Rydal Park and indeed he was there. I had never met Tim before and nor had Steve. Tim, like John Lister who had met us for a walk in Caldbeck two days earlier, had followed my blogs and asked he could join us for this particular stage. Of course he was welcome and after we had met and greeted each other with introductions we continued on our way through Rydal Park towards Ambleside.

It was another gorgeous day, perhaps the best of the lot in the spell of good weather which had now lasted one day short of a week. Early morning sunshine beamed down on Rydal Park as we strolled through. It was a glorious setting for the first mile of the walking day. As Steve, Tim and I chatted about ourselves my two colleagues suddenly found out they had a strong connection. They are both natives of the City of Bristol. I was walking with not one, but now two boys from the west country. The realisation of kindredship between my two walking chums made me smile. I felt a little like a lonely hearts couples facilitator! We reached Ambleside to pick up the usual amount of supplies for the day and while on the town Tim asked about my planned route for the day. It had been to cross Wansfell to reach Troutbeck and from there to follow all means of permissive ways to Staveley. However, I am always keen to ask for alternatives and as Tim knew the paths, trails and viewpoints of the area better that I did I asked for his suggestions. I liked his answer so we took his alternative route for the day.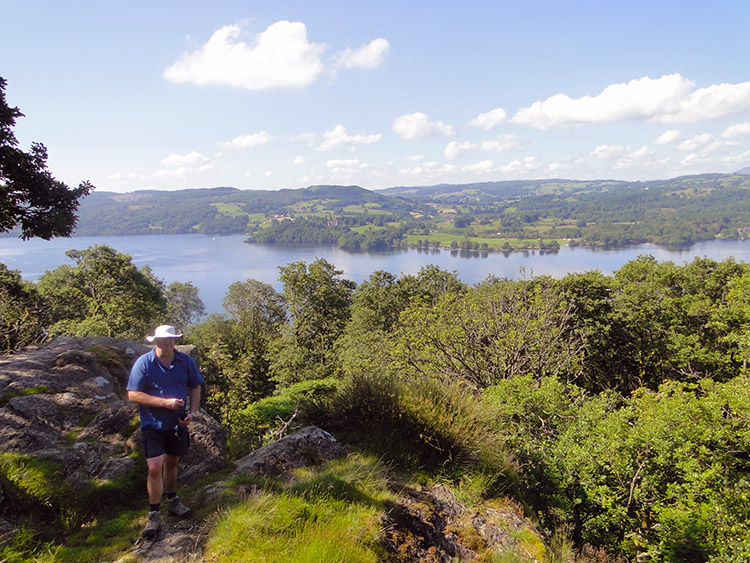 Tim at Jenkin's Crag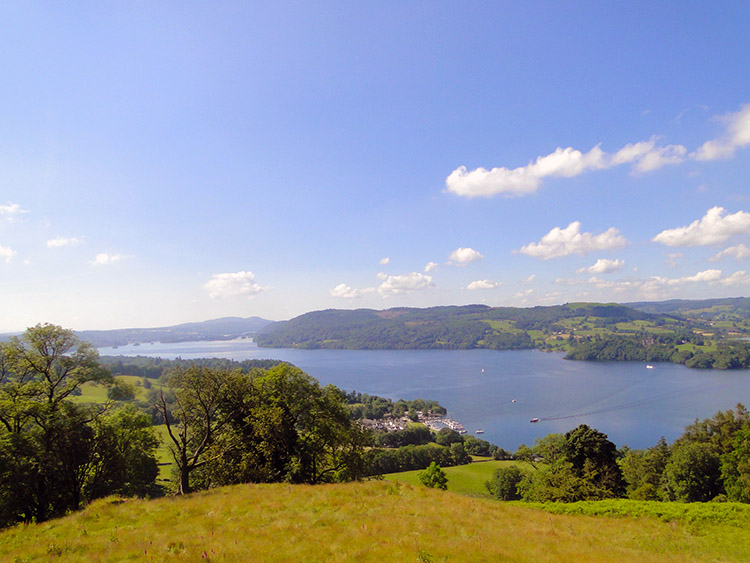 Lake Windermere as viewed from Jenkin's Crag
Tim had asked if I knew of Jenkin's Crag. My ignorance gave him the answer. After his explanation of what it offered I said "Lead on Tim. We are going your way today". With our new friend in the lead we walked from Ambleside up a street which led to a pretty walled lane towards Jenkin's Crag. A National Trust sign confirmed the way. A few minutes of steady climbing later and we reached Jenkin's Crag. We had climbed 100 metres from Ambleside to the crag and the 100 metres of height gained proved ample enough to disclose excellent views to the south and west across the full length of Lake Windermere. Tim was right, it was really great at Jenkin's Crag. Both Steve and I thanked him for his advice on the route amendment and after we could fill our gawps of the view no longer we moved on to the next stage of Tim's alternative walk.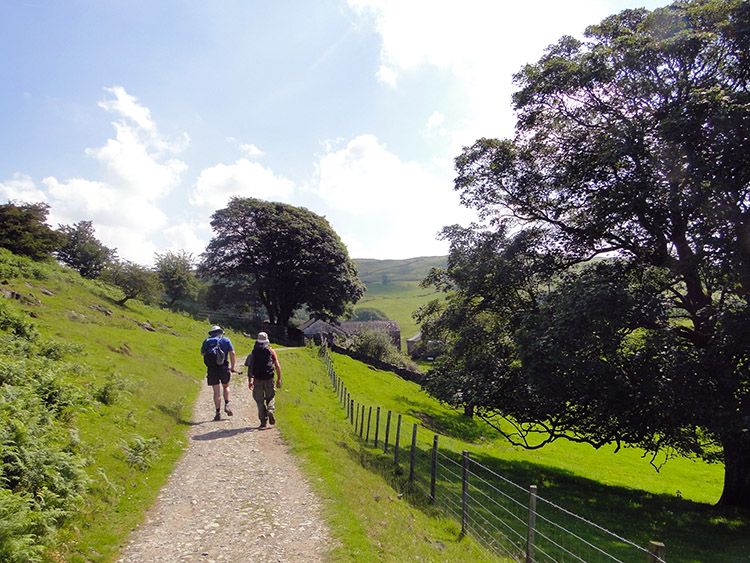 High Skelghyll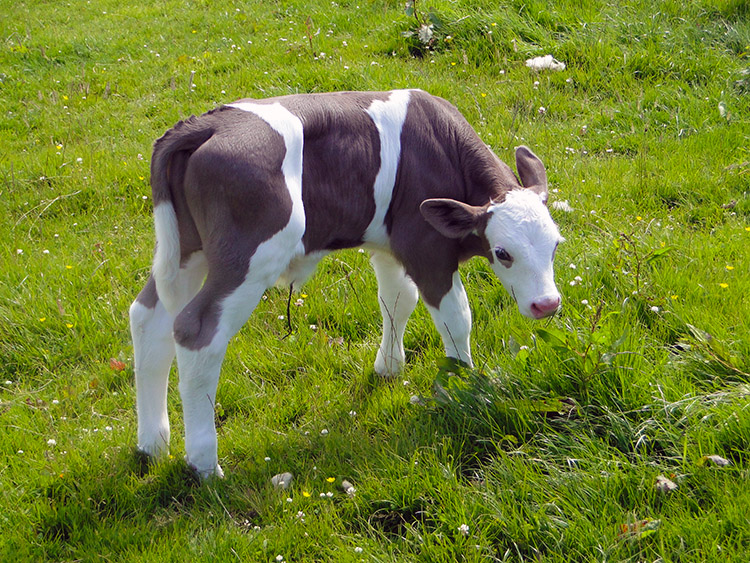 Young lad in field near Low Skelghyll
From Jenkin's Crag I gradually came down from the euphoric highs of the views just enjoyed while walking on the lane eastwards through Skelghyll Wood. I could not manage to come down completely though for the woodland trail was very nice and then when the woodland section ended to reveal our walk continuing on pastoral lanes my enjoyment continued to bubble. Tim had picked a very pleasant route. We were walking on lanes and bridleways undulating between the 200 and 250 metre height lines and this level of height continued to provide attractive views of the area. Locally the farm management was perfect, no mess around here in any way or form. Proud farming indeed. Further afield the view of Lake Windermere continued to thrill the eye and the smaller hills surrounding the lake provided much interest too.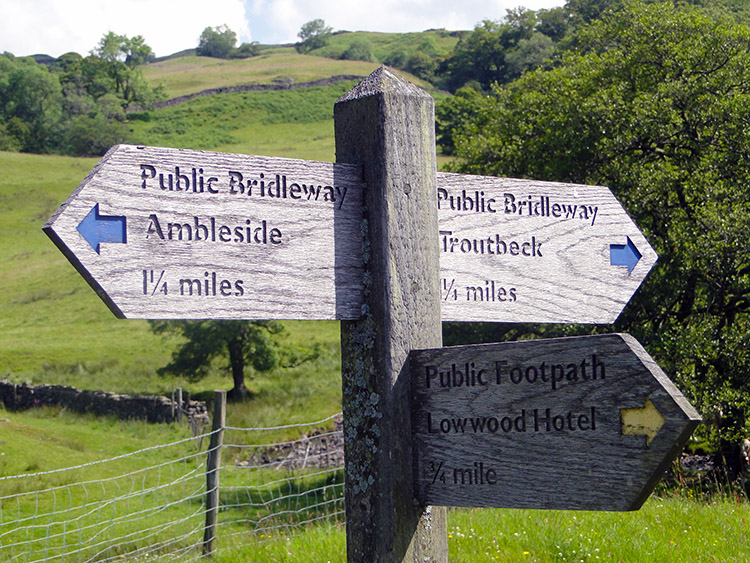 Halfway to Troutbeck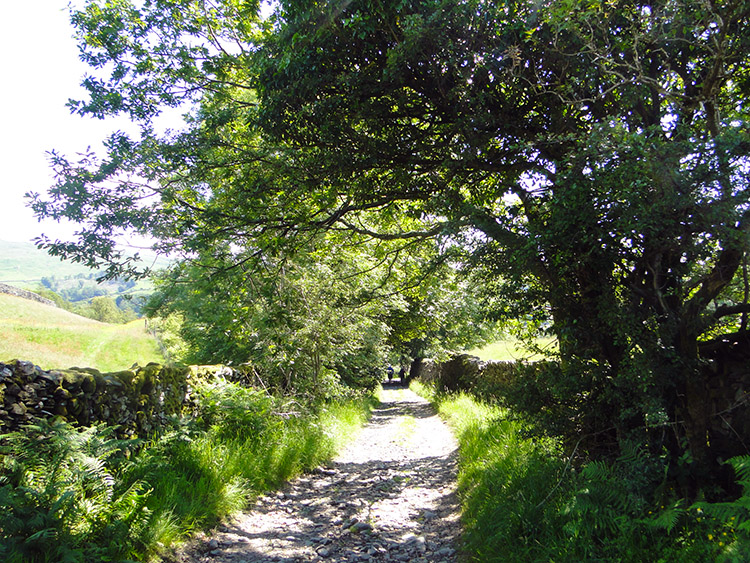 Robin Lane
Our very enjoyable walk leading us out of Lakeland took us past the farms of High Skelghyll and Low Skelghyll and then past the junction with Hundred's Road which according to my map led to absolutely nowhere. One past the junction with Hundred's Road we followed Robin Lane. It was gorgeous with trees overhanging with early summer coloured foliage providing the perfect amount of dappled shade from the sun which was now high in the midsummer sky. Robin Lane lead us for one mile to the point where we crossed Bridge Lane at Low Fold from where was scuttled down a steep bank to cross Trout Beck at Church Bridge.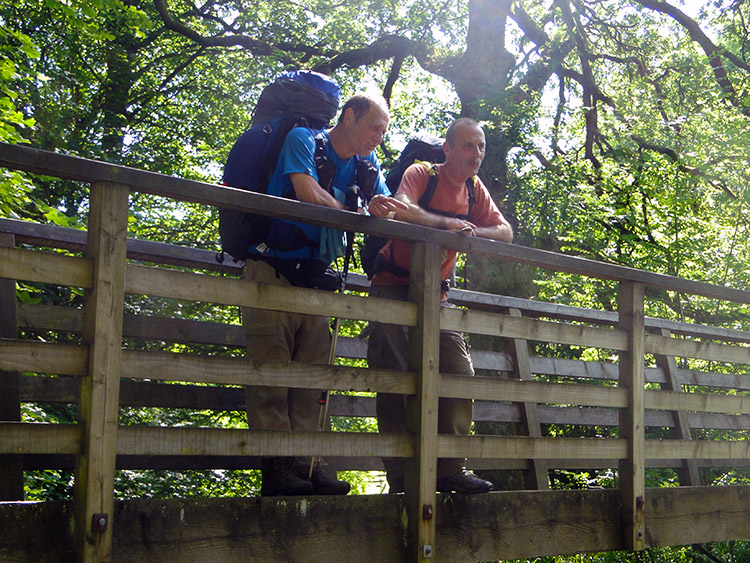 Contented long distance walkers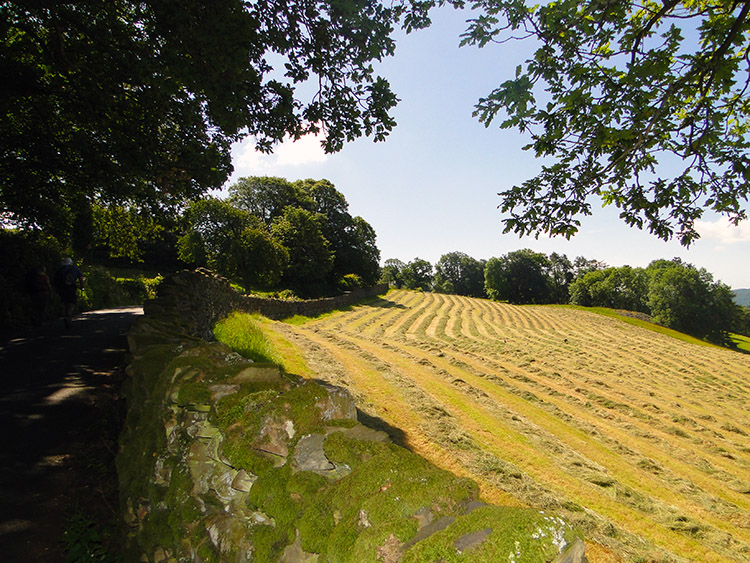 Dubb's Road
It was around midday when we crossed Trout Beck. It was also 2nd July and the hottest day of the year so far. Steady walking and regular breaks were the order of the day and why rush anyway. Steve and I had planned to camp for a second consecutive day. We did not know where that would be exactly but it was to be at a convenient spot beyond Staveley. With that thought permanently in mind we rambled on. From crossing Church Bridge we had zig-zagged on a few paths to reach Dubbs Road, a tree lined access road similar to Robin Lane which we had walked along earlier.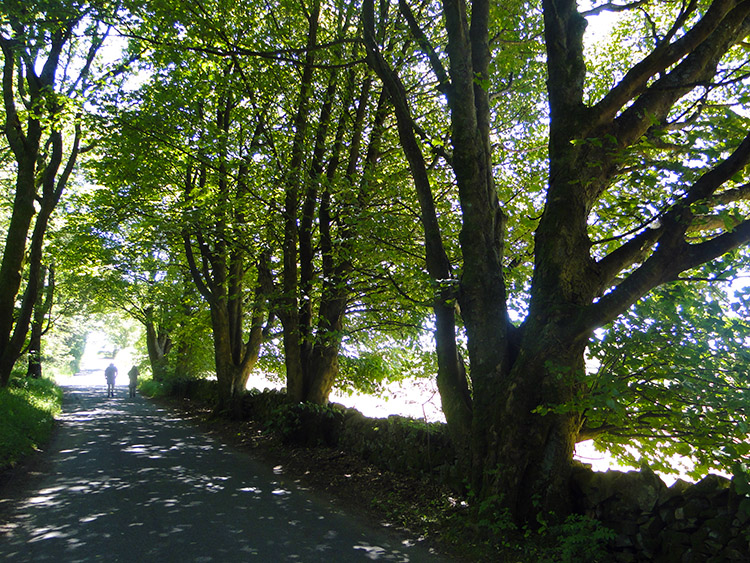 Steve and Tim forge ahead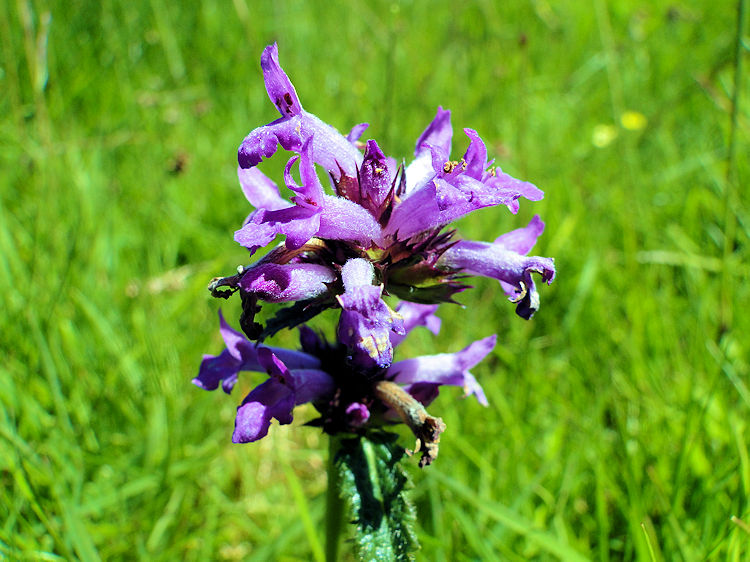 Northern Marsh Orchid
It was the three quarter mile stretch of walking on Dubbs Road which found me to be flagging a bit. Steve and Tim, no doubt while in a world of their own talking about the positive values of being from Bristol, had not noticed me getting further and further behind. The truth was while my feet and knees were not in any acute pain they were now suffering from the continuous effort of the walk while carrying a heavy weight in very hot conditions. The legacy of the Cape Wrath Trail effort 400 miles ago was still retained in my muscle fibre memory bank. Since leaving Fort William, whenever necessary, I would stop and rest and while doing so I would take off my boots and socks while also rolling up my trousers to above my knees. Then I would spray with Deep Heat or Deep Freeze to cool the overheating areas down. Both Deep Heat and Deep Freeze worked the same way for me. They proved to be good radiation coolers.

Once we left Dubbs Road to cross Borrans Plantation to High Borrans I stopped and began my routine to make the necessary remedial actions. Off came my boots and socks. Then I pulled up my trouser legs. Steve had seen it all before and did his own thing. Tim, new to the procedure though watched with interest.

The next part of the walk across Borrans Plantation was full of interest and it was here that Tim came to the fore for a second time. We followed a path which crossed meadows full of flowers. The flowers were gorgeous and each one I asked about Tim identified. Including the Purple Orchid in the picture. My new friend was a source of very useful information, especially when it came to paths to take and flowers to identify.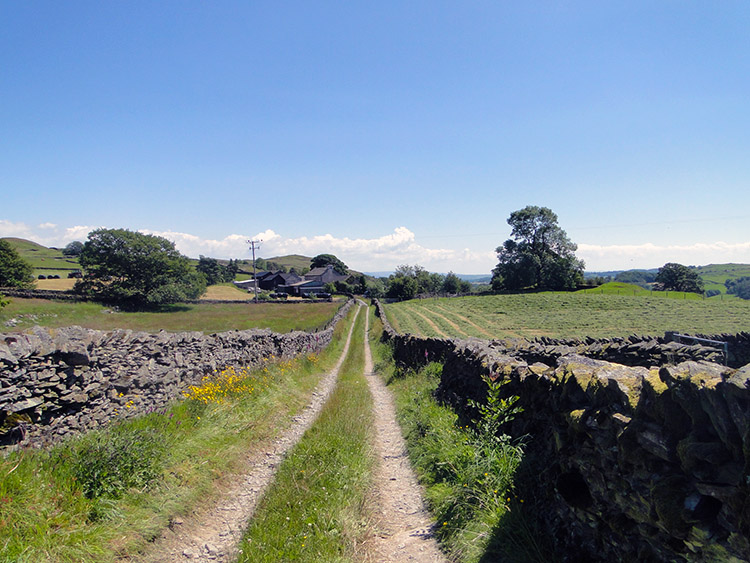 Bridleway to Gatesgarth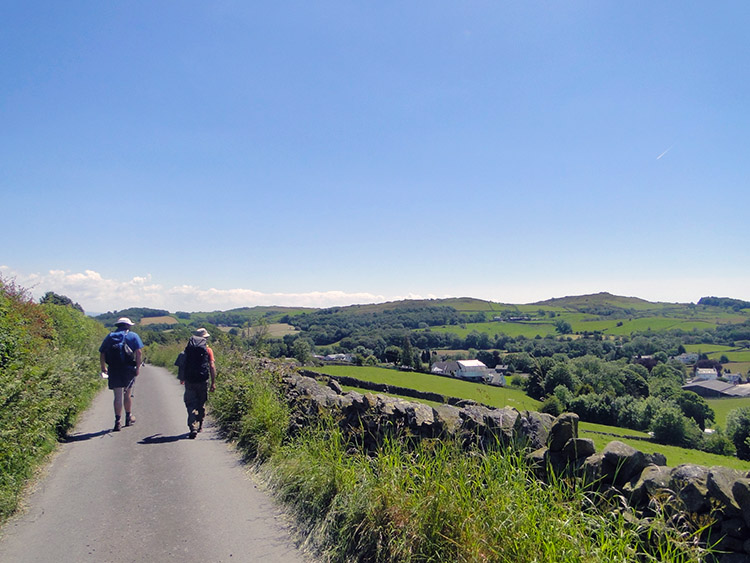 Road from Gatesgarth to Ings
There had been some wispy cloud earlier in the day. There were none now, the sky was full of blue and radiating unbroken sunshine down on us. Haze shimmered from the heat of the top stones on the drystone walls either side of us on the walk along the bridleway from High House Farm which had reached after Borrans Plantation to Gatesgarth. After passing Gatesgarth heat haze rose from the tarmac on the road below our feet. We ambled slowly on this stretch of tarmac to Ings. As slowly as we could though we could not stop the procession towards the end of our walking day.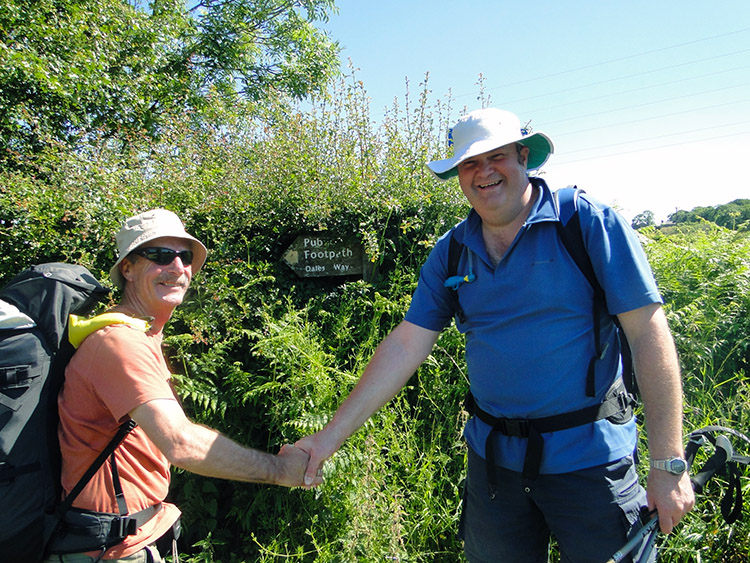 The Bristol Boys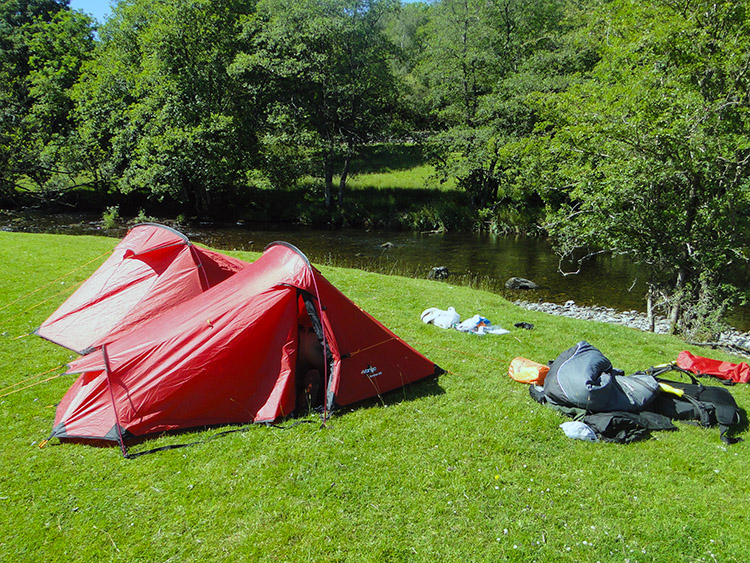 Campsite by the River Kent
After what had gone before the last mile from Ings into Staveley is not ideal. We walked the path running alongside the busy and noisy A571. Good, that is behind us. Do not look back. We followed the quieter B road into Staveley and while preparing to find a shop to stock up for camp and say farewell to Tim he said "Fancy a pint?"

Little did we know that Hawkshead Brewery was located in Staveley. Tim led Steve and I to the brewery shop cum bar where he treated us to a pint each. It was a generous way to say goodbye properly and so while we enjoyed Tim's hospitality we chatted, reminisced on the day, wished each other well, promised to keep in touch and then parted company. I am happy to say we have remained good friends since. Tim Nobes is a top guy.

Steve and I had one task still ahead of us on the walk. After stocking up at the village shop in Staveley and parting company with Tim we had to find somewhere suitable to camp. We left the village to follow the Dales Way footpath which led us across the village sports field to beside the River Kent. We followed the river past the site of the village sewage works on the opposite bank. Best get clear of that. We continued following the Dales Way beside the river for another half mile and pitched camp in a lovely airy field next to the river at Beckmickle Ing.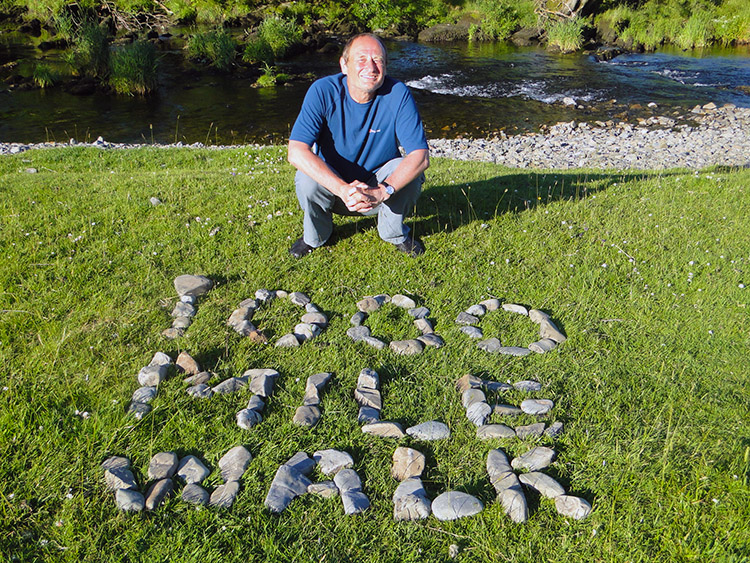 Steve's tribute to my walk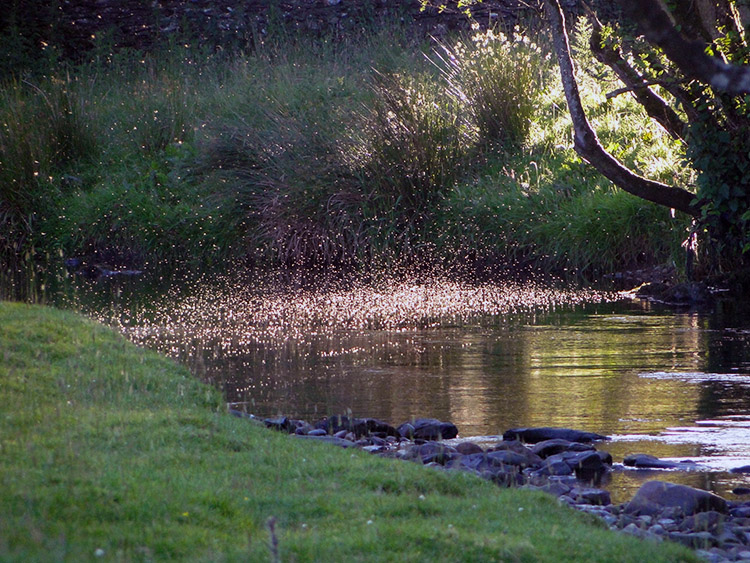 Flies dusk dance on the River Kent
The campsite was a perfect spot. We had a ball. After pitching camp we bathed in the river, washed our laundry, hung it to dry by spreading it across Hawthorn and then settled down for tea. Then Steve picked some stones from the river and placed them in order to make out some words. I loved the result which you can see in the picture. Then we used our arms, legs and bodies to create shapes on the grass from the shadow cast by the setting sun. It was great fun. After the fun with arranging stones and making shapes and while Steve relaxed on the riverbank I started doing the cryptic crossword in the Daily Telegraph which I had bought in Staveley. I answered three clues and then handed it to Steve. Then Steve answered three clues and handed it back. That is how we always do it. We finish it most times.

After eating and after finishing reading the newspaper and completing the crossword we enjoyed a few drinks in our al-fresco surroundings. It was the prefect evening, lovely and warm. As dusk came we watched flies dance on the river. As the song goes 'It was just a perfect day'.
Continue the walk
Great British Walk