The Great British Walk
A personal record of my three month walk of the full length of Great Britain from north to south with written journal and photographs. Tracklogs for GPS units and for use with Google Earth are available for download for each stage.
---
Stage 37: Caldbeck to Keswick
Google Maps
Open Source Maps
| Statistics | |
| --- | --- |
| Start: Caldbeck | Finish: Keswick |
| Distance: 14.7 miles (23.7 km) | Time: 6-7 hours |
| Climbing: 844 metres | Total Distance: 471.9 miles |
| GPX Route File | Google Earth File |
Ordnance Survey Explorer Map (1:25,000)
Summary
While planning the route of my Great British Walk I had identified some areas to travel through on my journey north to south through the British mainland. The English Lake District was one of the essential areas. It is not an area visited in the traditional Lands End to John O'Groats (LEJOG) walk which prefers to use the full length of the Pennine Way to get through northern England but for me walking through the Lake District simply had to be part of my walk. This stage of my walk takes me into the Lake District by walking from Caldbeck via Back of Skiddaw, Skiddaw House, Lonscale Crags and the shoulder of Latrigg to Keswick. In fact it was a second day of walking following the Cumbria Way.
(Note: My walk of Cumbria and the Lake District was a part of my
Great British Walk
from the north coast of Scotland to the south coast of England)
---
Stage Report
I had started a Facebook account just before heading off to northern Scotland to start my walk. By Guestbook, email and other means possible at the time followers of the Walking Englishman website had encouraged me to do so and to keep a blog while I walked. I had also started a Word Press page for the duration of the walk. Through these social outlets some people who I had never met contacted me and asked if they could join me and Steve on particular stages of the walk. The first to do so was a gentleman from York called John Lister. John joined Steve and I for breakfast at the Oddfellows Arms which had been our overnight accommodation in Caldbeck. I was pleased he had come to walk with us. He was useful from the start but not in the way one might expect.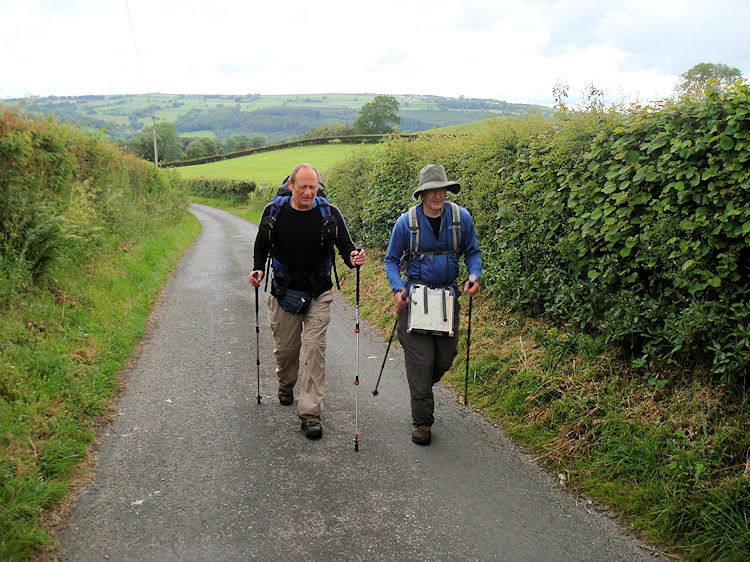 Walking with poles from Caldbeck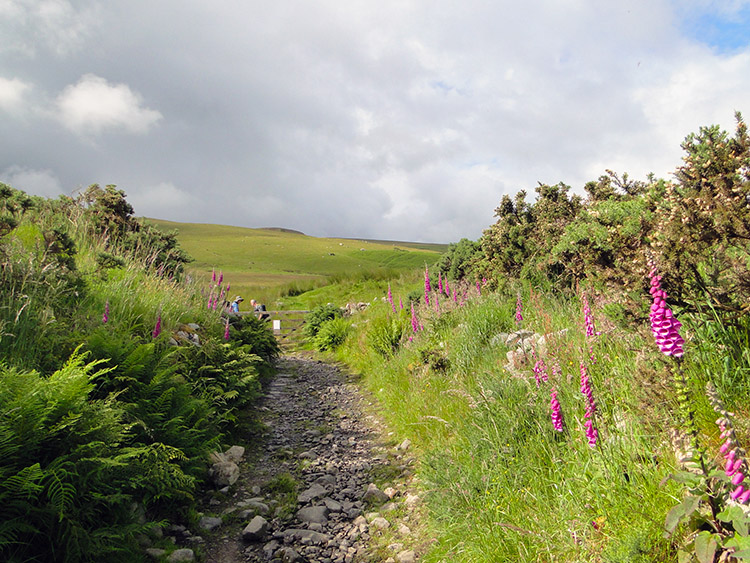 Walking to Caldbeck Fells
If you recall my report from the previous stage I said I had made a significant mistake after arriving in Caldbeck. What I had done I did not realise at the time and I did not realise until I was checking out from the Oddfellows Arms to begin this stage. I had washed, dressed and had breakfast. I went back to my room to pick up my backpack which I had also methodically packed. Nothing untoward there. Then I picked up my backpack to walk out of the room. Only one thing left to do. Pick up my walking poles from the corner of the room near the door. "DRAT" or something similar but not to be written here came out of my mouth in an alarming tone.

I always left my walking poles against a wall or in a corner beside the door of my room. It was a routine I repeated again and again in tandem with the unpacking and repacking of the backpack. Everything had its place and its order. What had I done wrong? I thought long and hard. I checked with the staff in my accommodation. Were they behind the bar? No. Were they in the bar? No. Were they in the garden area? No. I thought long and hard once more. I backtracked my actions further back to the point I had last used them. I knew I had walked into Caldbeck with them. I knew I had rested them on the bench in the village square before I had gone into the shop. So I went back and searched. Not there either. I resigned myself to the thought I had lost them. And they were not cheap, they were a quality set of adjustable Leki Poles which my wife Lil had encouraged me to buy in Fort William. She would not be impressed I had lost them but the thought of explaining my error in judgement to her was not the first priority. I would have to walk into the Lake District without walking poles and buy a new pair in Keswick.

Full of despondence I went to the village shop to stock up with food and drink for the day ahead. John followed me into the shop to do the same. He had the foresight to ask the shopkeeper "Has anyone left any walking poles in here". She replied "Yes they have. A young lad brought a pair in last night saying he had found them left propped up on the bench in the village square". She produced the poles and on seeing them I almost fainted. I thanked her with all my heart and once reunited with my beloved walking poles we set off walking on our way into the Lake District.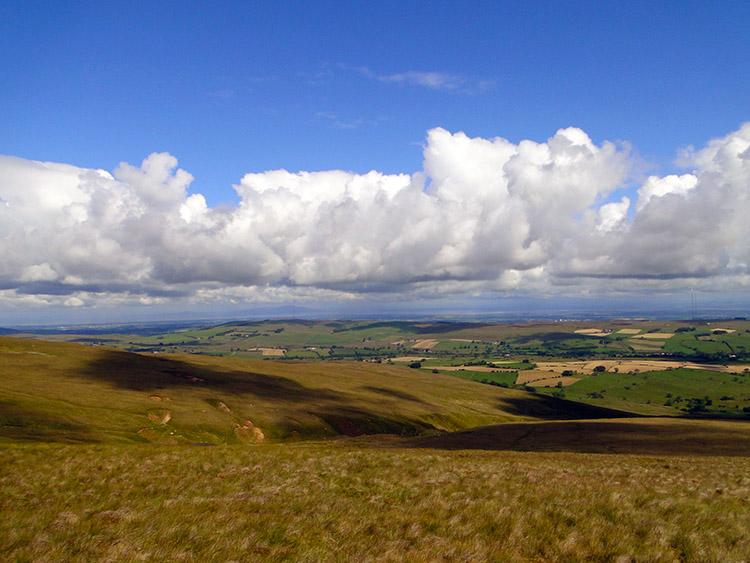 View from Caldbeck Fells to north Cumbria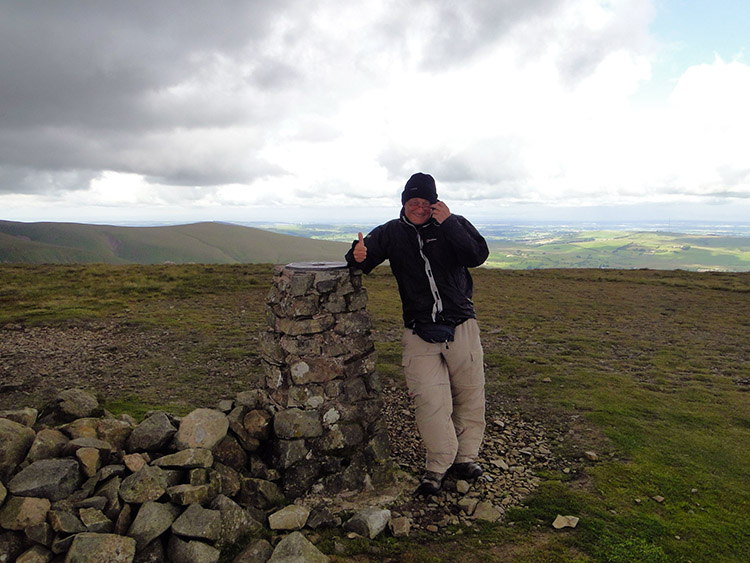 On High Pike
After a mile and a half of walking on delightful paths and lanes we reached the foothills on the extreme northern Lake District fells. The first climb took us up the Caldbeck Fells to High Pike at 658 metres high. That meant a 300 metre climb, first part by a gully to Low Pike and then over the north facing bank of High Pike. Soon after beginning the climb Steve forged ahead. "He is keen isn't he" said John. Having not been walking with us before I put John at ease "He is always like that. Once on a hill he invariably has to walk relentlessly to the top". I should note here and now Steve had just turned 60 years old. John and I are younger but not by too far. Steve reached the trig pillar first. John and I reached it a minute or two later. We took a short break and admired the views.

The bulk of the Skiddaw range blocks out views from High Pike to the north but to the south lies a picture of beauty. Wainwright said of it "High Pike takes full advantage of its position on the perimeter and commands a magnificent prospect, all of it fair to look upon, ranging from the West Cumbrian coast and Solway Firth northwards to the Scottish hills, and then, from the border round to the east, the lofty Pennines rise from the wide Eden valley". I was looking back to from where I had walked for the last week.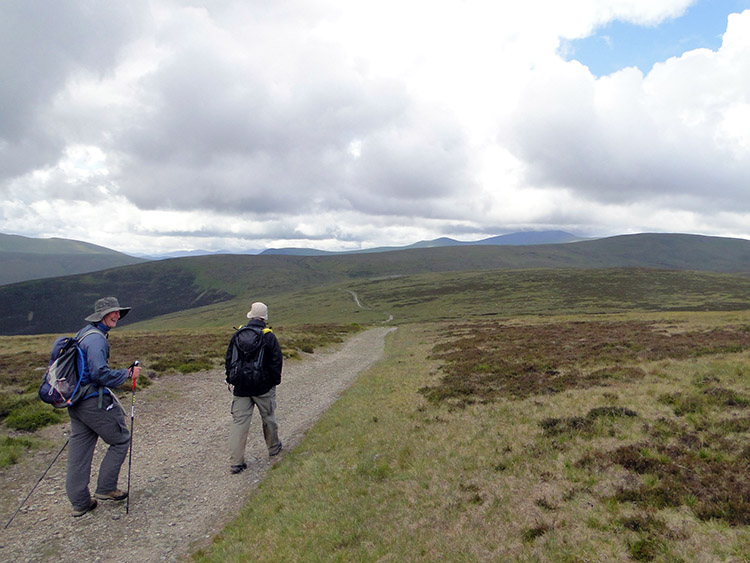 Walking from Hare Stones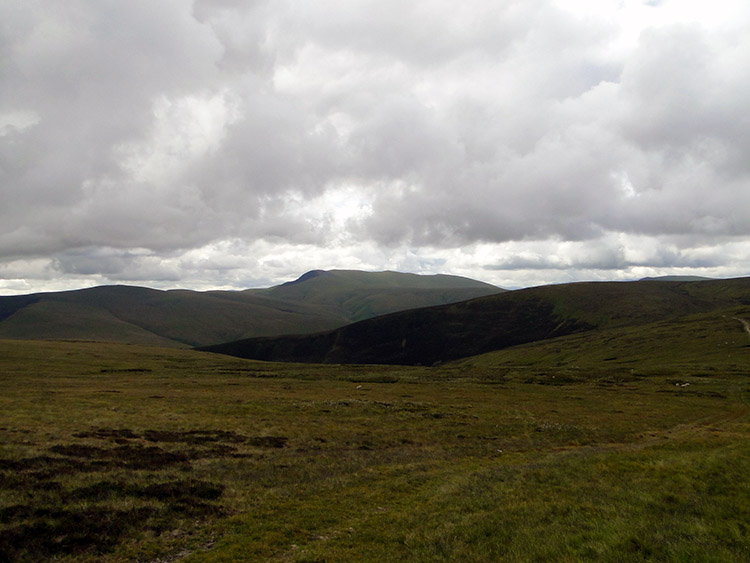 View from Great Lingy Hill
From High Pike the paths were very good and very easy to follow. Most were maintained to a standard allowing vehicles to range across the high ground in the Back O'Skiddaw area. After the effort of climbing 350 metres to High Pike we now rambled over fairly level terrain to Hare Stones and then to Great Lingy Hill. In fact we were descending slightly with every step we took. At Great Lingy Hill I looked across to Knott which is one of Wainwrights Lake District Fells. Holding an ambition to climb most but not an obsession to climb all I considered a detour. Had I being walking solo I probably would have but with being in company I tempered my desire and left it for another time. Perhaps.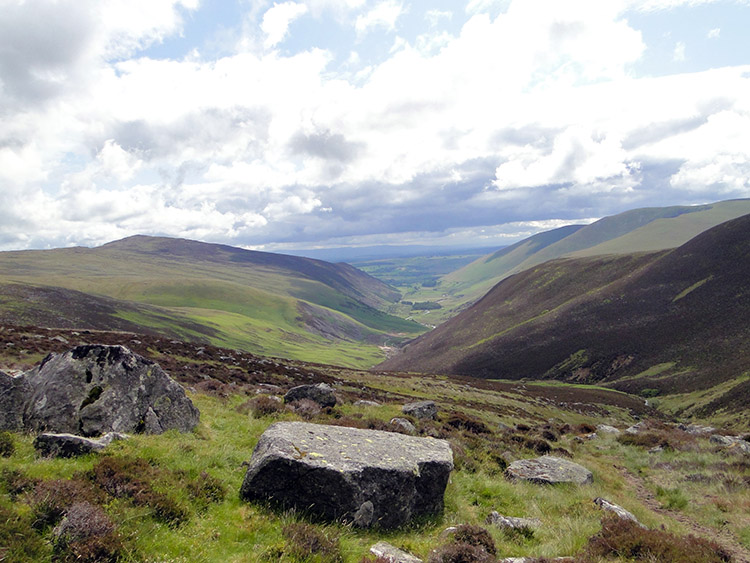 View south from the head of Grainsgill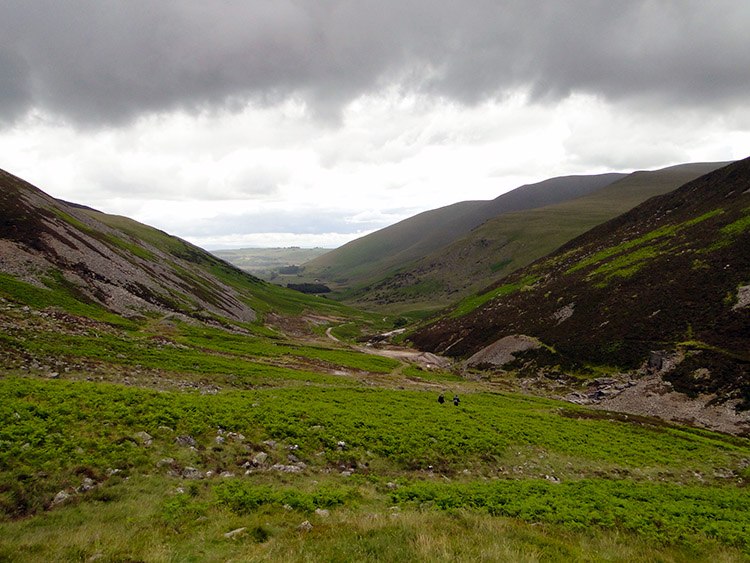 Following Grainsgill Beck downstream
Soon after leaving Great Lingy Hill behind we reached the head of Grainsgill. We turned sharp left followed a path running parallel Grainsgill Beck downstream. In the next mile and a quarter we lost all 250 metres of height and in fact all the 350 metres of elevation we had achieved climbing from the foothills in the northern edge of the National Park to High Pike. I was unperturbed at the loss of height because I had not really noticed. The immediate views remained stunning and on turning at a right angle to leave the course of Grainsgill Beck to follow Salehow Beck southwest another stunning scene came into view. The lovely wide valley enticed me on. It was gorgeous.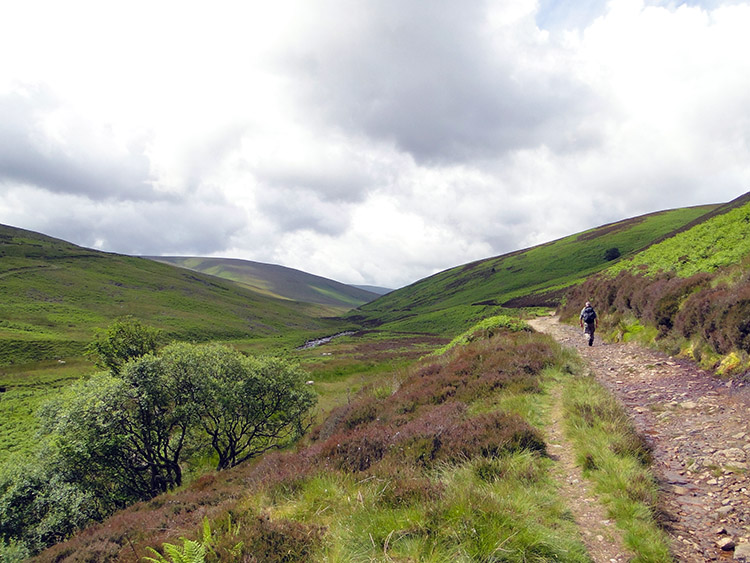 Following Salehow Beck to Skiddaw House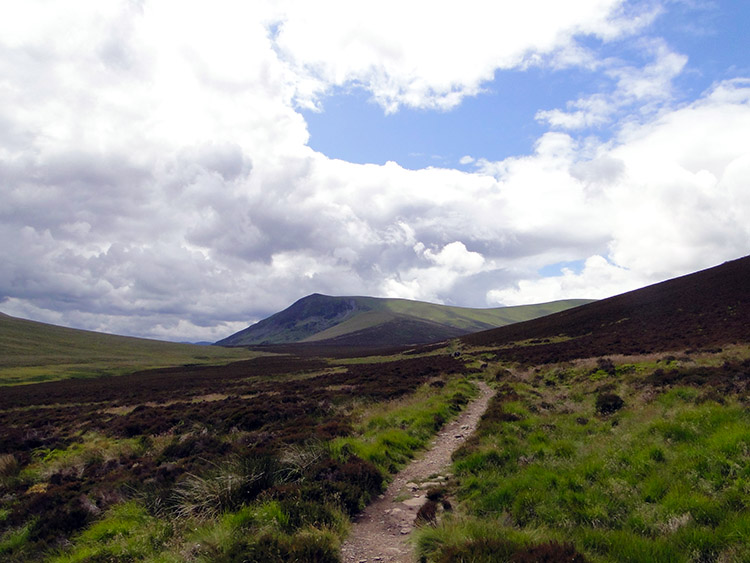 Awesome upland scenery
I walked with a smile on my face as we followed the valley floor path on a slight incline and in a direct line towards Skiddaw House. While I lingered to take in the views, the moment and a series of photographs both Steve and John paced ahead of me. I did not mind as I was quite happy to be enjoying the peace ands quiet of this part of the Lake District. Very few people were about and though we had seen a few scattered walkers on distant paths as yet we had not had one encounter. Soon I passed the point where Salehow Beck and Blackhazel Beck meet. Then a little further on I came to a footbridge which allowed me to cross Wiley Gill which flows down from the north in a cut between Knott and Great Calva. The footbridge proved to be no friend of mine.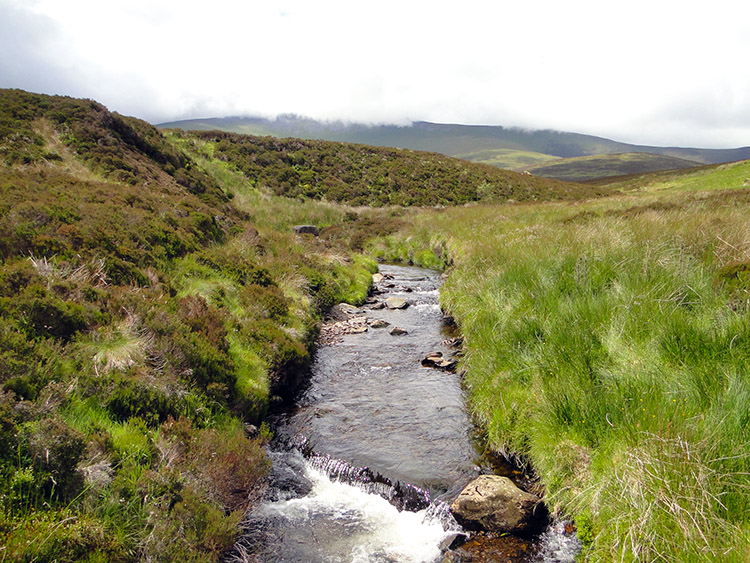 Wiley Gill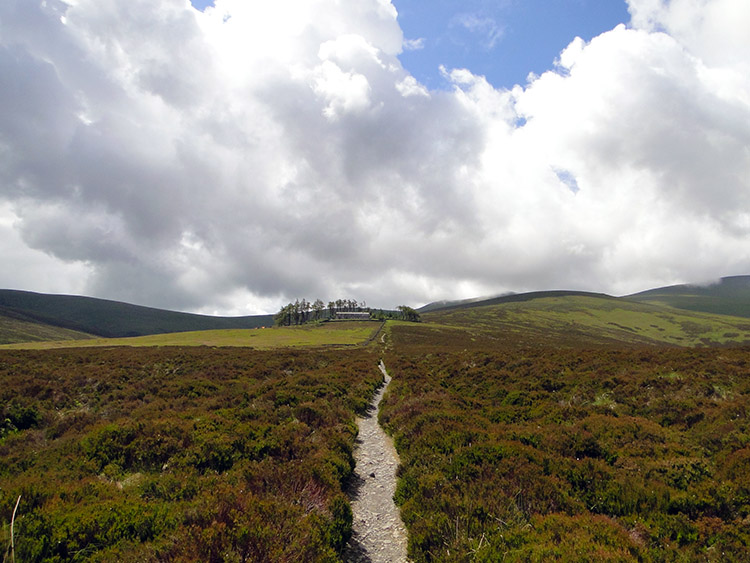 Path from Wiley Gill to Skiddaw House
It was warm and I took a short break on the footbridge relaxing with my arms folded on the top rail of the footbridge while watching the waters of Wiley Gill flow to its confluence with Salehow Beck. I was thinking about taking a drink before setting off walking again but that thought quickly left my mind when I heard a splash in the water. I looked down to see the cause of the splash and watched my drink floating downstream. The rail had just been low enough for my drink to slip out of the drinks compartment on the side of my backpack. I had not noticed that. I watched in thirsty disappointment as the drink I had bought in Caldbeck to enjoy during the walk was flowing further and further away. I had neither the inclination or the energy to chase it. I trod heavily and disconsolately from Wiley Gill to Skiddaw House to meet up with Steve and John who I saw sat on the ground just outside the Youth Hostel grounds waiting for me. I arrived after ten minutes of tardy sulk filled walking, sat down without speaking to my colleagues and then looked out into space.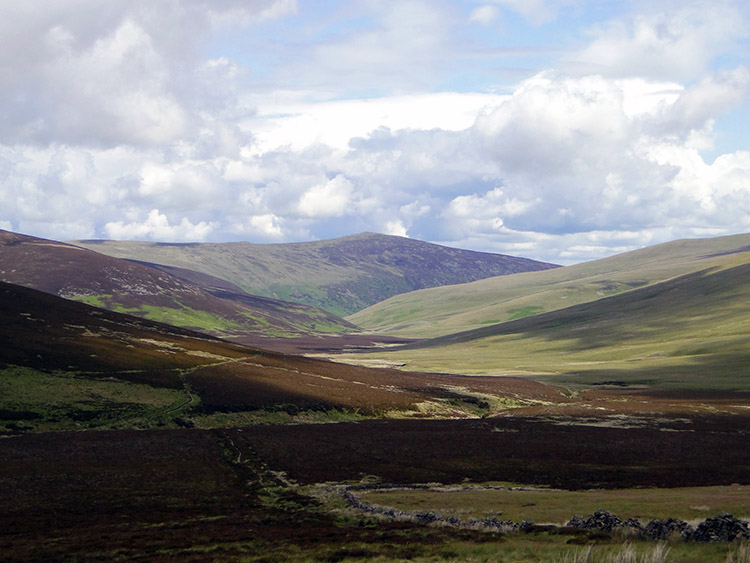 The view north east from Skiddaw House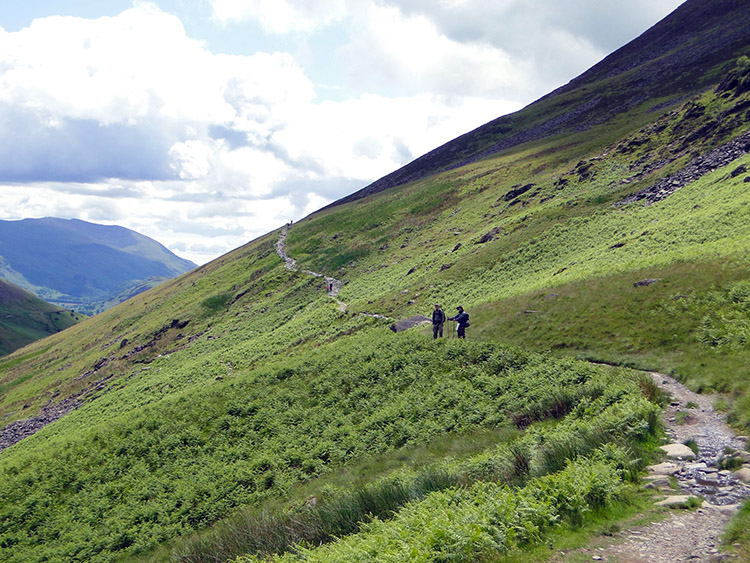 Walking south to Lonscale Crags
I soon came around and saw the funny side of what had happened at Wiley Gill. Fortunately I had bought two drinks, one for each side pocket of my backpack and only one had fallen in the water. It had been the unopened one though so what was left in the remaining one had to suffice. It was enough to help down the sandwich and sate my thirst. Then we were off again. What followed was amazing.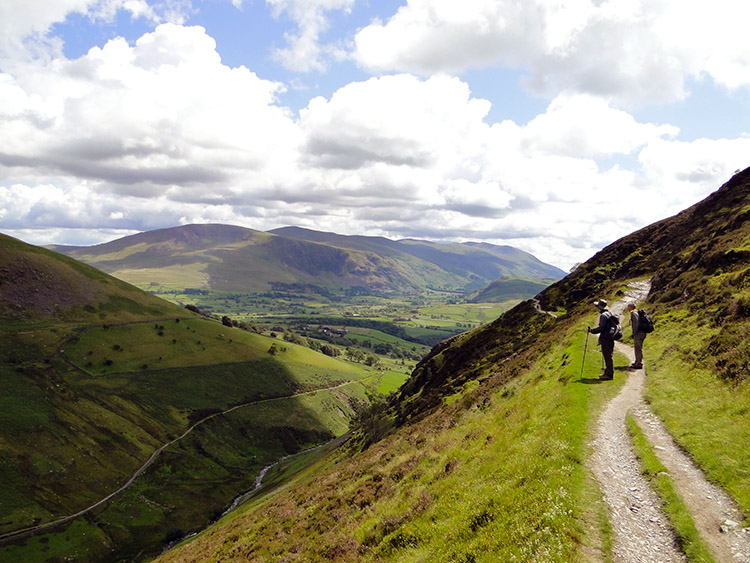 Magnificent view to Lakeland from Lonscale Crags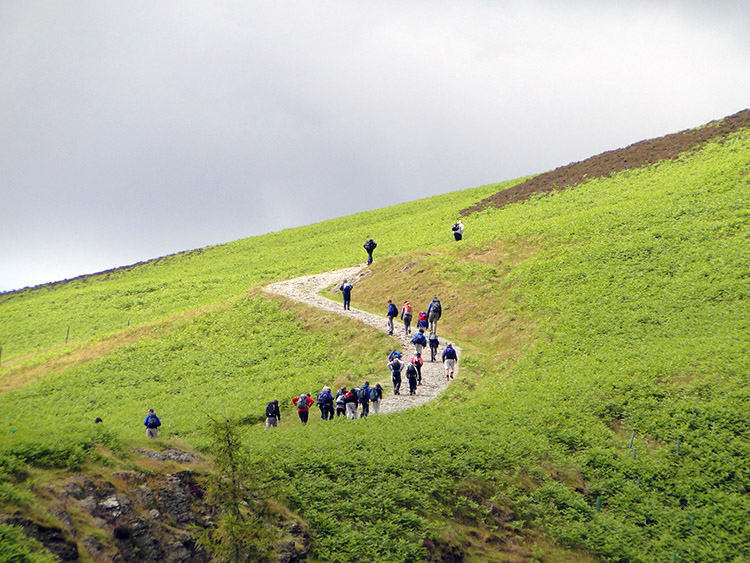 The Skiddaw Highway
Walking in the hills of Back O'Skiddaw are unlike the rest of the Lake District uplands. The hills are more rounded with less rocky outcrops than their neighbours and with more grass. No dissimilar to the Scottish Southern Uplands I had travelled through about a week ago and the Pennines which I know so well. However things were to change dramatically as we walked south along the Cumbria Way on the wonderful elevated footpath running parallel to Glenderaterra Beck. We came to Lonscale Crags and I gawped. WOW. The image of the Lake District in my minds eye was opening out right in front of me. First to appear in view were the Dodds with Clough Head, Great Dodd, Watson's Dodd and Stybarrow Dodd all greeting me. The magnificent long range to which they hold the north and on which Helvellyn, Nethermost Pike and Dollywaggon Pike hold the north looked brilliant in the good day of extended views. I would have missed out on so much had the cloud been low at this moment. Conditions were perfect. The view was perfect.

We rounded the corner held together by Lonscale Crags and with every step we took we saw more. The north central fells with Bleaberry Fell at the fore came into view. Then Keswick and Derwent Water came into view. I was rapt with awe. The Newlands Fells with Cat Bells prominent, Causey Pike, the Coledale Fells with Grisedale Pike. It was awesome. I stood fixed to the spot. WOW WOW WOW. This was the moment I realised my decision to miss the north part of the Pennine Way and seek the way from Scotland to the Lake District was the right one. Absolutely the right one.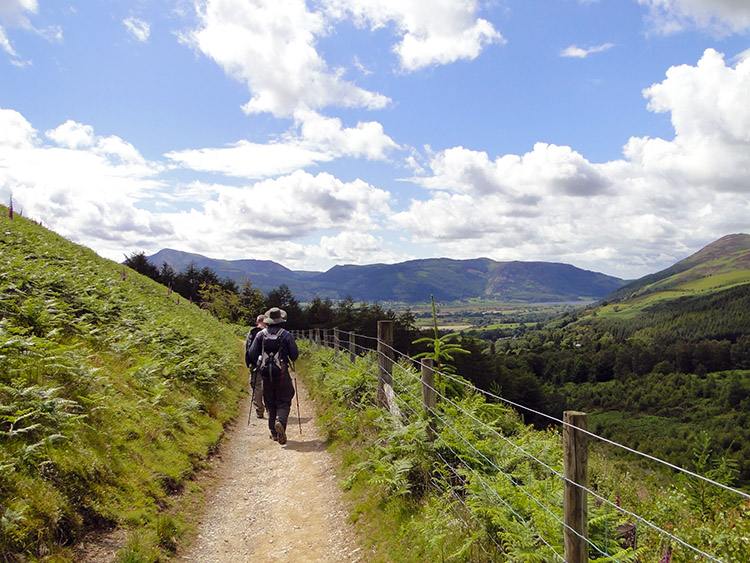 Following Latrigg Shoulder to Keswick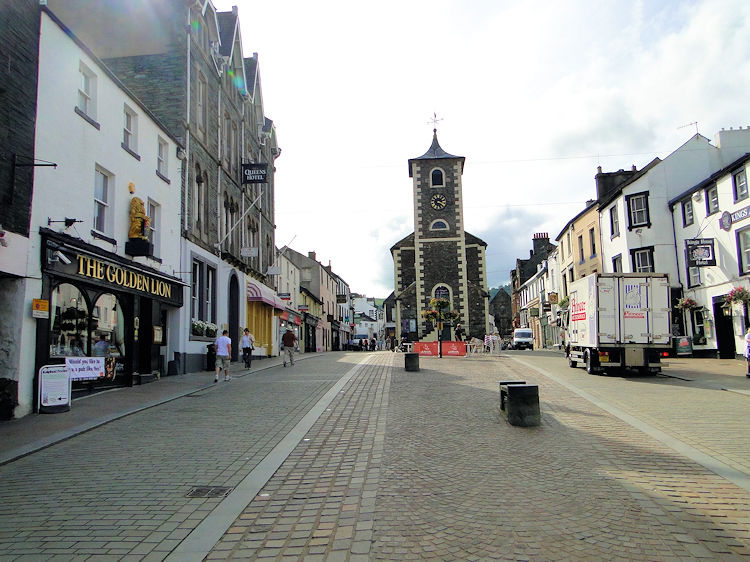 Keswick
On recovering my senses from the overdose of beauty we followed the Cumbria Way to the shoulder of Latrigg. Approaching the popular car park at the road end from Applethwaite I looked up to the Skiddaw Highway which was congested with traffic. I have never taken that road up to Skiddaw and I never will. We continued on past the car park to reach Ewe How from where a walk downhill through a wood brought us to the outskirts of Keswick. We made our way to the centre of town and found a cafe to enjoy a drink. Steve and I thanked John for his company and he thanked us for ours. A new friendship had been forged. We were to meet John on the walk again and on more than one occasion.

Steve and I found our Bed and Breakfast close to the town centre and after a short rest, cleaning ourselves and dressing for the evening off we went into town. It started with a walk in Fitz Park, a place we knew so well from previous visits. That was followed by a bite to eat and a few familiar pubs. We slept well knowing we had enjoyed a great day walking into the Lake District and knowing we had another great days walking to look forward to when we woke. Magic.
Continue the walk
Great British Walk