County Tops of England: Worcestershire
Worcestershire Beacon: 425 metres (Grid Ref: SO768452)
Google Maps
Open Source Maps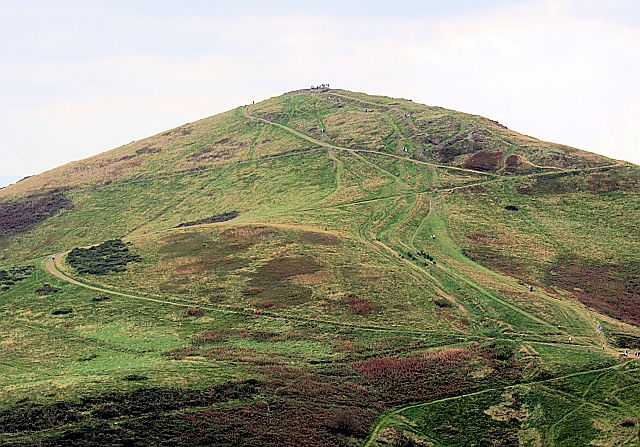 Worcestershire Beacon (image courtesy of
Wikipedia
)
---
The Walk: A straightforward linear up and back down walk in the Malvern Hills completes the task of attaining Worcestershire's county top. And how cool for the county top to bear the name of its parent county. That is unique.

The Walk I Would Do: Plenty of routes lead to the top of Worcestershire Beacon which forms the highest point of the Malvern Hills. On a good day and in good weather there will be plenty of people up at the beacon admiring the extensive views in all directions. I would park up, or I would be staying in Great Malvern and I would design a walk to cover the Malvern Hills from there. I would include North Hill, Table Hill, Sugarloaf Hill and Worcestershire Beacon in my circular walk.
---
Information: Worcestershire Beacon, also popularly known as Worcester Beacon, or locally simply as The Beacon, is a hill whose summit at 425 metres (1,394 ft) is the highest point of the range of Malvern Hills that runs about 13 kilometres (8.1 mi) north-south along the Herefordshire-Worcestershire border, although Worcestershire Beacon itself lies entirely within Worcestershire. The hills are managed by the Malvern Hills Conservators under five Acts of Parliament of 1884, 1909, 1924, 1930, and 1995 whose aim is to preserve the nature and environment landscape of the area and to protect it from encroachments. The Beacon is highly popular with walkers with its easily reached dense network of footpaths crisscrossing it and the area has been designated by the Countryside Agency as an Area of Outstanding Natural Beauty. (Source: Wikipedia)
---
County Tops of England
Homepage

Copyright © 2003-2022 Walking Englishman. All rights reserved.