County Tops of England: North Riding of Yorkshire
Mickle Fell: 788 metres (Grid Ref: NY7806245)
Google Maps
Open Source Maps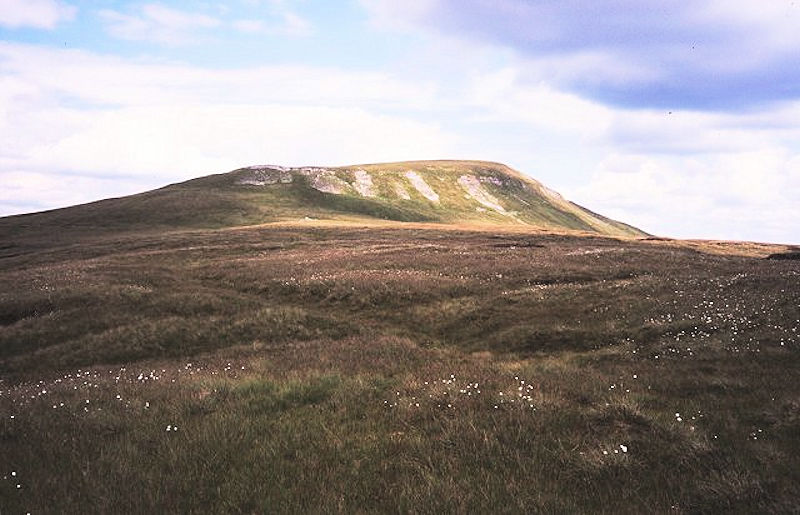 Mickle Fell (image courtesy of
Wikipedia
)
---
The Walk: This walk has to be planned in advance by contacting the military. This is because Mickle Fell lies within a Danger Zone and permission to enter the zone has to be sought at all times. Once permission is granted the walk is a hard slog up onto Pennine Moors and precise navigation is essential. Make sure you have backup of map and compass and/ or GPS to aid you up the the top of the fell. Some assurance is provided by means of a boundary wall/ fence which is followed practically all the way to the top. Stick close to the wall/ fenceline all the way up from the start and only leave it near to the objective to crest the summit of Mickle Fell. It is never easy, boggy sections are waded through, becks are crossed and feet get wet. When the deed is done, return to the start by the way you came.

Note: Since the county boundary changes in the 1970's Mickle Fell replaced Burnhope Seat as the county top of County Durham.

The Walk I Would Do: This one. Despite Mickle Fell being the highest point of my home county it does not excite me. As with some others in the list of county tops I would only climb it if I was on the mission of bagging all of them.
---
Information: Mickle Fell is a mountain in the Pennines, the range of hills and moors running down the middle of Northern England. It is 788 metres (2,585 ft) high and lies slightly off the main watershed of the Pennines, about ten miles south of Cross Fell. It is the highest point of both the ceremonial county of County Durham and the historic county of Yorkshire, lying in the southern part of Teesdale which was transferred from the North Riding of Yorkshire to County Durham under the Local Government Act 1972. (Source: Wikipedia)
---
County Tops of England
Homepage

Copyright © 2003-2022 Walking Englishman. All rights reserved.