County Tops of England: Surrey
Leith Hill: 295 metres (Grid Ref: TQ139431)
Google Maps
Open Source Maps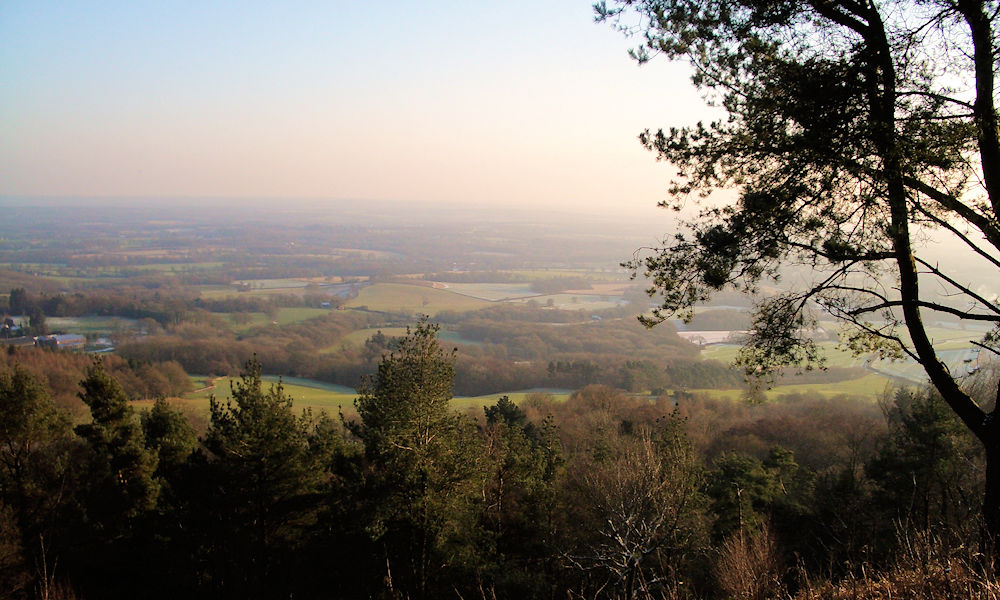 The view from Surrey's county top (image courtesy of
Wikipedia
)
---
The Walk: There is a 18th century Gothic tower on the top of Leith Hill and that is what to aim for from the start of the walk to Surrey's county top. You should spot it through the trees on this wooded hill. Head in a direction north from the car park on a much used path to the summit. You will probably be in the company of others as you do so; Leith Hill is a popular spot for visitors and can be busy in summer evenings and at weekends. After reaching the summit you could walk back or alternatively follow the circular route through wooded glades to Cockshot Farm before following the roadside back to the start.

The Walk I Would Do: This one. If obliged to do a longer walk I would summit Leith Hill, head east to Coldharbour Common, explore Anstiebury Iron Age Hill Fort and then follow paths west back to my starting point. This route is available on request.
---
Information: Leith Hill is a wooded hill some 7 km to the south west of Dorking, Surrey, England. It reaches 294 metres (965 ft) above sea level, the highest point on the Greensand Ridge, and is the second highest point in south-east England, after Walbury Hill near Hungerford, West Berkshire, 297 metres (974 ft) high. It was possibly on the summit of Leith Hill in 851, that Æthelwulf of Wessex, father of Alfred the Great, defeated the Danes who were heading for Winchester, having sacked Canterbury and London. The nearest railway station is Holmwood Station, 2 miles (3.2 km) to the east. This station is served by Southern trains on the Sutton and Mole Valley Line route. (Source: Wikipedia)
---
County Tops of England
Homepage

Copyright © 2003-2022 Walking Englishman. All rights reserved.