Dent, Hacker Gill, River Dee and Church Bridge
Google Maps
Open Source Maps
| Statistics | |
| --- | --- |
| Start: Dent | Distance: 4.5 miles (7.2 km) |
| Grid Ref: SD722859 | Time: 2-3 hours |
| Climbing: 352 metres | Rating: Moderate |
| GPX Route File | Google Earth File |
Ordnance Survey Explorer Map (1:25,000)
---
Summary: I arrived in Dent for a weekend of walking with friends. It was mid afternoon on a Friday and on looking at the map found this short walk. It was a lovely warm up for the walks we had planned for the following Saturday and Sunday. In fact it was a 'midget gem' that had some sweet moments on the way.
---
The Walk: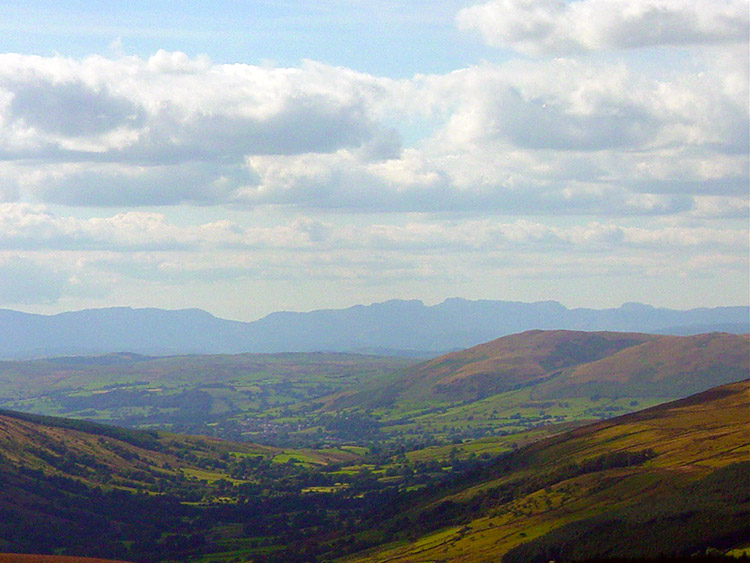 Dent Dale and Lake District mountains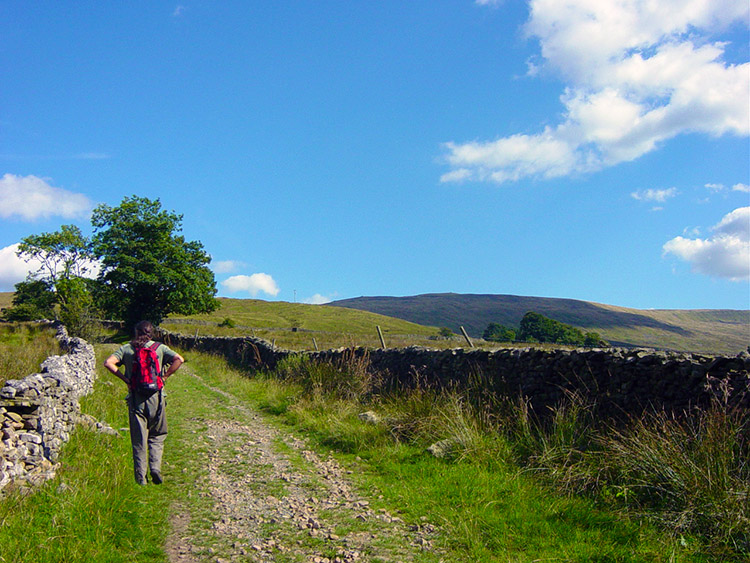 Climbing towards Boot of the Wold
This walk was done by me, Deke and Stewart on a long weekends walking during the summer of 2003. It can be started from Dent which would put two miles on the length and one hour on the time of the walk but due to time (we did not start walking until 4.00pm) we elected to start from Whernside Manor. From our starting point we followed the Craven Way (Dales Way) track that gave us height out of Dent Dale towards Whernside. Our goal was not this most maligned of the 'Three Peaks' but the Boot of the Wold a point on the Craven Way that stands at a respectable 500 metres. From here you gain superb views of Dent Dale, one of the premier dales in the Yorkshire Dales national park and certainly one of the prettiest. When we got to the Boot we stopped to take in the great views of Dent Dale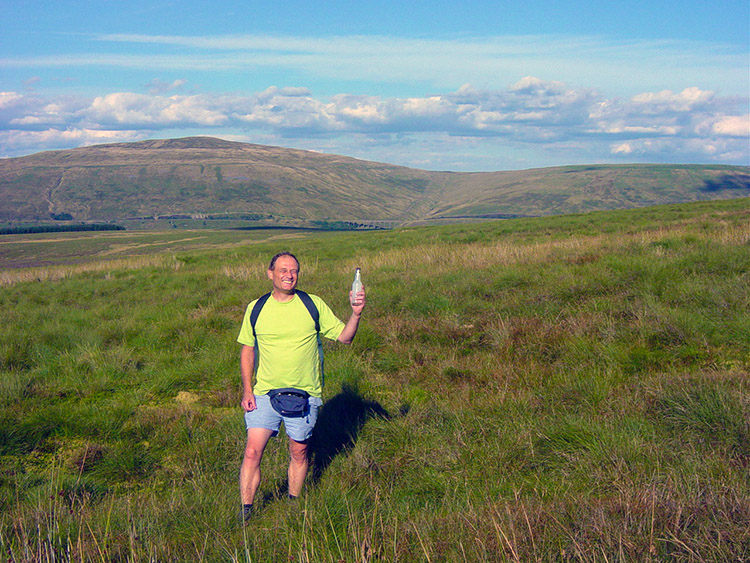 A strange place to find a bottle of Bacardi Breezer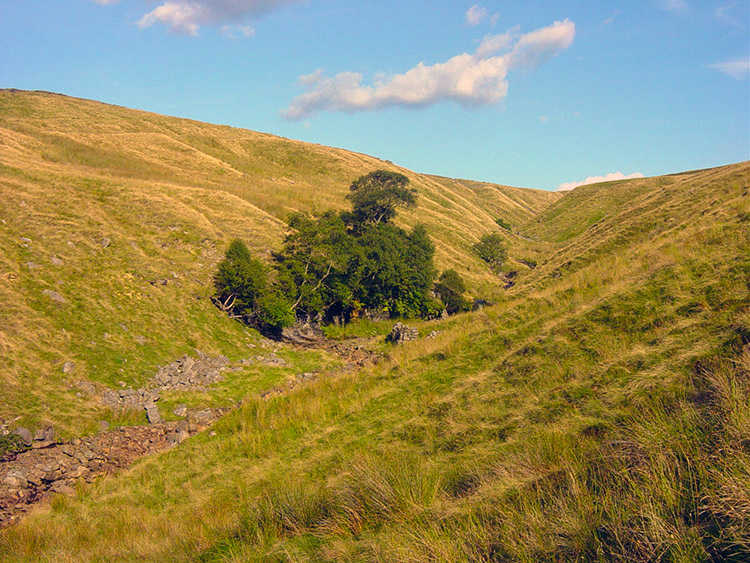 The humble beginning of Hacker Gill
We had also stopped to catch our breath as this first haul was a stiff relentless climb. It was a typical summer 2003 day, warm and sunny which gave us the opportunity to look over Dent Dale at its most majestic. I had knowledge of this path as I had taken it, in the opposite direction while doing the Dales Way in April. From here on Stewart and I were to walk on unknown terrain in the capable hands of Deke. Our guide took us off the track and in a northerly direction onto open moor. During the walk on this hardly touched section we found a full unopened bottle of Bacardi Breezer! At least someone had been here before. We made our way, not opening the weathered bottle losing height off the fell until we arrived at High Force waterfall on Cabbage Hill (SD750855) which beckons the beginning of Hacker Gill. Little did we know the next mile was going to be a fantastic exploration.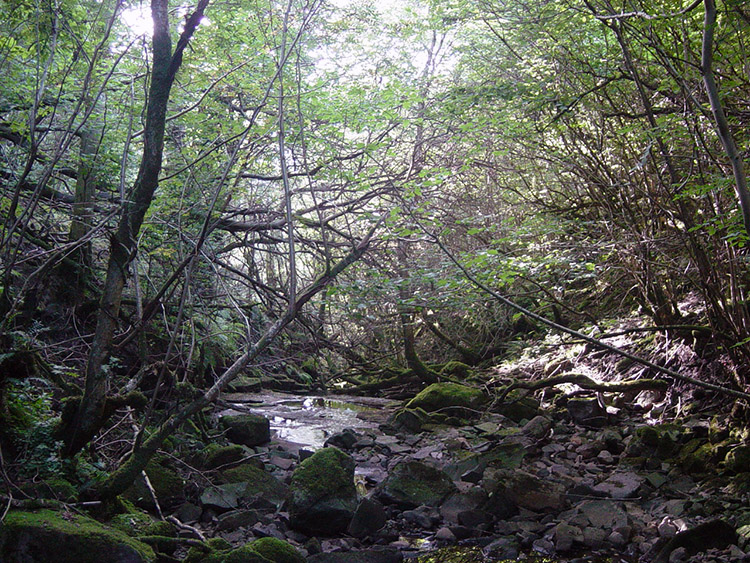 Hacker Gill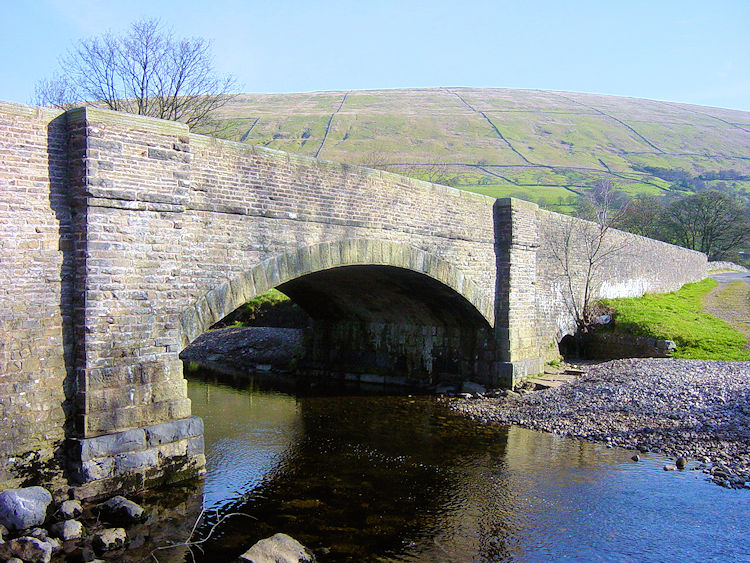 Church Bridge, Dent
There is always something exciting about descending into a Gill. I suppose it is because they are usually surrounded by trees making the next turning or drop a mystery. You simply don't know what to expect as you can't see it whereas on the Fells you can see your next target some distance away and with it all the terrain you have to cross to get there. Gills are exciting places. Because of the extremely dry season the waterfall was no more than a trickle and the gill was easy to negotiate as we dropped down into its depths mainly walking on the water bed itself. A bit of moderate scrambling was called for as we followed the gill downstream enjoying it like the children we were in our youth. We all had tremendous fun, it was wonderful as we clambered over fallen trees and bottom shifted over slippery rocks until our excitement abruptly ended where we had to leave the water bed at Hackergill Farm. Here we climbed up the bank to the farm track where we joined a way marked path. We were now back in Dent Dale and followed the path over lush fields for a mile until we arrived back at the car at Whernside Manor. This is a brilliant short walk.
Copyright © 2003-2023 Walking Englishman. All rights reserved.