Malham Cove, Malham Tarn and Gordale Scar
Google Maps
Open Source Maps
| Statistics | |
| --- | --- |
| Start: Malham Village | Distance: 7.5 miles (12.0 km) |
| Grid Ref: SD900427 | Time: 3-4 hours |
| Climbing: 307 metres | Rating: Technical |
| GPX Route File | Google Earth File |
Ordnance Survey Explorer Map (1:25,000)
Summary: This spectacular walk is the southern Yorkshire Dales classic and probably the most popular of all walks in the National Park. And that includes the Three Peaks. The circular course crosses some of the best limestone scenery in the Dales and in turn visits Janet's Foss waterfall, awesome Gordale Scar, quiet Malham Tarn and finally the towering limestone scar at Malham Cove. The scenery alone is enough for the average walker to over sate oneself but there is much more to this walk. Take time to imagine the past and look out for evidence of early settlements in the area. There are many clues to find on a field trip of history with medieval fields and mining sites on the route of the walk. And wildlife abounds too particularly in spring and summer. The walk is an abundance of opportunity for bird watchers for there are many water birds to be found at the tarn, moorland birds to be spotted on the higher ground and then there is the chance of spotting Peregrine Falcons at Malham Cove.
---
The Walk: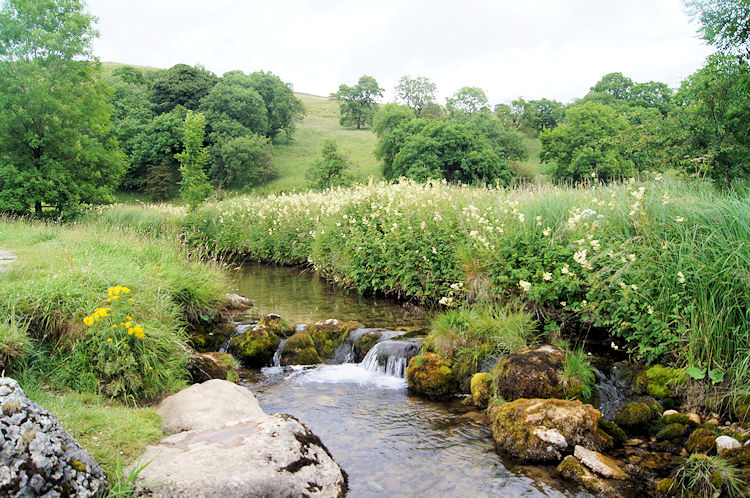 A view between Malham and Janet's Foss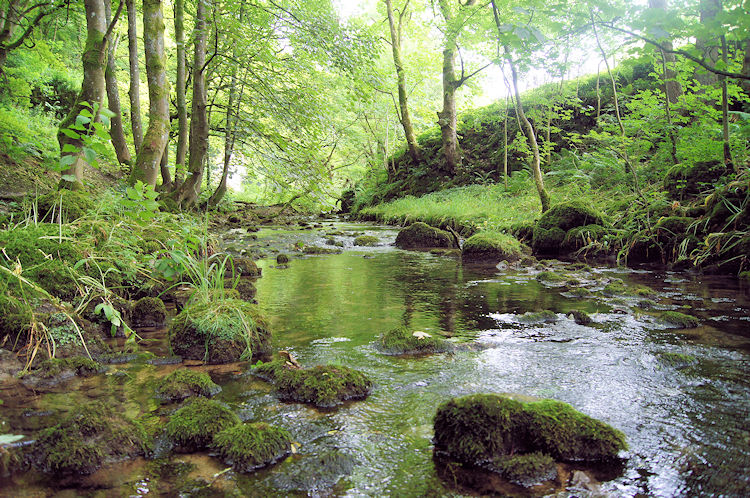 Gordale Beck runs through Wedber Wood
I felt it was about time I did this most popular of walks again. I had walked all over the area and even created my own Yorkshire Dales Long Distance Walk in recent years yet I had managed to avoid the obvious 'number one' dales walk. Time to put that right. I left my home with summer sunshine in evidence. By the time I reached Malham one hour on I was looking up at dark skies and rainfall. The weathermen had promised me a good day though and soon after arrival the rain ceased and the clouds began to lift. I changed into my walking gear and by the time I was off walking south from the village to Gordale Beck the skies began to clear. I knew it would be a good day to walk. I was glad I was going in the direction I was for about 300 schoolchildren were being organised into walking groups when I left Malham. No doubt they were bound for the Cove. I guessed I would see some of them again when I reached the Cove later in the day. With that thought in mind I set off from the village by walking south and then east to my first destination at Janet's Foss which included a short section of delightful walking beside Gordale Beck as it trickled through Wedber Wood.