Tatton Sykes Monument, Cottam Well Dale, Cottam and Phillip's Slack
Google Maps
Open Source Maps
| Statistics | |
| --- | --- |
| Start: Tatton Sykes Monument | Distance: 8.5 miles (13.6 km) |
| Grid Ref: SE957619 | Time: 4 hours |
| Climbing: 279 metres | Rating: Moderate |
| GPX Route File | Google Earth File |
Ordnance Survey Explorer Map (1:25,000)
Summary: This walk is in a sparsely populated area of the county and although it is in the Yorkshire Wolds I had never ever thought of it until I read about it in a local magazine. The walk took me from the impressive and towering Tatton Sykes Monument on quiet bridleways and rolling Wolds to a super derelict chapel.
---
The Walk: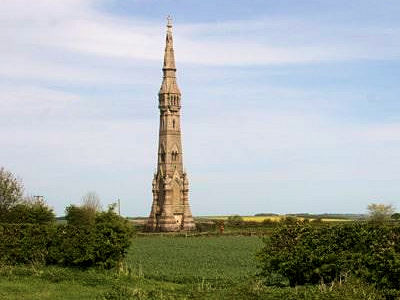 Tatton Sykes Monument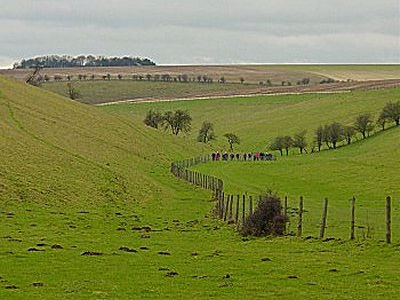 A ramblers group enjoying the rolling Cottam Well Dale
The walk starts at Tatton Sykes monument. You can't miss it as its impressive structure sits on a Wolds hill top about a mile south of Sledmere and can be seen for miles around. Cross the road from the monument and follow a metalled track signed to 'Sledmere Grange'. Once you reach the Grange the tarmac runs out and the road is now set upon hard white chalk. Follow the chalk track on its due east course and it brings you to a road at Garton Bottom. Turn left and follow the road for about 600 metres then cross a wooden stile on your right and follow the quaint Cottam Well Dale for its entire length. Cottam Well Dale leads you to the chapel seen in the second photograph, a eerie reminder of a long lost community. Spend some time to rest at the chapel, its a lovely spot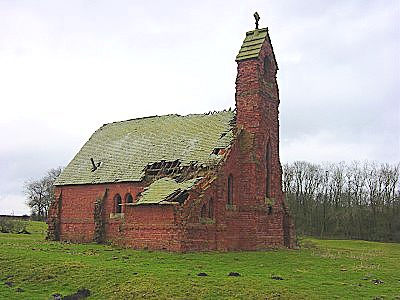 Cottam Chapel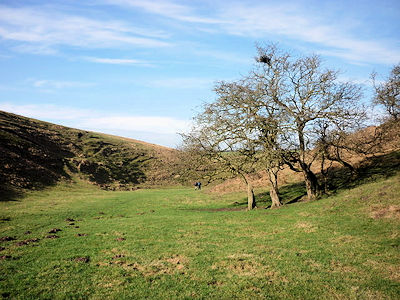 Phillip's Slack (photo courtesy of Ian S)
The walking so far has been generally good underfoot with a mixture of tarmac roads, hard chalk bridleways and lush grassed dales. Now it changes for the worst as cultivated fields have to be edged across for about half a mile to Cottam Grange and when I did them in late winter they were extremely claggy. I stamped the mud off your boots on the road after the Grange only to get them equally claggy in another 600 metres time while crossing one final shitty field on the descent to Phillip's Slack. Phillip's Slack is a lovely quiet dale which leads you back to Cottam Well Dale. Once here it's a simple case of retracing your tracks back to Tatton Sykes monument. The walk was a nice day out but to be honest I'd do it in dry conditions next time though I wouldn't have missed the visit to the chapel for anything.
Copyright © 2003-2022 Walking Englishman. All rights reserved.