Cross of Greet Bridge, Bowland Knotts, Raven's Castle and Cloven Stones
Google Maps
Open Source Maps
| Statistics | |
| --- | --- |
| Start: Cross of Greet Bridge | Distance: 7.7 miles (12.4 km) |
| Grid Ref: SD702589 | Time: 3-4 hours |
| Climbing: 384 metres | Rating: Moderate |
| GPX Route File | Google Earth File |
Ordnance Survey Explorer Map (1:25,000)
Summary: This walk in the Forest of Bowland provides stunning views to the west, north and east and the view to the Yorkshire Dales offers particularly good aspects of the Three Peaks.
---
The Walk: I was excited as I set off on my first walk in the Forest of Bowland. I had read the forest without trees was 'a place of beauty and breezes, with moors above and pleasant foothills below' and wished to know if this description was true. I was almost sure it was and on a sunny day in April 2014 I stepped out from my starting point at Cross of Greet Bridge to the north of Slaidburn to begin my Forest of Bowland exploration.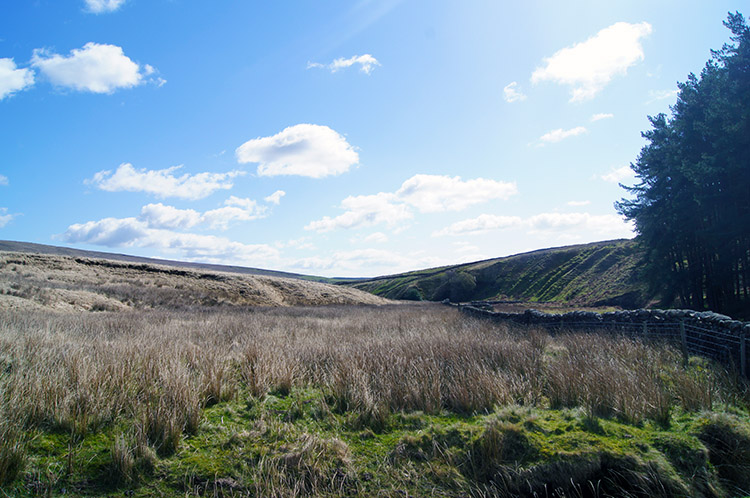 Near Cross of Greet Bridge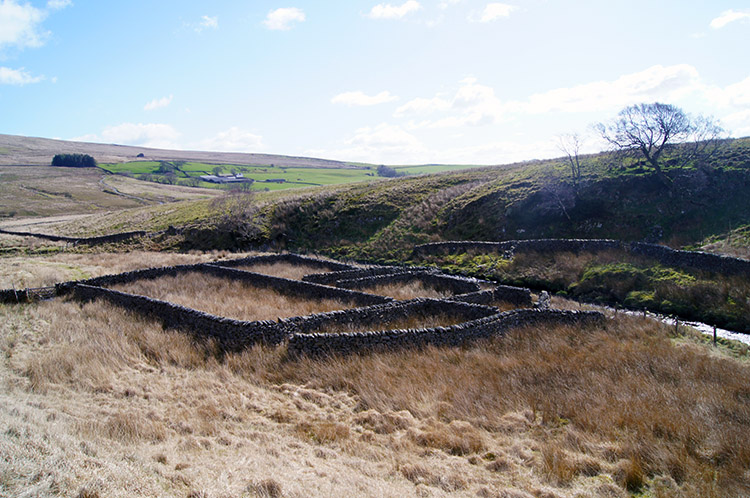 Sheepfold in the Forest of Bowland
The sun was shining brightly as I walked off from Cross of Greet Bridge and followed the young River Hodder east towards Kearsden Holes. The parched light brown reed grass was now growing and I feared it hid patches of boggy ground - I had been warned the Forest of Bowland was a notorious sponge which soaked up the unaware - but I found little in my early steps and the wet ground I found I could easily negotiate around. I reached a sheepfold with my boots still dry. A good start.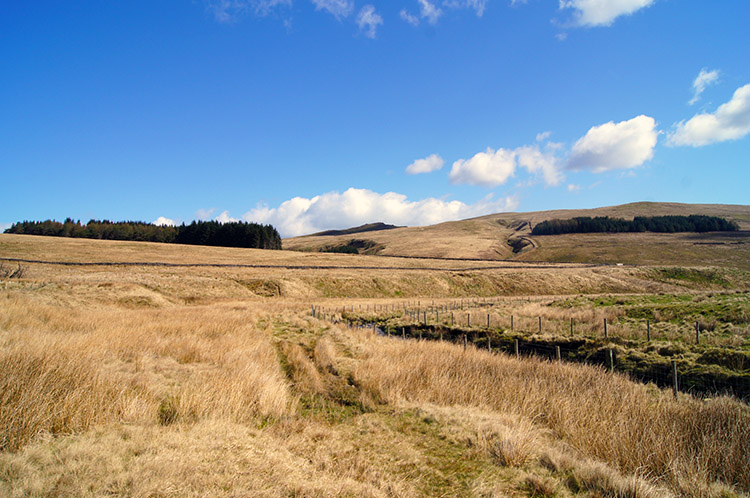 Hasgill Fell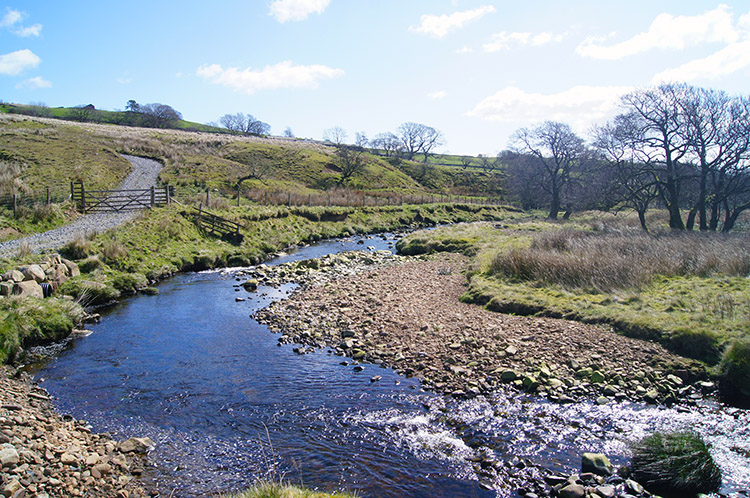 Kearsden Holes
From the sheepfold which was situated where Kearsden Holes fed into the River Hodder I started my climb of Hasgill Fell by way of Catlow Farm and Pike Side to the appropriately named The Height. Paths were indistinct and meandering so I kept a good check on the GPS and map as I ascended. I took it steady, taking in the beauty of my close surroundings. Still I remained dry, this was fairly parched ground which made the going fairly easy, even with the steady and constant climb.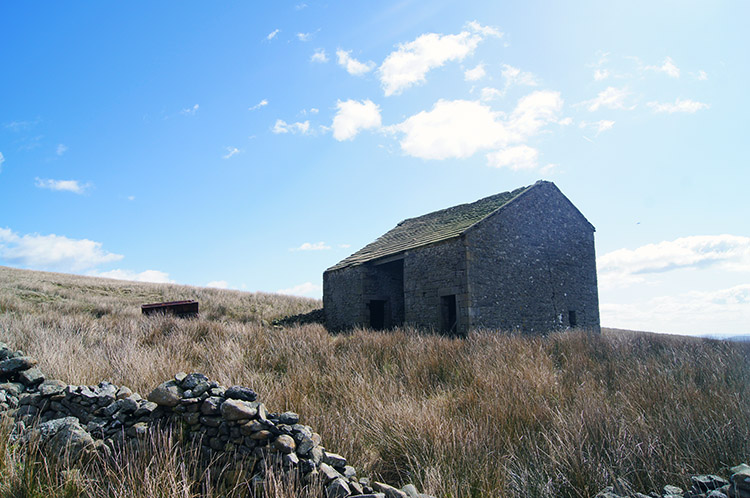 Stock shelter near Catlow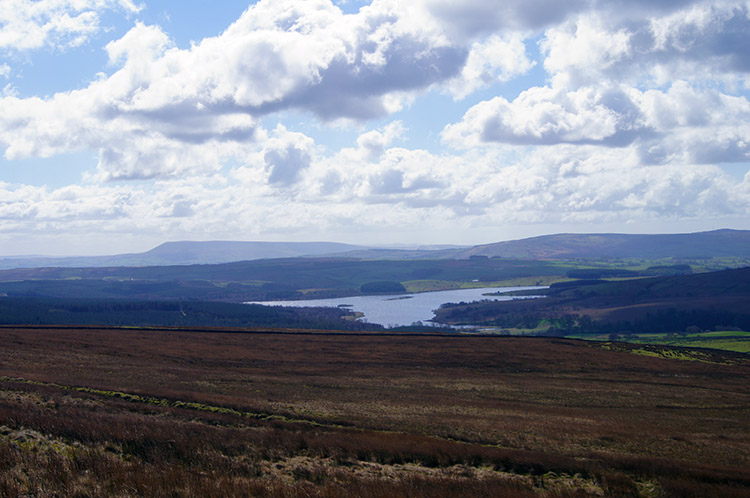 View to Stocks Reservoir and Pendle Hill
As I climbed my local views of the area I was walking were supplemented by extending range views and particularly to the south which provided a lovely panorama shot of Stocks Reservoir in the foreground and Pendle Hill behind. Fluffy white clouds slowly marched across the blue spring sky ever changing the contrast of the scene. It was marvellous and I returned to the view from time to time as I took short rests on my climb to The Height.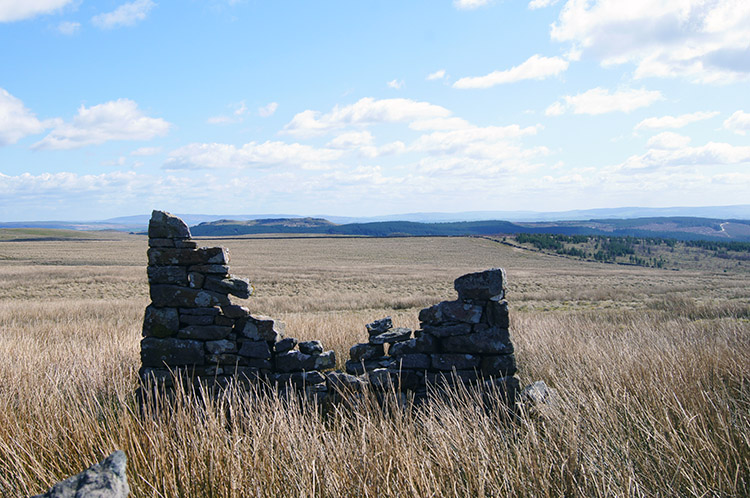 No longer required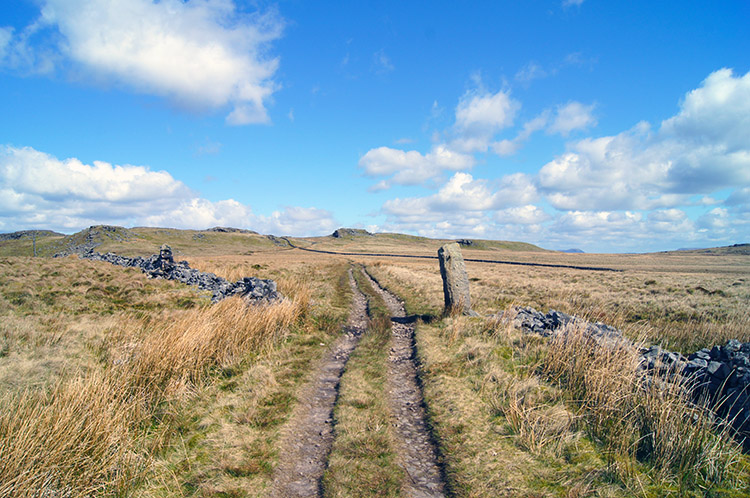 Straight ahead to Bowland Knotts
Once I reached The Height, having climbed 160 metres onto Hasgill Fell I paused for a short while once more, this time to take in my first view of the south Yorkshire Dales which were springing into view. I looked forward along my path across Old Moss from The Height to Bowland Knotts. A dead straight track presented itself, looking dry and parched and offering more good walking on a now flatter gradient. It was a slight climb but much easier than the climb before The Height. I enjoyed walking towards Bowland Knotts and what I could see unfolding in front of excited me.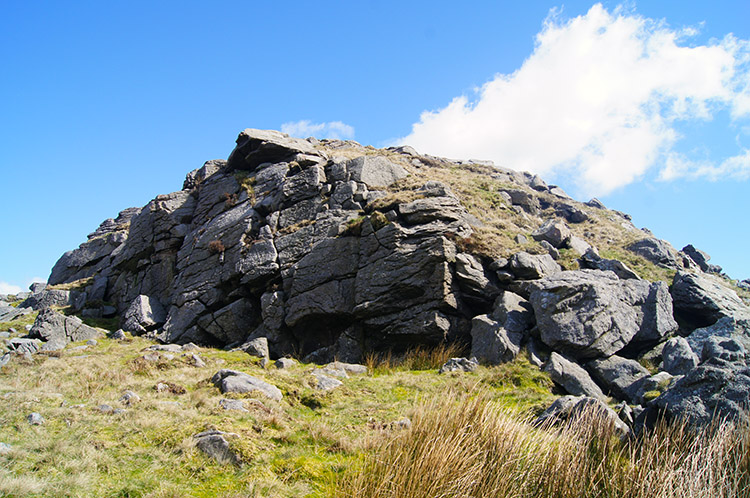 Outcrop at Bowland Knotts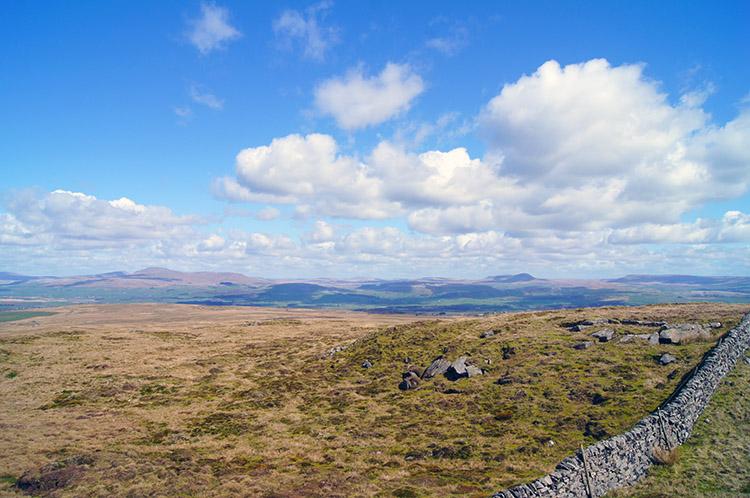 View to the Yorkshire Dales from Bowland Knotts
Bowland Knotts loomed into view and as I grew closer took on greater clarity. In line from my left to right were the unnamed crag supporting the Trig Point, Foster's Craggs, Hanging Stone, Green Knotts and Knotteranum. The Knotts, a series of jagged, gritstone outcrops evoke a very strong sense of remoteness and tranquility which is only interrupted by traffic which passes between them as they travel the Slaidburn to Clapham road. The inconvenience of traffic is more than compensated for by the views from Bowland Knotts which are truly stunning towards an amphitheater of fells which include the interior of the Forest of Bowland to the south, the Eastern Fells of the Lake District to the west and the Yorkshire Dales to the north.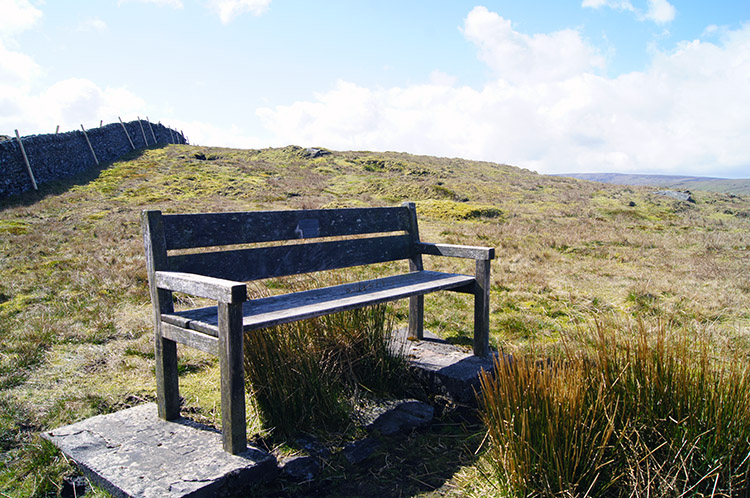 A place to rest at Bowland Knotts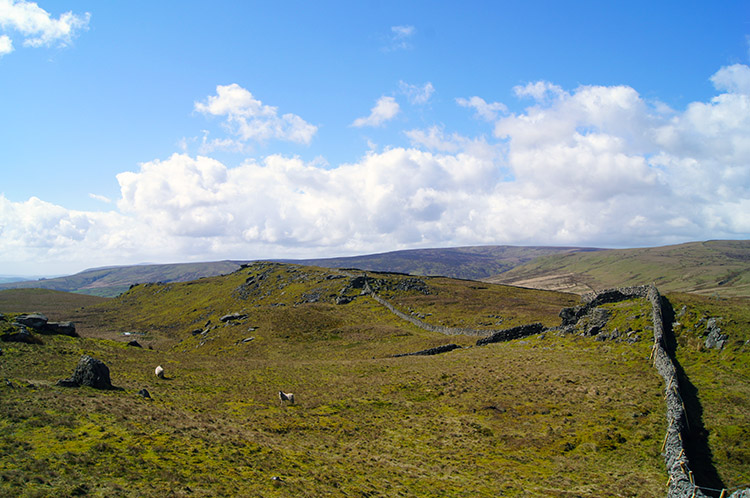 Cold Stone Plain
And it is the northern view from Bowland Knotts which is the most alluring. The image which immediately catches the eye of the knowing is that of the Yorkshire Three Peaks. From left to right Whernside, Ingleborough and Pen-y-ghent all demand attention. Ingleborough in the centre acts as the draw with Whernside looking much smaller - the highest mountain in the Yorkshire Dales actually appears the smallest of the three. What is also clear is the little distance between Whernside and Ingleborough and the great distance between those two and Pen-y-ghent. Three Peak walkers know that only too well.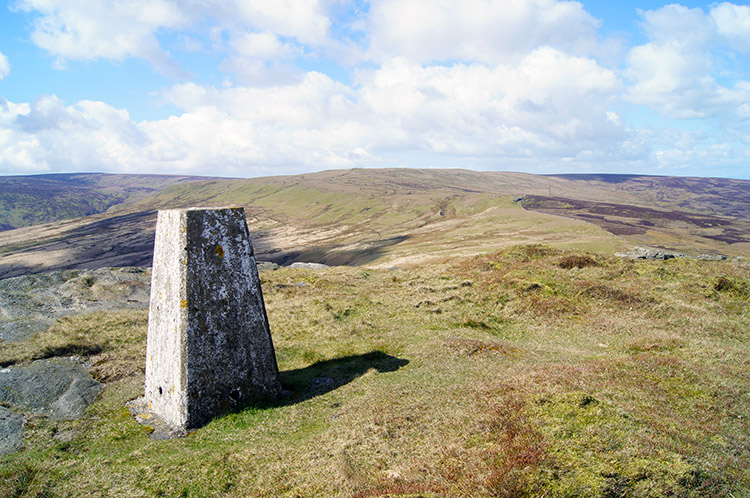 Trig Point on Bowland Knotts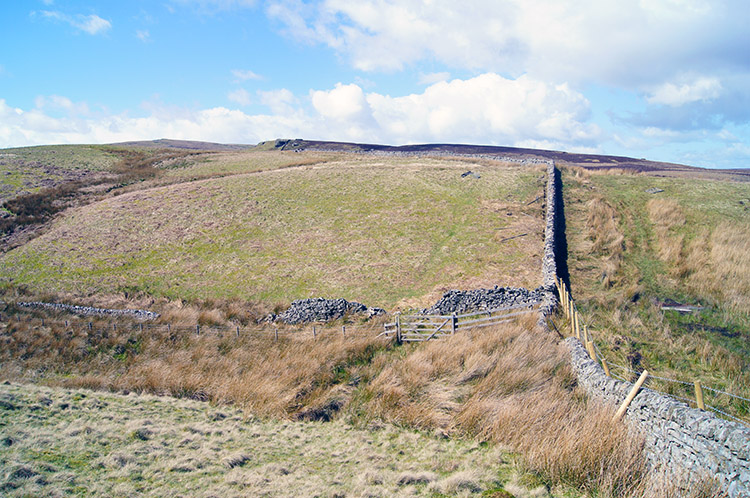 Copy Nook
Apart from the striking views from Bowland Knotts there was plenty more to enjoy. The walking, or galloping as it was for me in my enjoyment, between the separate but close neighbouring outcrops was fun indeed, an easy and fun filled roller coaster. I headed cross them all, from east to west and the last Knott was home to the trig point which drew me to it from where I viewed my course west from Bowland Knotts to Copy Nook and then to Cold Stone. The walk to Copy Nook was on a slight downhill and past Knottend Well which is the sponge from which Kearsden Holes sources.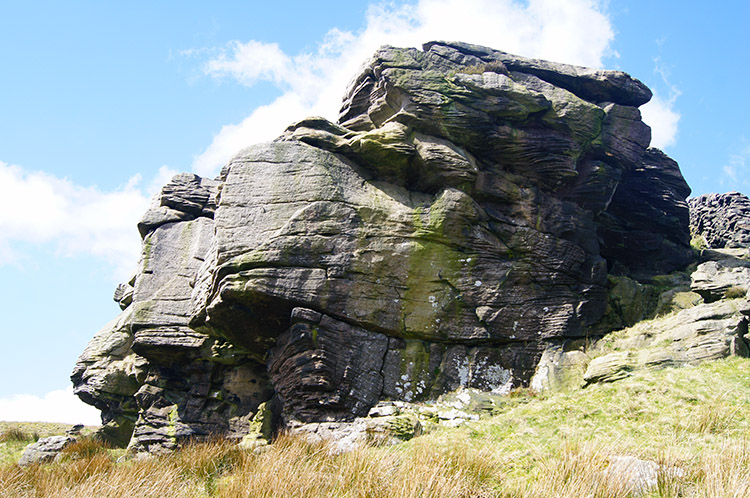 Cold Stone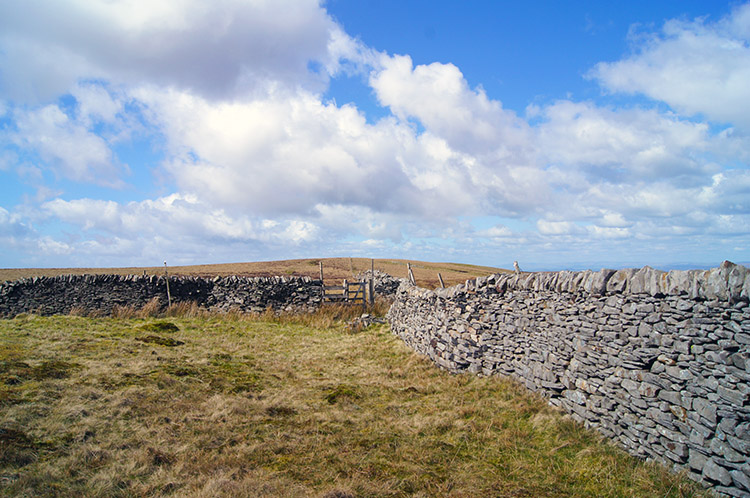 Ravens Castle
I crossed the stream once more, recalling I had crossed it early on in the walk near the Sheepfold. It was a proper spring then, it was a mere trickle to step over at Copy Nook. After stepping over the watercourse I climbed out of Copy Nook and after a short steep ascent I fixed my eyes on a huge boulder. It was Cold Stone and it proved a tremendous draw. A lone stone sentinel in a forest of grass attracted me to it and I fixed eyes on its character as I approached. Once I reached Cold Stone I found a spot beside it and enjoyed a short break. The moment was tranquil, much enjoyed. After my moments of contemplation I continued to enjoy my Forest of Bowland walk as I continued walking from Cold Stone to Ravens Castle which is featured in a story by John Roby as a romantic spot. In fact it is the top of a moor and nothing more; Bowland Knotts and Cold Stone impress much more. So, with nothing to find, I carried on from the elusive Ravens Castle to Cloven Stones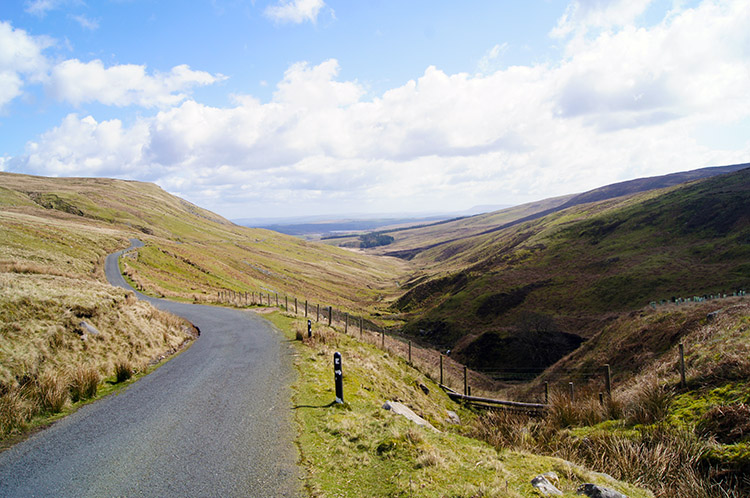 Source of River Hodder near Cloven Stones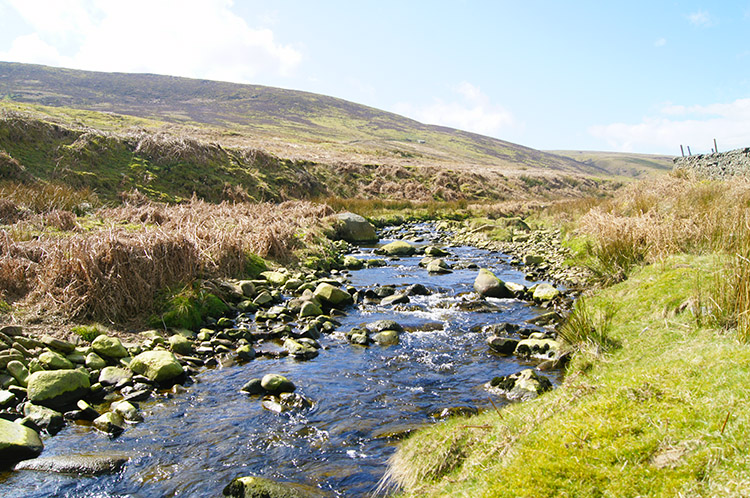 River Hodder at Cross of Greet Bridge
On walking from Ravens Castle to Cloven Stones I crossed a boggy moor which had planks strewn over it to aid the crossing. In a quite successful attempt to stay dry I managed the hops, skips and jumps from plank to plank and onto the odd raised tuft of moorland grass quite well. Soon after my erratic wanderings to find the driest areas of the quagmire I reached the road linking Slaidburn to High Bentham at Cloven Stones/ Cross of Greet without a breach of water into my boots. Thankfully dry in foot I paused for a final time at Cross of Greet. Then my walk concluded by following the roadside down to Cross of Greet Bridge. I could have dropped from the roadside to walk beside the formative River Hodder on this final mile of the walk but thrilled by all which had been enjoyed before I ambled down the road and looked across the forming valley to Catlow Hill on my left and to the Hodder and Red Syke Hill on my right. In what seemed no time at all, as the walking was wonderful and the weather most special too, I was back at the car. I did not get in and drive off in a hurry. I sat beside the River Hodder for a good half hour taking it all in. My first walk in the Forest of Bowland had captured me right. I sat beside the river and pondered, looking forward to more.

(Important note: Clive Platt reports on the section from Ravens Castle to Cloven Stones "I think you need another category - "Difficult under foot". I thought in August the ground would be fairly easy to walk over. I couldn't have been more wrong. It was boggy all over and the ground was so over grown that I could not place my foot on solid ground, even climbing up to Cold Stone" So perhaps it would be wise to wait for a spell of dry weather to do this walk and/or take a spare pair of socks)
Copyright © 2003-2023 Walking Englishman. All rights reserved.