Downham, Worsaw Hill, Chatburn, Fairy Bridge and Downham Bridge
Google Maps
Open Source Maps
| Statistics | |
| --- | --- |
| Start: Downham | Distance: 5.2 miles (8.4 km) |
| Grid Ref: SD785441 | Time: 2-3 hours |
| Climbing: 262 metres | Rating: Moderate |
| GPX Route File | Google Earth File |
Ordnance Survey Explorer Map (1:25,000)
Summary: Downham has a reputation as being one of Lancashire's prettiest villages and it is a great place to start and finish this walk. This route includes walking around and over some small hills which were once reef knolls formed under the sea. The countryside is delightful throughout, Pendle Hill dominates the background of the first part of the walk to Chatburn and after leaving the village there is more lush countryside to walk and a visit to a lovely bridge over a beck which is appropriately called Fairy Bridge.
---
The Walk: Downham was the prefect starting point for my walk. The village has long had a reputation as one of the most attractive villages in the north of England and is often quoted as the most beautiful village in Lancashire. The villages work very hard to maintain the attractiveness – you will find no television aerials, satellite dishes, overhead wires or roadside yellow lines. Road users will find only the necessary signing in the village to satisfy safety concerns. There is an old world charm with the setting of the church on the crest of a limestone ridge above the village, Downham Hall behind the church on the same ridge and cottages neatly arranged at both the top of church brow and another group around the main street and village stream. There is also a parking area down by the stream and this is where I parked up to start my walk. (extracts of the village history courtesy of Downham Village which is very useful reading for a full history of Downham)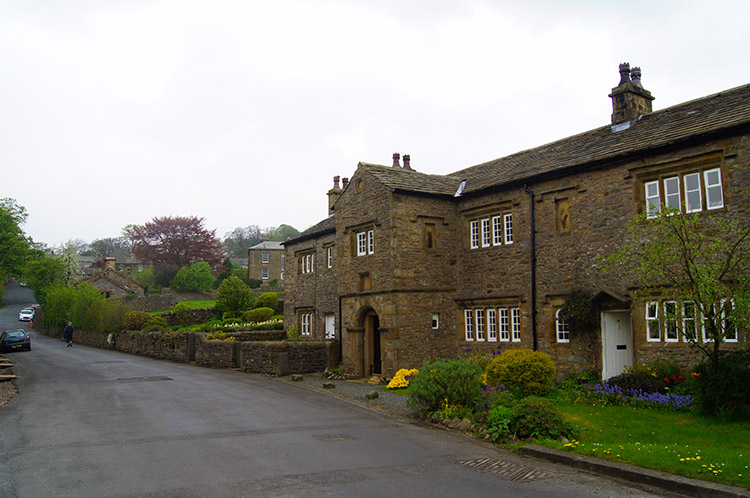 Downham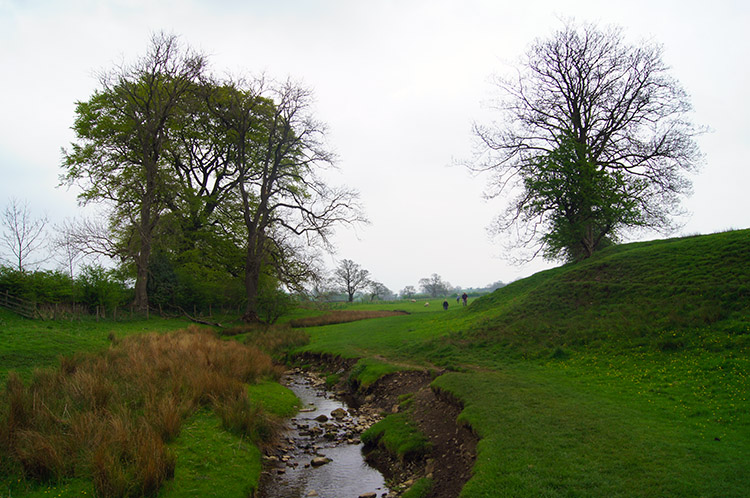 Following Downham Beck
Downham reminded me of a village stopped in time. As I thought to what era the village most reminded me of, it came in a flash. I imagined horse soldiers riding up the village road, perhaps Royalist Cavaliers on the run or Parliamentary Roundheads giving chase. It had that feel to it. I walked off wondering if they ever did. My route out of the village was to the south east following Downham Beck upstream. A couple of Ducks were settled quietly in the beck as I walked by so I tried not to look or disturb them. Male and Female had paired for Spring and presumably family matters were on their mind.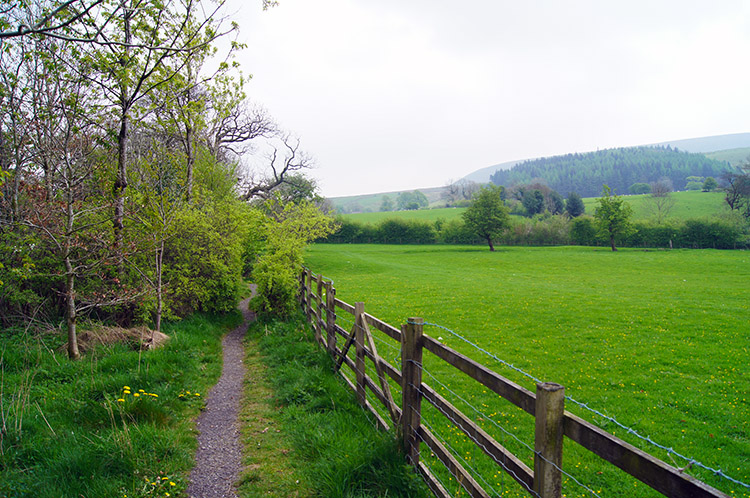 Near Clay House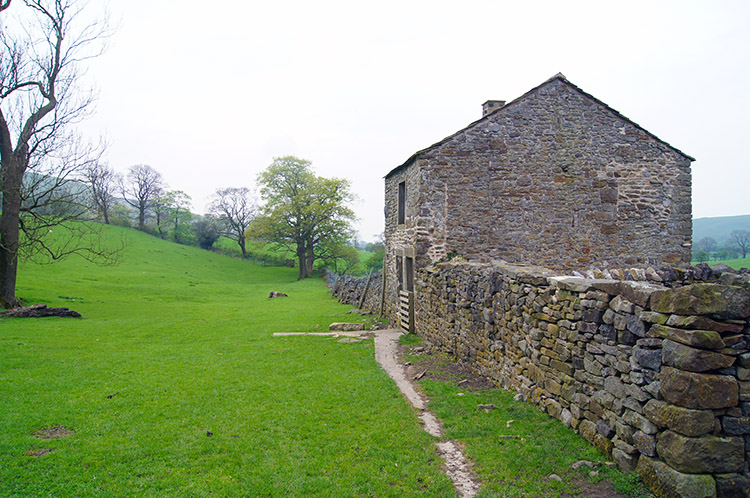 Gerna
As Downham Beck turned to a due east course I left it and continued on a south east course over lush green fields and along tracks stockaded off beside fields towards Clay House. The green colour was richer than the day before, overnight rain and a heavy dew had invigorated it and the damp benign conditions I was walking in blocked out any sunshine attempts to dry it out. We tend to criticise the British weather too much, the rich colour we enjoy is a direct result of the unpredictability of it all. I reached Clay House from where my course changed from south east to south west. After crossing Pendle Road which links Downham to Barley I continued along a farm lane to Gerna. As I walked I glanced to my left, the scene dominated by the enormous bulk of Pendle Hill. An hours climbing and I could have been at the summit.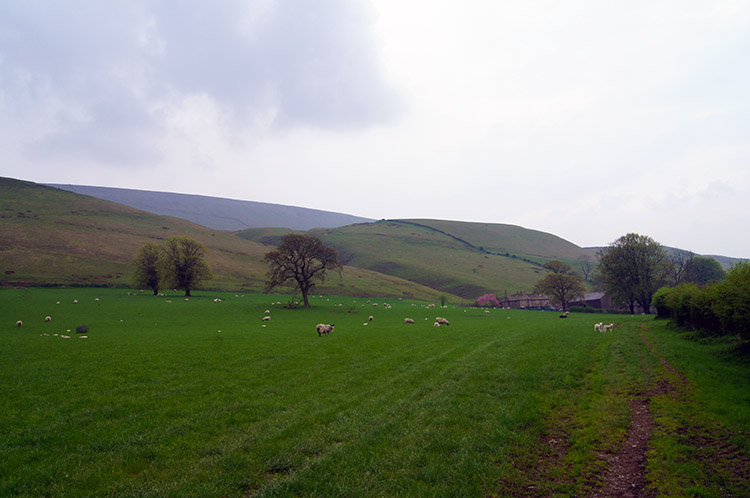 Worston Moor with Pendle Hill beyond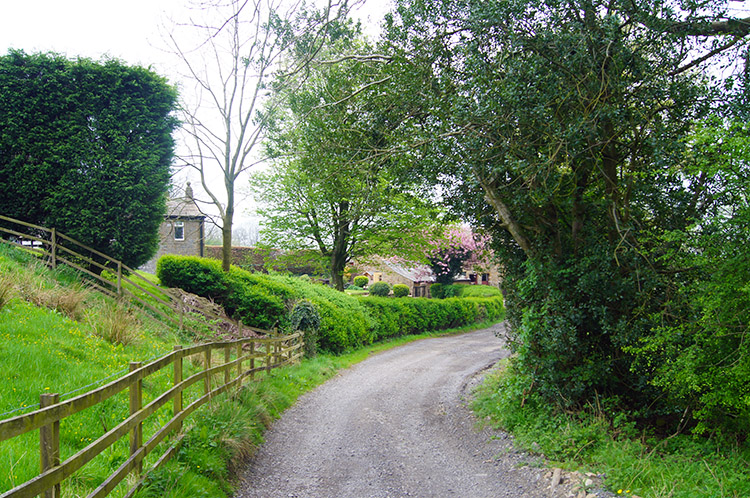 Barkerfield
Instead I continued on walking the route of my easier day which took me past Gerna and the small rounded hill bearing the same name. Alongside Gerna Hill I kept peering to its shape as I walked on by, it was tempting me to run up but with no defined path I stuck to the permissive route which took me along the edge of a huge field to Hookcliffe. At the end of the field I walked up to my left, past the buildings and out of the field via a gate to skirt Pendle Hill, Downham Moor and Worston Moor. After passing the grounds of Hookcliffe I reached another gate from which I followed a tarmac road to Barkerfield. Appropriately there was a small dog barking in the garden and a larger dog growling as I passed Barkerfield. To my relief the larger dog was restrained beside its kennel. I walked by trying to avoid eye contact, always the best way.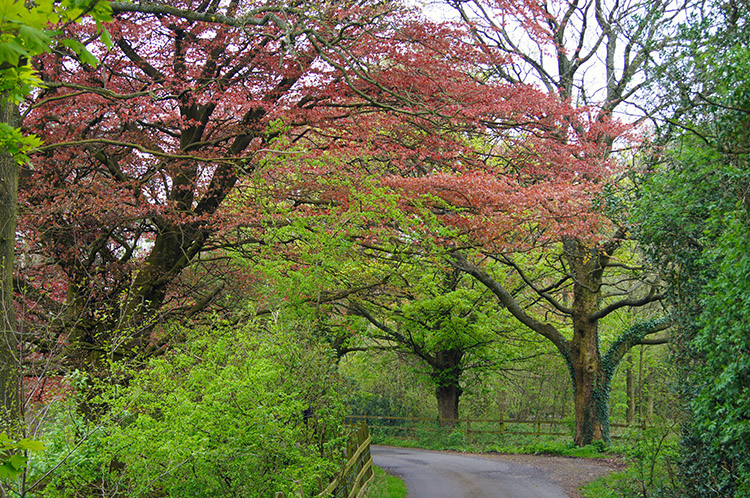 Spring colour near Worsaw End House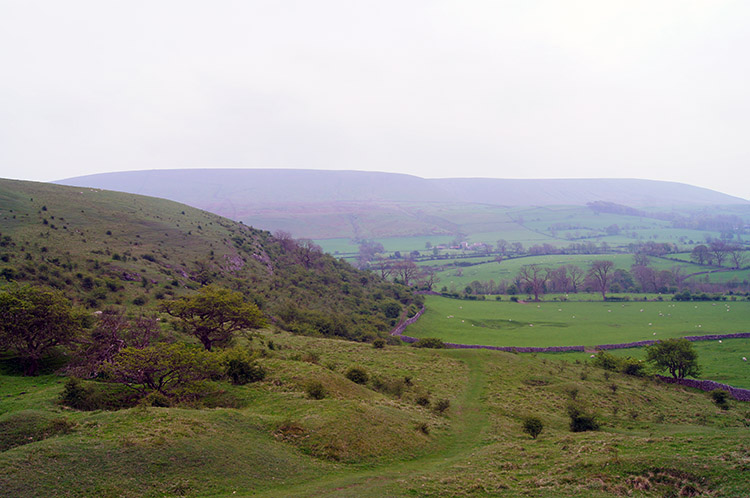 View to Pendle Hill from Worsaw Hill
From Barkerfield I followed the metalled road for 500 dead straight metres and after merging with West Lane I tracked off the road and along the farm track towards Worsaw End House. This led me to the west of the farm buildings and on to a lovely track climbing on a limestone path between Warren Hill to my left (west) and Worsaw Hill to my right (east). Limestone outcrops were showing through the grass cover, more numerous and more distinctive the higher I climbed. Little did I know at the time but I was walking over a reef knoll, otherwise a mud mound. Anyway, the rounded little hills of Gerna, Warren and Worsaw are all part of the Clitheroe Belt which stretches from Clitheroe Castle in the south west to Sykes in the north east. You learn something every day. I stopped for a break on the north facing bank of worsaw Hill and enjoyed my lunch looking over fields and the A59 to the village of Chatburn, my next point of interest on the walk.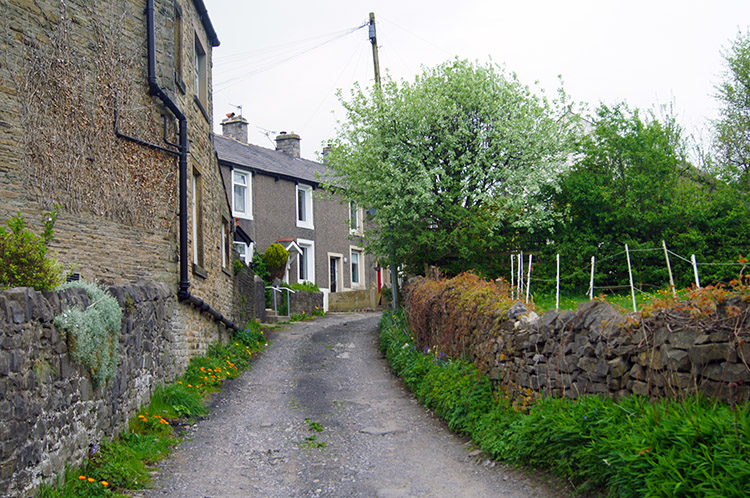 Chatburn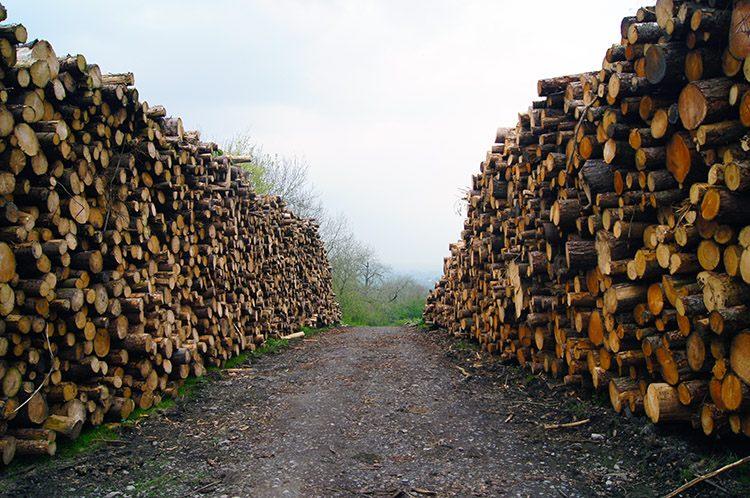 Tree trunk avenue
After my lunch I walked carefully down the north bank of Worsaw Hill, it being quite steep and deceptive enough to cause the unwary a sprain, before walking across two fields to meet a Roman Road just short of the A59. A straight line small embankment of what may have been the Roman Road was evident which I crossed to reach a gate taking me out of the field and to a safe easeway beside the A59. The point of crossing was convenient, the road dead straight either side so traffic could get a good view of you and vice-versa you could get a good view of the traffic. Just as well, cars can hare along this road at quite a lick. Still it was relatively quiet for me and I crossed with ease, my nearest collision point being a cyclist rather than a motorist. After crossing the road and past the large garden of a house with a mini football field in it, I reached a lane leading to the south side of Chatburn. I could have detoured into the village for a look around but having just rested for lunch I did not need to, instead walking out of Chatburn by Downham Road, crossing the A59 once more, this time elevated safely high above the road by a lofty bridge. From here on I followed fields north eastwards into open countryside.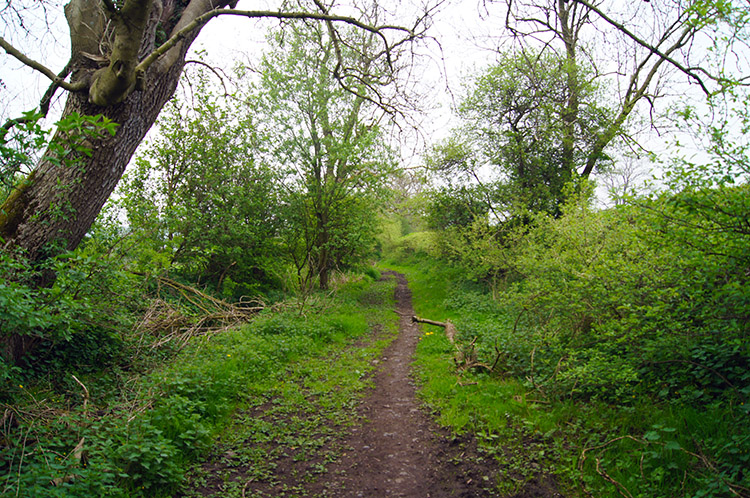 The path leading away from Chatburn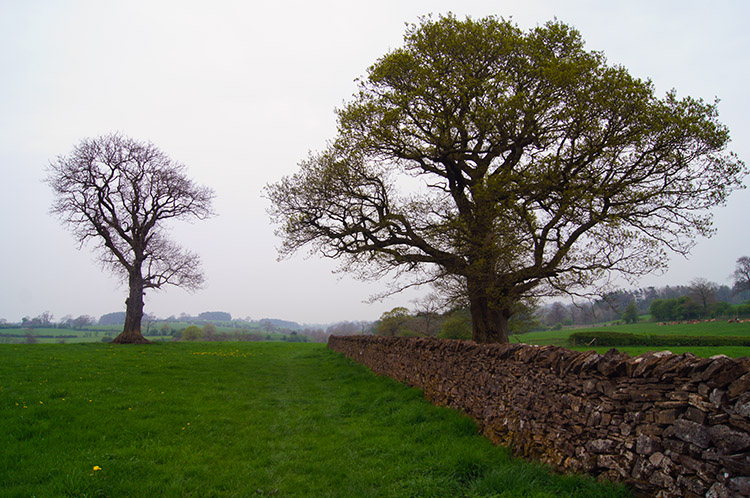 Lancashire countryside
Oh, while I remember, Chatburn is another pretty Lancashire village so if you do have the time take a look around. If you do, check out some of the locations where the German Bombers made a mess during World War 2 - you will find details of that interesting not so well known episode of the conflict here. No bombshells on the walk though, I was now enjoying a quiet contemplative walk on lanes, across fields and over railway bridges to one of the prettiest packhorse bridges I have ever seen.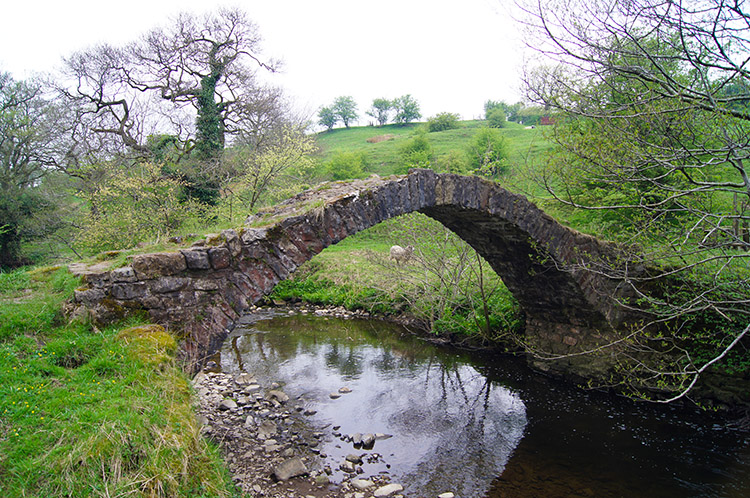 Fairy Bridge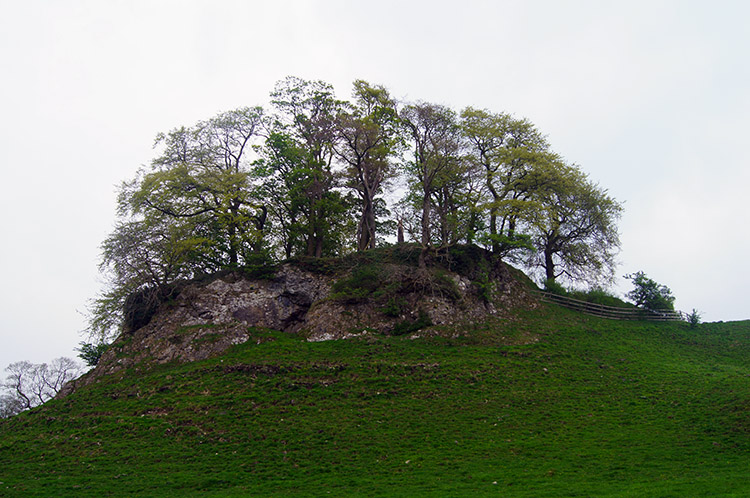 Knoll near Downham Green
I reached Fairy Bridge, at grid reference SD 78510 45379 and stood transfixed to the spot. The beauty of the small stone bridge was fulsome and I was smitten with it straightaway. I did not have to cross it as the bridge was just off my route but there was no way I was not going to step on and over it. I crossed about six times in all, bounding over like still at infant school. It was very regressive, a beguiling fairy tale place and only afterwards when I found out it was called Fairy Bridge did it make perfect sense. Unnamed on the map, Fairy Bridge to all that know of it. And soon after leaving Fairy Bridge, which I did with much reluctance, and after passing through a tunnel under the railway and across a road to Downham Mill I came to another marvellous sight which transfixed me once more. The small limestone hill is unnamed too, it is in a field at Downham Green and it must be another Clitheroe Belt reef knoll or mud mound. Yet to me it is 'Downham Castle'. I would build my castle on the limestone outcrop and defend it from all attempts to evict me from it. Now there is a fairy tale in the making - I would defend the prettiest of packhorse bridges from the usurpers too!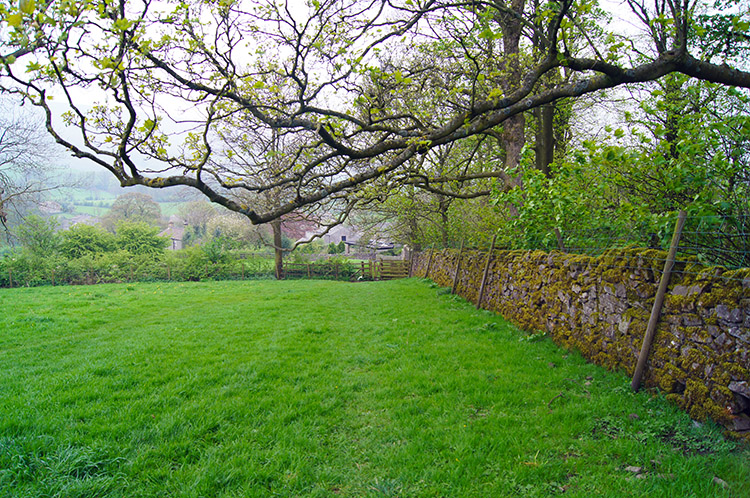 Field leading back into Downham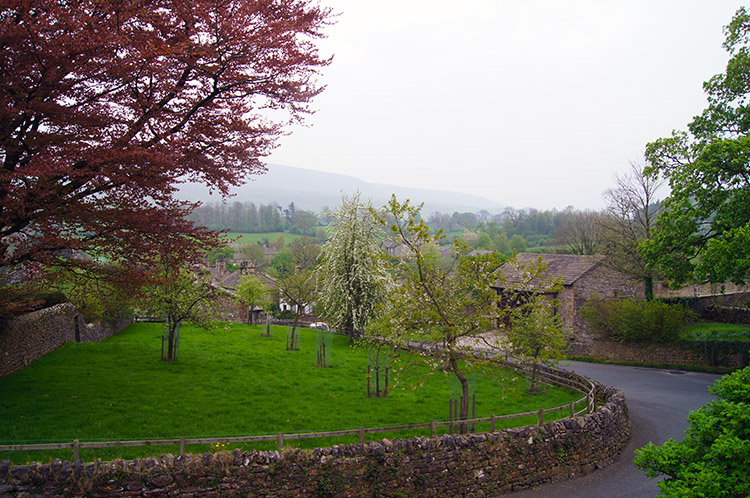 Downham is a very pretty village
When I had looked at the map planning this walk I had thought the section in countryside from Chatburn to downham to be the least interesting. How wrong I was, it was magical and I would like to think I could design a mini walk to include both my bridge and my castle on which I could take my wife one day. Watch this space... Back to reality for now though and after crossing the largest of open pasture fields at Downham Green, a field with my castle knoll and other knolls too, I came to the outskirts of Downham once more, only this time approaching from above to the north east. From the field a lane took me to the main road beside the village church where a huge impressive south facing window dominates. Finally I walked down the road back to my car to conclude a wonderful short Lancashire countryside walk. As I did so my peace was shattered when I was forced to sidestep a harried troop of mounted Cavaliers and an organised Roundhead unit who were in pursuit.
Copyright © 2003-2023 Walking Englishman. All rights reserved.