Hollingworth Lake, Blackstone Edge and Clegg Moor
Google Maps
Open Source Maps
| Statistics | |
| --- | --- |
| Start: Hollingworth Lake | Distance: 10.1 miles (16.2 km) |
| Grid Ref: SD 93708 15366 | Time: 4-5 hours |
| Climbing: 444 metres | Rating: Hard |
| GPX Route File | Google Earth File |
Ordnance Survey Explorer Map (1:25,000)
Summary: A walk of extreme contrast. Starting from Hollingworth Lake on the outskirts of Rochdale which is likely to be bustling with people on most days and in any season this circular route heads up to the western edge of the Pennines at Blackstone via lanes, paths, tracks and a Roman Road. Once in the area of Blackstone Edge Moor you are likely to find yourself at peace with only the local wildlife and hardy Pennine walkers to encounter. Blackstone Edge provides spectacular views of the north Greater Manchester and South Lancashire environs. Should you be as lucky with the weather as I was on this walk. After the thrill of Blackstone Edge return to Hollingworth Lake by a walk to Clegg Moor and then Rakewood. It is grand all the way.
---
The Walk: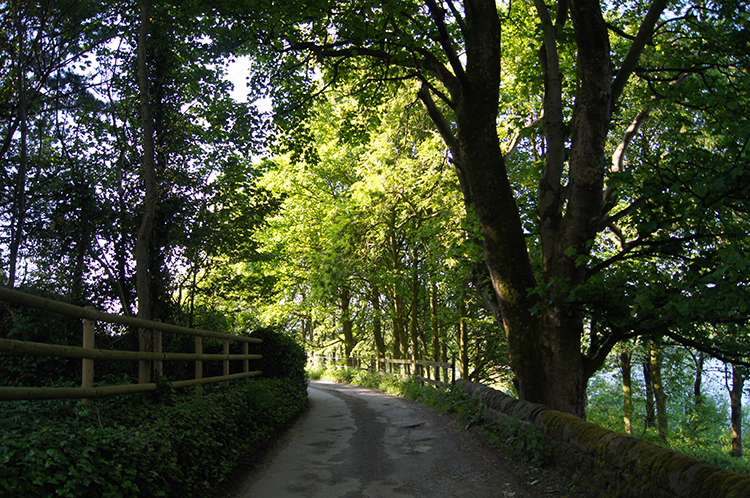 Walking from Hollingworth to Littleborough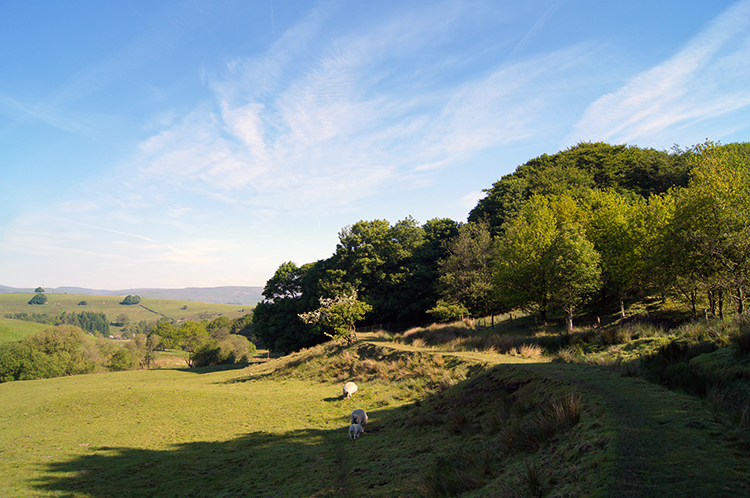 Lane Foot
I managed to park up on Hollingworth Road about 100 metres from the Wine Press pub. It was midweek and despite a two hour car journey I was very early. Any later and I would have been forced much further up the road or perhaps into the pay car park. Hollingworth Lake is a very popular place and parking places are taken very quickly. I was soon on my way on a glorious morning just ten days short of the longest day of the year. It was not yet 8.00am. I walked past the very popular Wine Press pub but being so early all was quiet there. A gentleman walking his dog passed me and we greeted each other acknowledging our mutual satisfaction with the weather. Then I turned from the path by the lakeside and followed a tree lined lane towards Littleborough. I met another dog walker, this time a lady. She was also enjoying the weather. I already knew this walk was going to be good. After a mile of pleasant walking on easy going lanes I went from shade of tree-line to the open at Lane Foot. It was already warm and from here on it was to get warmer.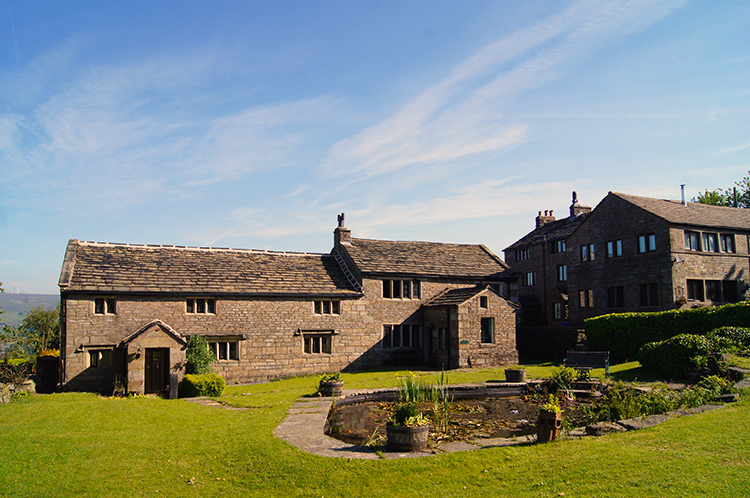 New from old at Owlet Hall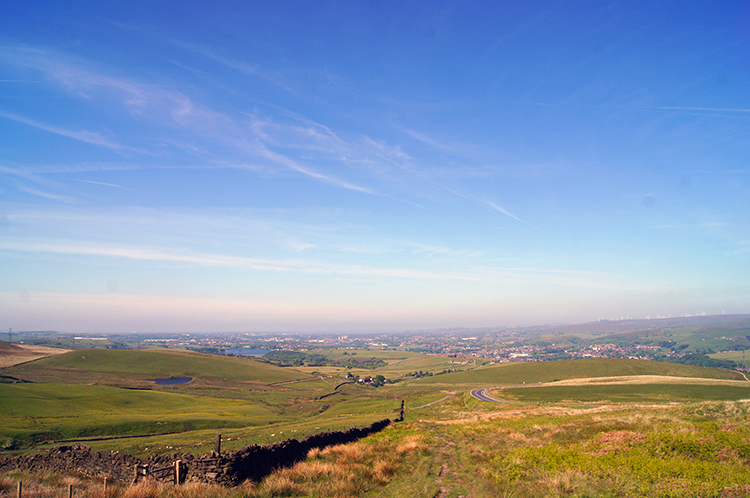 Views become extensive after Lydgate
After passing Lane Foot and walking through a small shaded wood to Owlet Farm where a small hamlet of new houses, probably converted from farm buildings was, the easy walking changed. Gradually at first, but significantly so, I was on the climb. From Owlet Hall to Lydgate I gained less than 50 metres of ascent in over a kilometre of walking but as I looked back after passing a row of cottages I noticed that I could see all the way across Rochdale to Bury and to Bolton. I was now setting myself up for the climb to the Pennines. It was just 8.30am but it was warm enough for me to strip to my t-shirt for the climb.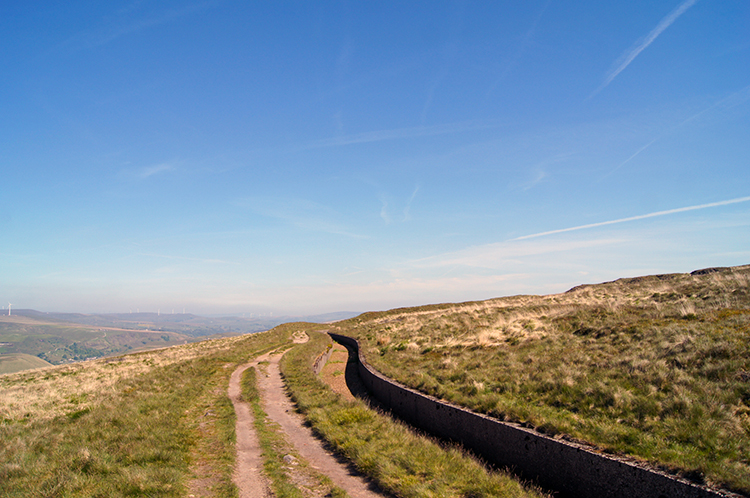 Roman Road to Blackstone Edge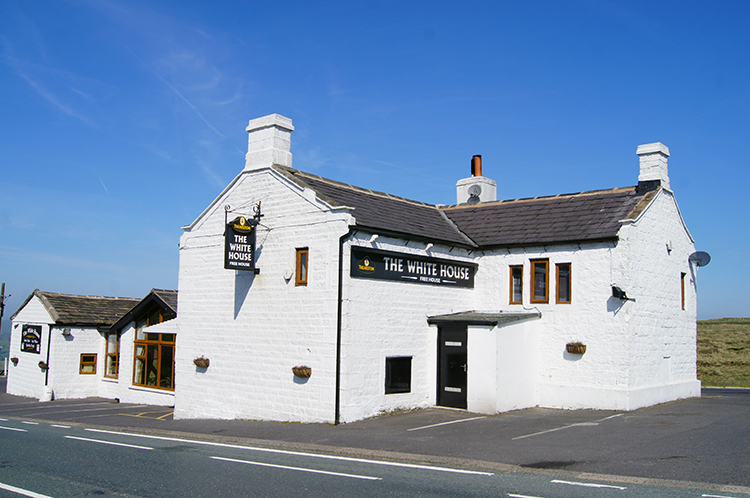 White House Hotel on Blackstone Edge Moor
I followed a good path which took me to a point where I fringed the A58 Halifax Road. Here cars passed by regularly, some going uphill and eastwards towards Yorkshire while others came downhill and westwards into Lancashire. Some will have been on local business and more on a work commute. I smiled when I thought to myself "Glad I do not have to do that any more". I then smiled again as I left the roadside and began the direct line climb to Blackstone Edge Moor via a roman road. at least that is what the Ordnance Survey map says but after investigations by a gentleman called James Maxim the paved track is considered to be a turnpike or packhorse route which was established around 1735. Whoever built the road it served me as a means of access to Blackstone Edge Moor. In parts the original stone paving showed but mostly just the dirt track evidenced the way. Still it got me to the crossing of paths at Blackstone Edge Pasture from where I turned left and followed a bridleway around disused quarries to reach the side of the Halifax Road once more. I was familiar with this piece of track, having walked it during my Great British Walk in 2011. Then, in the company of friends I had called into the White House Hotel for refreshments. And for shelter too as it had been pouring down on that day. This time, as I walked by, the White House Hotel looked resplendent with the sun bringing out the best of the hotels fresh white makeover.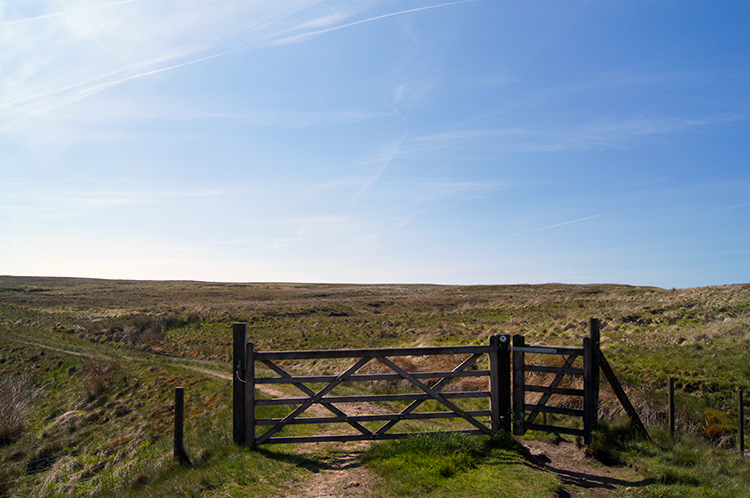 Blackstone Edge Moor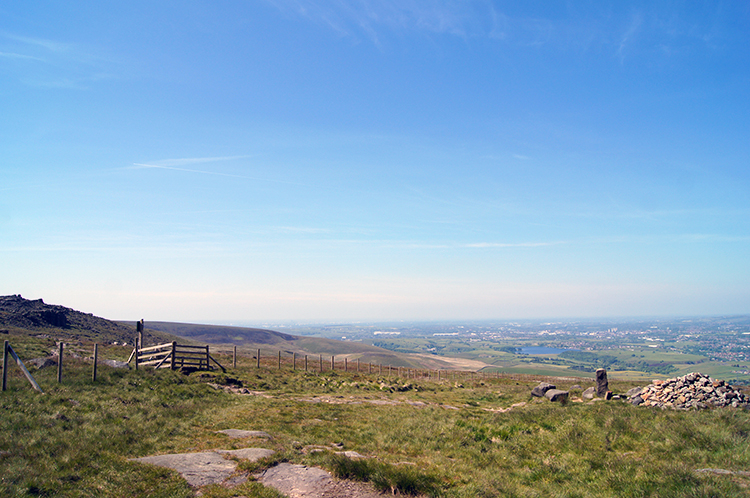 Near Aiggin Stone
From Lydgate and making the climb to the White House Hotel I had gained just short of 200 metres height but to be honest, apart from the head down effort of the section of what is marked on the map as roman road, I had not really noticed. Perhaps as I climbed in stages and with each break in effort I had turned around to look at the brilliant view of south Lancashire with which I was provided. That view disappeared for a while after White House Hotel as I walked alongside the A58 past Blackstone Edge Reservoir and the junction with the B6138. In doing so I temporarily re-entered my home county of Yorkshire which was indicated by a recently whitewashed old boundary marker. It was inscribed "The division of the counties Lansaster and York. Soyland District". A few steps later I left the roadside path to head into moorland by following a permissive path towards Rag Sapling Clough ands Warm Withins Hill. What great names they are. At Rag Sapling Clough where I failed to spot any Rag Saplings I tuned right to follow Old Packhorse Road due west towards Aiggin Stone.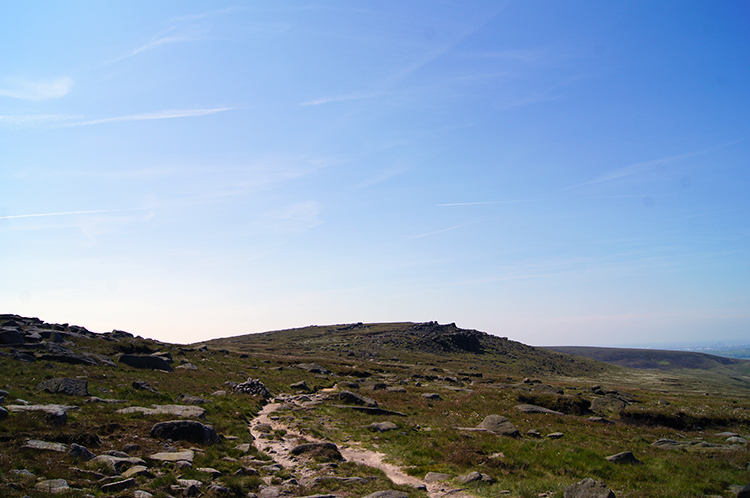 Approaching Blackstone Edge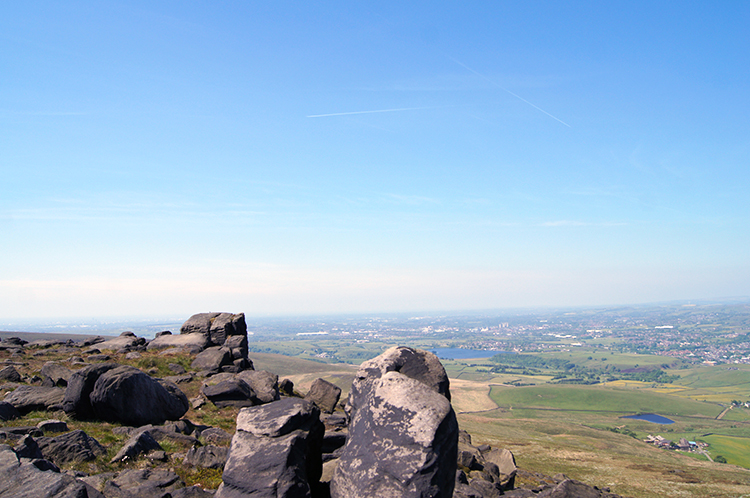 Blackstone Edge
Old Packhorse Road led me to the Aiggin Stone which was probably an old county boundary and from there I turned left to head towards Blackstone Edge. It was not long along the track before I came to the first exposed scattering of gritstone. This signified the beginning of the cap of the hill which had kept this part high-most. The erratic scattering of gritstone soon solidified into something more significant with larger outcrops appearing in view dead ahead of me. I climbed up the first ones and crested Blackstone Edge proper. The short but distinct edge showed itself with the west side of the moor tumbling 10 to 20 feet below. I walked along the top towards a white sentinel.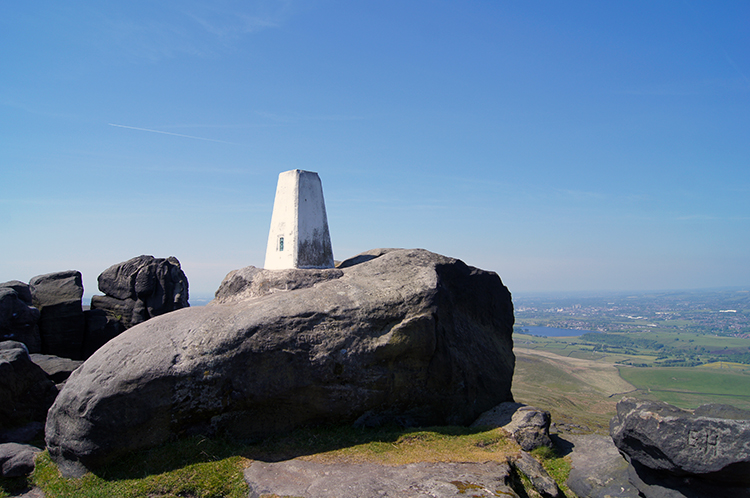 Trig pillar on Blackstone Edge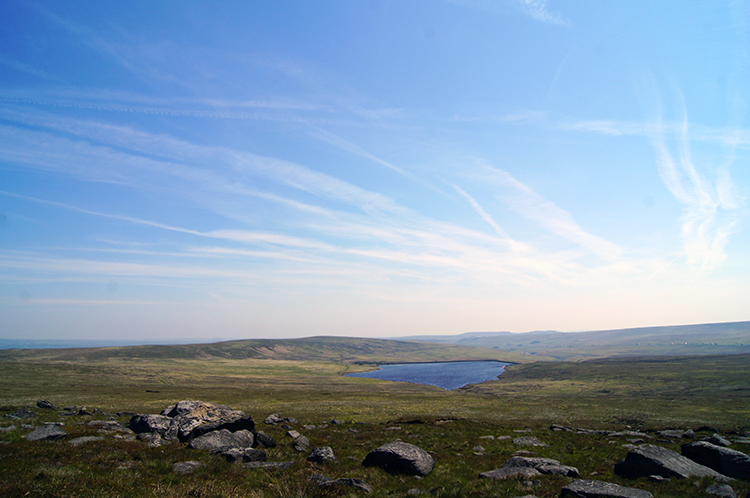 Green Withins Reservoir
The white sentinel was a whitewashed trig pillar. They act as magnets to most hill walkers and they are certainly a magnet to me. I gamboled and hopped along Blackstone Edge towards it. As I reveled on my time at the top, I was now at the highest point of the walk, another walker approached me from the south. He was heavily laden with a big backpack and I guessed he was a Pennine Way walker. On meeting my suspicion was confirmed. We chatted for quite some time about the joys of long distance walking, the beauty of walking in such a diverse landscape and of our mutual love of nature. It was a good chat. After shaking hands I wished him well on the continuation of his Pennine Way journey. Then I sat down beside the trig pillar and enjoyed my lunch while looking at superb views in every direction, in particular to deserted moor and Green Withins Reservoir due east and that far reaching view across all of Greater Manchester and south Lancashire to the west. I concluded it was a ten out of ten rating lunch spot.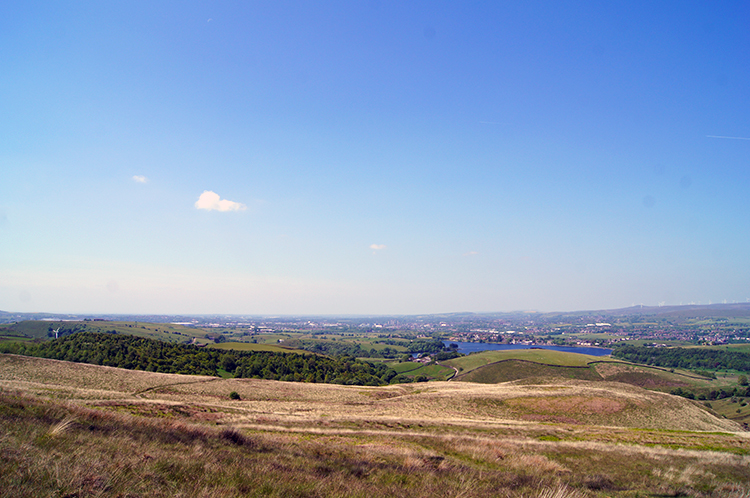 Clegg Moor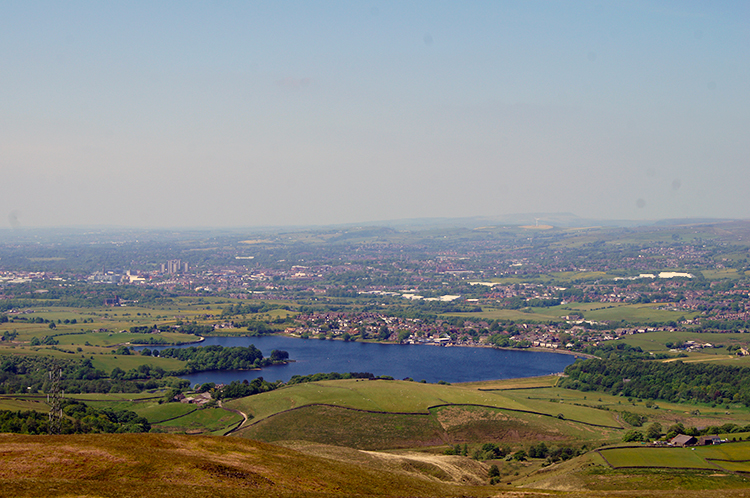 Hollingworth Lake seen from Clegg Moor
After lunch I continued along Blackstone Edge a little further to a spot on the map marked as 'Robin Hood's Bed'. I could not find anything of significance and leaving the mystery unsolved I took my leave of Blackstone Edge to follow a grid bearing to a path marked on the map at Hoar Edge. I had fun trotting over the moor trying to make out the path. There was not one to find but I knew I would had no problems as long as I stuck to the bearing. True enough after where the path was marked as being near Hoar End I found one on the north slope of Hoar Edge Rakes. I was now fixed centrally on Clegg Moor and here I got the best elevated view of Hollingworth Lake one would wish to find. In the blue light of a sunny day and with a fresh green perimeter of newly leafed trees it looked perfect. I was drawn back towards it but instead of beelining back I took a rounded course towards Rakewood and the fringe of the M62. I had energy to do so and I wanted to explore.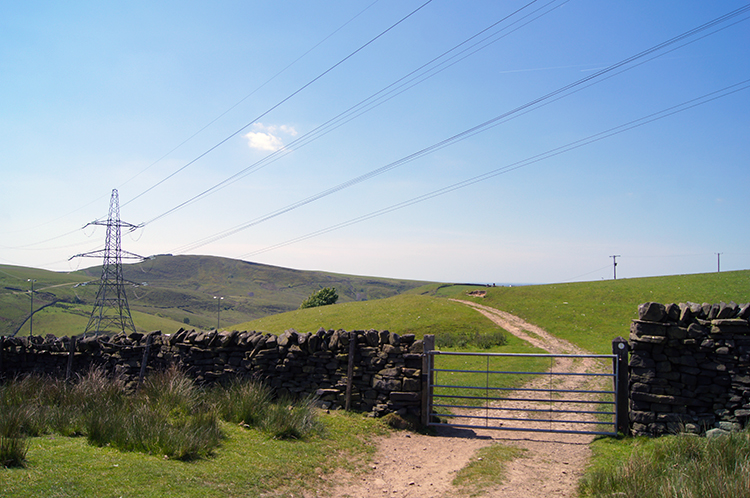 Higher Booth Hollins Hill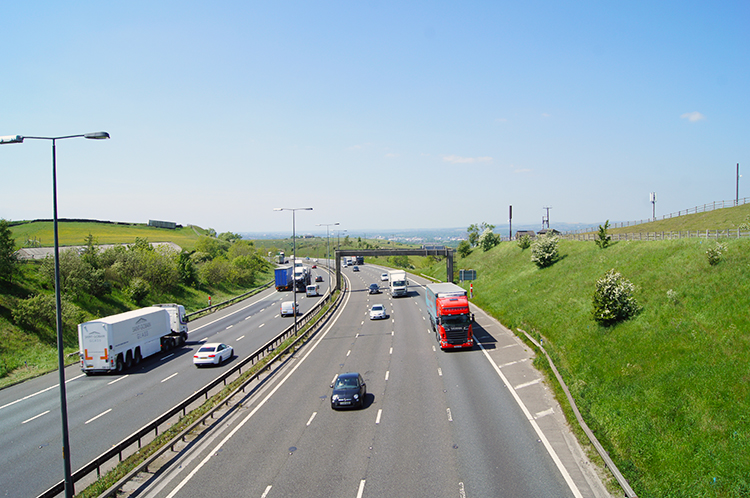 M62 at Higher Booth Hollins Hill
I followed a lovely path from Clegg Moor which took me across Syke Moor towards Higher Booth Hollins Hill. Crossing Syke Moor I expected to hear the roar of traffic on the M62 and though I did sense the hum of vehicles it was quieter than I expected. Higher Booth Hollins Hill shielded me from the roar. Though I was less than 400 metres from the motorway it seemed much more distant. I continued south on the east side of Higher Booth Hollins Hill and only when I had passed the bowl of its top did the M62 reveal its ugly roar. I came to a farmhouse, and as I always do when near such places beside motorways, i imagined how anyone could bear living there. I passed the farmhouse, stepped on a small road-bridge over the motorway which serves it, and then stepped back to continue on my walk towards Rakewood. I entered a field and crossed. It was occupied by a small flock of sheep grazing. They didn't seem disturbed. The noise went away.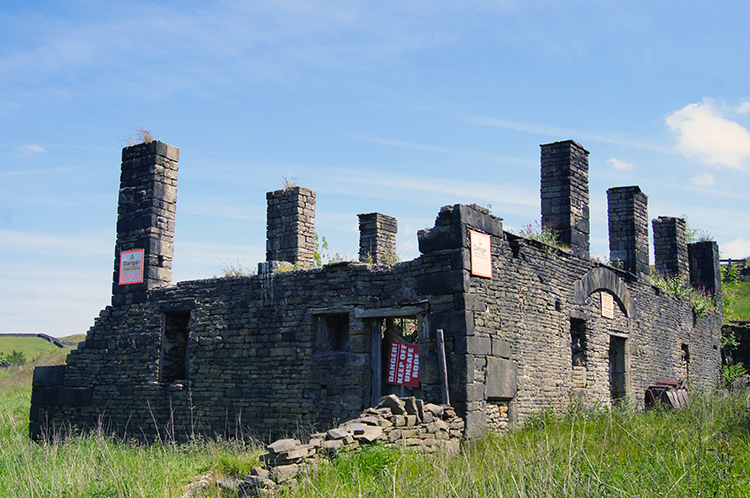 Derelict works at Schofield Hall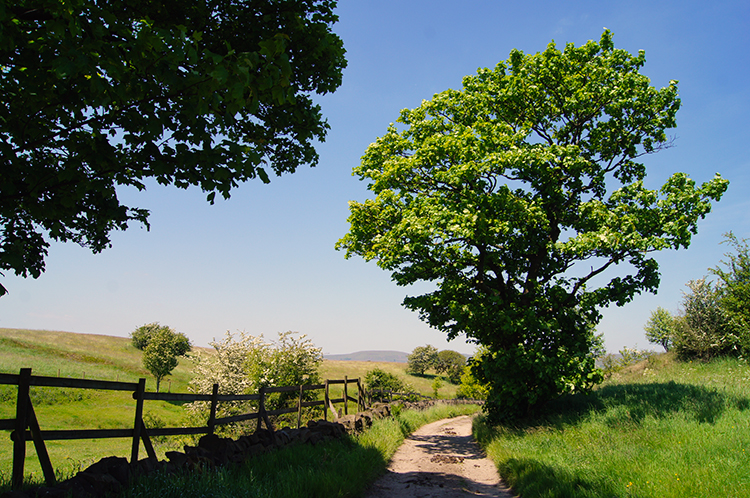 Lane near Turnough Hill
After crossing the field I came to Schofield Hall. I could not see it as it was walled but on the access road nearly stood a derelict old building with signs warning people not to enter. Danger, risk of falling masonry, collapsing walls and the like. Apparently the building is part of the remains of a number of old coke ovens that these were used to convert the poorer quality local coal into coke before it was transported for local steel foundry use. Further down the lane I came to more buildings and a a preserved chimney which were also part of the coke smelting site. From the old sites I continued on quite paths and lanes to Rakewood and beyond to reach Turnough where I watched traffic on the M62 crossing Turnough Viaduct. Then I turned and walked around the west side of Turnough Hill.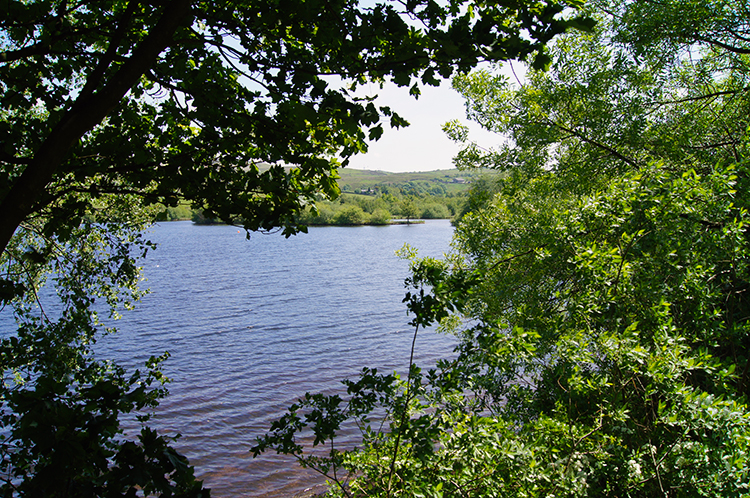 Hollingworth Nature Reserve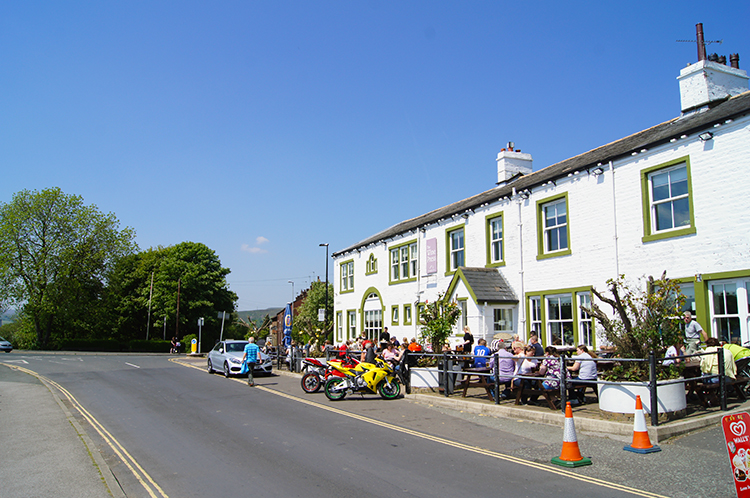 The Wine Press, Hollingworth Lake
Once past the hill I came to the lakeside once more at Hollingworth Nature Reserve. It was now noon and people were bustling around without any sense of urgency. Why would anyone be so in such a tranquil place. I found a quiet place by the side of Hollingworth Lake and just watched for a while. Groups of Ducks paddled close by in the lake while small teams of Black Headed Gulls honed their flying skills by skimming across the water. After their low level flight they would soar and turn before doing a low level pass once more. I cannot remember how long I sat and watched. I was not in a hurry. Leave the scene I eventually did though and I finished my walk by walking along the road and past the Wine Press pub once more. Now it was bustling with people.
Copyright © 2003-2023 Walking Englishman. All rights reserved.