Washburn Valley, Norwood Edge and Lindley Wood Reservoir
Google Maps
Open Source Maps
| Statistics | |
| --- | --- |
| Start: Reservoir Road Bridge | Distance: 8.0 miles (12.8 km) |
| Grid Ref: SE210500 | Time: 4 hours |
| Climbing: 327 metres | Rating: Moderate |
| GPX Route File | Google Earth File |
Ordnance Survey Explorer Map (1:25,000)
Summary: This walk explores the lower Washburn Valley. After following the River Washburn upstream you climb through woodland and walk along tracks to Norwood Edge where there are great views of the surrounding countryside to be seen. The walk then drops back down to Lindley Wood Reservoir. The finale includes walking along the reservoir side path.
---
The Walk: This walk in the Lower Washburn Valley is ideal for the city dwellers of Leeds and Bradford for the starting point at Lindley Wood Reservoir is only five miles from Leeds Bradford Airport on the northern edge of both cities. It is the perfect remedy for the city blues and an ideal pick me up after a weeks work in the hustle and bustle of the city. Peace and tranquility in such lovely walking country has just got to be enjoyed. And lots do for the parking spaces either side of Lindley Wood Reservoir Bridge are often taken up.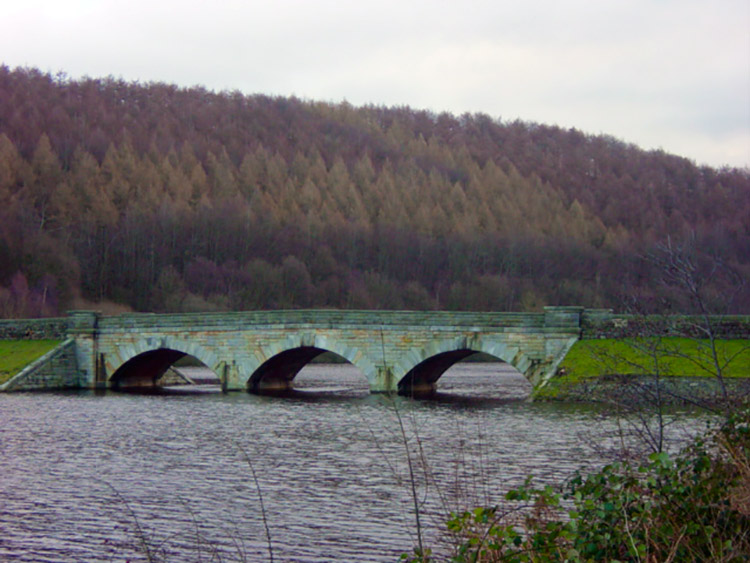 Lindley Wood Reservoir Bridge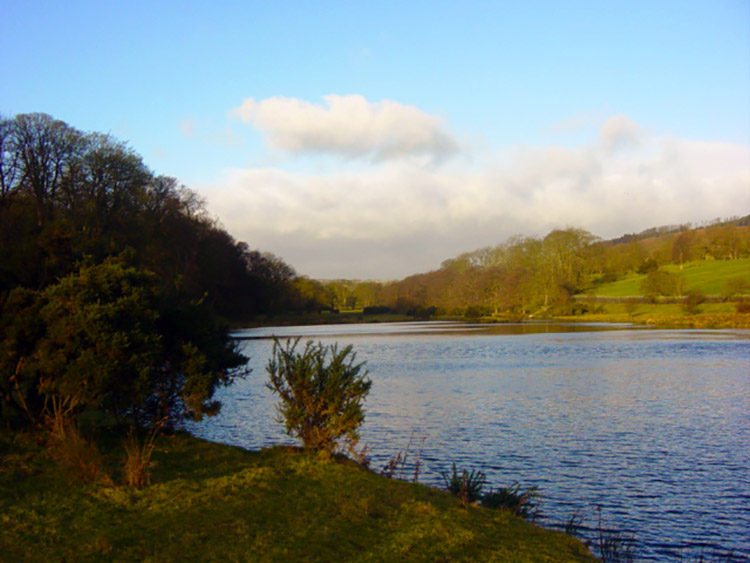 Lindley Wood Reservoir
I began my walk from Lindley Wood Reservoir on a crisp bright January day and after taking in the scenery at the bridge I headed north west following the River Washburn upstream. This path took me along Norwood Bottom and I was not more than 10 minutes into my walk before I was disturbed by a heron as it took flight from the river bank close by. Herons are really becoming a more common sight these days. I am seeing them on more and more walks. After my encounter with the big bird I continued on following a lovely scenic course to Dob Park Packhorse Bridge. Here I met a lady walking her dog. We passed pleasantries about the lovely day we were both enjoying. I stayed at the bridge a while longer. It is set in such a nice place.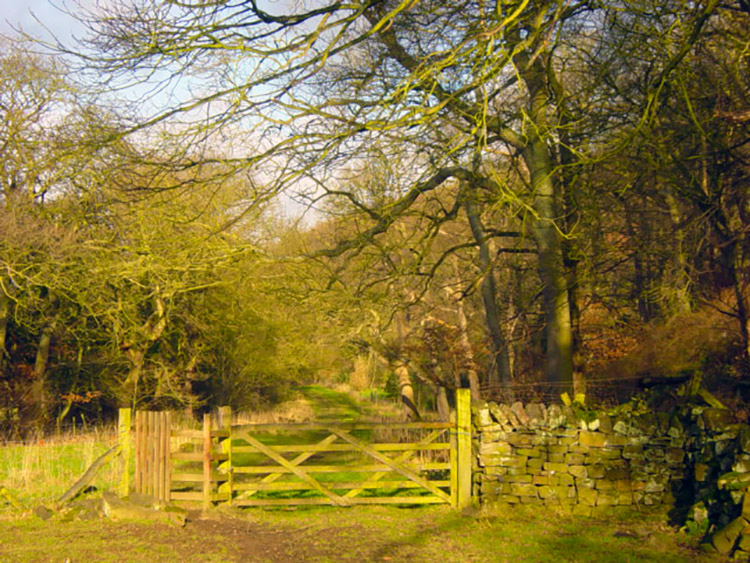 Lovely woodland walking in Lower Washburn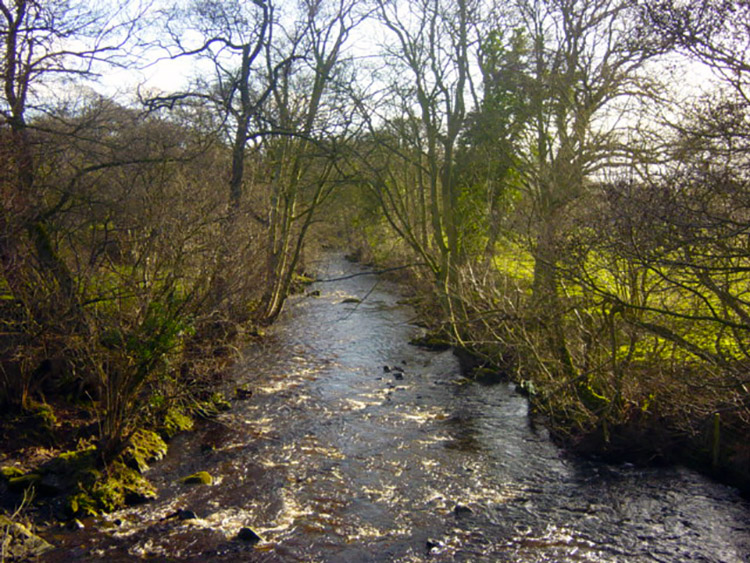 River Washburn
The walking from Lindley Wood Reservoir to Dob Park Bridge had been fine although I had slipped a couple of times as it was very muddy ground due to a recent prolonged spell of wet weather. The rain had been so bad that it had made headline news and put Carlisle city centre underwater. It hadn't been as bad here but it was wet and in January it never seems to dry up at all. The next section I walked was from the packhorse bridge to where Timble Gill Beck flows into the Washburn. This section I had done before in good conditions. This time it was extremely wet and it was more than once that I had to step off the track and work my way around a waterlogged obstacle. I advise you this is not the best route in the wet and next time I would consider walking up the road from Dob Park Packhorse Bridge to the drive to Folly Hall, for this is where I was heading in a roundabout fashion.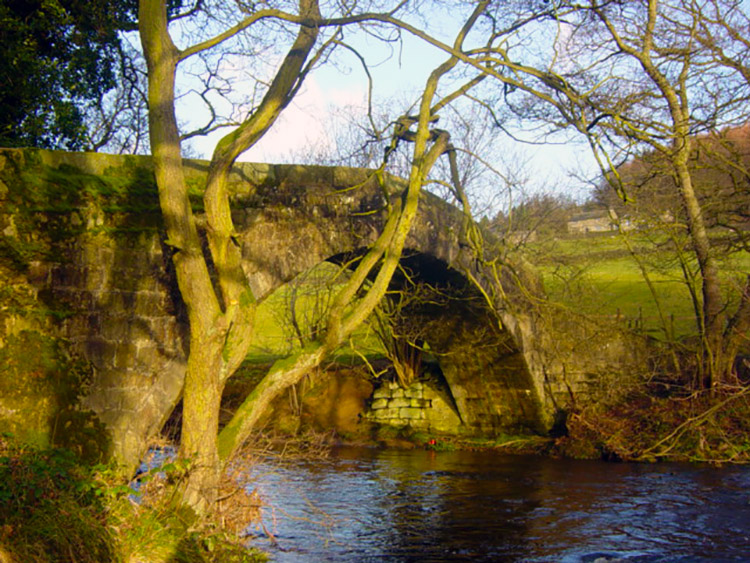 Dob Park Packhorse Bridge near Folly Hall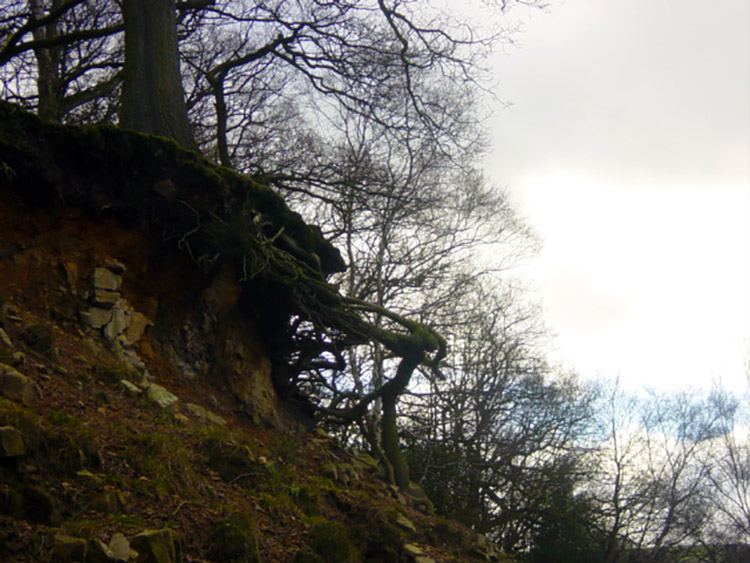 Erosion at Folly Hall
After the muddy goings on I reached Folly Hall Wood and through it walked to Folly Hall and thankfully back onto good tracks. I was OK again now and continued up the track to Sword Point and the Norwood Edge metalled road. I walked up to a hairpin bend in the road where I accessed brilliant views of both the Washburn Valley and Blubberhouses Moor. The views gave me a good feeling inside and I forgot about the muddy prelude. Moments like this one are what makes walking so special.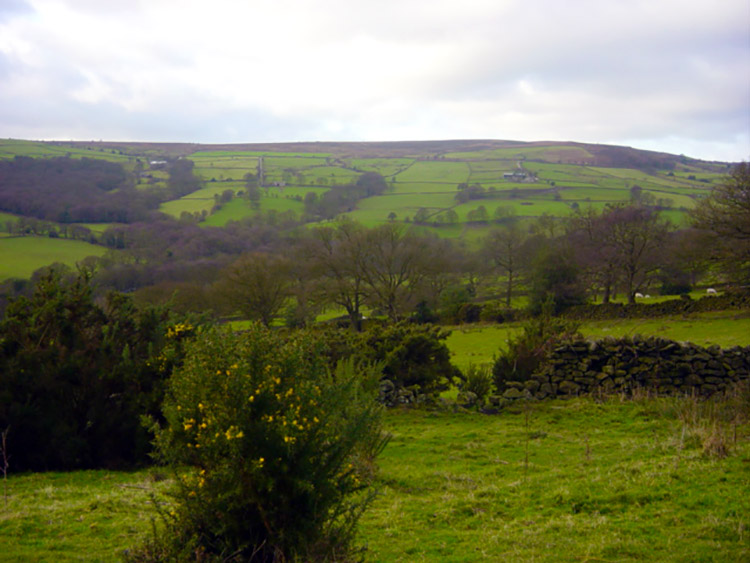 View to Farnley Moor from Sword Point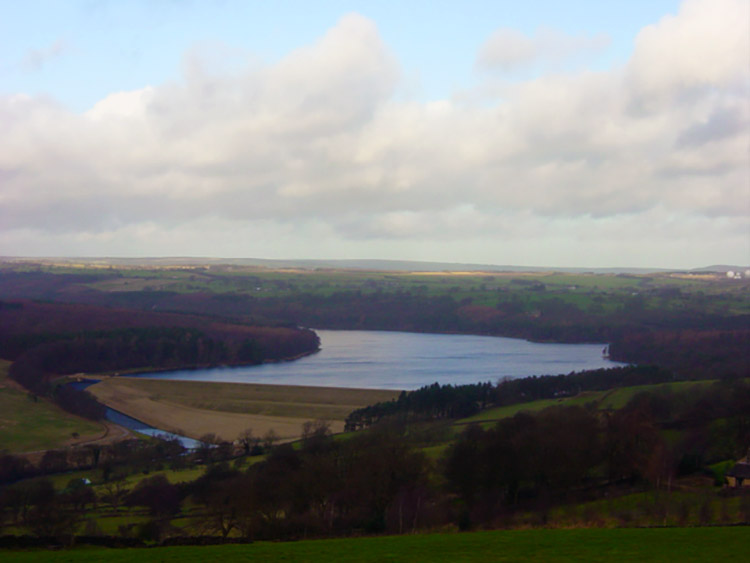 Swinsty Reservoir as seen from Norwood Edge
The next part of the walk was lovely as I tracked along the side of Norwood Edge and the Norwood Edge Plantation. While doing so I looked out north to the moors and down to Swinsty and Fewston Reservoirs. Alas my eyesight was also taken up by the brilliant white globes of the Menwith Hill Spy Station. Certainly a blot on the landscape. I tried to disregard them as much as I could and soon lost sight of them as I walked deep into Top Norwood Edge Plantation. After a dark 10 minutes in the dense wood I emerged into light and walked along another muddy track south east to Prospect House Farm and then on a firm path and road towards Lindley Wood Reservoir.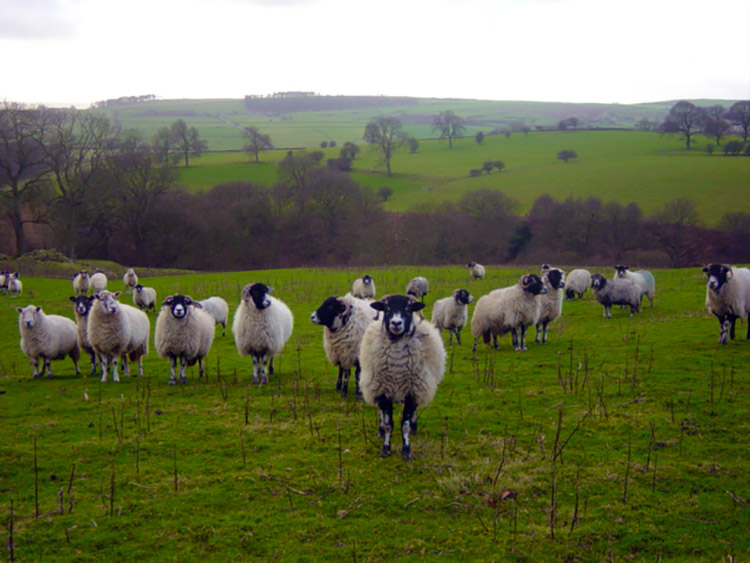 These sheep expected supplies. I had none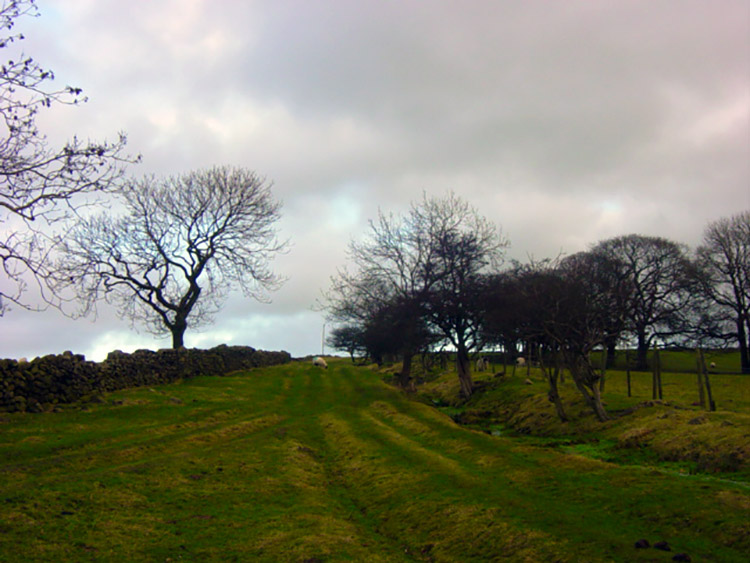 The path near Buttoner House Farm
I was on much better ground all round now, even the unmade tracks were firmer and to cap it all the views were superb. I looked towards Weston and Clifton Moors and also to Otley Chevin. If I had not known I could not have imagined the urban chaos on the other side of those hills. The only reminder was the sight of airplanes rising steeply over the Chevin on their take off flight path from Leeds Bradford. Thankfully the wind kept the terrific whine of their engines at full throttle from me.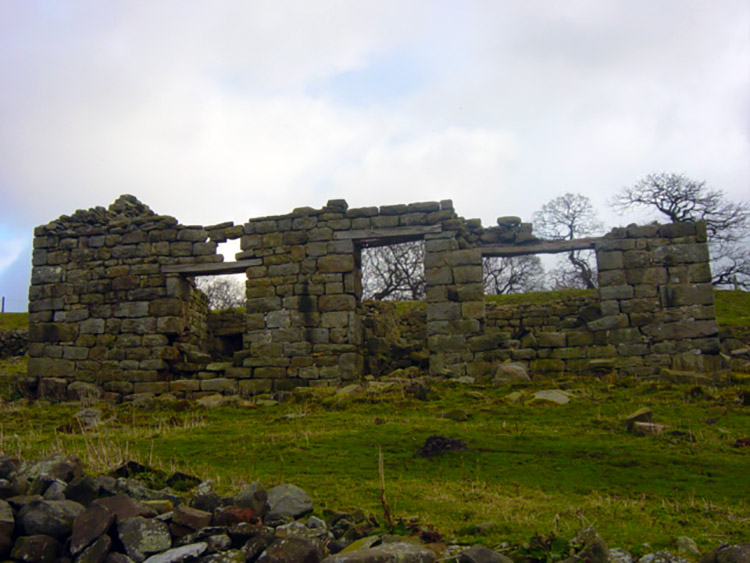 Derelict farm ruins near Lindley Bottom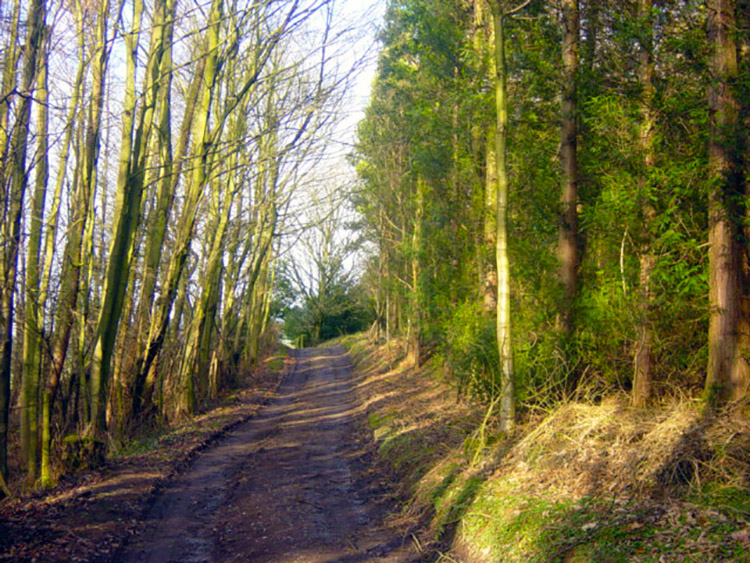 The path down to Lindley Wood Reservoir
The finale to my day was a lovely descent over rolling pasture fields towards the Hamlet of Lindley. It was a serene section and I wallowed in the fresh air. I was only disturbed once. This was by a flock of sheep whose field I had entered. They took me for a friend who would cater for their supplementary winter needs. I could not avail them but it did not stop them hassling me. I was glad to leave. Soon after I passed enviable Buttoner House and continued down to Lindley.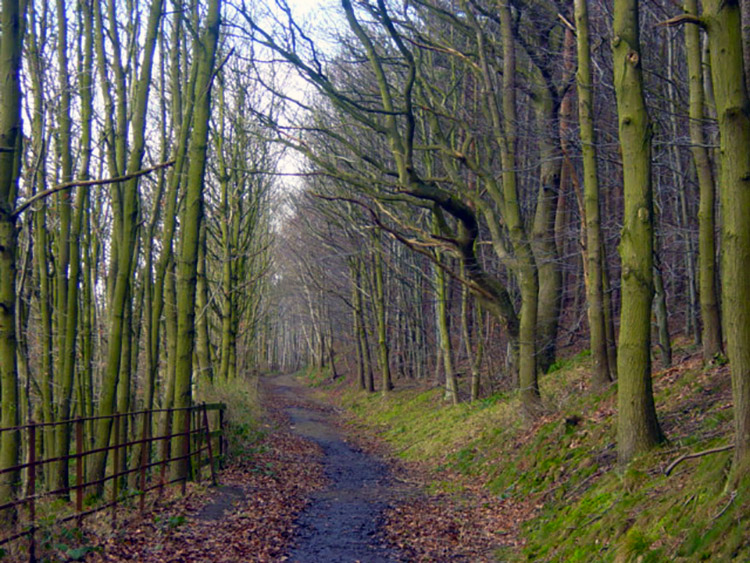 The path alongside Lindley Wood Reservoir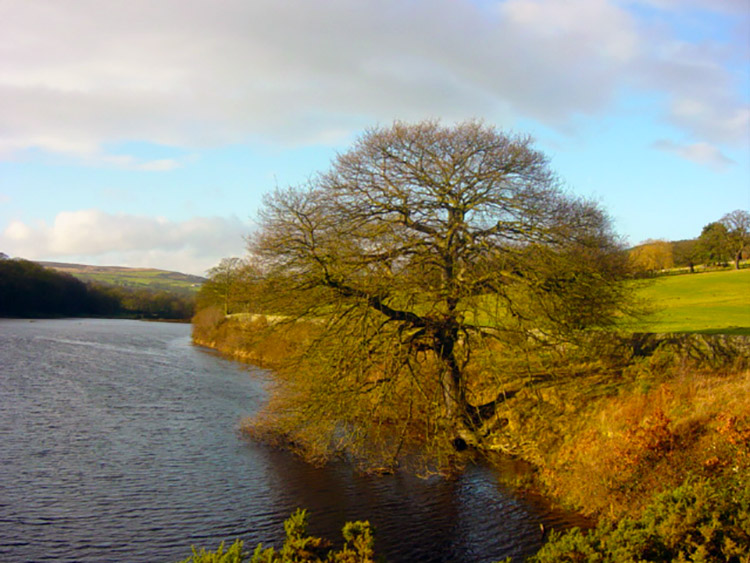 Winter sunshine at Lindley Wood Reservoir
As I lost height I lost the distant sights but these were replaced by a lovely woodland walk through Lindley Wood. The wood was well looked after and the paths a treat to walk along. The tree avenues were orderly and well managed and the added bonus of looking over to the reservoir on my left made it more enrapturing. Soon after the walk was over, a great eight miles of lovely Lower Washburn scenery. The only letdown was the mud!
Copyright © 2003-2023 Walking Englishman. All rights reserved.