County Tops of England: Shropshire
Brown Clee Hill: 540 metres (Grid Ref: SO593865)
Google Maps
Open Source Maps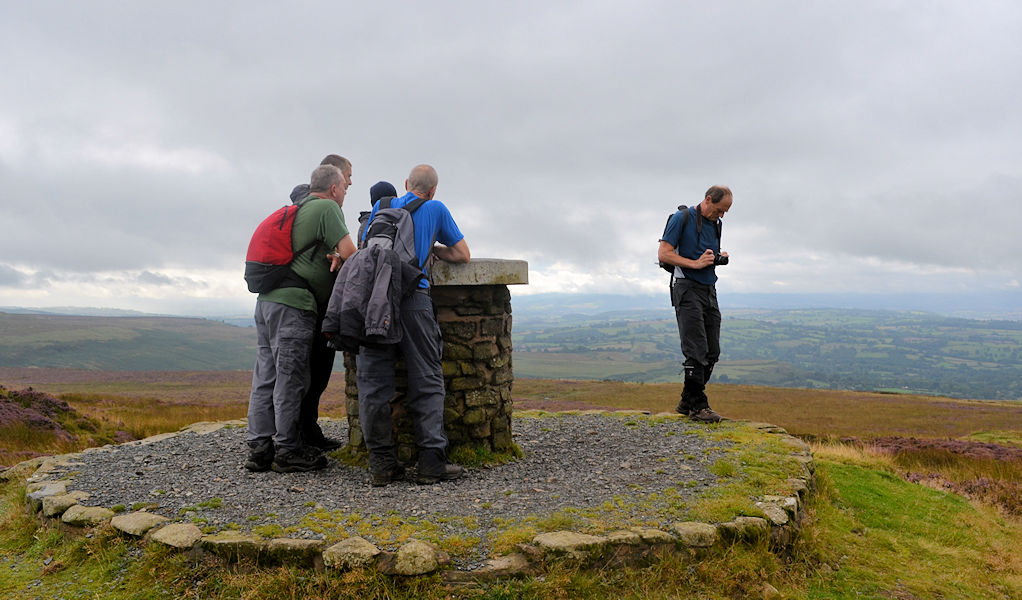 Surveying the scene from the county top of Shropshire
---
The Walk: It is a straightforward walk to claim the county top of Shropshire as a good unmade vehicular track leads you all the way to the top. The track which once led workers to the redundant Dolerite Quarry on the summit of Brown Clee Hill now grants access for maintenance workers to reach the Wireless Station which now stands beside the old workings. Simply follow the track up from the start by the road at Bank House up to the summit and then stop for a while to enjoy the extensive views. They are quite something particularly those to the Shropshire Hills and Welsh Marches in the west. After milking the view as much as you like walk back down the hill on the very track you walked up.

The Walk I Would Do: Given little time I would do the walk described but with more time I would explore Brown Clee Hill a little further by embarking on this Brown Clee Hill walk.
---
Information: Brown Clee Hill lies five miles north of its sister and neighbour, Titterstone Clee Hill. The highest peak of the hill is Abdon Burf, at 540 metres high with Clee Burf at 510m. Much more of Brown Clee Hill is private land than on Titterstone Clee, and large areas are covered with coniferous plantations. The eastern expanse of the hill is in possession of the Burwarton Estate under ownership of Viscount Boyne, whilst the western fringes of the hill are owned by various private land owners and the parish of Clee St. Margaret. The common land features the remains of where an Iron Age hill fort once stood. Nearby towns are Ludlow, Cleobury Mortimer, Church Stretton, Broseley, Bridgnorth and Much Wenlock. Several air traffic control radar masts on the summit of the hill can be seen for many miles around. They, along with the ones on top of Titterstone Clee Hill build up a picture of all the aircraft in a hundred mile radius. A toposcope points out local landmarks and is sited at the summit. (Source: Wikipedia)
---
County Tops of England
Homepage

Copyright © 2003-2022 Walking Englishman. All rights reserved.