County Tops of England: Somerset
Dunkery Beacon: 519 metres (Grid Ref: SS891415)
Google Maps
Open Source Maps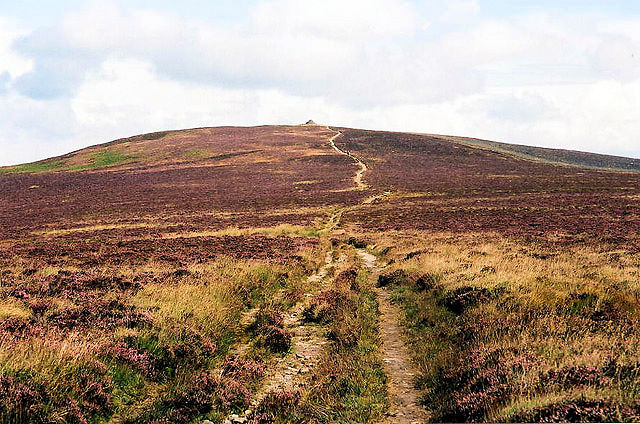 The climb to Dunkery Beacon (image courtesy of
Wikipedia
)
---
The Walk: A simple up and down of the rounded hill which claims the highest ground in Somerset. I have drawn a circular route to make the quick county top grab a little more interesting but you could simply walk straight up the path from the car park at the end of the road to the trig pillar marking the highest point in Somerset and then walk back down again. I would dwell some time at the summit though as Dunkery Beacon is noted for its excellent viewpoint. On a clear day from this fine Exmoor hill one can see the Brecon Beacons, Dartmoor, Bodmin Moor, the Severn Estuary and Cleeve Hill.

The Walk I Would Do: Having made the trip to Exmoor I would design a substantial circular walk which included Dunkery Beacon. It would begin in Horner which is north of Dunkery Beacon and start with a climb through the woodland of Horner Hill to reach Webber's Post. Then I would use the Dunster Path and MacMillan Way West to reach Dunkery Beacon. I would then return by way of Aller Coombe and Horner Wood back to the start. Download route here.
---
Information: Dunkery Beacon at the summit of Dunkery Hill is the highest point on Exmoor and in Somerset, England. It is also the highest point in southern England outside of Dartmoor. The sandstone hill rises to 1,705 feet (520 m) and provides views over the surrounding moorland, the Bristol Channel and hills up to 86 miles (138 km) away. The site has been visited by humans since the Bronze Age, and contains several burial mounds in the form of cairns and bowl barrows. Sweetworthy on the lower slopes is the site of two Iron Age hill forts or enclosures and a deserted medieval settlement. The hill is part of a Site of Special Scientific Interest and National nature reserve. It was in private ownership until the 20th century, when it was donated to the National Trust by Sir Thomas Acland, Colonel Wiggin and Allan Hughes; a stone cairn was erected at the summit to commemorate the event. (Source: Wikipedia)
---
County Tops of England
Homepage

Copyright © 2003-2022 Walking Englishman. All rights reserved.