County Tops of England: Staffordshire
Cheeks Hill: 520 metres (Grid Ref: SK026699)
Google Maps
Open Source Maps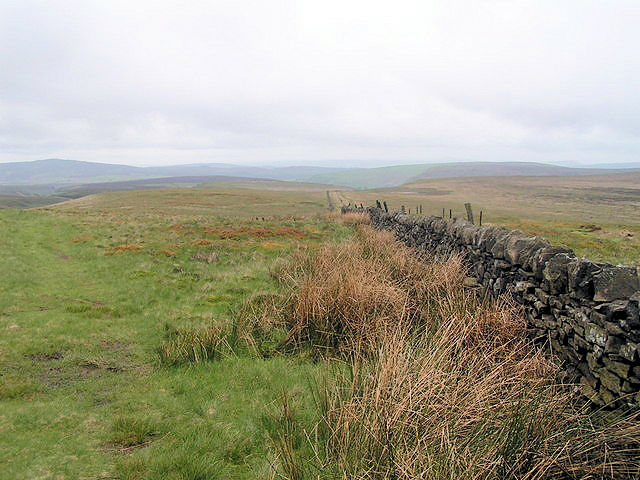 Cheeks Hill summit (image courtesy of
Wikipedia
)
---
The Walk: A quick step across indistinguishable moor will get you to the county top of Staffordshire. From the start head south onto moor and cross the River Dane which, in its origin, is a mere trickle here you can do it with an extended step. Keep going a little further until you can fathom out the highest point of the hill. That is it, just there. Follow my route to make the short journey a circular or head back the way you came. Task accomplished.

The Walk I Would Do: I would create a circular walk which began and finished in Buxton. I would make Cheeks Hill my first call before heading for Danebower Quarries. From here I would follow Danebower Hollow to the Cat and Fiddle and then continue on a route north and west to Goyt's Moss before returning to Buxton. Route available on request.
---
Information: Cheeks Hill is a hill on Axe Edge Moor in the Peak District, England. It lies just south of the Cat and Fiddle Road near Buxton, and forms part of the border between Derbyshire and Staffordshire. The highest and most northerly point in Staffordshire, at 520 metres (1,710 ft) above sea level, is just southwest of its summit. Just southwest of the summit, there is a dry stone wall marking the border between Staffordshire and Derbyshire. On the Staffordshire side there is a disused quarry and shaft. On the Derbyshire side is Dane Head which is the start of the River Dane. Cheeks Hill lies one mile northeast of Three Shires Head, where Staffordshire, Derbyshire and Cheshire all meet. (Source: Wikipedia)
---
County Tops of England
Homepage

Copyright © 2003-2022 Walking Englishman. All rights reserved.