County Tops of Wales: Cardiganshire
Pen Pumlumon Fawr: 752 metres (Grid Ref: SN789869)
Google Maps
Open Source Maps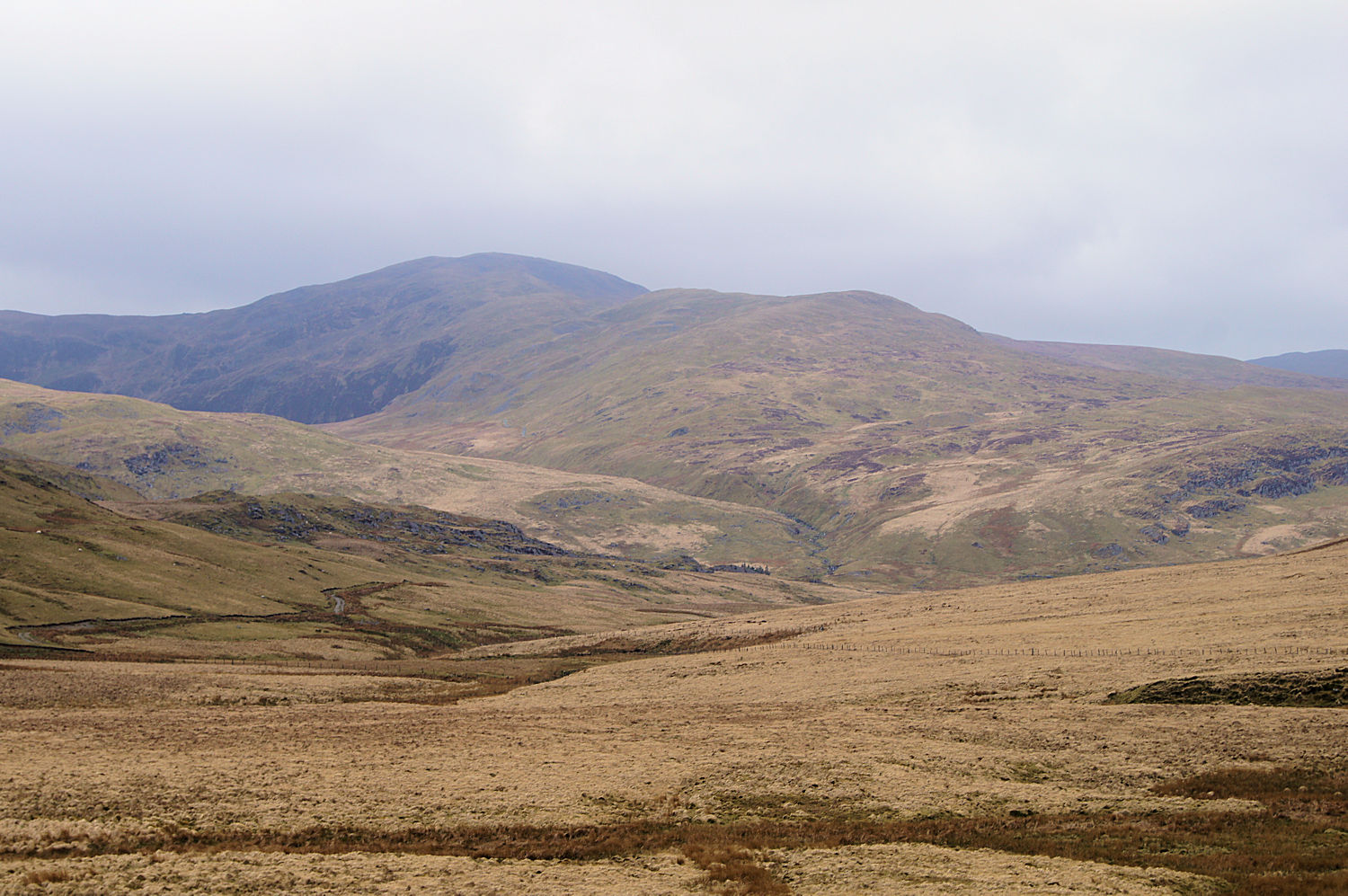 View of Plynlimon from the north-west
---
The Walk: This is the easiest several route options to reach the highest point in Cardiganshire and it has the advantage of being a circular walk. Park near Eisteddfa Gurig Farm, 5 miles east of Ponterwyd on the A44. If you cannot park safely beside the road you may park in the farm though there is a charge for parking there. Once walking the route is via a west course from Eisteddfa Gurig Farm to disused mine workings at Yr Ochrydd and further to a fence line beside a plantation. Turn north on a good track beside the plantation and continue north all the way past the end of the plantation and over open high ground to the summit. Return by following a track south south-east to more disused mine workings beside Afon Tarennig which leads you downstream on a path parallel to the young river back to the start.

The Walk I Would Do: The walk described above is the one I would do but if I had the time I would extend it to explore the mountain further. I would certainly seek out the sources of the River Severn (grid reference: SN821899), River Wye (grid reference: SN802871) and River Rheidol (grid reference: SN797873).
---
Information: Plynlimon (anglicised from Pumlumon in Welsh, meaning "five peaks") is the highest point of the Cambrian Mountains in Wales, and the highest point in Mid Wales. It is a massif that dominates the countryside of northern Ceredigion. The highest point of the massif itself is Pen Pumlumon Fawr at 752 metres (2,467 ft). Its other important peaks are Pen Pumlumon Arwystli, Y Garn, Pen Pumlumon Llygad-bychan and Pumlumon Fach. The longest river in Britain, the River Severn, has its source on the mountain, as do the River Wye and River Rheidol. Folklore says there is a sleeping giant in Plynlimon. (Source: Wikipedia)
---
County Tops of Wales
Homepage

Copyright © 2003-2023 Walking Englishman. All rights reserved.