Bradgate Country Park, Old John Tower, Beacon Hill and Swithland Wood
Google Maps
Open Source Maps
| Statistics | |
| --- | --- |
| Start: Newtown Linford | Distance: 10.5 miles (16.9 km) |
| Grid Ref: SK523098 | Time: 4-5 hours |
| Climbing: 390 metres | Rating: Hard |
| GPX Route File | Google Earth File |
Ordnance Survey Explorer Map (1:25,000)
---
Summary: This walk of a little over ten miles has two climbs to it, one immediately from the start in Bradgate Country Park near Newtown Linford to the War Memorial and Old John Tower and the second at about halfway from Beacon Road to Beacon Hill. Both high points are good places to look over the vast plains of the county and its neighbours, especially those to the north and east. In between the climbing there is a good variety of walking including stretches through woodland, across open farmland and in all there are three country parks to enjoy.
---
The Walk: The month of January in 2014 was terrible. It rained and much of lowland England was flooded as a result of the constant barrage from an insatiable series of south-westerly low pressure systems. It was a relentless onslaught and for whatever reason the cause, plain unpredictable British weather, climate change or global warming, it made walking outdoors pretty miserable. As a result I did not do a single walk in January so I was desperate to get outdoors for a good walk and the opportunity arose as the most depressing January ended and February came forward. It was the first day of the new month and I was staying with my friend Steve in Rugby. The weather forecast was promising. We went for a walk.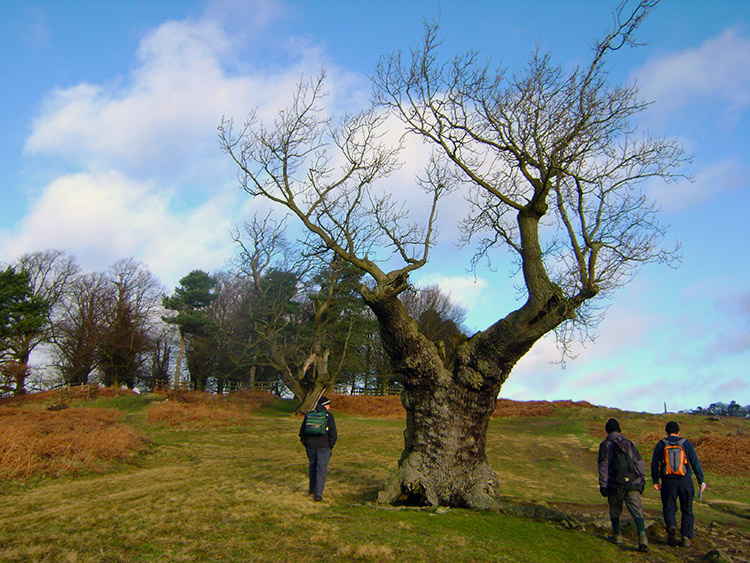 In Bradgate Country Park near Newtown Linford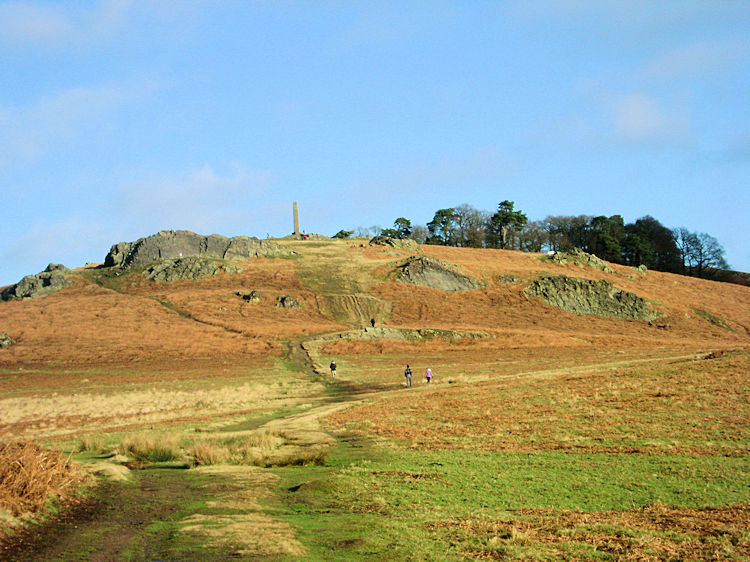 Climbing to the War Memorial and Old John Tower
My brother Dave had travelled we me to Rugby for the weekend. Steve, Dave and I prepared for the walk on the first morning of the new month. We were joined by Steve's son in law Chris. Along for the ride came Ziggy and Keira, Chris's Collie and Steve's Springer/ Labrador respectively. Steve had planned the route and I was excited by his choice; it was good to be in the Midlands again and the choice of walk included a climb to two of the best viewpoints in Leicestershire. I was thrilled as we set off from the Newtown Linford car park in Bradgate Park. I knew nothing of the park, nor anywhere on the walk, it was one of new adventure. I researched the park, it had several owners since Edward to Confessor, most notably the Grey Family. They had allowed limited public access during their tenure but in 1928 the whole estate including ancient Deer Park and the the ruins of Bradgate House was bought by local businessman and British United Shoe Machinery founder Charles Bennion who gave it in perpetuity to the people of Leicestershire. And what a gift he bestowed. From the outset of our walk through the park I was entranced by its beauty. even on this first February day it looked glorious in the winter sunshine. Yes, it was indeed sunshine, we were very fortunate with the weather as we walked uphill in a northerly direction through the park towards the War Memorial and Old John Tower. Was that rock outcrops I could see? In Leicestershire?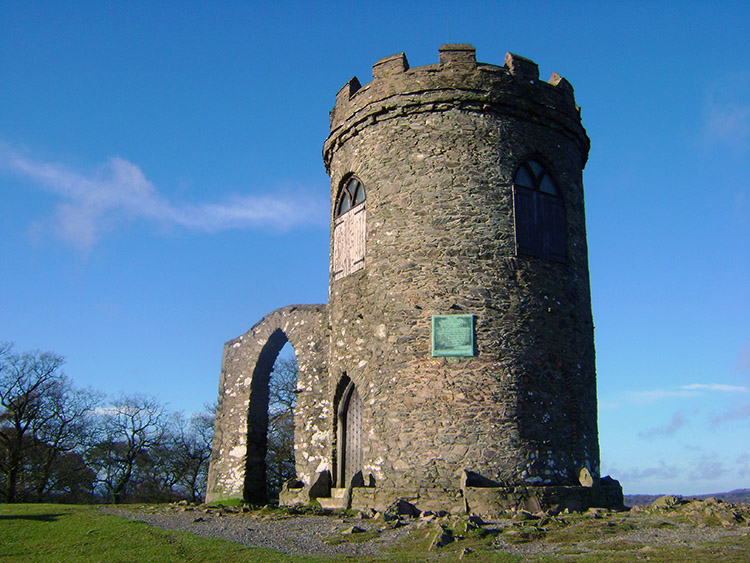 Old John Tower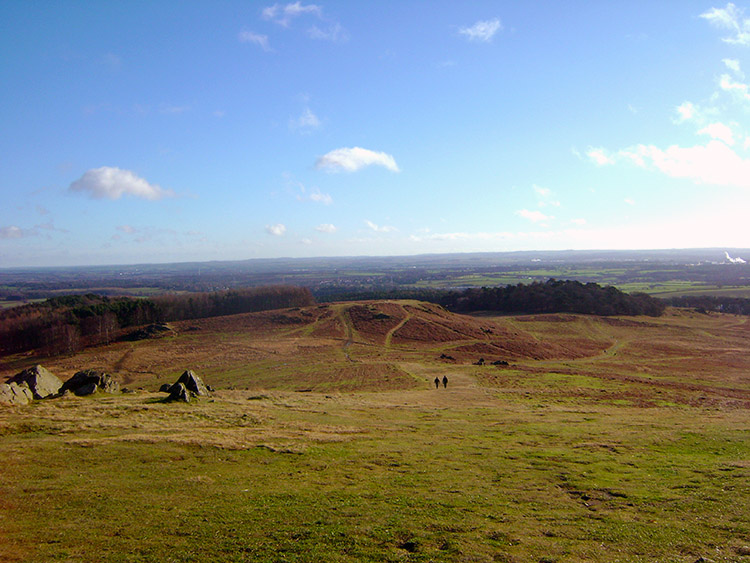 Looking across Bradgate Country Park towards Leicester
Leicestershire is a county dominated by heavy clays and much of the county is on a flat plain stretching across most of the central Midlands. However there are exceptions including a number of stand alone hills, the highest of them being Bardon Hill which is the remains of an extinct volcano. I never knew there was an extinct volcano in Leicestershire, nor did I know there were rock outcrops; I did now as I walked up to them on the hill in Bradgate Park which was the site of the War Memorial and Old John Tower. The War Memorial commemorates the men of the Leicestershire Yeomanry who died in the Boer War and the two World Wars; thus its intention and history are clear. Old John Tower is less so. Built by the Greys in 1784, the folly is, by local legend, a memorial to John, an estate worker killed in a bonfire accident during celebrations of the 21st birthday of the future eighth Earl of Stamford. However he was not 21 until 1786, and a map of 1745 names the hill as 'Old John'. Conflicting evidence. Still, whatever the real reason for the structure it commands a magnificent viewpoint looking down across the park to the city of Leicester. As the sun shone and the views were of a good distance I stood and looked over the country while my walking colleagues continued on their way. I always like to take in the best views, finding it hard to draw myself away.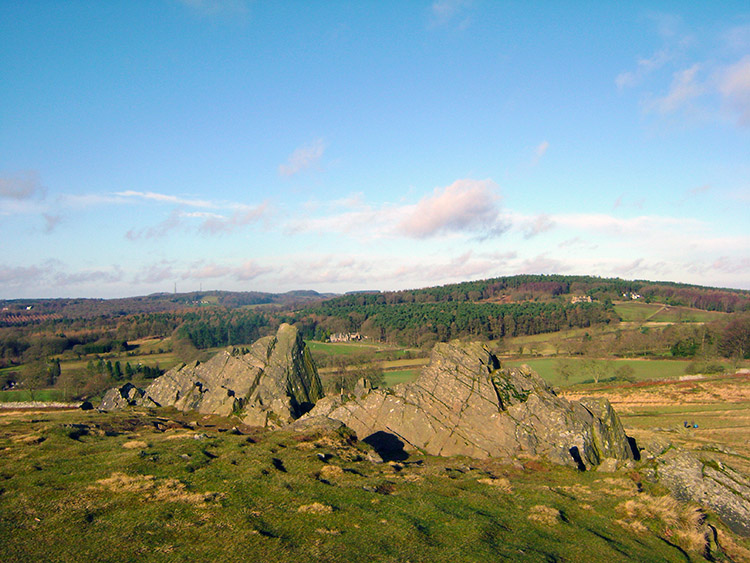 The view from Old John Tower towards Beacon Hill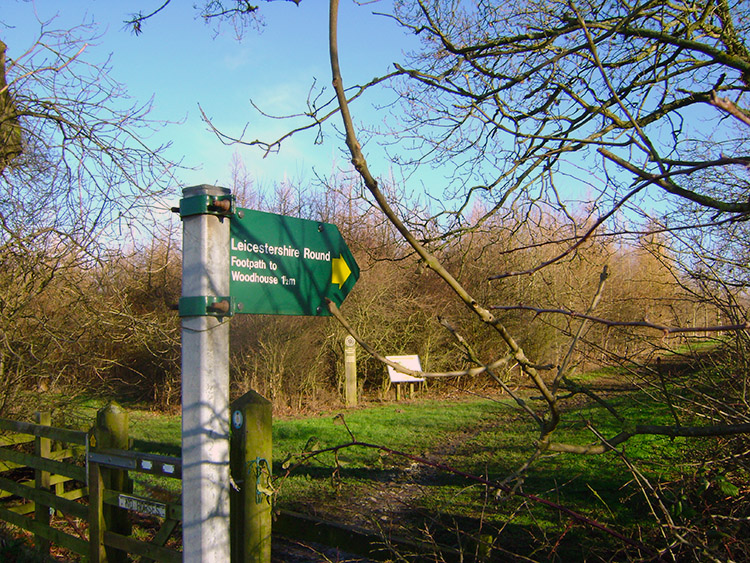 Following the Leicestershire Round
From the hilltop of Old John Tower I looked down to see my friends about 200 metres ahead of me. They were looking back to see where I was so I waved them on and bounded over the rock outcrops on top of the hill. Not knowing as I enjoyed the rock manoeuvering I was amidst visible geology that ranges from some of the oldest Precambrian rocks in England to the youngest Quaternary rocks. The rock outcrops were created in conditions varying from volcanoes rising out of the ocean, to magma flowing deep underground and from tropical deserts to ice sheets. Yet more volcanoes in Leicestershire and I was crossing some which was incredible to imagine. Before I got burnt with such imagination I hurtled downhill to join my friends at the bottom of the hill. We then left the open parkland to walk through a small wood, then a car park and then alongside Benscliffe Road for a couple of hundred metres before following a Leicestershire Round footpath sign onto a path through immature woodland of Newtown Plantation. After the splendid open landscape and views of Bradgate Country Park this section of walking through the plantation was a sharp enclosure. It was also the worse part of the walk as all the rains of January had reduced the path to a quagmire. We had to walk very tentatively for half a mile until Newtown Plantation was behind us and I reckon we were fortunate that not one of us fell. If one had, he would have been very wet and covered in mud.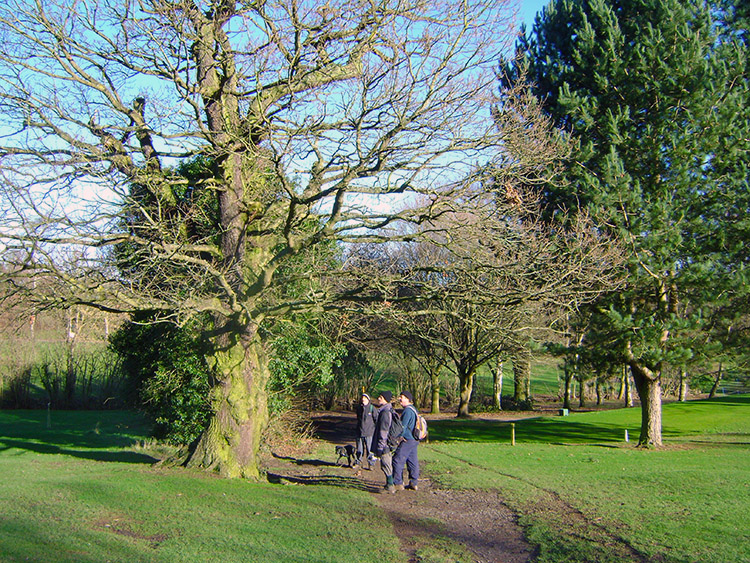 Crossing Lingdale Golf Course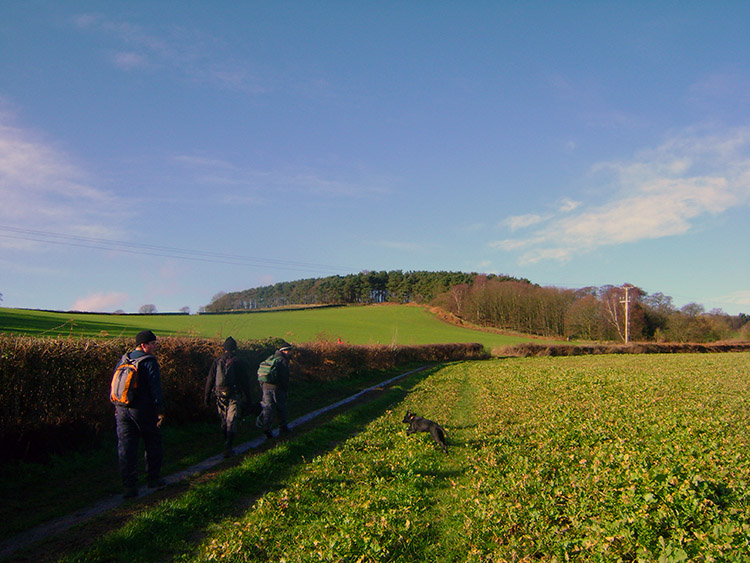 Broombriggs Farm Country Park
After the travails of Newtown Plantation we crossed Joe Moore's Lane to enter the well maintained grounds of Lingdale Golf Course. Groups of golfers were spread around the course as we walked through and as it was the route of the Leicestershire Round we were following the sportsmen were well accustomed to walkers crossing their fairways. No altercations took place, we were courteous to stop if a group of golfers were playing or passing and equally the golfers were courteous enough to wave us through if timing was right. After the sporting interlude we left the golf course and followed good field paths and tracks to the outskirts of Woodhouse Eaves but rather than walk into the village we followed a path across fields and slightly uphill towards Broombriggs Farm Country Park. The park is well worth taking a detour too. It was presented to Leicestershire County Council in 1970 and is a mixed arable and stock farm. It has a 2.4km (1.5 mile) farm trail which we followed. The trail has information boards explaining the working of the farm and is interlinked with a network of way marked footpaths and horse tracks. Note: I have not included the farm trail on the map or downloads as it is not officially marked but is obvious once you reach it. It will add 1.5 miles to my route should you choose to do it.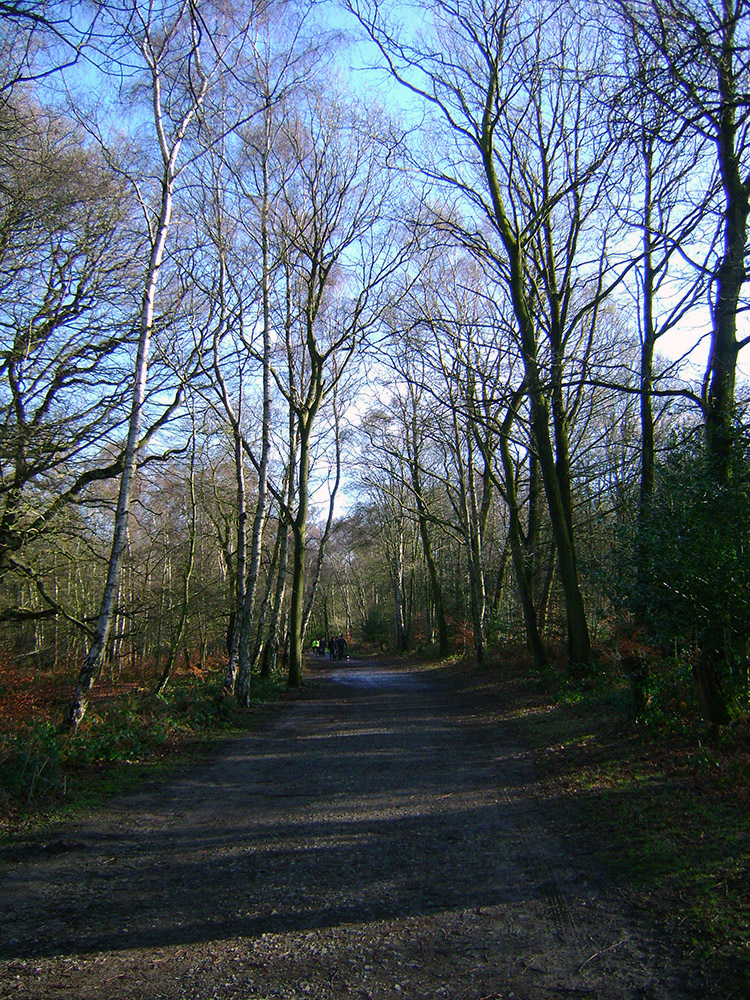 Beacon Plantation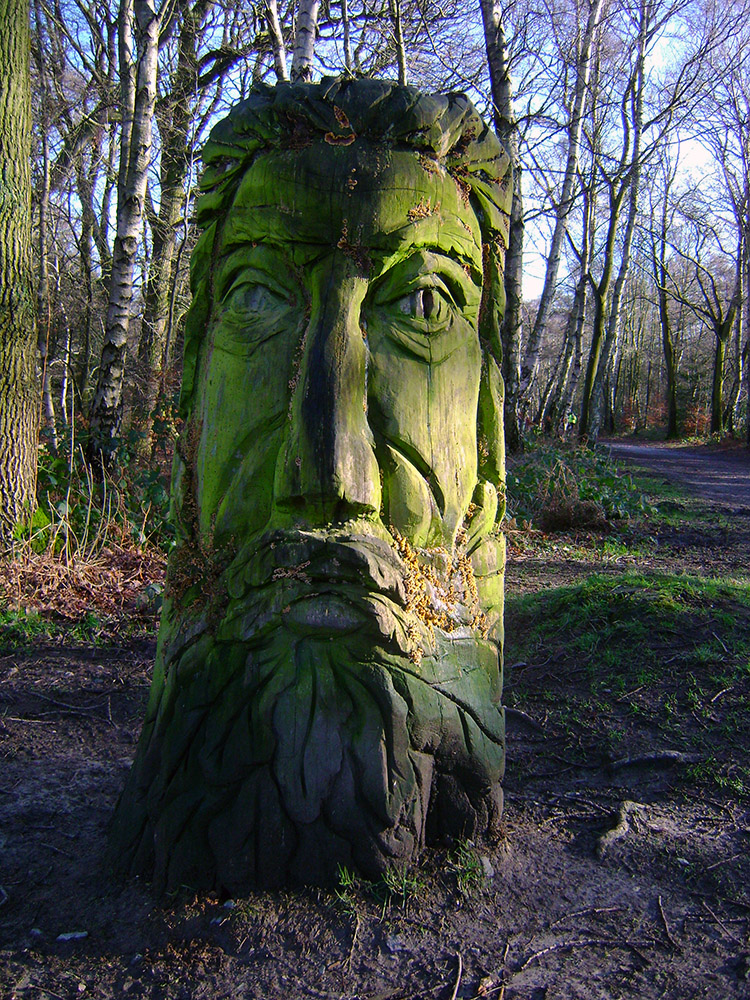 Green Man near Beacon Hill
After our detour along the trail of Broombriggs Farm Country Park we continued along a track for 100 metres before crossing Beacon Road to enter Beacon Hill Country Park. The walk through the park began with a level stretch of about 400 metres running parallel to Beacon Road before we started the ascent to Beacon Hill. The ascent was delayed by interruptions though to look at some creative sculptures made by using different materials. My favourite was the first I came to, a Green Man sculpted from a tree trunk. Note, download the guide to Beacon Hill Country Park which includes details of the Broombriggs Farm Country Park Trail here.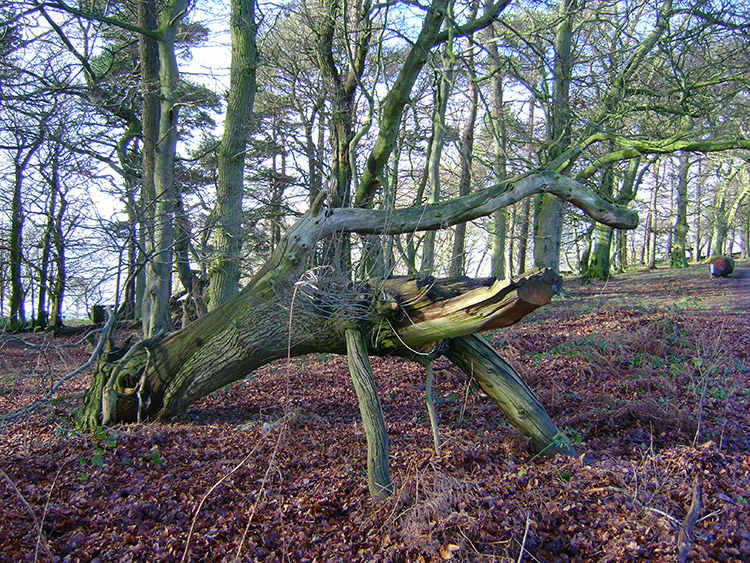 Fallen tree or Praying Mantis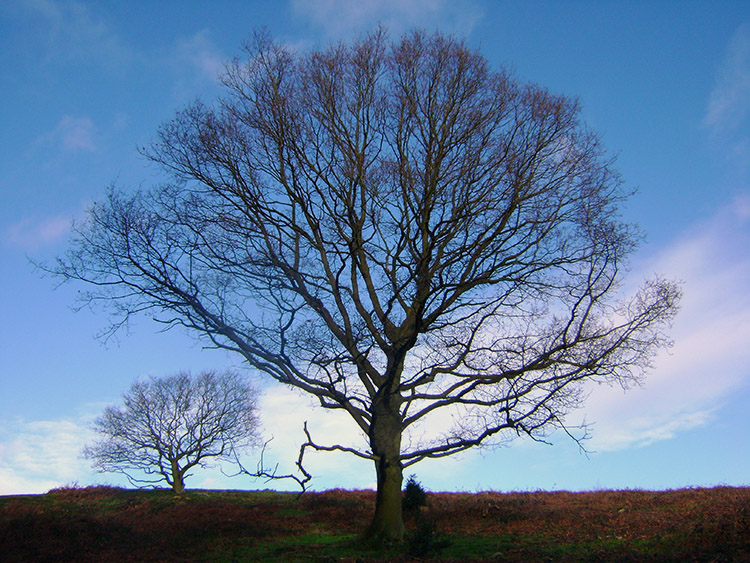 Natural Silhouette on Beacon Hill
The climb was steady going as as we climbed we made just over 100 metres ascent in one mile of walking. Along the way to the top of Beacon Hill there were more interruptions, some due to more interesting sculptures along the way. Most were man made but one natural sculpture caused by a fallen tree which I likened to a Praying Mantis enthralled me. Such images always capture my imagination; they have not always done so but as I have matured I find my appreciation of the natural environment much enhanced. I am so pleased about that. Another physical and living example of imagery was the view of the tree in the sky pictured above left. To some people, perhaps most, they would not give it a second glance. To me, the view of it with its near symmetry against the natural blue sky background and the inset image of another similar tree bottom left just made it picture perfect for me. Enough of such personal art now, let us get up this hill.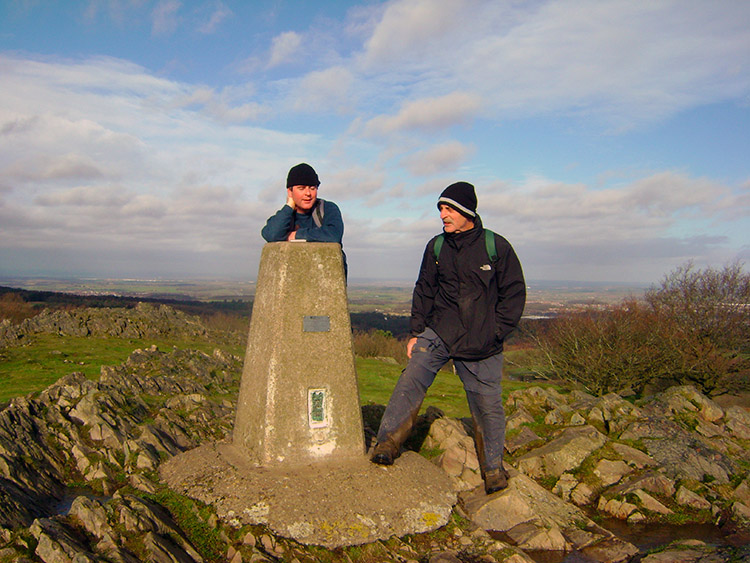 Chris and Steve at Beacon Hill trig point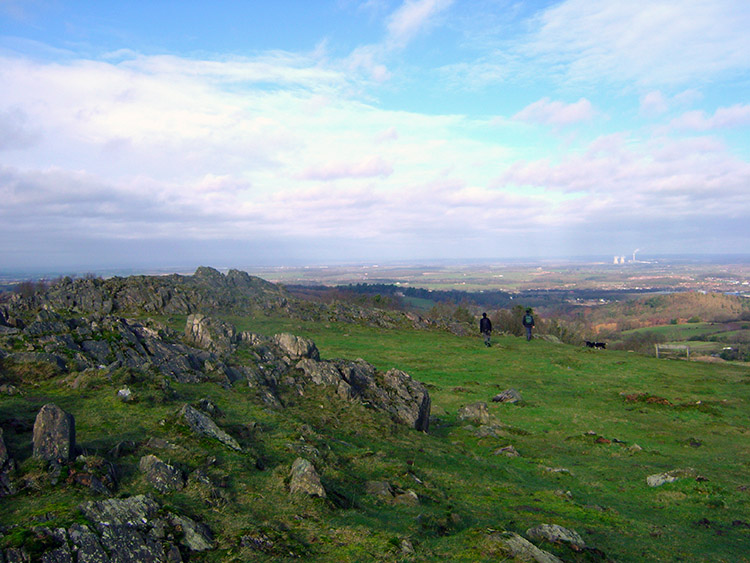 View from Beacon Hill to Loughborough
Eventually we all met up on the summit of Beacon Hill, having made our ascents in different ways. Steve, as is usual, had hauled himself vigorously to the summit and at a splendid place for his nearly 63 years. Chris had followed closely behind while Dave had ambled up the hill and taking a few pauses between climbs. I as is normal was last because I always stop to look around and find the things to photograph. I am designated by the team as official cameraman and take my duties seriously. I also like to capture as much as I can from splendid days out such as this for that time, long into the future I hope, that I cannot get up the hills in person and have to rely on the photographic memoirs. Anyway, once we had all reached the top and stood beside the summit we each took our time to take in the wonderful views. We could see far to the north and beyond Leicestershire into Nottinghamshire. By looking east we could see into Lincolnshire. A three country sight from the top of Beacon Hill with its natural viewpoint was quite apt. It was time for lunch so we found a sheltered spot below a large rock outcrop just north of the summit. My flask of hot tomato soup was lovely. I enjoyed the chocolate indulgence too.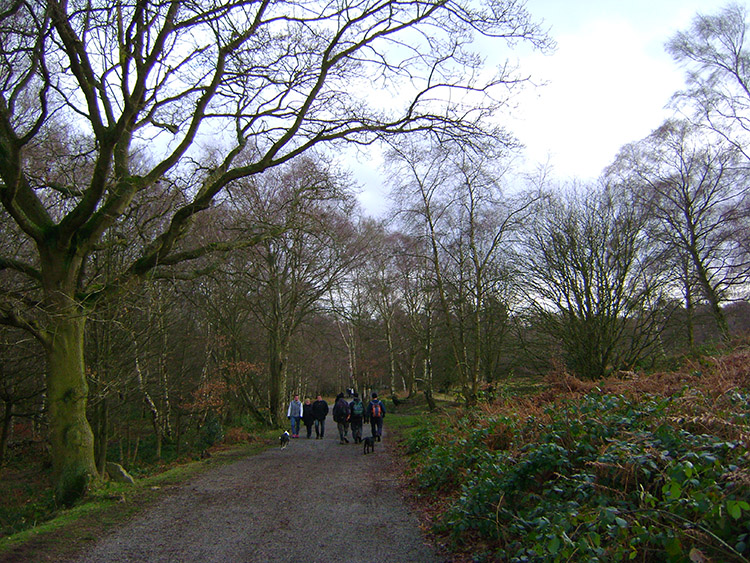 Descending from Beacon Hill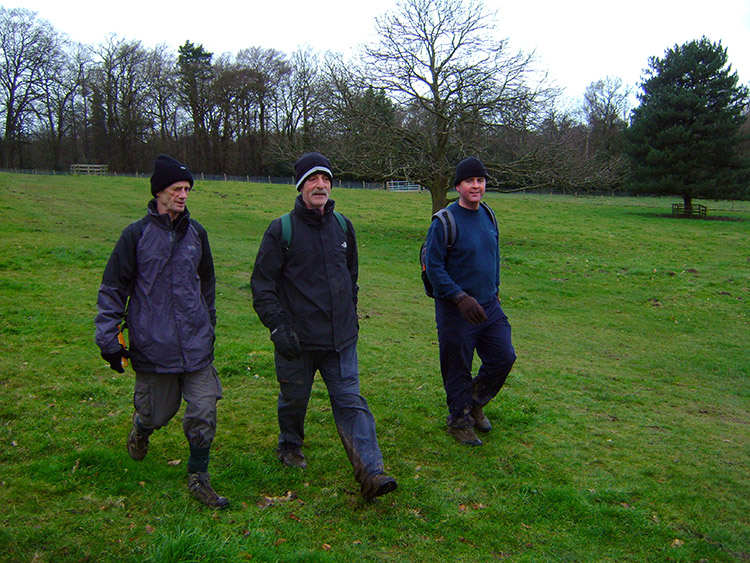 Crossing fields to Woodhouse Eaves
As it had been in Bradgate Country Park the environs of Beacon Hill were quite busy too, in fact especially so. Lots of people were out, many of them with young families, all taking advantage of the morning Saturday sunshine during the blighted wet winter. As we descended from Beacon Hill we continued to pass people thoroughly enjoying being out, it was most uplifting. On reaching the bottom of Beacon Hill we retraced our our way from the country park to the edge of Windmill Hill near to Broombriggs Farm Country Park and then headed across the fields back towards Woodhouse Eaves. It was time to chat.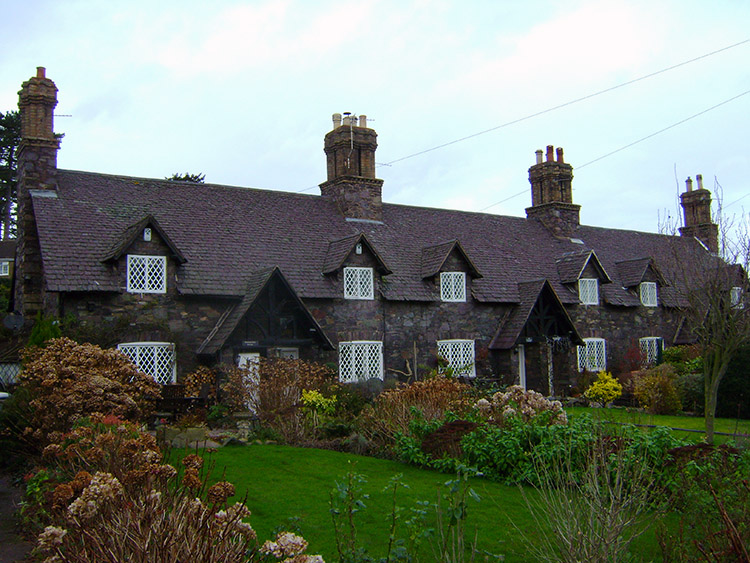 Old English cottages in Woodhouse Eaves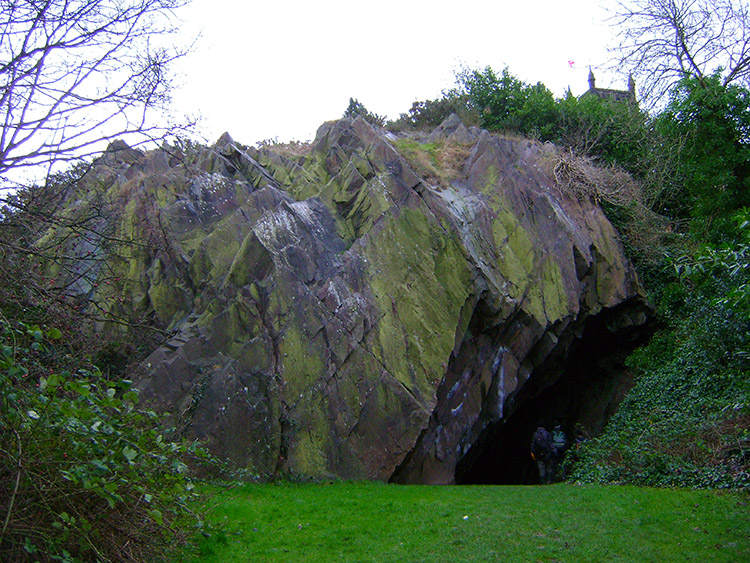 The Stone Hole, Woodhouse Eaves
We reached Woodhouse Eaves and walked through the village first east on a path alongside a road to the main village junction and then by turning right up a hill towards Swithland. Two notable points of interest in the village were a row of fabulous terraced cottages near to the junction and then the stone hole, a huge rock outcrop on the south side of the village church. On leaving the environs of Woodhouse Eaves we came to another road junction and rather than following straight on into Swithland we turned right. As we did so disaster for Dave. From the calm of the walk he exclaimed "Bloo** **** you idiot" and as he did so he raised his fist to a car driver in a silver Vauxhall Vectra who had just accelerated through a roadside puddle to spray him with water. Anyone of us would have done the same, it was unnecessary and vulgar. Dave had a point but soon calmed down as we almost immediately came to a small quarry which had been converted with a small round folly building and with complementary shrub planting. Even in stark winter conditions the scene was lovely.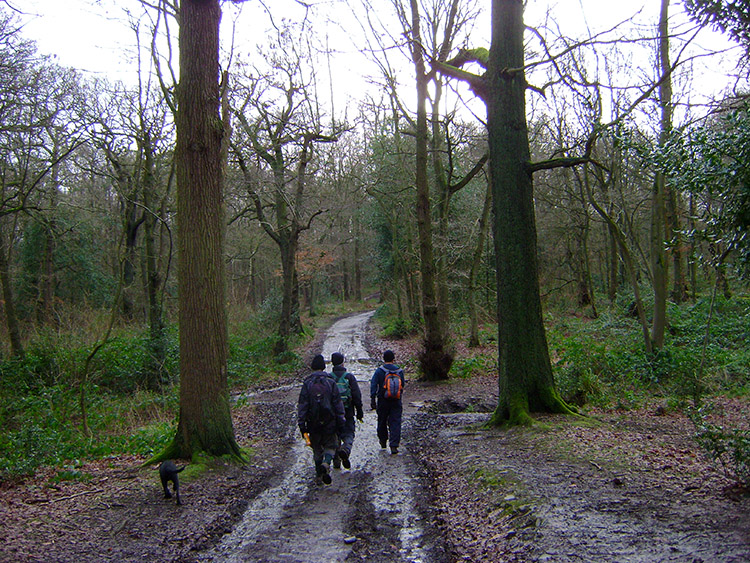 Swithland Wood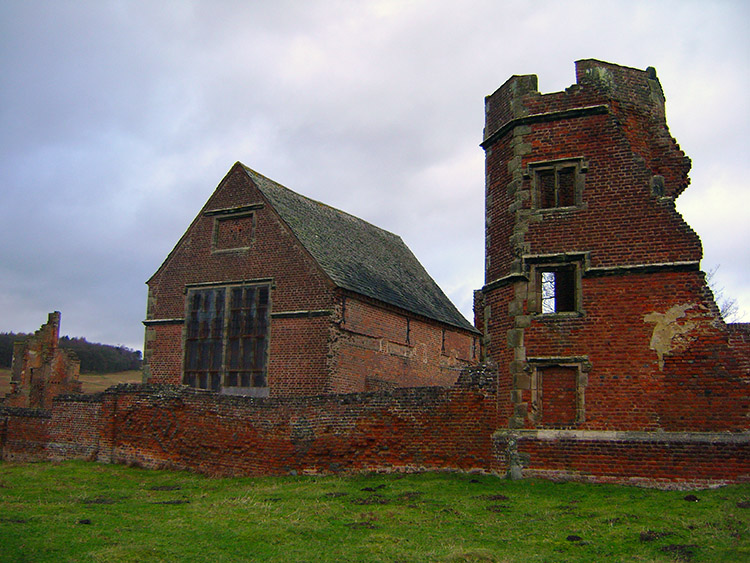 Ruins of the magnificent Tudor house
From the scene of landscaped beauty we crossed the road to follow a footpath sign into Swithland Wood. The tracks through the woodland were good and firm to walk on despite being wet and puddled. The wood is part of the Swithland Wood and The Brand Site of Special Scientific Interest, noted for both its biological and geological interest and is Leicestershire's most important ancient woodland for nature conservation. As you walk through the wood there are clear ridge and furrow shows that most of the area was once cleared of trees, and used for growing crops, apparently in Medieval times. It was a lovely walk through the woods, I guess it would be spectacular in summer. On reaching the far side of Swithland Wood we followed a road a short distance through Hallgates which took us to one of Bradgate Country Parks main entrances. Once back in the park we followed the tarmac road south and past Cropston Reservoir. From being alone outside the park confines we were once again walking with lots of other people enjoying the day. he sunshine, which had been hiding since Beacon Hill, came out once more to welcome us back into the park. As my colleagues followed the road I left it to closely inspect the ruins of Bradgate House. Note: You can read more about the ruins of the house and of Bradgate Country Park here.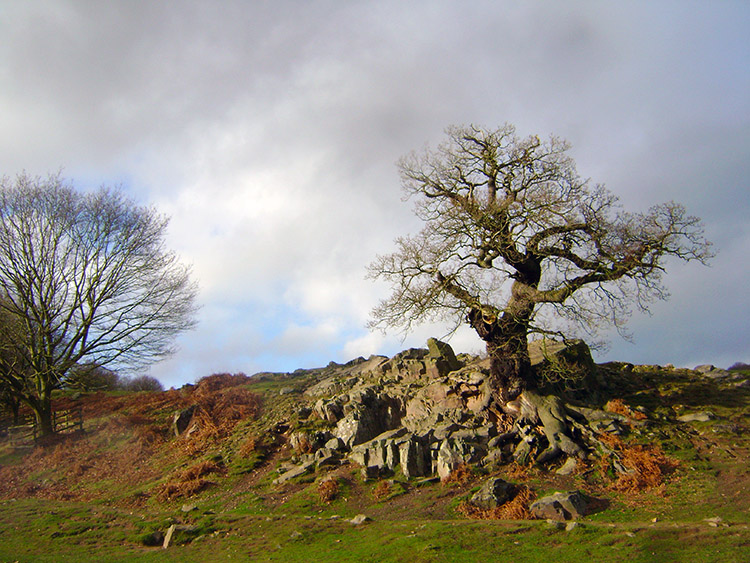 Oak Tree clinging on to the rock outcrop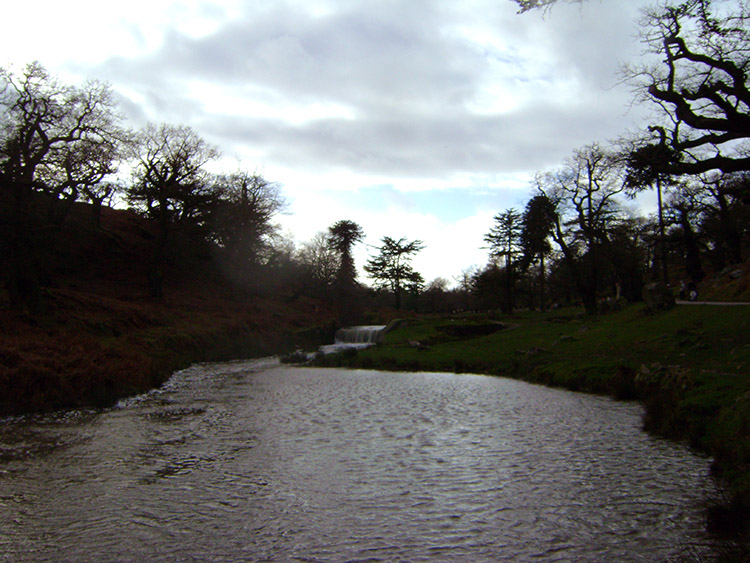 River Lin in Bradgate Country Park
And so the walk was coming to an end. After about 12 miles of walking we were all feeling the effort but it had been well worth it. As we ambled lethargically back to the car park the sun came out to herald our return and highlight the finishing stretch. And what a stretch it was, alongside the River Lin and beside beautiful crafted parkland. Above us, to the right were more rocky outcrops and on some of them ancient Oaks had sculpted their roots to fit the contours of the rock. A most fitting finale to a magnificent Leicestershire walk. The Midlands have much too offer walkers who take the time to look. I am enjoying exploring this new territory and if I can find walks as near as good as this brilliant walk I will be well pleased. Highly recommended.
Copyright © 2003-2023 Walking Englishman. All rights reserved.