Great Ayton, Roseberry Topping and Captain Cook's Monument
Google Maps
Open Source Maps
| Statistics | |
| --- | --- |
| Start: Great Ayton | Distance: 7.0 miles (11.2 km) |
| Grid Ref: NZ557106 | Time: 3-4 hours |
| Climbing: 409 metres | Rating: Moderate |
| GPX Route File | Google Earth File |
Ordnance Survey Explorer Map (1:25,000)
---
Summary: A North York Moors walk to Roseberry Topping which is the most prominent and popular hilltop in the Middlesbrough area. This walk takes us to the top of Roseberry Topping then across accessible moorland to Captain Cook's Monument before returning over moor and countryside to the starting point in Great Ayton.
---
The Walk: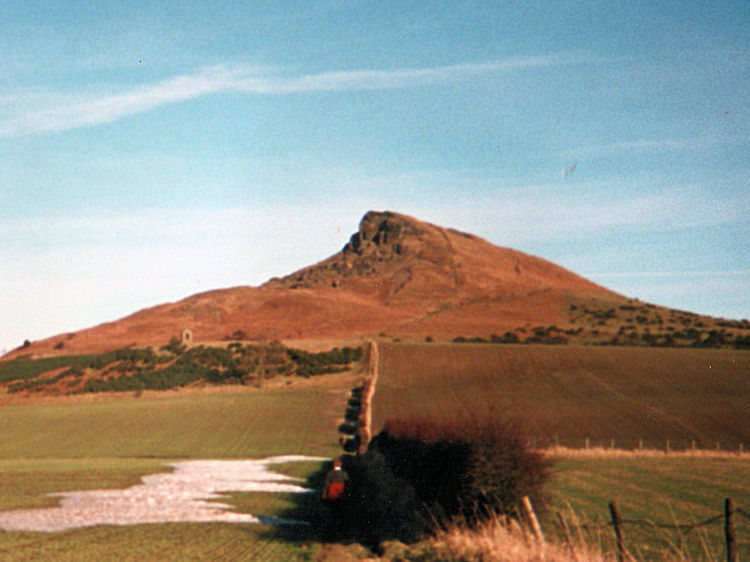 The approach from Great Ayton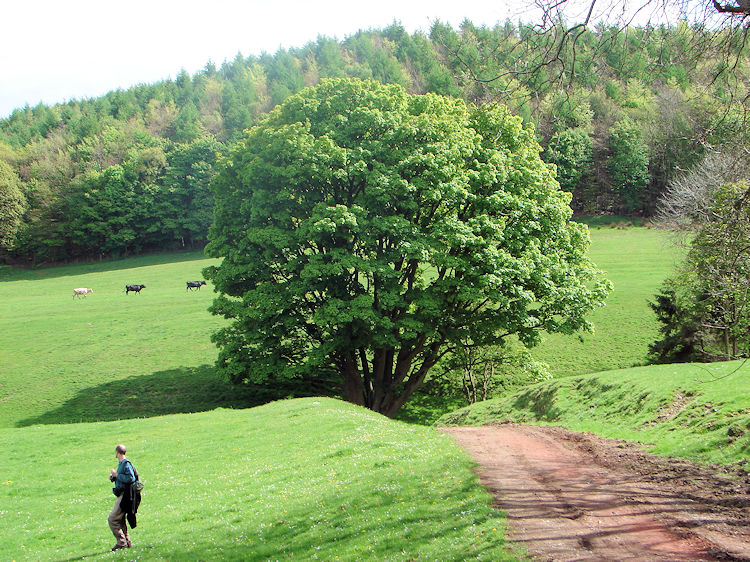 Lovely countryside below Roseberry Topping
Roseberry Topping near Guisborough, a monument to the folk of Middlesbrough is a unique hill because of the unusual shape of its peak. It is not high by any means at about 280 metres but the climb is a short stiff pull that clears the airways and lethargy from the most languid walkers. I did the climb many times as a youngster and once in recent times with Dave.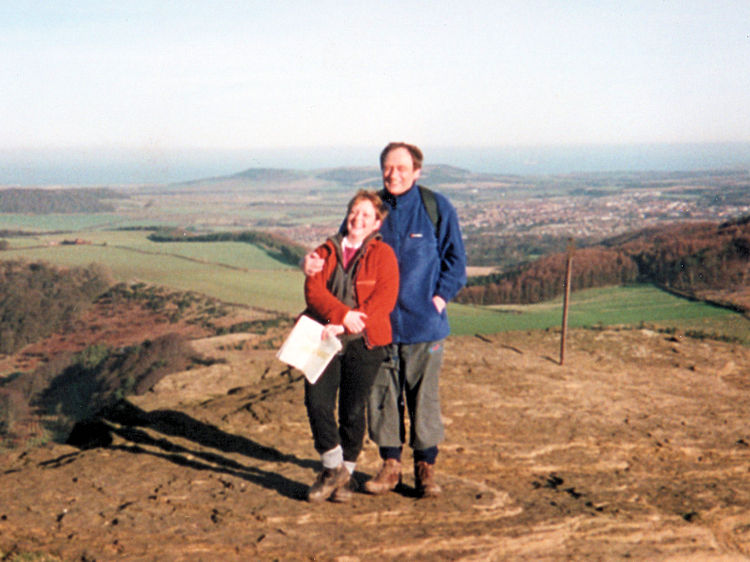 Lil and me on Roseberry Topping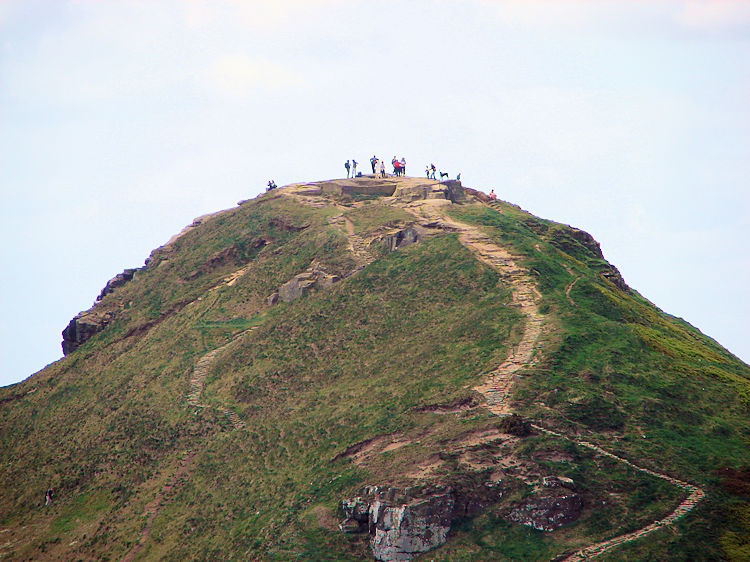 Looking back to the summit
This time a bright sunny January morning told me it was the time to show my future wife Lil my famous childhood hill. The walk we did was from a start in the quaint town of Great Ayton. We left the town and headed in a beeline straight for the hill. Lil said "I can't do that climb" but I reassured her and before long she was over half way up at the Folly building. After a short break we strode up to the top and she was there.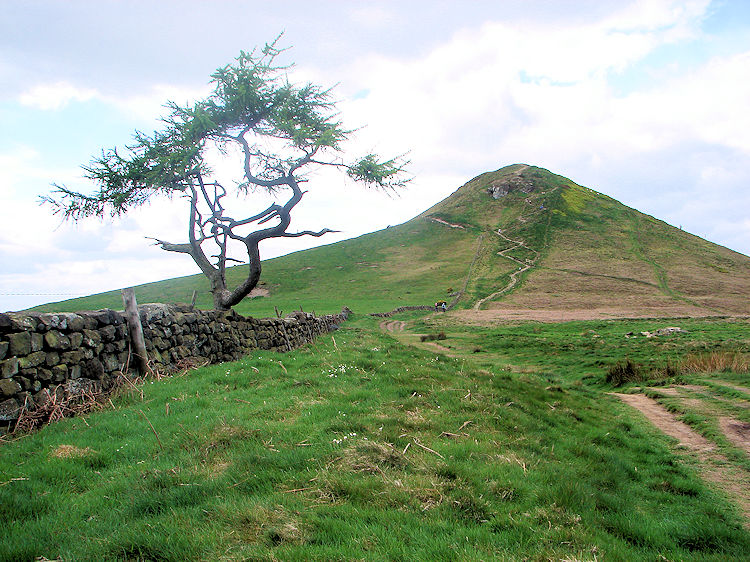 Roseberry Topping seen from Newton Moor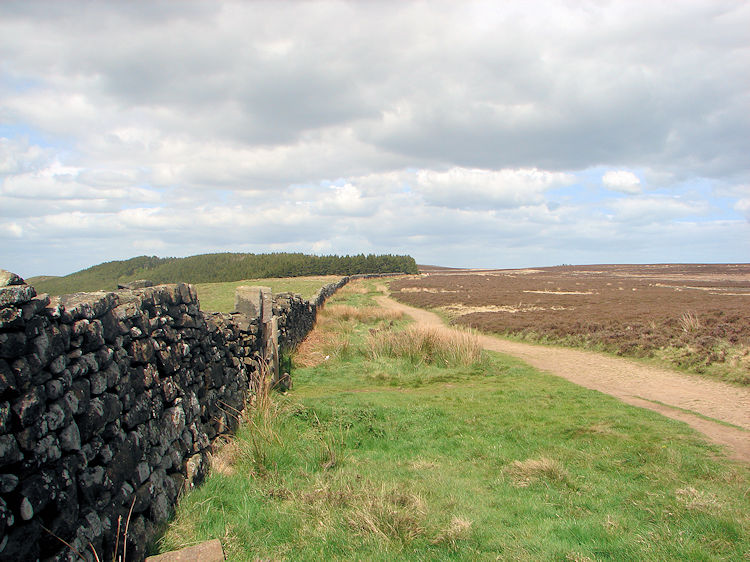 Great Ayton Moor
It is a perfect small walk for most new walkers and one of my recommended 'training' walks. As the picture shows we were blessed with lovely winter sunshine which always makes you feel better for being outdoors. Lil felt a sense of achievement now and it was all smiles from her at the top.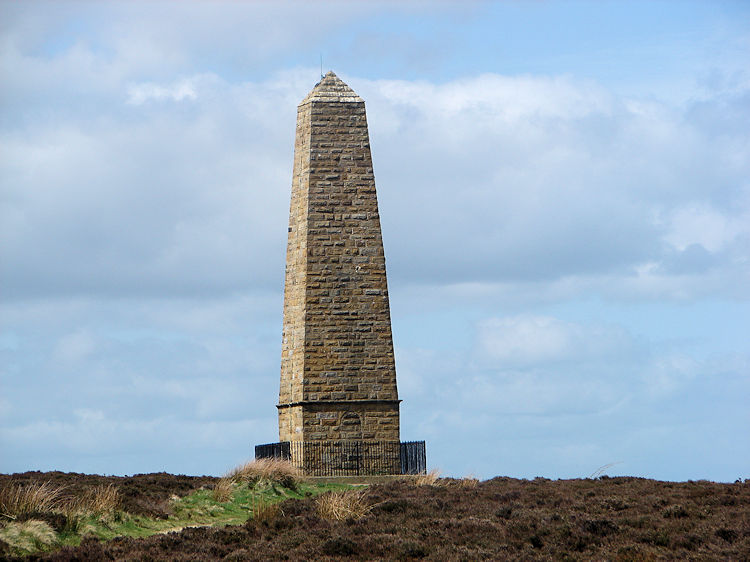 Captain Cook's Monument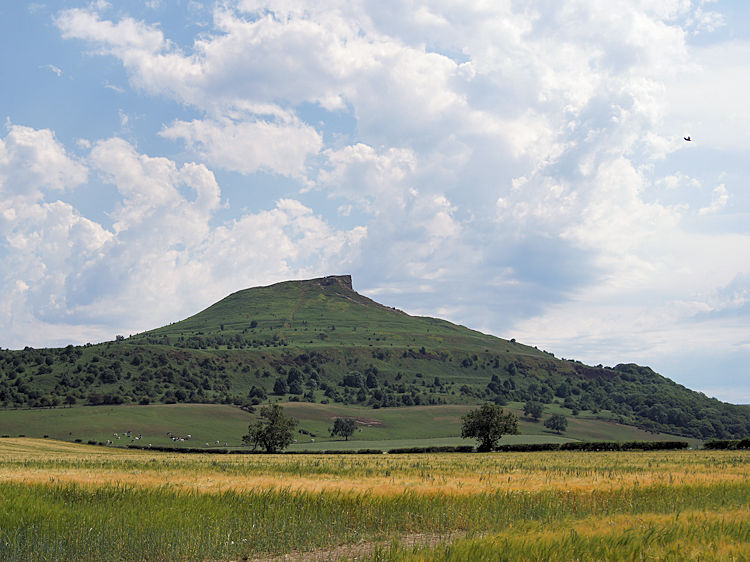 A final look back to Roseberry Topping
We paused on the summit of Roseberry Topping to take in the tremendous views and when we had taken them all in we made on to Captain Cook's monument. The walk is hilly but apart from the last pull up to the monument itself it is not at all difficult. After walking down from the monument to Great Ayton we made our day complete by going to Whitby for tea. Lovely!
Copyright © 2003-2023 Walking Englishman. All rights reserved.