Staithes, Cowbar, Roxby Wood and Borrowby Dale
Google Maps
Open Source Maps
| Statistics | |
| --- | --- |
| Start: Staithes | Distance: 7.6 miles (12.2 km) |
| Grid Ref: NZ781189 | Time: 4 hours |
| Climbing: 395 metres | Rating: Moderate |
| GPX Route File | Google Earth File |
Ordnance Survey Explorer Map (1:25,000)
---
Summary: From Staithes walk the coast before turning inland. Cross the A174 and into Roxby Woods. Follow the beck to a footbridge. Cross over and climb out of the woods to Roxby Church. From the church follow the road east and continue east across fields and over a road to Oakrigg Wood in Borrowby Dale then a final woodland walk to Staithes.
---
The Walk: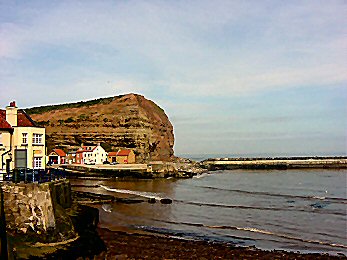 Staithes Harbour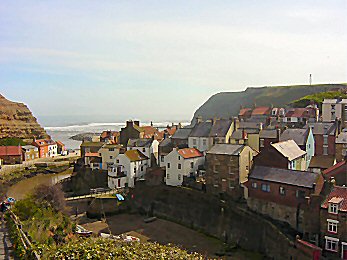 Staithes is a very pretty village
This walk was a wonderful bonus for it was not planned. A few days before my wife Lil had informed me she had a project to survey in Staithes. She was charged with planning a small mains diversion in the town which would mean spending a day visiting the picturesque Yorkshire coastal town in order to attend a meeting. The job was by far the most remote she had been responsible for at just under 100 miles from her offices in Bradford. She did not fancy driving over to Staithes and then all the way back again on her own so she asked me to keep her company. I did not need asking twice. Her meeting (and lunch) would mean I had a three hour window to walk in this gorgeous area of coastal North Yorkshire with a starting point in one of the prettiest of coastal villages. It did not take me long to get out the maps and plan a 3 hour walk for myself. The walk turned out to be a real beauty with a walk through Staithes, along coastline, through woodland, over spring colour countryside and then back to the coast. Fantastic.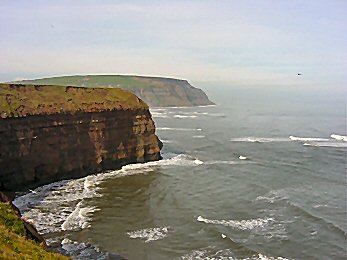 Cowbar Nab with Bias Scar beyond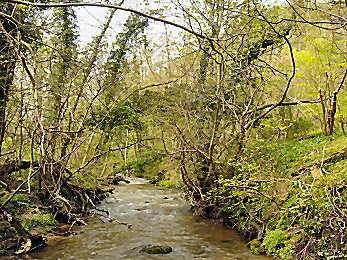 Roxby Wood
We had set off from Leeds at 7.45am and arrived in Staithes around 10.30 which allowed for Lil and I to have a coffee and a toasted tea cake before her meeting at 11.00am. After our refreshments I left Lil to her work and began my walk leaving the town by crossing the footbridge over The Beck and climbing to Cowbar which I presume to be the small hamlet of houses on the western side of the beck. It was instant enjoyment. For a start the weather was just brilliant with lovely blue skies on a warm mid April day. As it often is with springtime in England the sunshine was hazy but it still managed to win through all day. After the climb out of Staithes I walked from Cowbar along the coastline due west toward Bias Scar. As I did so I caught up with three walkers who were also enjoying the coast in this best of spring days. I enjoyed a chat with them and it was a real coincidence when they told me where they lived...Kendal near the Lake District, the very place Lil and I are looking to move to later this year.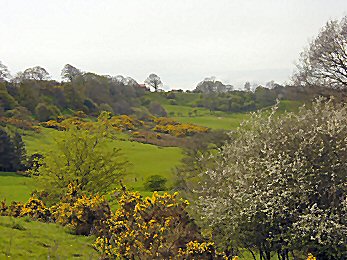 Countryside near Roxby in spring colour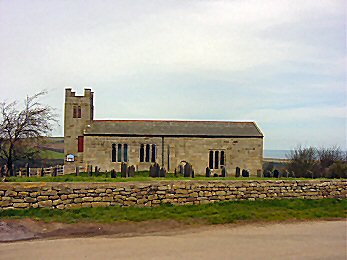 Roxby Church
I talked some more with the Kendal men while we all enjoyed the coastal views near Bias Scar. Though the sun was out there was a smart coastal sea breeze which caused white horses to show out from the waves. It was a pleasant little excursion but knowing my time was limited to three hours today I said goodbye to my future neighbours and moved off due south away from the sea and toward the A174. I easily crossed for the road was very quiet and headed along a tarmac road into Roxby Woods. I was soon in the woods as I left the road at a footpath sign after about 400 yards but once under the tree canopy (the spring greenness already starting to spread its woodland blanket) the path became difficult to follow with forks branching off in several directions. I followed the middle one of a group of three but this one died out 100 yards on. I looked at the map and noted the track through the woods travels by waterside. Thus I shimmied down the wood from my dead end fork and found the track. If you venture on this walk and into Roxby Woods then head for the path running along Roxby Beck. The ones found higher are follies!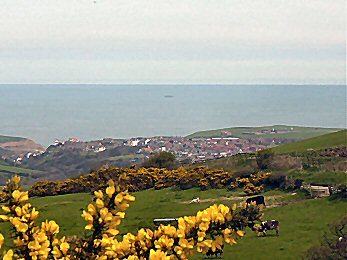 Looking to Staithes from near Oaks Farm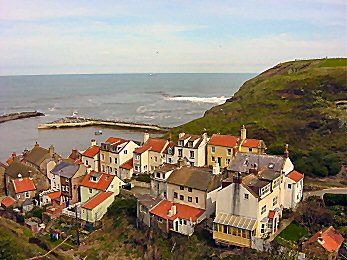 Looking over Staithes
Walking through Roxby Woods was a delightful adventure. When I had hastily planned the walk I had hoped the woods would be full of bluebells but alas it was a little early and on my day of exploration in Roxby Woods I found none out. I expect them to carpet the woods around Staithes a little later than inland with the first weeks of May a pretty good bet. Despite my disappointment with the bluebells the woods were still pleasurable for the glorious light greens of early spring were gleaming in the penetrating sunlight as seen in the photograph taken in the woods. Other early spring flowers such as Celandine and Wood Anemone added that dash of extra colour to enhance the woodland walk. The walk in Roxby Woods along the beck side lasted for a whole mile before I reached a footbridge which I had to cross over in order to follow my course. The footbridge is substantially built with sides and not too be mistaken for a rickety flat one a hundred yards earlier - this is another folly...which I took before reaching a dead end and retracing my steps. Luckily not too far and little time lost as I had my deadline to keep. After crossing the footbridge I climbed out of the woods and walked up field sides to the highest point on the walk at Roxby Church.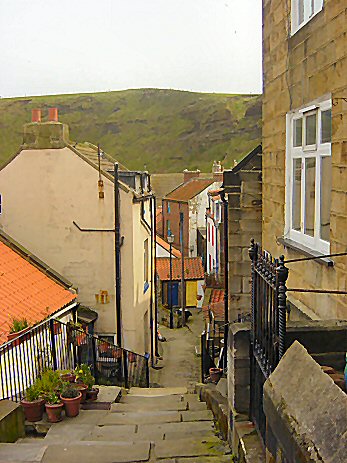 Staithes has many steep and narrow alleyways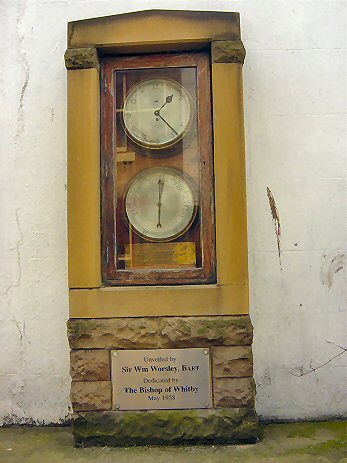 Memorial to George Hanson
The view from the church to Staithes and the coast is tremendous and here I took a quick lunch before following the road from Roxby to Oaks Farm while constantly looking out over the wonderful countryside views. At Oaks Farm I left the road and crossed fields to cross a road at Borrowby Grange. This took me east down a bridle-track and then down a field into Borrowby Dale which was woodland much like Roxby Woods. Equally enjoyable I made haste this time for time was running short and I quickly made for Port Mulgrave which afforded me my final short coastline walk back to Staithes. It was a superb final section as I passed by Brackenberry Wyke, making sure not to get too close to the steep fall into the waters below. Seabirds casually and gracefully rode the thermals appearing to fly without effort, which they were. Without noticing I was back in Staithes. Although in town my final enjoyment was still to come for I zigzagged through the narrow steep streets from the cliffs to the main street which was fun indeed. And as a finale to the walk I passed a lovely memorial left by the townsfolk to a brave man. The memorial read "Created to honour the memory of George Hanson, a Staithes Fisherman who lost his life in a gallant attempt to rescue a drowning bather in a rough sea on (date?) 1957". My respects Sir. After meeting up with Lil we called back at the cafe for more refreshments to cap my great day out.
Copyright © 2003-2023 Walking Englishman. All rights reserved.