Helmsley and Rievaulx Abbey
Google Maps
Open Source Maps
| Statistics | |
| --- | --- |
| Start: Helmsley | Distance: 6.2 miles (10 km) |
| Grid Ref: SE613838 | Time: 3 hours |
| Climbing: 206 metres | Rating: Moderate |
| GPX Route File | Google Earth File |
Ordnance Survey Explorer Map (1:25,000)
Summary: This walk is linear so you will need to organise transport from the finish back to the start - unless you walk back of course! That is not a bad idea as all about this walk is enjoyable on countryside paths by the side of fields and through delightful woodland. History lessons beckon at the start and finish with Helmsley Castle to explore before you set off and Rievaulx Abbey to explore when you finish (or are half way).
---
The Walk: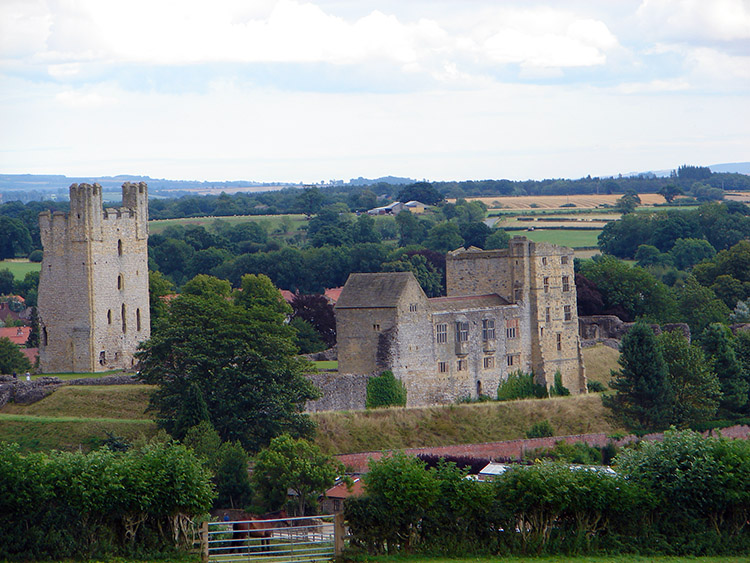 Helmsley Castle as seen from the Cleveland Way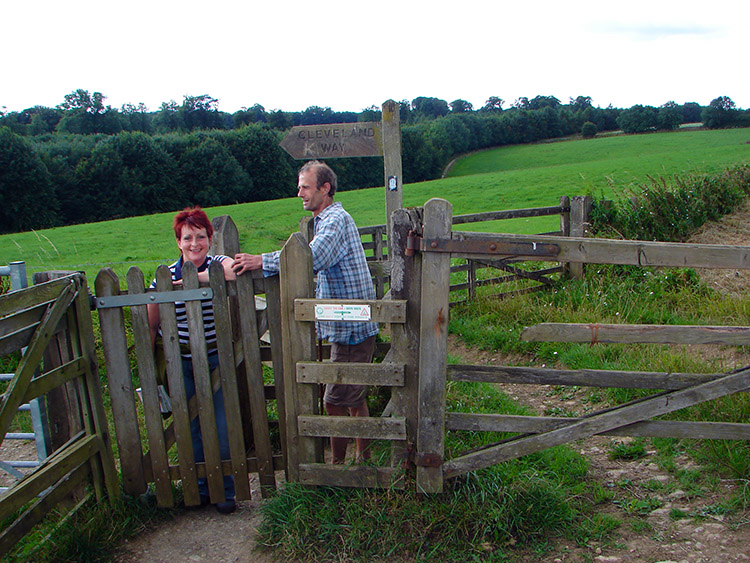 Heading towards Blackdale Howl Wood
One thing is for certain on this well walked route. You'll be pretty unfortunate to get lost for the walk follows the Cleveland Way nearly all the way. The only part that is not part of the National Trail is the roadside part from Rievaulx Bridge to the Abbey. So maps are not strictly required as long as you've got a guide booklet. And its probable that there will be other walkers on the path too. Anyway after we had parked up we were off on our walk, Helmsley exploration would wait until our return. We left directly via a well marked path from the car park.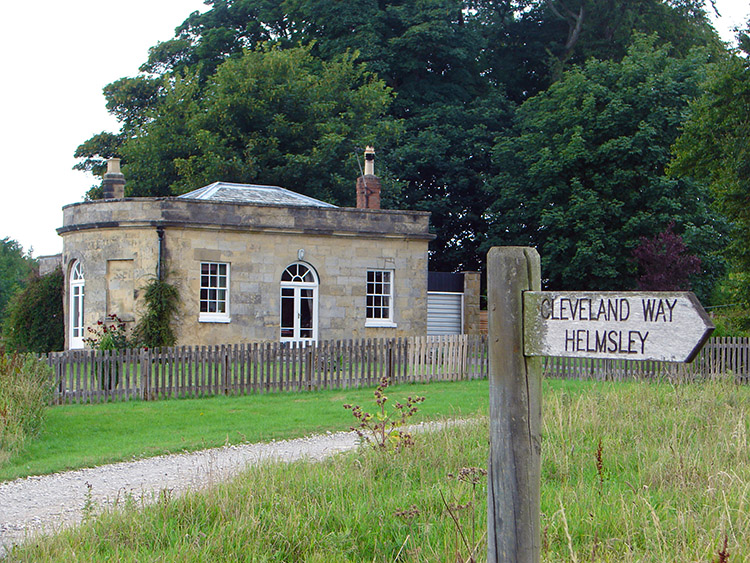 Griff Lodge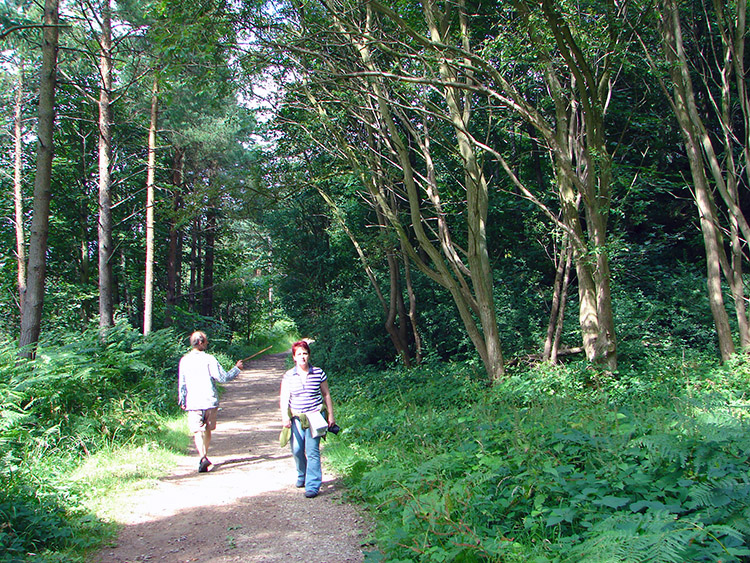 Whinny Bank Wood
The first stage of the walk involves climbing from the town in a due west direction, firstly on a narrow hedge lined path and after 300 yards across fields which provided great views back to Helmsley and the imposing ruins of the castle. Lil also took time to enjoy the company of some friendly horses in the first of the two fields which took us to another track which then led us to the edge of Blackdale Howl Wood.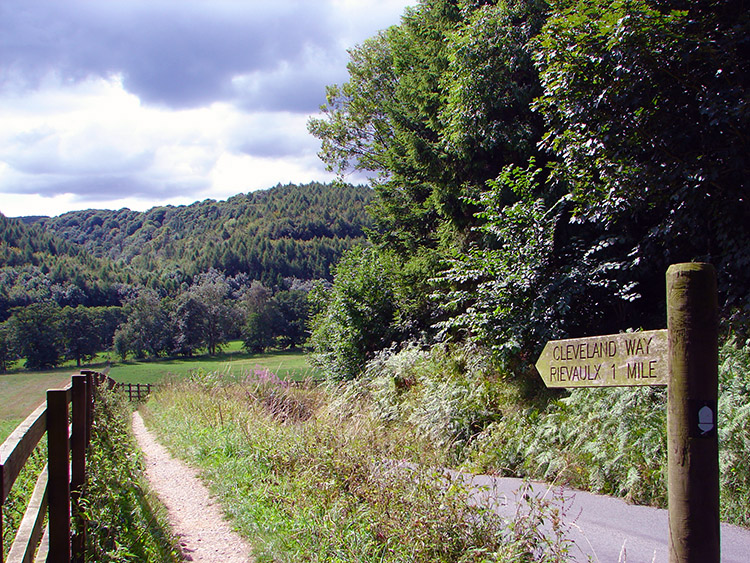 Out of the woods at Ingdale Howl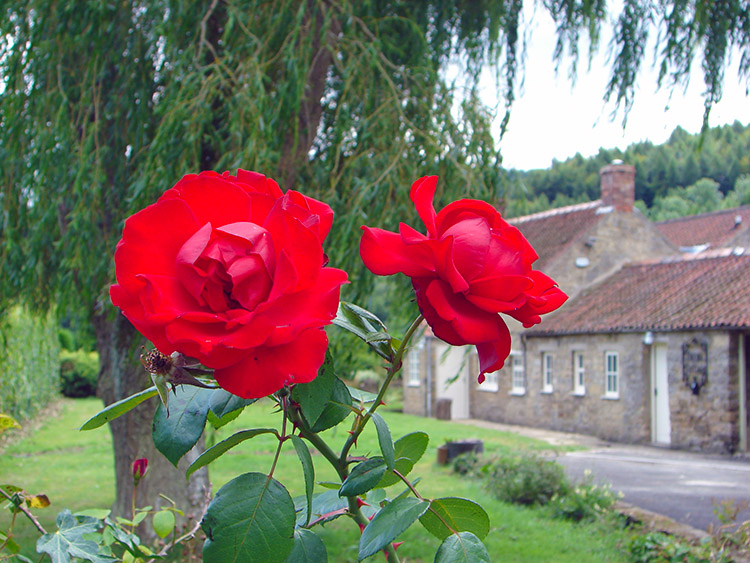 Beautiful red roses near Rievaulx Bridge
We walked alongside the edge of the wood for 400 yards before descending into the wood by following a steep stepped path down and then immediately back up the other side before walking a further 300 metres to emerge from the wood at Griff Lodge, a delightful little gatehouse set in a tranquil setting by Jinny York Bank. The view south from the lodge to Castle Hill and Helmsley Windypit was superb.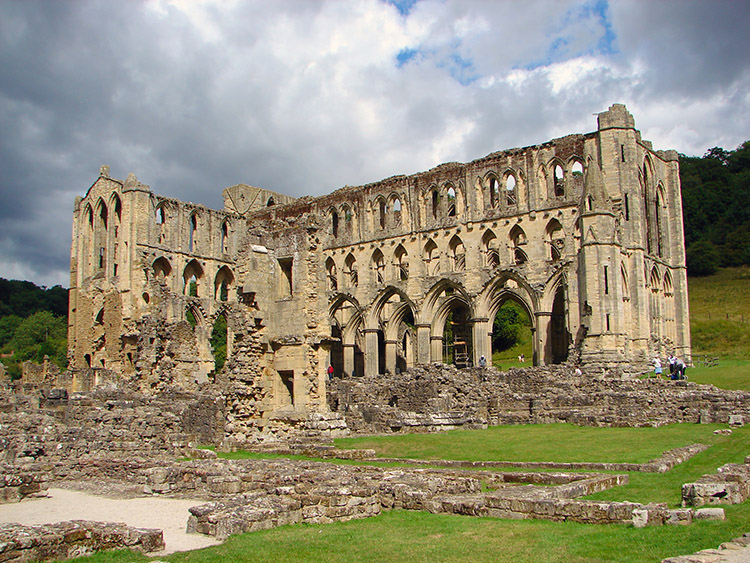 Rievaulx Abbey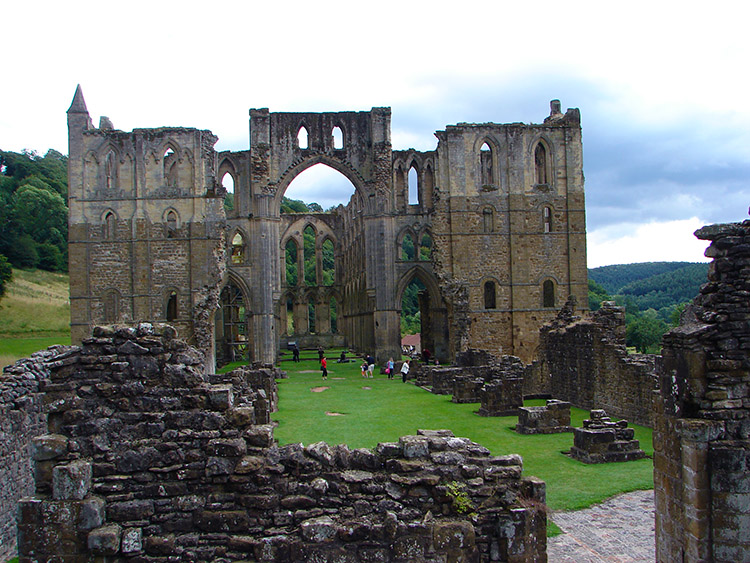 The Presbytery at Rievaulx Abbey
After Griff Lodge we walked through more woodland by tramping through Whinny Bank Wood and Quarry Bank Wood before emerging into sunlight near Ingdale Howl and Abbot Hag Wood. Where do they come up with these names? After our plethora of woods we followed the road which was ever so quiet to Rievaulx Bridge. We took time to drop down to the banks of the River Rye and make a close inspection of the marvellous bridge and some delightfully manicured gardens. The locals take time to impress visitors here.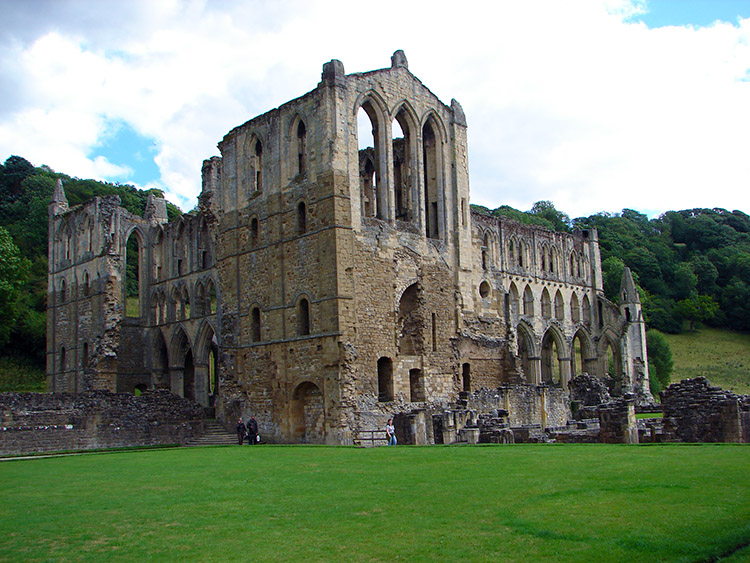 Rievaulx Abbey is a special place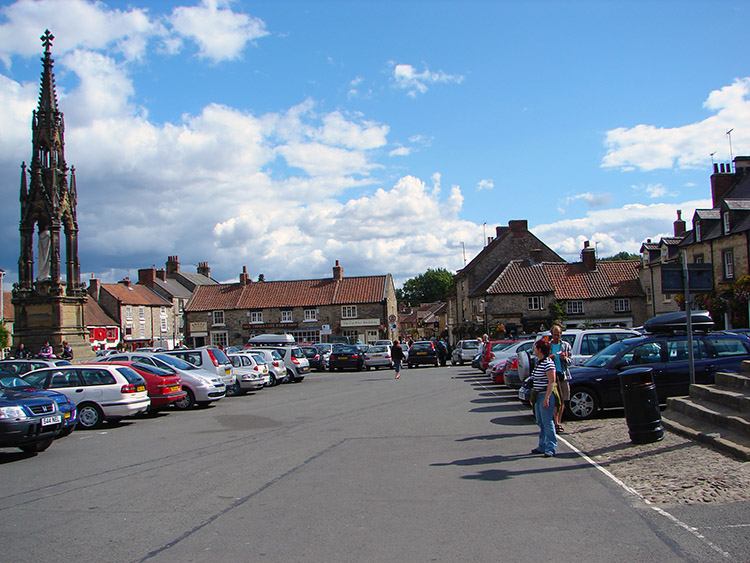 Helmsley Town Centre
And so to Rievaulx Abbey. Newly recruited to National Trust and English Heritage has given me a much more appreciative recognition of the historical English architecture and whilst I will never understand or comprehend the meaning and intensity of a devout life I can at least marvel at the incredible structures the cause gave us. Rievaulx Abbey is not only in a fantastic secluded rural setting deeply hidden in Ryedale it is also a beholding sight, one that draws eyes to it as soon as the ruins are seen. A blessed place indeed. I wandered around the splendid remains for quite some time. I thoroughly enjoyed it too.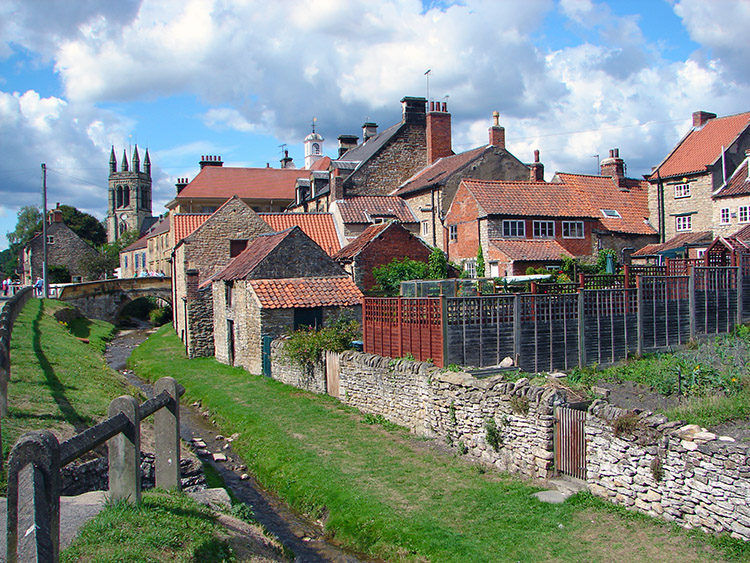 Red tile roofed cottages in Helmsley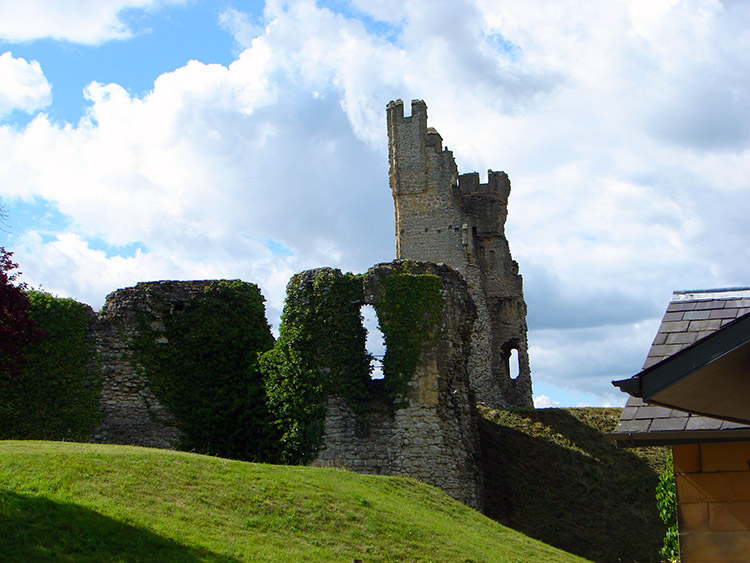 A defiant tower of Helmsley Castle
After the walk around Rievaulx Abbey Lil, Dave and I enjoyed tea and coffee at the Abbey tearooms while we waited for the Moors bus. It arrived in due time and so we put our feet up while the bus took us back to Helmsley which we explored on our arrival. It is a great example of a rural Yorkshire town with some picturesque places as the photographs show. We enjoyed our walk, we enjoyed our day and Dave even enjoyed his first walk in many a day.
Copyright © 2003-2023 Walking Englishman. All rights reserved.