Cold Kirby, Sutton Bank, Whitestone Cliff, Boltby Scar, Gowerdale and Murton Heights
Google Maps
Open Source Maps
| Statistics | |
| --- | --- |
| Start: Cold Kirby | Distance: 12.2 miles (19.7 km) |
| Grid Ref: SE533846 | Time: 5-6 hours |
| Climbing: 530 metres | Rating: Hard |
| GPX Route File | Google Earth File |
Ordnance Survey Explorer Map (1:25,000)
Summary: This walk of just over 12 miles has much to offer in all seasons for despite the conditions underfoot there are views of immense quality to be enjoyed, particularly on the section along the Hambleton escarpment from Sutton Bank to Sneck Yate. Highlights on this section are undoubtedly White Mare Crag, alternatively named Whitestone Cliff and Gormire Lake which is one of the last glacial lakes remaining in the north east of England. Apart from the cliff and the lake there is much more to fix the eyes on including Roulston Scar, Hood Hill and further out to the wide flat expanse of the Vale of Mowbray with the towns of Thirsk and Northallerton in view on clear days.
The walk to Sutton Bank from Cold Kirby has a delightful section through Hambleton Wood and then after the Sneck Yate there is an exciting short descent into Sunny Bank Wood before making the only climb of the day, albeit an energetic one from Dale Town in Gower Dale to Peak Scar Top before the walk continues past Murton Grange and along Murton Heights to Yowlass Wood which is descended into a climbed out of immediately to track due south across fields and across a country road before walking back into Cold Kirby. The 12 miles is not particularly stretching for seasoned walkers but we did the walk in a stiff wind and agreed the day had been a good workout.
---
The Walk: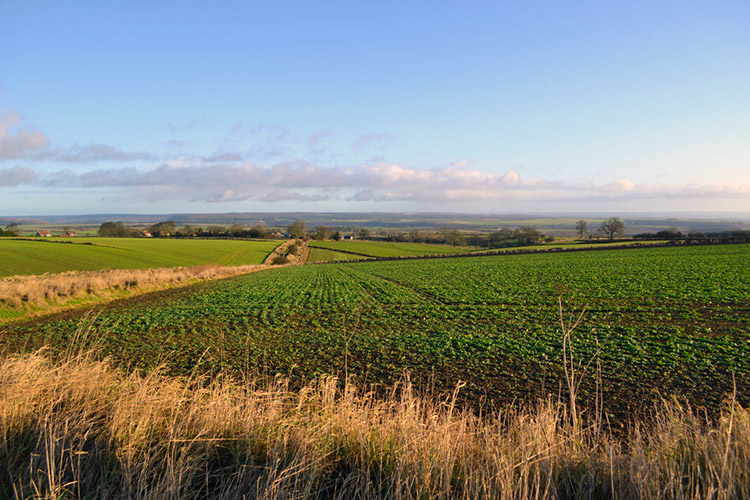 Countryside near Cold Kirby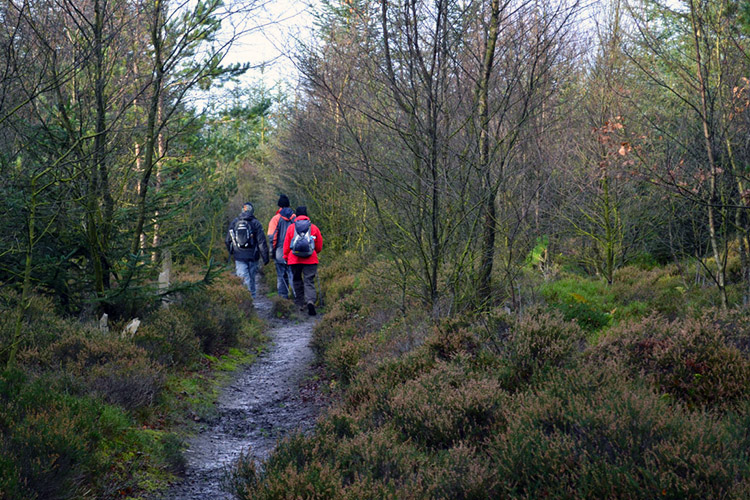 Hambleton Plantation
It is always pleasing to check the weather forecast in December and find that sunny spells are promised when you have spent time planning a winter walk with friends. Steve, who had joined me for much of the England section of my 1,000 mile walk in the late Spring and Summer was over in Harrogate from the Midlands for the weekend and while our wives did the Christmas shopping we, in the company of brother Dave and friends Jez, John and Joanne ventured out to the North York Moors. John and I had planned this walk in consultation as he lives quite local in the Helmsley area and so we met at Sutton Bank, drove over to the quiet farming hamlet of Cold Kirby, parked up the cars and after wrapping ourselves in suitable warm gear we set off on our walk. We left Cold Kirby in lovely bright conditions but it was chilly and a cold breeze sweeping over the Hambleton Hills necessitated we kept a good pace on the start of our walk along the Cote Moor Track toward Hambleton Plantation.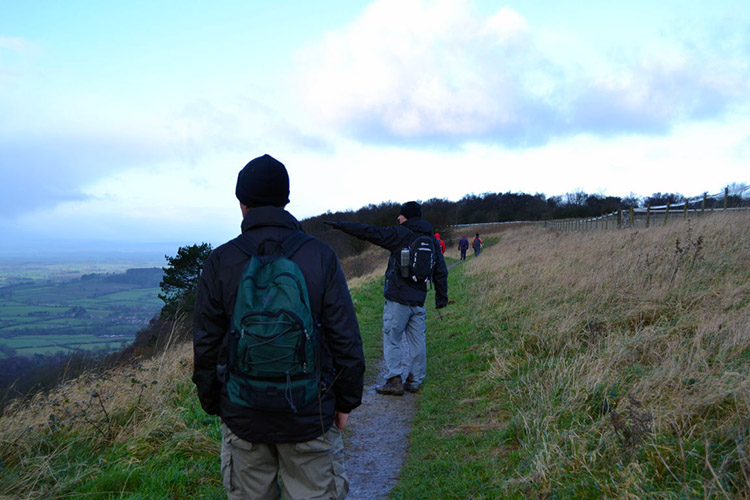 The view has drawn my attention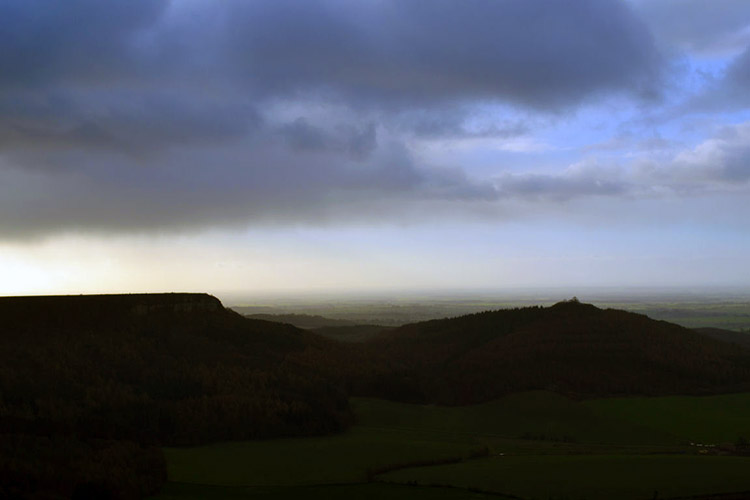 Brooding skies over Hood Hill and Roulston Scar
Hambleton Plantation was a delight to walk through with its mix of deciduous and evergreens. Of course the native trees had all shed their foliage but I take delight in the short time they are naked of leaf for the interesting shapes of their trunks and branches have a powerful beauty of their own. Trees interest me all year round and I glimpsed with fascination at their shapes continuously as we made our way through the woodland and out of it past the Sutton Bank visitor centre car parks to reach the edge of the Hambleton escarpment at Sutton Brow. Immediately on beginning the walk along the escarpment I forgot the trees as the views out east to the Vale of Mowbray were fantastic. Small groups of rain cloud were sweeping across the landscape from west to east and some were clearly depositing rain randomly on the valley. A bank of brooding dark clouds raced over Hood Hill and Roulston Scar but fortunately they failed to reach us and we remained dry.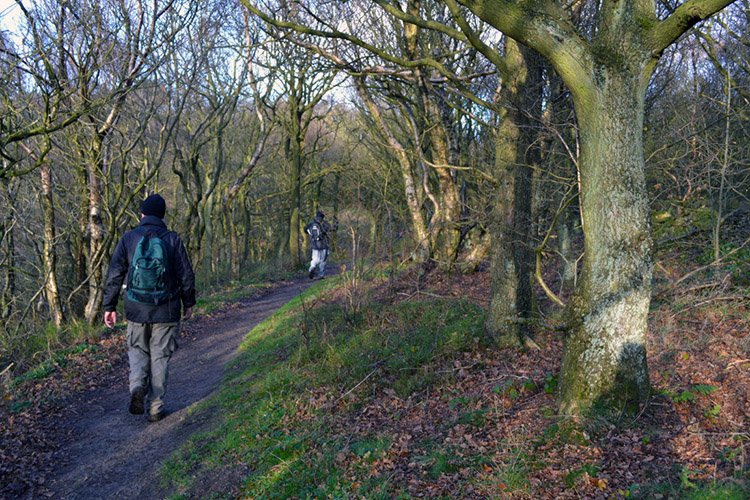 Walking through Garbutt Wood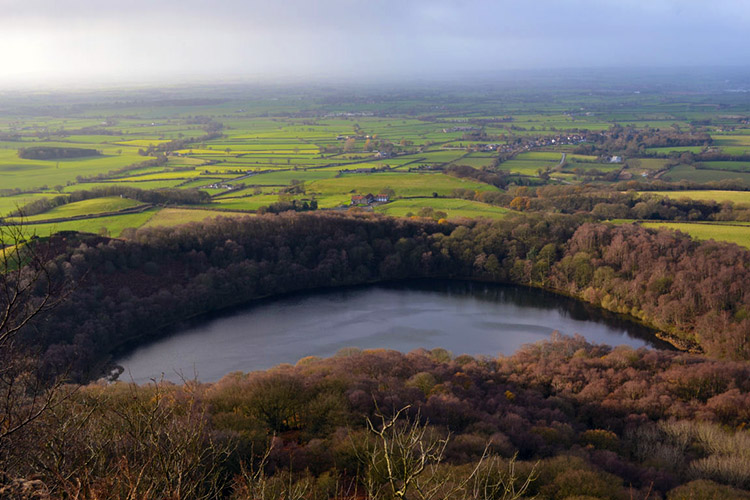 Gormire Lake is glacial from the Lower Jurassic Period
Our first mile along the escarpment in a north-westerly direction took us along Sutton Brow to Garbutt Wood. We could have detoured on this section down the scar to Gormire Lake but it was much better to stay high as the full character of the lake can only be appreciated from directly above it. The lake was formed during the last great glacial age approximately 20 thousand years ago; quite recent in geological terms really. It's oxbow shape gives it real presence in the area and I always enjoy visiting and seeing the lake. From Garbutt Wood we continued on to another spectacular geological scene.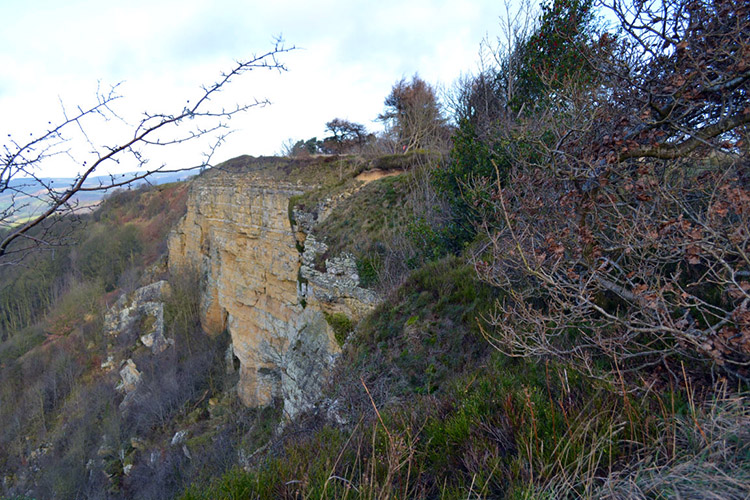 White Mare Crag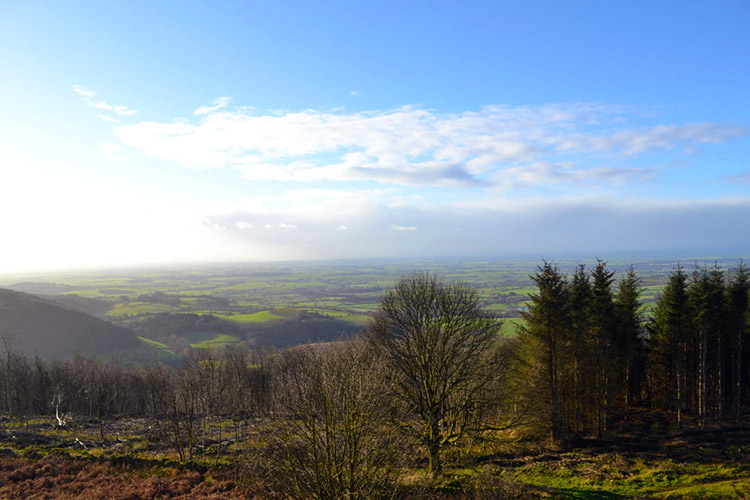 The view west from Boltby Scar
With Gormire Lake now behind us and after our emergence from Garbutt Wood we came to Whitestone Cliff or White Mare Crag as it is also know. The crag takes on a lovely light sand colour when the sun dwells on its face, bringing out the beauty of the Upper Jurassic limestones which cover its top levels and the Middle Jurassic sandstones that lie beneath them. Thus the cliff constituents were formed between 150 and 200 million years ago. It is can awesome thought to imagine how old the escarpment that stretches all the way to the Yorkshire Coast at Scarborough is (Scarborough Castle stands on the same geological time line) and that a prominence stood high looking down on the Vale of Mowbray was once under water. From White Mare Crag we continued along on our way and each of us constantly looked to the west and to the vale.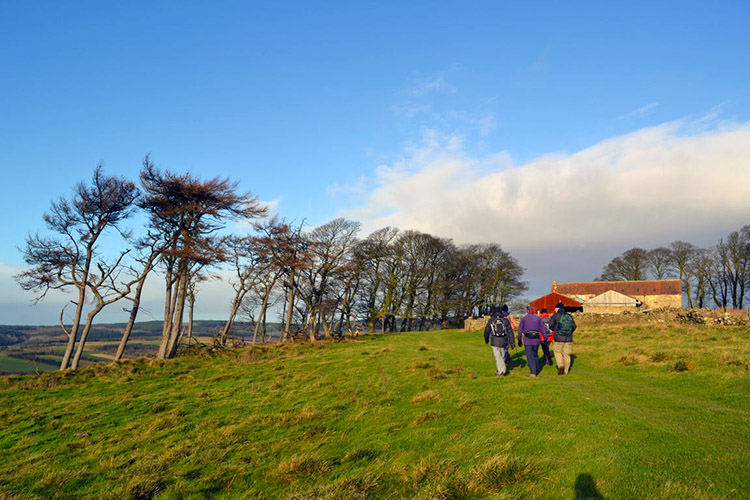 Walking along the escarpment to High Barn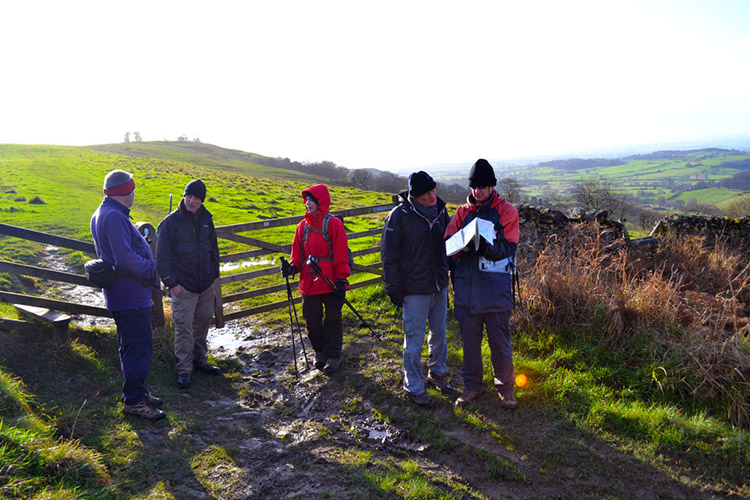 Navigational decision required at Sneck Yate
The walk continued on in a north direction along Boltby Scar and past the oddly named Hill Fort Windypit. As we passed the hill fort of which there is no sign we were also unknowingly walking past the site of three Bronze Age round barrows. Sorry, we did not see them either. Continuing on further in our ignorance of human past we reached and passed High Barn and then ended our escarpment journey at the roadside of Sneck Yate Bank. We followed the road east for a short while to Silver Hill from where we turned left to follow a the Hambleton Road bridleway north to Dale Town Common.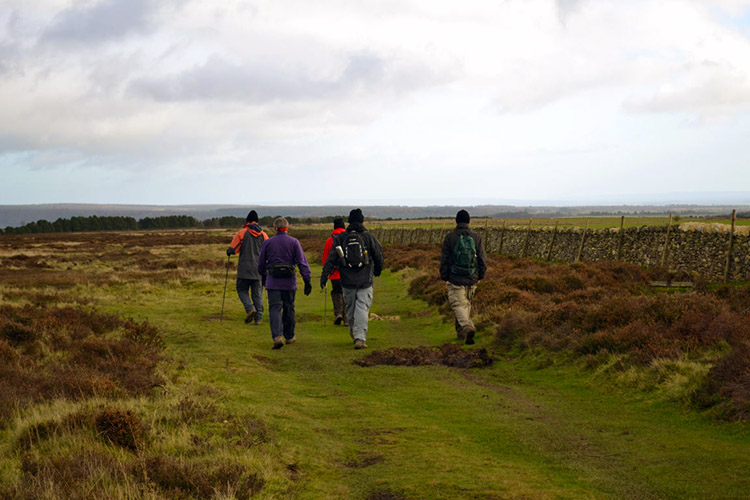 Heading east on Dale Town Common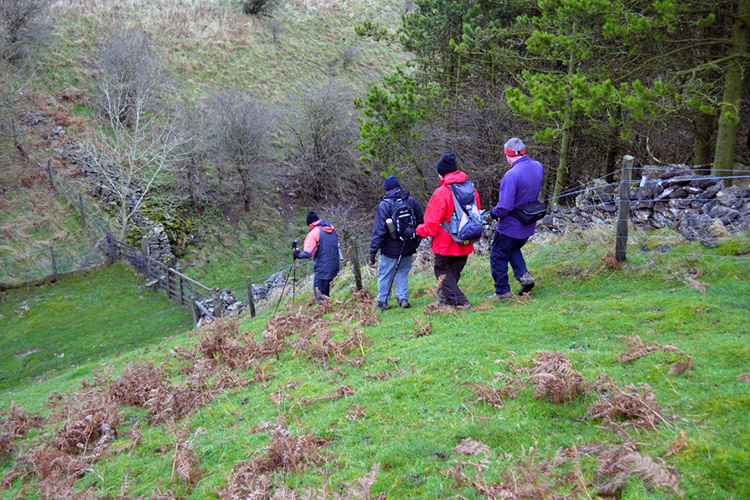 Steep descent to Sunny Bank Wood
After confirming our navigational bearings we skirted the edge of Dale Town Common due east for half a mile. During this short section of walking Dave was preoccupied by a dog which appeared from nowhere and trailed us for five minutes before he successfully discouraged it from continuing. After our half mile walk due east we turned and walked quarter of a mile due north, the last fifty yards being a steep slippery descent of grass to reach a stile. We all made the tricky descent without the embarrassment of falling. Then by making another turn to the east we crossed the stile and entered Sunny Bank Wood.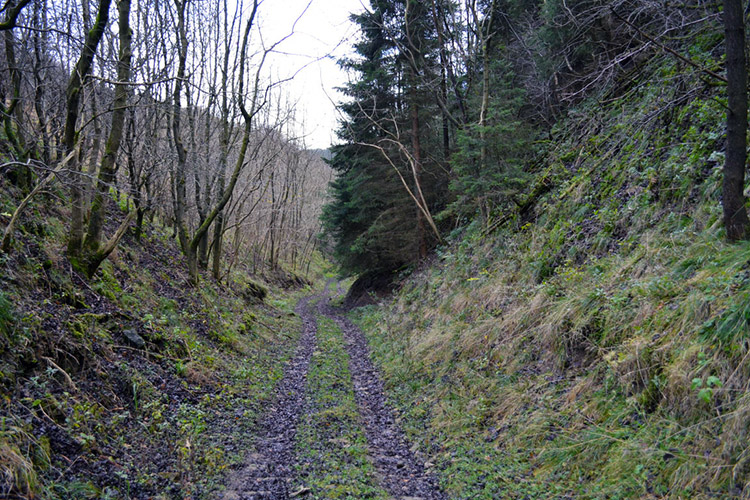 Continuing through Sunny Bank Wood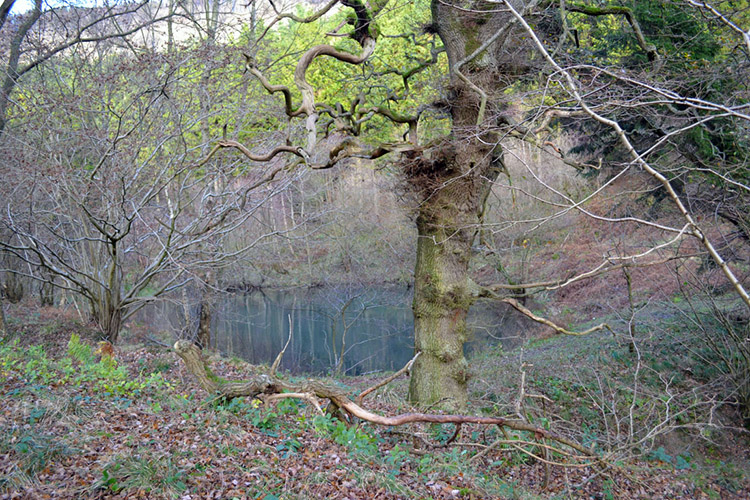 Pond in Gower Dale
As is to be expected in December the walk along the woodland track was slippery and although less steep than the access descent we still took care as we dropped further into the wood. Halfway through we reached a clearing. In it was a hut which we sheltered against to take lunch. Nearby were empty shot cartridges, collected and piled in heaps. Clearly there is carnage here on regular occasions. Today it was quiet though and we all enjoyed our outdoors lunch in peace. Instead of the usual soft drinks to accompany the sandwiches it was a time for warm brew, tea, coffee and for me soup. In the chill it was very welcome and warming. Even so we did not dwell for we cooled quickly when still and were eager to continue on our way.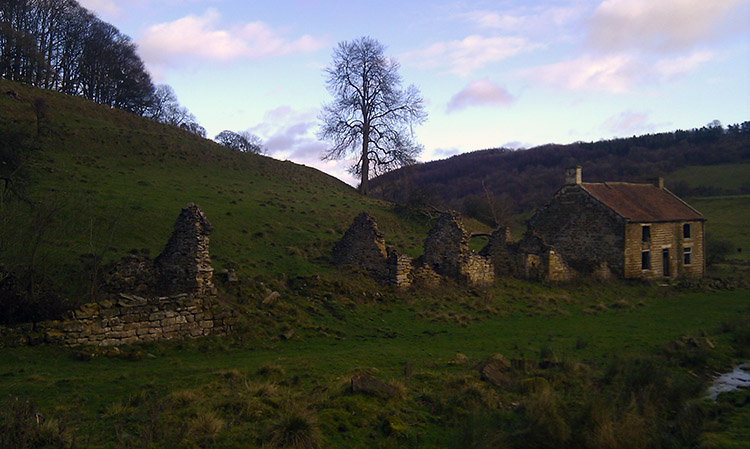 Derelict Gowerdale House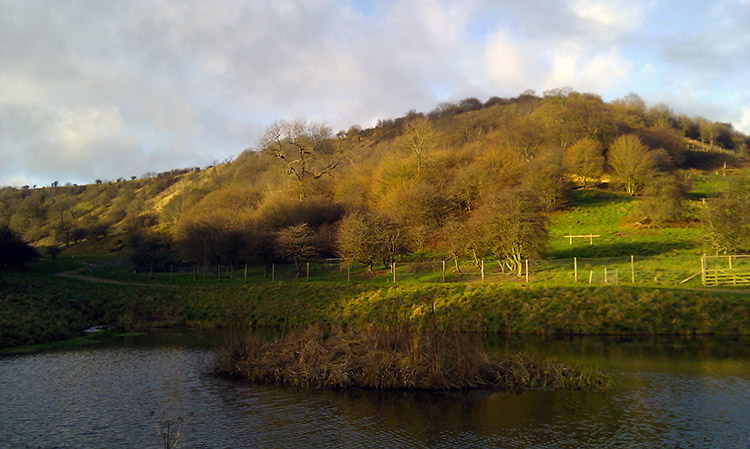 Pond and hill in Yowlass Wood
We continued down through Sunny Bank Wood to Gower Dale and after passing a small pond in the wood we emerged into open land at Gowerdale House, once a proud home and now a sad derelict ruin. Close by was Dale Town House which we passed to access the steep climb to Peak Scar Top. The climb warmed us up and then we crossed Murton Heights to Yowlass Wood. Here we should have taken the route the map shows and the way I recommend but we did not; a navigational mistake with tracks going in all directions erroneously led us to Long Plain Farm. Realising our error we walked on to the Cleveland Road and followed it south to Dialstone Farm before following the road back into Cold Kirby. Our error added a further 2.3 miles to the walk so we did 14 and a half miles. Great!
Copyright © 2003-2023 Walking Englishman. All rights reserved.