Falling Foss and the Hermitage
Google Maps
Open Source Maps
| Statistics | |
| --- | --- |
| Start: Littlebeck Woods Car Park | Distance: 1.0 miles (1.5 km) |
| Grid Ref: NZ 88872 03633 | Time: 1.5 hours |
| Climbing: 70 metres | Rating: Easy |
| GPX Route File | Google Earth File |
Ordnance Survey Explorer Map (1:25,000)
Summary: I first discovered Littlebeck Woods and the delights that lie within the woods during my first Coast to Coast walk in 1994. I was beguiled by the woodland and its treasures and since then I have returned to the woods as often as I can, usually on short holiday trips to Whitby or Robin Hood's Bay. On every visit I had missed out on getting close up to Falling Foss. This time I was determined not to miss out on that experience. And as I had my wife Lil accompanying me on this occasion I simply had to take her to see the Hermitage.
---
The Walk: Lil and I had been staying on the Yorkshire coast for a few days and rather than drive straight back home I had planned a short visit to somewhere suitable. If it had been raining we would have visited a English Heritage or National Trust property. Fortunately the weather was ideal so I could keep that idea in the bank. I promised her a lovely short walk in a beautiful setting instead. She was happy with that. After a lazy morning at the coast we arrived at Littlebeck Woods car park around lunchtime. I promised her lunch in the woodland tea garden after the walk.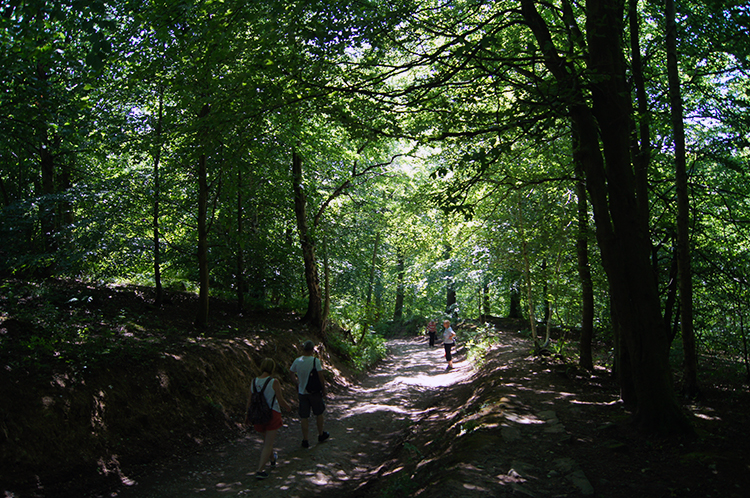 Walking from the car park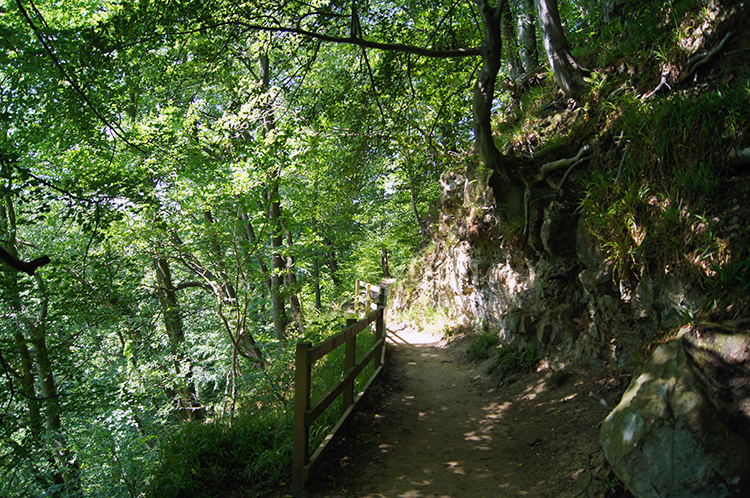 Path down to Falling Foss
Having parked up we walked down the wide bridleway leading down to the cut of May Beck. This is a popular spot and there were plenty of other amblers doing the same. No one was in a hurry here. While the other people carried on down the bridleway towards Midge Hall Lil and I cut off on a path to the right and soon after we came to a point directly above the cascade of Falling Foss. I peered through the foliage which prohibited a clear view and tried to work out a safe way down to the waterfall. It could not be done from where stood so we followed the path a little and then took the left fork where one path became two. This path led further away as did the other so I decided there was nothing else for it. I would have to leave the path and shimmy down a bank. Lil was not pleased.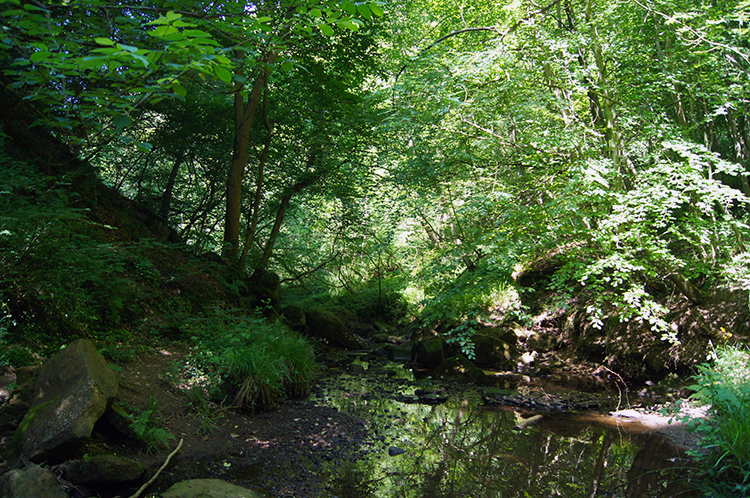 May Beck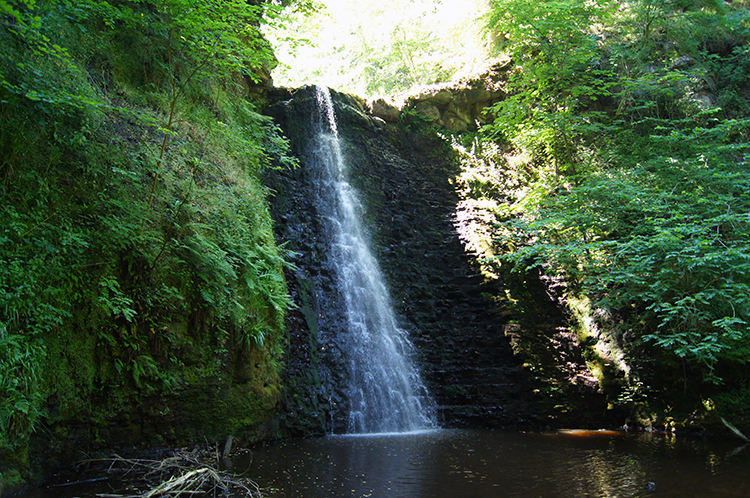 Falling Foss
While asking Lil to wait by the path and after reiterating "I will be very careful" I sidled down the bank to the bottom where May Beck waited. It was a careful act and I had to use tree branches, tree roots and other shrubs as brakes on my way down but I made my way safely to my end point. I was down beside May Beck. I followed it upstream for about 30 metres and reached my goal. I was beside the drop pool formed by Falling Foss. Better still, I had a cracking view of the waterfall. Not many see it like this, it has to be earned. But, by golly, was I glad I had done so. It was lovely to have such a close uninhibited view of Falling Foss after so many frustrations. It was a great satisfaction.

I stayed by the foot of Falling Foss for five minutes before deciding to make my way back to Lil. Rather than return the way I had come I clambered up the steeper bank to the point on the path from where I had originally looked down from. Although I had not fashioned a safe way down from there a climb up is a much easier plan to make. Reach for roots and branches to haul yourself up. It was a cinch to do and when done I walked back to Lil, surprising her as I returned in a different direction to the one she had expected. (Note: I have classed this route as easy which it is if you stick to the path. If you also leave the path to seek the unsurpassed view of Falling Foss then the walk becomes technical)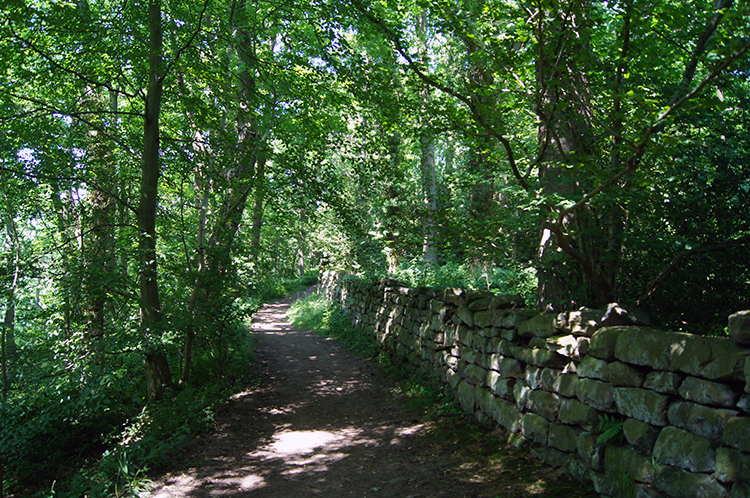 Path leading to the Hermitage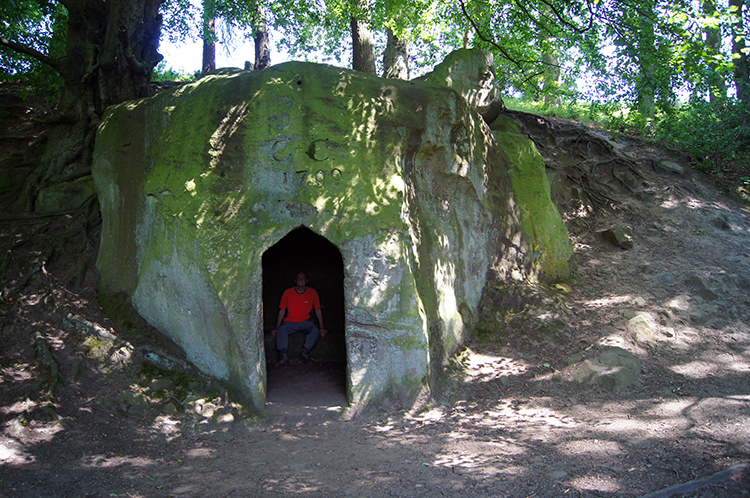 The Hermitage
Together again, Lil and I took the leisurely course on the good woodland path, sometimes fringed by paddocks and separated from them by fine drystone walls, in a north course towards the Hermitage. On my first walk in this wood during that Coast to Coast walk I had expected to see a waterfall where the map had shown Falling Foss. I had not expected to see what I did when I reached the Heritage. In fact I cannot remember what I had in my minds eye on that day and it most certainly was not the sight of a huge isolated gritstone boulder. But that is what the Hermitage is.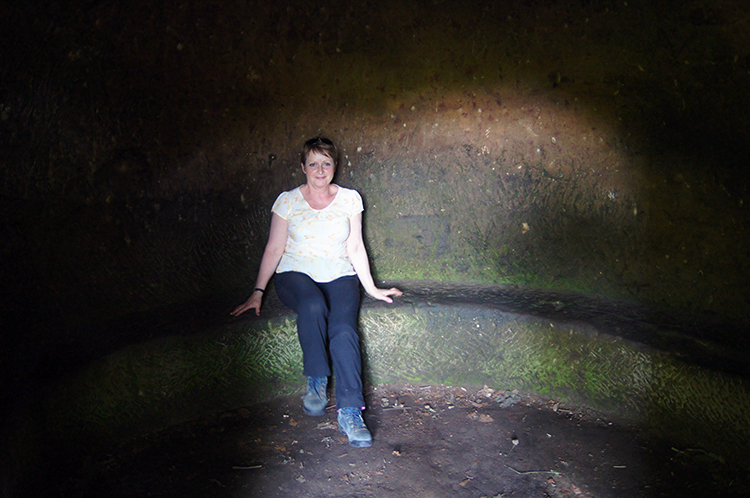 Inside the Hermitage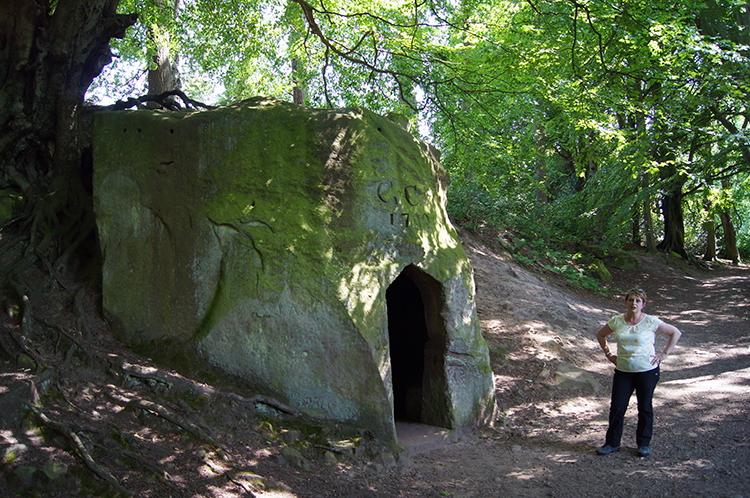 It took some carving out
It is said the Hermitage dates back to the 18th century and that it was the home of a hermit who lived a life of foraging for fuel and food in the woods. I very much doubt a hermit could have carved out the chamber within the boulder himself which is more remarkable in the fact that it has a seat carved out all around the interior. It is an impressive piece of work. I showed Lil inside. She was impressed too. Thinking back to why it was carved out in the first place I would guess it was done on the instruction of a local landowner to create a folly. Giving the finished article the name of the Hermitage is wholly appropriate. Whatever the reason for carving out the rock and calling it such is guesswork to us all. What is certain though is the fact that the Hermitage is a very inspiring sight. I fell for it the first time i saw it and I still fall for it now.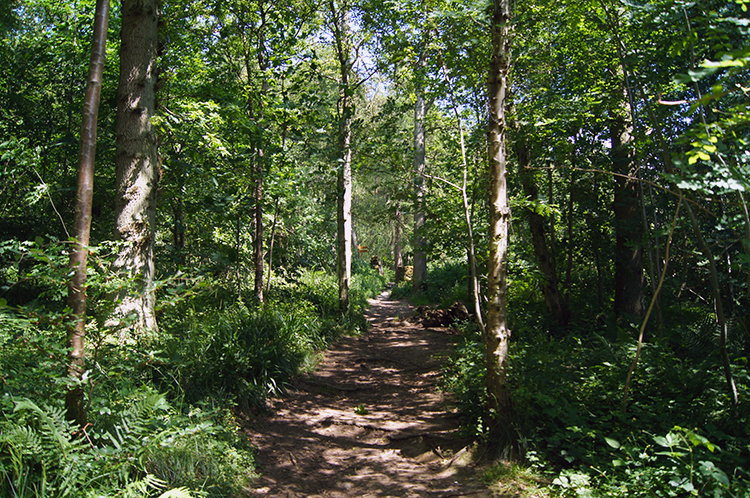 Walking back through the woods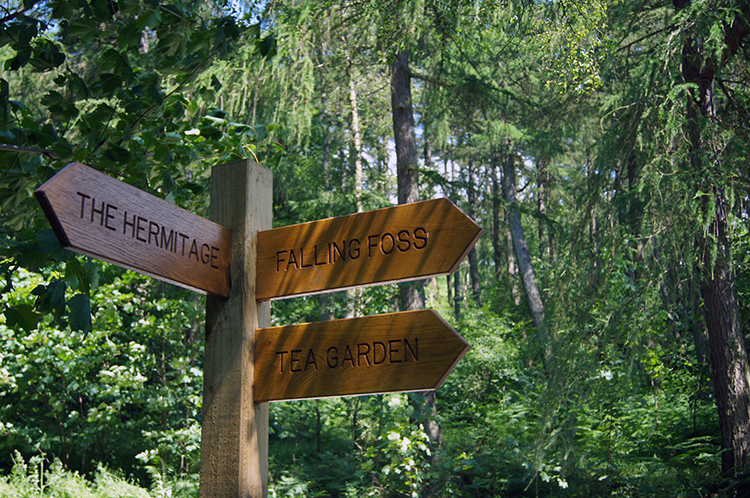 Time for tea
So having revisited two very special memories from my early long distance walking days and having walked along some of the paths I had first walked over 20 years earlier there was only one more thing to be done. To walk back with Lil and as I had promised her, to call at Falling Foss Tea Gardens for lunch. We did the walk back, we did the lunch and we enjoyed it. Every part of it; walk, entertainment and fayre.
Copyright © 2003-2023 Walking Englishman. All rights reserved.