The walk commences in Bradgate Park, a deer park since early medieval times, which still contains hers of Red Deer and Fallow Deer. The park has never been cultivated and retains its wild open heathland. Copses of ancient Oak in the park are probably some of the last remnants of the original Charnwood Forest, like Swithland Wood.

Both the house and park are forever associated with the Grey family, for many centuries one of the great noble families of England. Lady Jane Grey was born here in 1537. Unfortunately she became an unwilling pawn in the Royal Court intrigues of the day and following the death of King Edward VI in 1553, she was placed on the throne by her scheming father in law, the evil Duke of Northumberland. Her reign lasted only for nine days, and in a counter-plot, the sixteen year old girl was deposed and beheaded on the orders of Mary Tudor. In the 18th century the house became increasingly unused, was badly damaged by fire, and eventually began to fall into ruins, so that now only the chapel remains intact.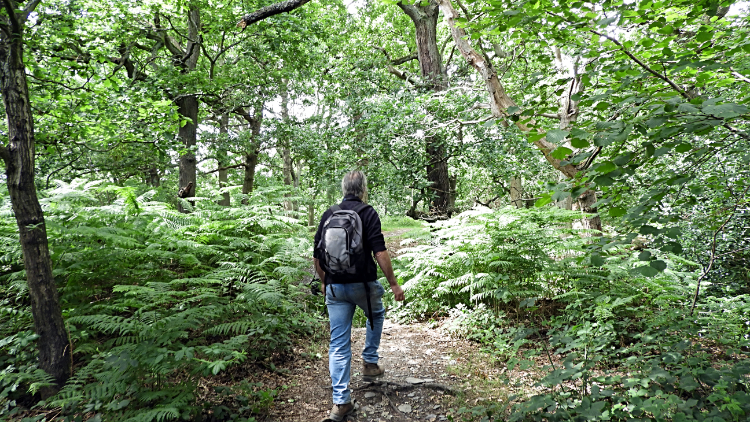 Swithland Wood
Fallow Deer herd of Bradgate Park
Further on is an impressive tower that has connections with the Grey family. It was built in 1786 by the fifth Earl of Stamford, supposedly to commemorate the tragic, accidental death of the Earl's miller 'Old John'. The tower was used for many years as a hunting lodge. Its elevated position provides an excellent viewpoint over Leicestershire.
From the tower there is a view of the sliding stone enclosure and of several granite outcrops, the results of prehistoric volcanic activity. The rocks are around 700 million years old making them the oldest in the county. The walk ends with a walk through Swithland Woods where disused slate pits and redundant quarries are found. The woods have many ancient native species of tree. From the woods it is a short walk back to the starting point of the walk.
---
Acknowledgment: Text derived from the Out and Out Series; Discovering the Countryside on Foot.