Beeston Castle, Sandstone Trail and Shropshire Union Canal
Google Maps
Open Source Maps
| Statistics | |
| --- | --- |
| Start: Beeston Castle | Distance: 4.1 miles (6.6 km) |
| Climbing: 90 metres | Grid Ref: SJ 54044 59082 |
| Time: 2 hours | Rating: Easy |
| GPX Route File | Google Earth File |
Ordnance Survey Explorer Map (1:25,000)
---
The Walk: Beeston Castle stands on the top of an extremely steep, solitary sandstone knoll. This walk skirts the bottom of the rocky, wooded mound where the remains of the castle, ringed by ramparts, is situated. As this area is predominantly flat, Beeston Castle and the towers of neighbouring Peckforton Castle on the wooded slopes of the Peckforton Hills are dramatically visible.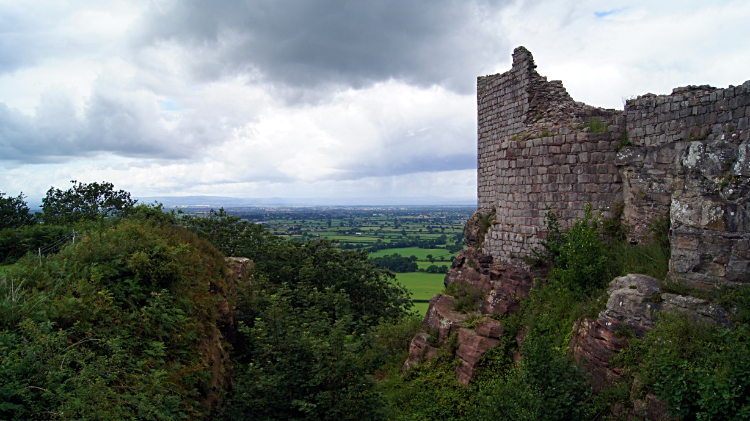 View from Beeston Castle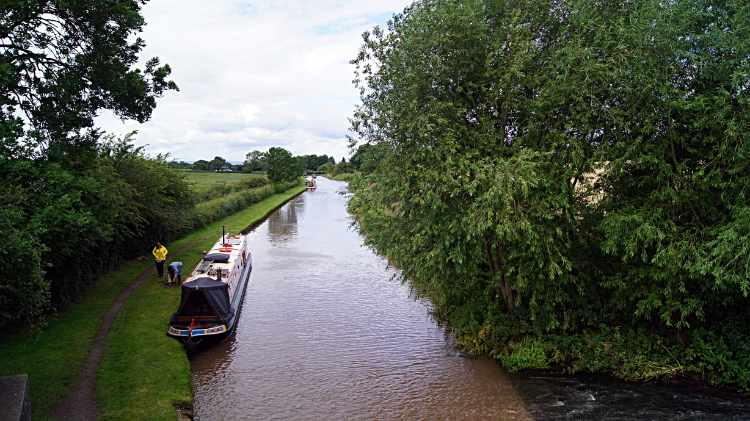 Shropshire Union Canal
At the start and end of the walk you follow a section of the Sandstone Trail. In between you walk along a section of the Shropshire Union Canal where narrowboats cruise, giving a glimpse of a transport system more than 250 years old. After the walk you could climb up to the heights of Beeston Castle, open to the public, and scan your eyes over the ground you have just walked. The building of Beeston Castle began in 1220 and by the 14th century it had become a royal castle. Major alterations were made to the towers and a drawbridge added during its heyday but by the 16th century the castle was badly run down and during the years 1642-43 of the English Civil War it was the scene of several battles. By 1646 the castle was in a poor state and largely in ruins as you see today.

The Sandstone Trail follows the sandstone escarpment in Cheshire for 32 miles from Beacon Hill near Frodsham to Grindley Brook near Winchester. Having walked it myself I thoroughly recommend it. The trail is waymarked throughout. In 1845 several canals that had been built between 1772-1826 were grouped together to form the Shropshire Union Canal - 158 miles of canal including side branches, running from Ellesmere Port near Chester to Authersley Junction near Wolverhampton. Despite competition from the railways the canal prospered and in 1870 the canal company had 213 narrowboats; by 1902 this had more than doubled to 450.

After World War One the canal business declined and by 1944 it was officially abandoned. Much of the canal suffered serious neglect but it has since been restored. Primarily for leisure. It is now part of the inland waterways network. Peckforton Castle is only a short distance from the walk; often referred to as 'the other castle' it is now a hotel and a popular location for special events such as weddings and dinner parties.
---
Acknowledgment: Text derived from the Out and Out Series; Discovering the Countryside on Foot. Pictures courtesy of Wikipedia.
---
Feedback and Suggestions: To suggest a link for inclusion on a this page please complete the Walking Englishman Feedback Form. Thank you.