South Hinksey and Happy Valley
Google Maps
Open Source Maps
| Statistics | |
| --- | --- |
| Start: South Hinksey | Distance: 3.6 miles (5.8 km) |
| Climbing: 76 metres | Grid Ref: SP 51049 04271 |
| Time: 2 hours | Rating: Easy |
| GPX Route File | Google Earth File |
Ordnance Survey Explorer Map (1:25,000)
---
The Walk: The noise and rush of the A34 contrast with the peace and tranquility of the path up Chilswell Gorge, affectionately known locally as Happy Valley. The trunk road divides the village from its southern hinterland but this walk keeps the link. In the village, the former pub General Elliott, was named after the man who relieved Gibraltar in September 1782 after it had been besieged for two years by the Spaniards. The village is a lot older than that. It may even derive its name from Hengist, the 5th century Saxon leader.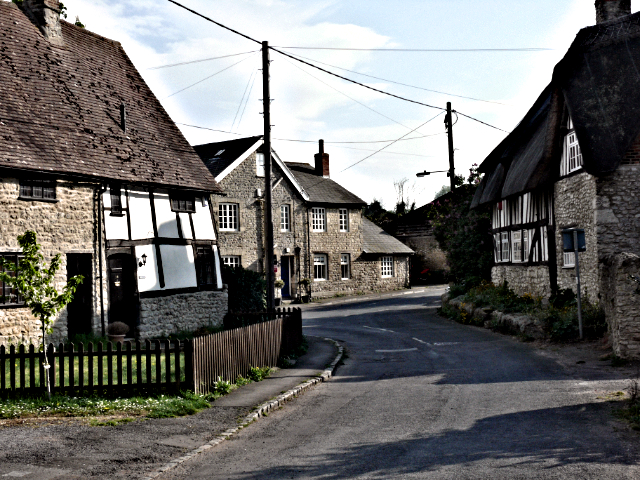 Cottages in South Hinksey
Chilswell Valley
The oldest building to be seen in South Hinksey is St Lawrence Church. Parts of this building date from the 13th century, while the base of a 15th century cross can be seen in the churchyard. The nature reserve of Happy Valley was eroded when the force of water was much greater than that trickling down the stream today.

The board walk takes you through a rare example of reedbeds, since others in Oxfordshire have been 'improved' by draining to allow agricultural use. The reedbeds here provide a habitat for reed bunting and sedge warbler, while birds (including stock dove and tawny owl) can be found in the woodland.

In late March and throughout April and May you can enjoy the bluebells, while dog's mercury can be seen in February. Look for golden saxifrage in the stream. The oak trees are accompanied by ash and hazel, whose nuts are stored by squirrels and jays in the autumn. In July marbled butterflies can be seen fluttering through the woods.
---
Acknowledgment: Text derived from the Out and Out Series; Discovering the Countryside on Foot. Pictures courtesy of Wikipedia.
---
Feedback and Suggestions: To suggest a link for inclusion on a this page please complete the Walking Englishman Feedback Form. Thank you.