Ditchling, Westmeston and Ditchling Beacon
Google Maps
Open Source Maps
| Statistics | |
| --- | --- |
| Start: Ditchling | Distance: 3.9 miles (6.3 km) |
| Climbing: 194 metres | Grid Ref: TQ 32667 15172 |
| Time: 2 hours | Rating: Moderate |
| GPX Route File | Google Earth File |
Ordnance Survey Explorer Map (1:25,000)
---
The Walk: The northern slopes of the South Downs offer glorious views over the Weald of Sussex, and in summer the steep grasslands sparkle with chalkland flowers and butterflies. This walk takes Ditchling Beacon, one of the highest points on the South Downs, always a popular place which draws in both walkers and motorised visitors who make use of the convenient car park, just a short distance from the trig point sitting on top of the downs. The walk also enjoys a return to the village of Ditchling by way of a beautiful nature reserve.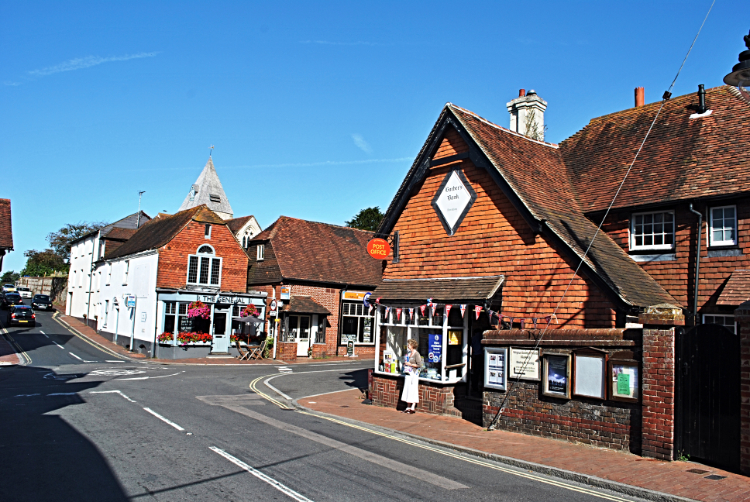 Ditchling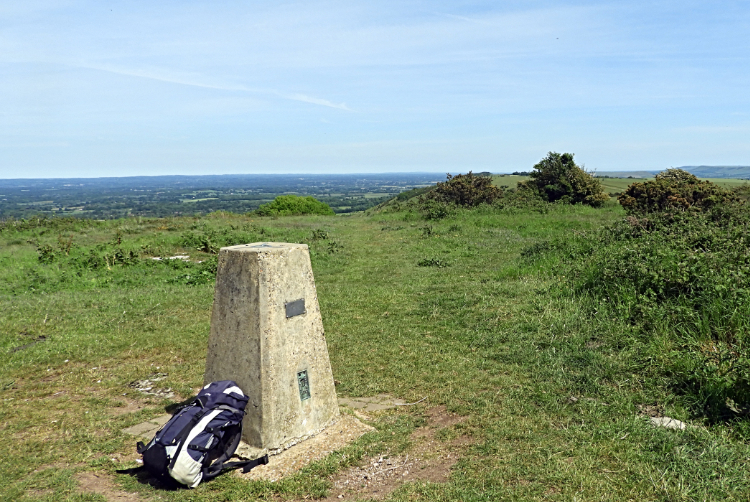 Ditchling Beacon
Ditchling is an attractive village with several ancient buildings. Most impressive is the brick and tumber-framed Wing's Place opposite the 13th century flint and stone church. At least 450 years old, the house was granted to Anne of Cleves by Henry VIII, and was once known as the Royal Palace. Ditchling was the long time home of Dame Vera Lynn, until her death in 2020. She was an active contributor to the local scene.

The climb up to Ditchling Beacon is made by way of the neighbouring village of Westmeston. St Martin church is a pretty attraction to enjoy before walking south along Westmeston Bostall to the foot of the South Downs. At the end of the lane take a deep breath and then enjoy the one hundred meter climb up to Ditchling Beacon as best you can. The reward for the effort is tremendous views. Ditchling Beacon reaches an impressive height of 831 feet (249 metres). In 1588 fires were lit on the Beacon to warn of the threat of the approaching Spanish Armada.

The South Downs are the southern remains of a huge dome of chalk which once covered the Sussex Weald. The centre of the dome has long since vanished, leaving only the edge - a great slab of chalk which swells gently from the sea and breaks like a vast green wave where it overhangs the soft clay further to the north. For centuries the chalk downland was used as rough pasture for sheep. This created a dense turf of fine grasses with flowers such as orchids, cowslips and harebells which attracted butterflies like the marbled white and chalkland blue. While the tops of the downs have been since farmed and often ploughed the slopes are still prolific for the flowers and for shrubs too. The edges of the path down through the nature reserve is usually abundant with flowers, a nice finale on the walk back into Ditchling.
---
Acknowledgment: Text derived from the Out and Out Series; Discovering the Countryside on Foot. Pictures courtesy of Wikipedia.
---
Feedback and Suggestions: To suggest a link for inclusion on a this page please complete the Walking Englishman Feedback Form. Thank you.