Lochinver and Suilven
Google Maps
Open Source Maps
| Statistics | |
| --- | --- |
| Start: Near Glencanisp Lodge | Distance: 13.9 miles (22.4 km) |
| Grid Ref: NC107220 | Time: 5-8 hours |
| Climbing: 1,260 metres | Rating: Strenuous |
| GPX Route File | Google Earth File |
Ordnance Survey Explorer Map (1:25,000)
Summary: This walk is a long one. The walk out from my starting point in the parking area on the Lochinver to Glencanisp Lodge road to the base of Bealach Mòr (the Great Bealach) was almost six miles and it would have been a further mile if I had starting out from the car park in Lochinver. Reaching the bealach is a milestone as though the walk was long until then it had been straight forward. The ascent of Bealach Mòr was harder going, a steep climb to the saddle between Caisteal Liath (the Grey Castle) and Meall Meadhonach. After my fun on the top of Suilven which you can read about in the full report and after a careful descent of Bealach Mòr the walk back seemed longer, though I did break it with a dip in the waters of Loch na Barrack. Despite the effort of the walk my reward was complete exhilaration.
---
The Walk: It was a gorgeous morning when I looked out from my tent after waking on the camp site in Durness. "THIS IS IT" I though, the day I had been waiting so long for had dawned. Ten years earlier, on one of my first trips to northern Scotland, while my wife was driving from Inverkirkaig to Lochinver we had turned a corner and climbed a short steep hill when I felt something was urging me to look to my right. As I turned my head I saw the most beautiful sight. It was the most perfect and symmetrical cone of a mountain I had ever seen. And it seemed so high, climbing peerlessly into the sky. I had glimpsed the Grey Castle for the first time. I was marveling at the sight of Caisteal Liath on Suilven. There and then I had fallen in love with the mountain and at that moment I knew that one day would climb her.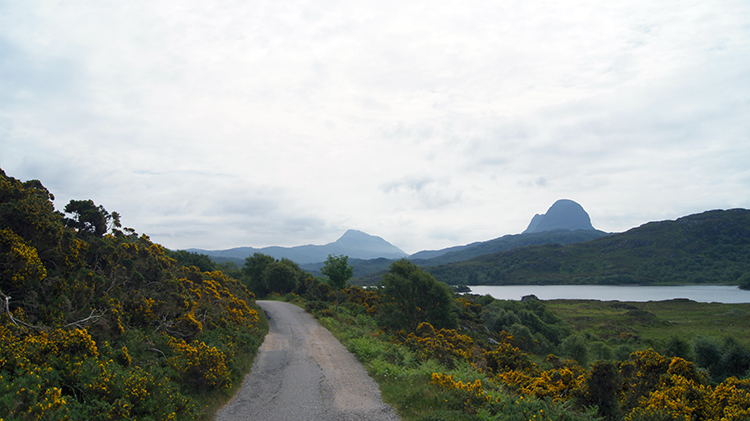 Setting off with Suilven in my sights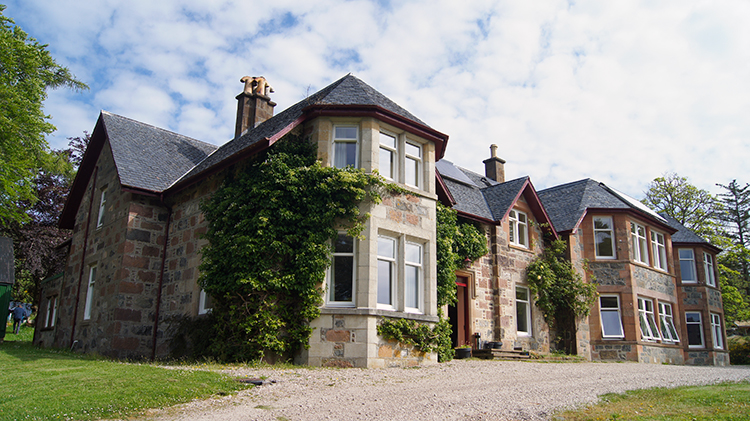 Glencanisp Lodge
Since that first time I had decided to keep Suilven for some special day. And as I had just passed the milestone of my 60th birthday I knew the time was right. I had driven up for a week in the north-west of Scotland to bag two most particular walks. A walk featuring Sandwood Bay was one and I had managed that already. This was the other. Though light cloud had filled the sky during my drive from Durness to Lochinver the weather forecast was a good one. Despite the unexpected cloud I would not stop now anyway and after parking up in the public parking area between Lochinver and Glencanisp Lodge I set off at a brisk pace, hoping the day would stay fair and bright as promised. It was early June and already sultry. Light walking shirt and light walking trousers were all I needed. I soon paced past Glencanisp Lodge and along the long track towards my magic mountain.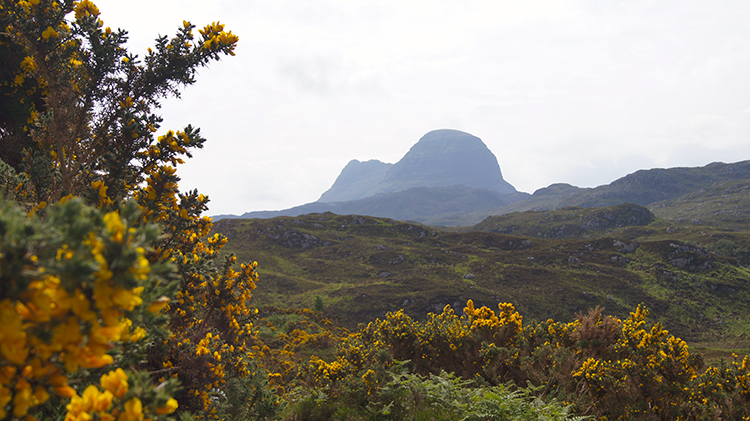 The gorse blossom with scent of Vanilla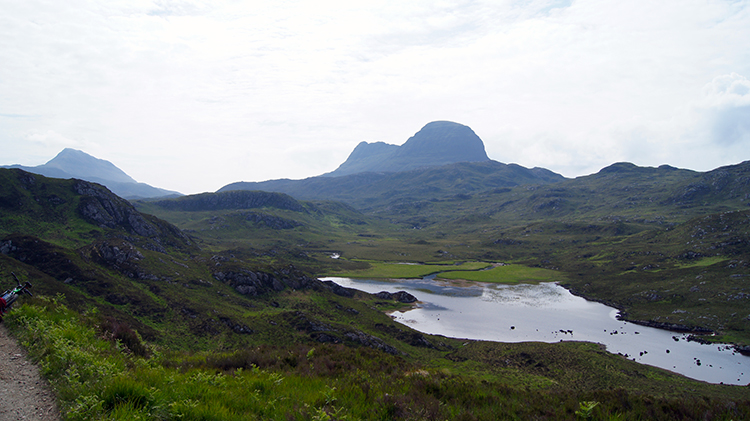 Passing Loch na h-Airigh Fraoich
Soon after clearing the grounds of Glencanisp Lodge I passed a couple with cycles who were walking more often than pedaling on the roller coaster track. I wished them well with their day and they wished me well with mine. Continuing on I walked past banks of blossoming gorse which gave off a heavy scent of Vanilla into the warming air. I walked and walked along the track on straights and around bends. One after another. Step after step I seemed to be making little progress. Suilven appeared to remain an elusive distance away.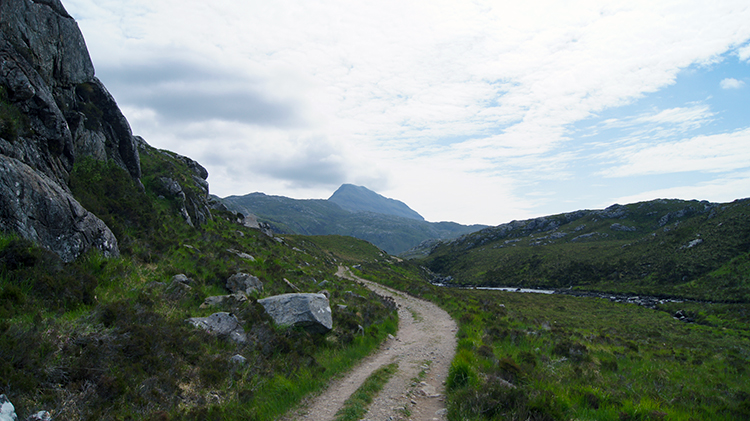 Near Loch an Alltain Duibh and Suileag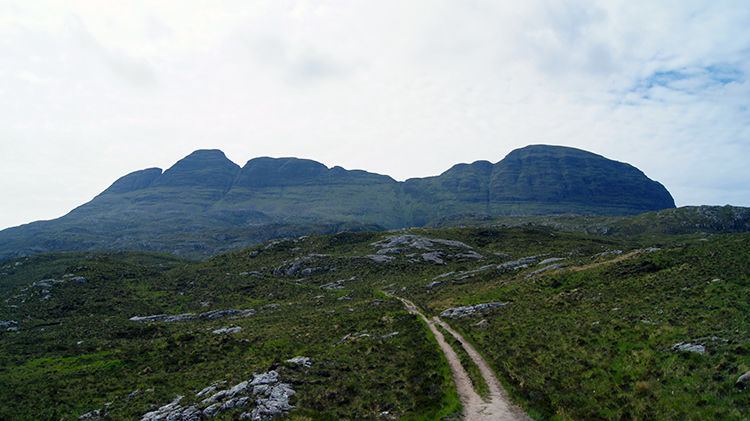 Meall Meadhonach and Caisteal Liath in profile
The track out from Glencanisp reminded me of a treadmill, like the perpetual rotation of a tank track, the revolving rubber treads of a fitness machine in a fitness centre. Indeed the views were better with the changes of scenery including rock outcrops, Lochans and the consistent view of Canisp dead ahead but all I wanted was Suilven. Halfway along the walk on the track Suilven actually disappeared from view as the intervening mass of Meall nan Leapaichean got in the way. I wished for my view of my mountain back. On reaching Suileag the track obliged and as Suilven appeared into view again it had assumed an altogether different guise. The gorgeous crinkly profile of the summit line was now in full presentation. Meall Meadhonach and Caisteal Liath beckoned me to climb them. And from this aspect Meall Meadhonach with its pyramidal shape and lopped off top looked the higher though in fact it is eight metres lower than the rounder Caisteal Liath.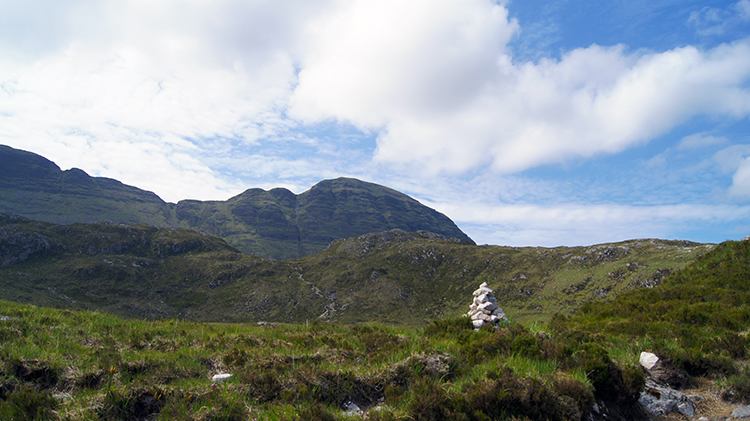 Cairn helping to show the way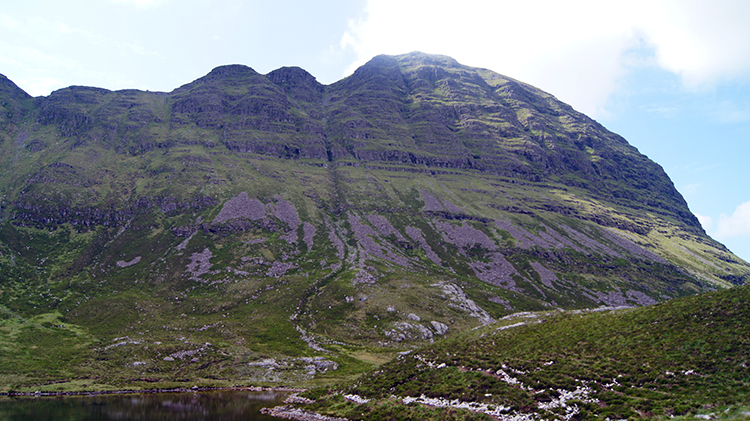 The Grey Castle
I continued along my way. After Suileag the track seemed less daunting. Perhaps the enticing view to the nooks and crannies of Suilven helped me forget the dirge of before. I was enraptured now by the sight of my challenge ahead and just short of two miles after Suileag, which seemed nothing, I left the track heading for Canisp by turning right and following the path towards Suilven. Sometimes the path was indistinct but strategic cairns kept me on the right way. After a spell of short stiff climbs which temporarily took my breath away in the now hot balmy conditions I came to the relieving sight of Loch a Choire Dhuibh which I passed on the north side. Now I could see the full glory of the Grey Castle and the somewhat intimidating extent of the precipitous climb awaiting on Bealach Mòr. "Oh well, it has to be done" I thought.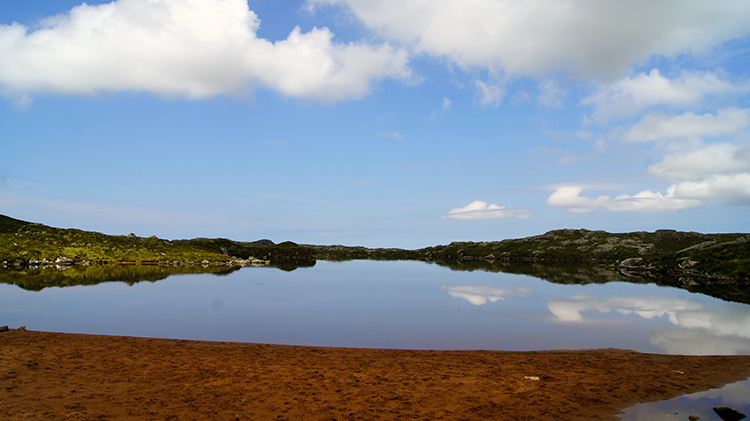 Loch na Barrack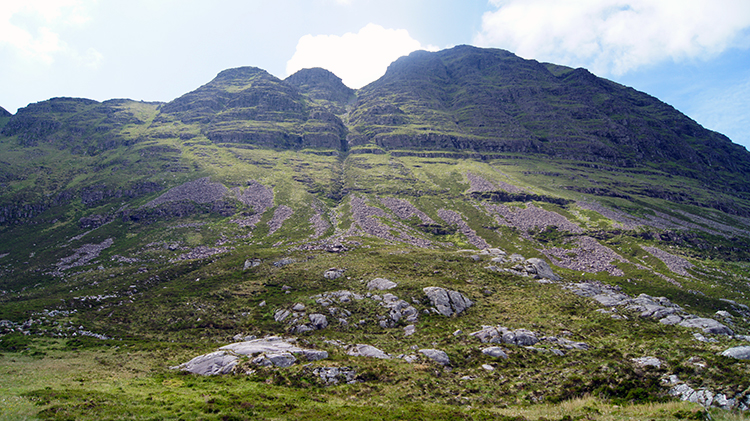 Bealach Mòr
I walked through the gap between Loch a Choire Dhuibh and Loch na Barrack, taking note of the pristine sandy beach beside the inlet stream of Loch na Barrack. Clouds were now parting, blue sky was increasing and the sun was shining down more often than not. I mopped my brow as I crossed the foothills to begin my climb of Bealach Mòr. It was tough going from the start. The heat made sure of that and as I perspired my way upwards I thought to myself "I have not brought enough refreshment". Could I suffice or would I recourse to taking water from a loch later. I left that decision until later. For now I carefully climbed Bealach Mòr. Though gentle going at first the climb got gradually steeper as I ascended.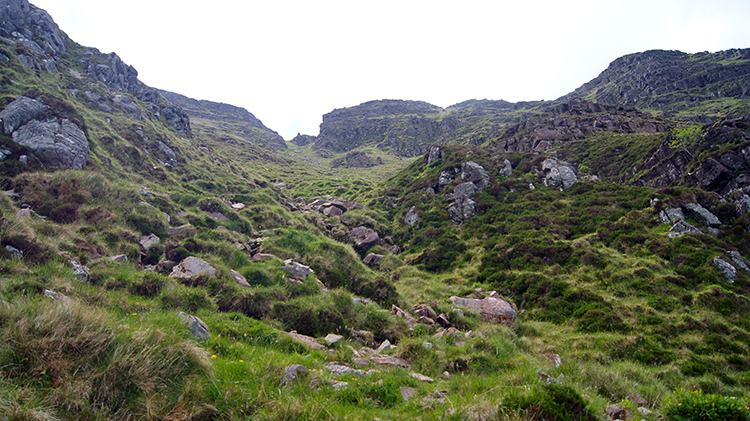 Climbing Bealach Mòr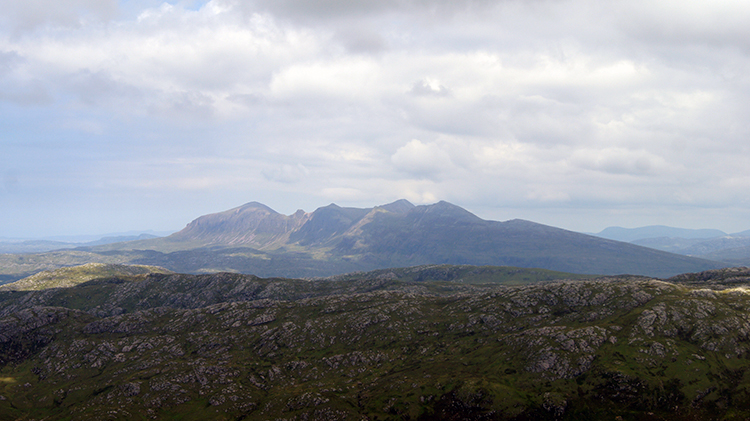 View from Bealach Mòr to Canisp
And I climbed. It was steep going and sometimes I had to correct my balance. Not that there was anything precarious, I was doing my usual of calculated number of steps before a short breather. Only when I do that, as I do on steeper climbs, I often increase pace and distance on the final few paces of a fixed number. As a consequence I sometimes overbalance. As I continued ascending Bealach Mòr I kept to my regime of fixed number of steps between rest breaks. The numbers of steps were constant. Each break got ever so slightly longer than the last. During the rests I found ample compensation from effort by taking in the stunning views being provided as I gained height. Canisp looked brilliant in the summer sunshine and I thought back to when I walked past Canisp during my Great British Walk in May 2011 when I could not see a thing. The mountain had been right next to me then and I could not see it at all.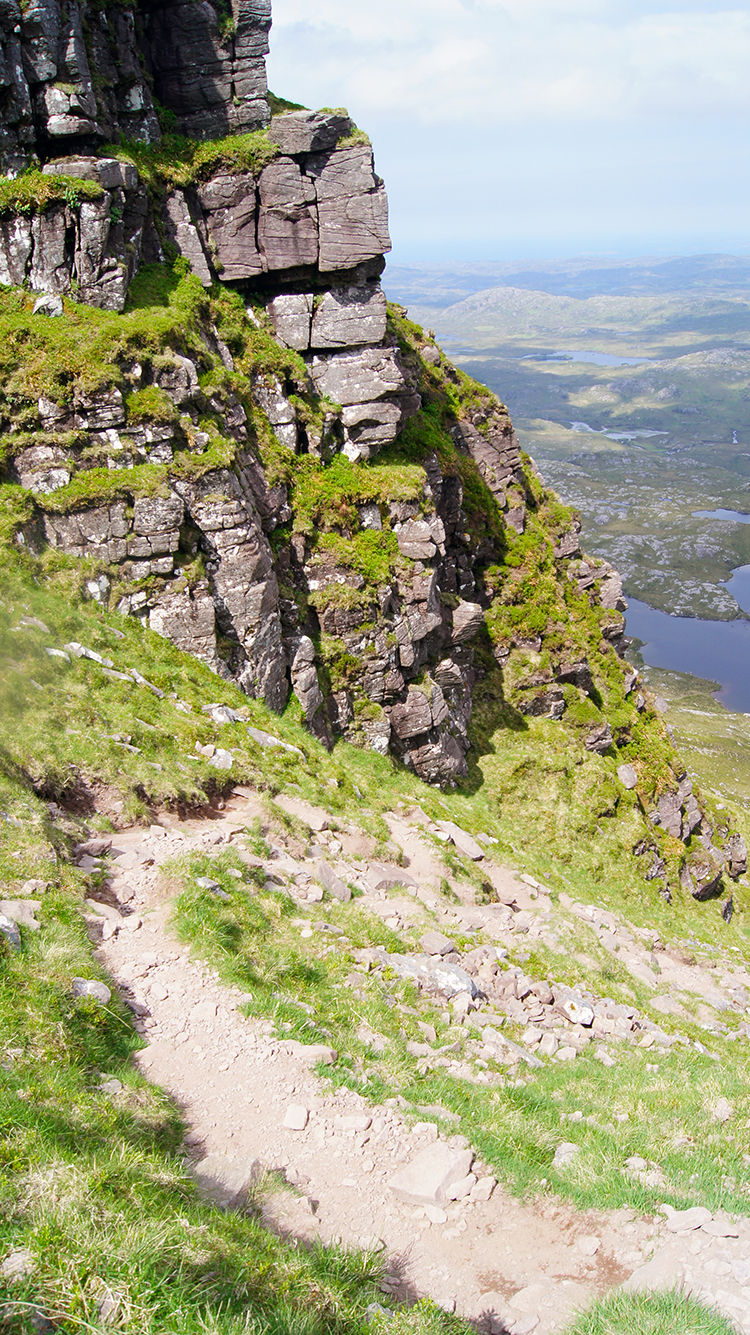 The path of Bealach Mòr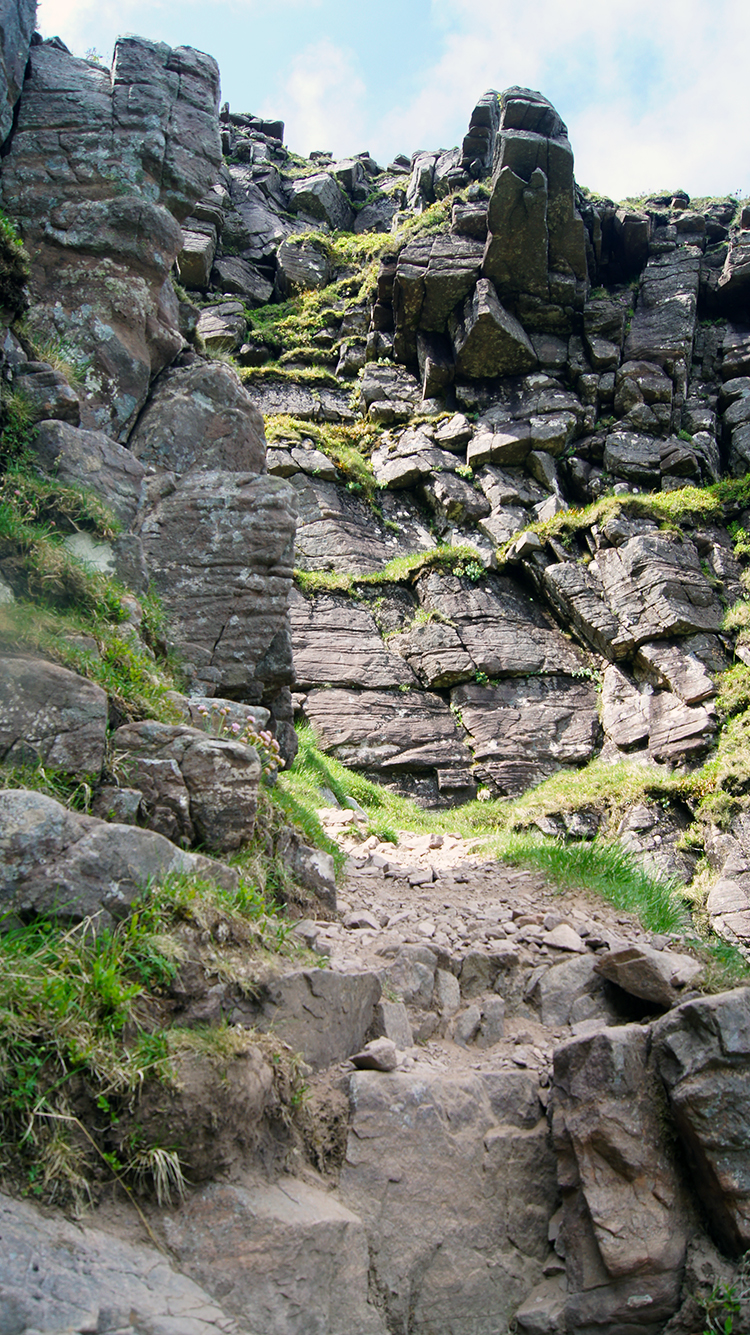 Scramble option on Bealach Mòr
The climb of Bealach Mòr continued to be tough and I was flagging. Two thirds way up I was forced to a stop. I desperately needed food and drink and though I very much had wanted to take my lunch on top of Suilven I had to stop for it straight away. I hauled myself to a suitable rock which substituted as a comfortable seat and I stopped for lunch. It was a wonderful lunch, one of the best ever out for a walk lunches. I sat and took food and drink while looking to Canisp and the surrounding country north of Suilven. I also looked at the impressive stacks and buttresses of my magic mountain. All was very enjoyable while I was at my lunch seat on Bealach Mòr, Suilven. After lunch I scrambled up the last part of Bealach Mòr. I was energised. "Who needs paths!" I chuckled to myself.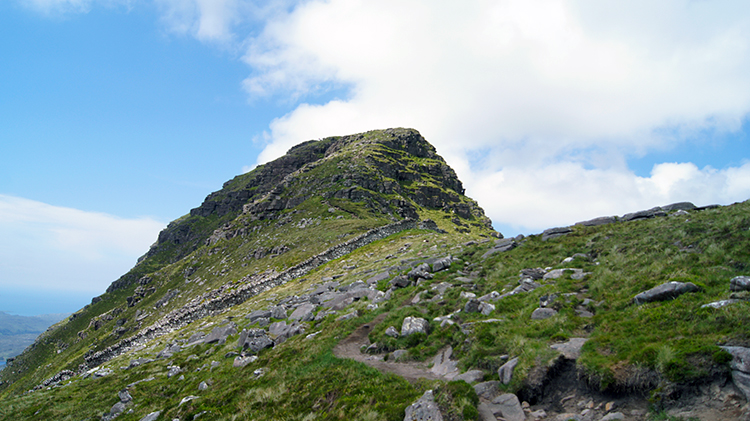 Looking left to Meall Meadhonach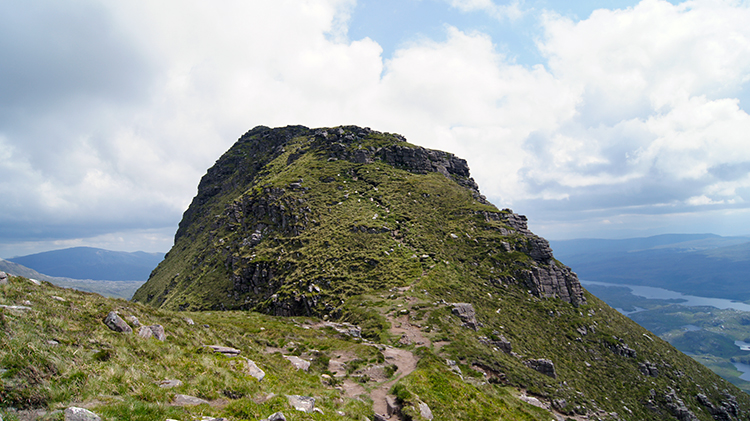 Looking right to Caisteal Liath
From the top of Bealach Mòr the respective mounts of Meall Meadhonach and Caisteal Liath looked like two arms reaching out from the head of the bealach on which I was standing. From every other angle I had viewed them before and from every angle I was to view them afterwards they looked completely different, the first, Meall Meadhonach being angular and sharp, the second, Caisteal Liath being rounded and smooth. Here though the pictures of them could be flipped and they would still resemble each other. An uncanny quirk of my magic mountain.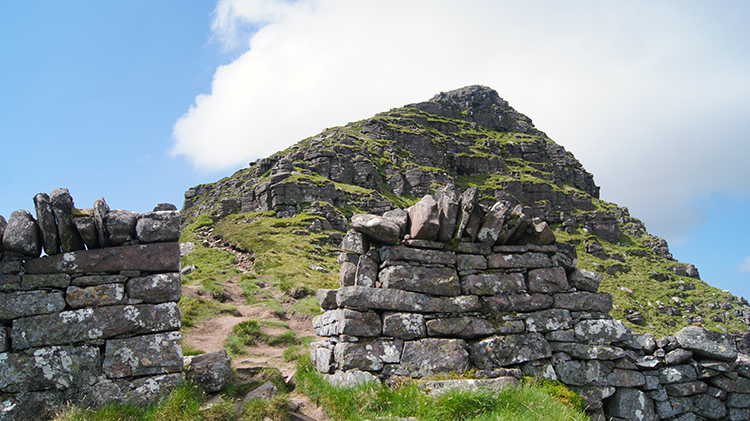 Wall on Suilven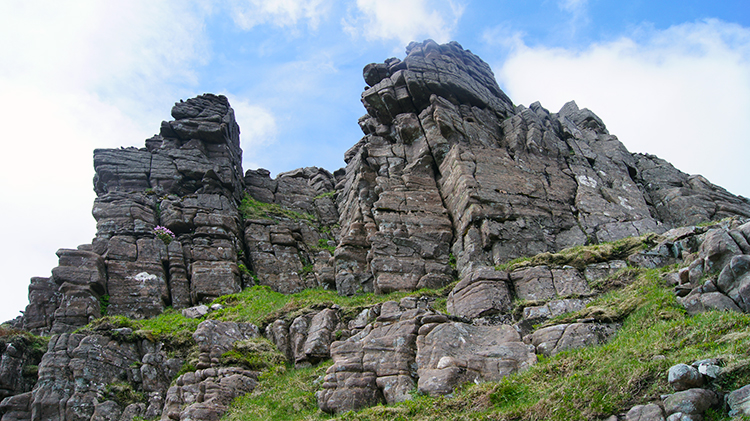 Pinnacles of Caisteal Liath
I decided to head for the recognised summit of Suilven first. Caisteal Liath peaks at 731 metres. Though nowhere near the height of 3,000 feet (914 metres) required to be classified as a Munro the perfect location and outstanding proportion of Suilven gives it a highly respected status with mountaineers. It is often phrased as mythical and it is certainly fabled as one of Scotland's premier mountains. I was nearly to the top now. Here though I did expect to find a wall. There appears to be no reason for it; no room or sufficient grazing for sheep so why is it here? Apparently it was built by locals employed by the then landlord during hard economic times and similar to the "destitution roads" which were constructed to keep men busy and nothing else. A wall for no purpose? Oh well, it is very pretty and will serve as a wind break on inclement days on Suilven.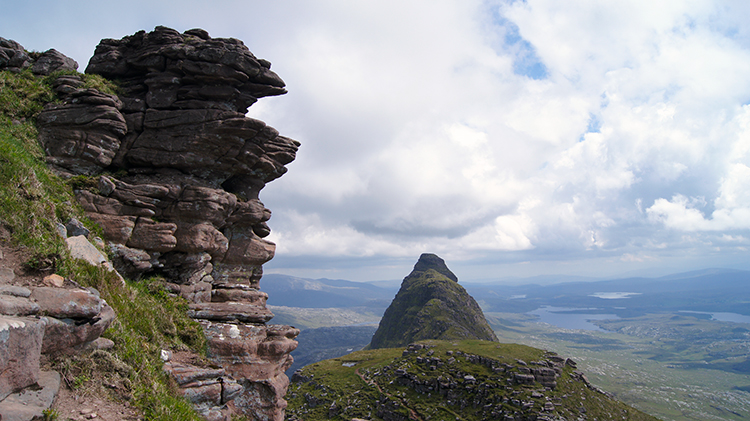 View across to Meall Meadhonach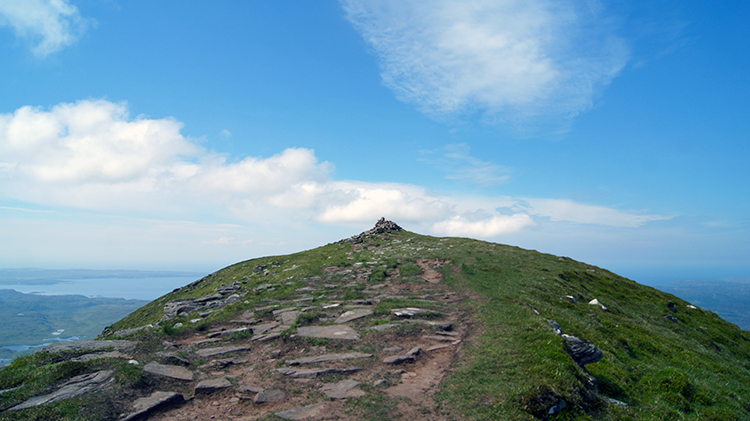 Approaching the summit
I walked past the no-purpose wall and followed the path up the side of a small crag pinnacle towards the summit. As I negotiated the path I looked back from the crags of Caisteal Liath to Meall Meadhonach. From this point the climbing of it looked an impossibility. Unless I were roped up that is and that is not my game. Oh well, I would decide what to do with Meall Meadhonach on closer inspection. For now I had the simple task of walking the easy path on Caisteal Liath to the summit cairn. As I approached I noticed a chap sat on the bank of Caisteal Liath near the summit. Where had he come from. I had not seen him before?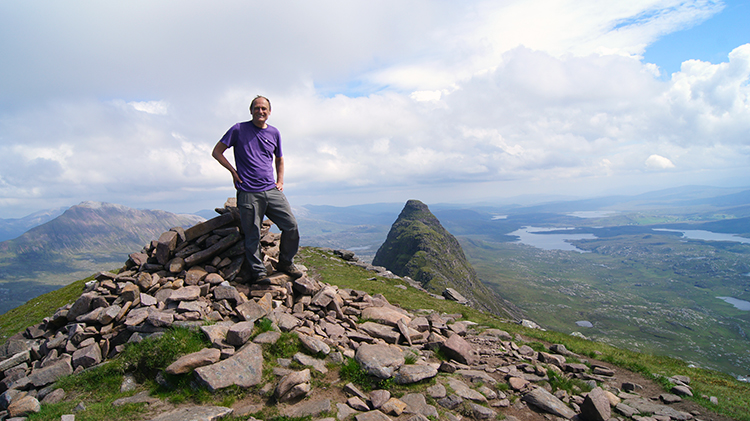 My moment of achievement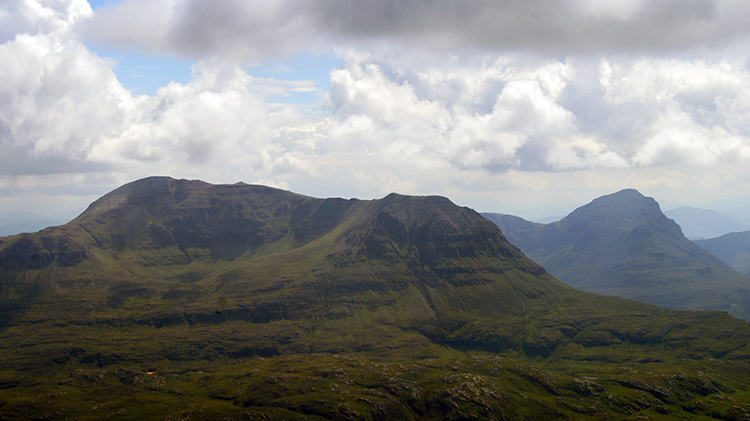 Cùl Mòr and Cùl Beag
I waved to the chap who was sitting looking out to Loch Inver and to the sea in the east. He waved back and I crossed over to him for a chat. "I am up here for a week with my wife. She is spending the day relaxing in Lochinver and I took the opportunity to come up here. I have been wanting to climb Suilven for a long time but it has eluded me in the past. So now I had finally done it". I told him that I was here for the same reason. He had got to the summit about an hour earlier and with no reason to rush back he had snoozed on the mountain. "Why not" I said and I added "there cannot be many better placed to chill out". I was glad I had met him, I would not have got this celebratory photograph of me on the summit of Suilven otherwise. After the photoshot he left, parting by saying "I have been up here long enough now, time to go". I said my thanks and wished him farewell. Then I took my own time out on the summit of Suilven and looked out at the majestic scenes all around. Of particular interest to me was looking at the route I took around Cùl Mòr in 2011. I spotted Cùl Beag and Stac Pollaidh too.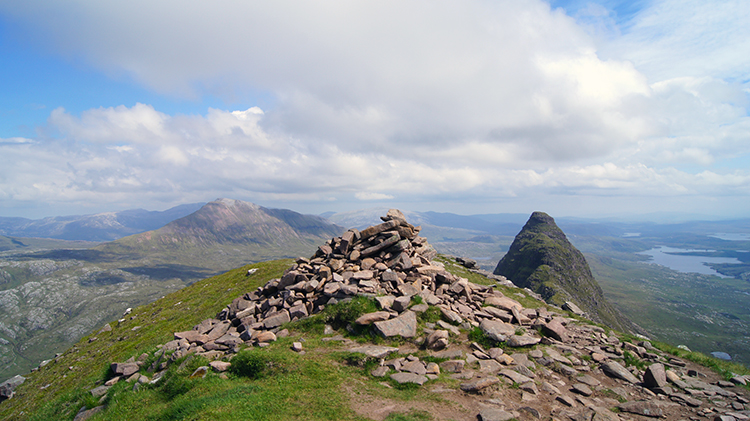 The view east from the summit of Suilven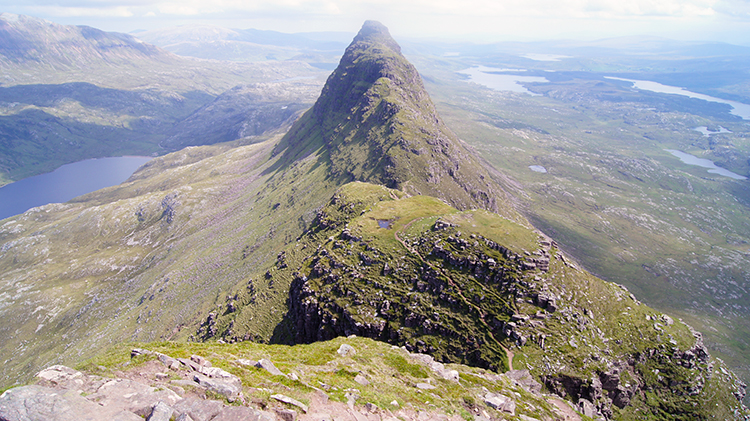 Looking down to Meall Meadhonach
After my sweep of the mountains. lochs and Lochans in view from Suilven which also included Ben More and Quinag I devoted my attention to the next task in hand. The tricky path to summit Meall Meadhonach. Looking down to Meall Meadhonach from Caisteal Liath gave me an uneasy feeling though. From where I was standing and looking east across the spread of the mountain top Meall Meadhonach assumed its most threatening face. A 'climb me if you dare' face. Unnerved but determined I continued on. The way down from Caisteal Liath to pass the top of Bealach Mòr was simple enough, as was the path skirting around the north side of the preliminary stack. So far so good.
Heading for Meall Meadhonach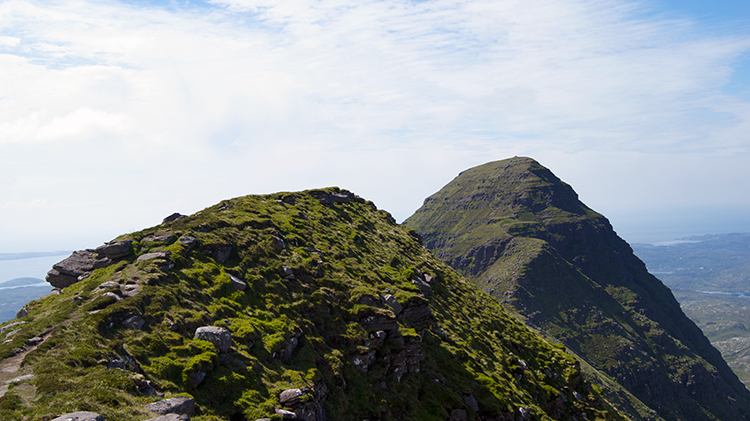 Looking back to Caisteal Liath
The gap between the middle stack and Meall Meadhonach was more difficult though and it took me some time to find the way up others had used to the right hand (north) side of the pyramid. Once found it was a simple, albeit careful, scramble to the top. With nowhere to go when up there though I felt a compulsion to come straight back down. Caisteal Liath is the place to relax, Meall Meadhonach is the place to reach the top of, take a quick look around from and then come straight back down. I felt a little unsteady up there. Was it vertigo or was I just tired?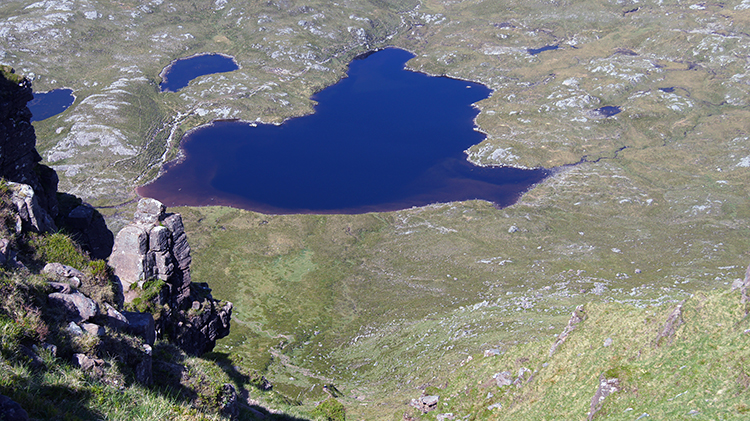 The view down to Loch a Choire Dhuibh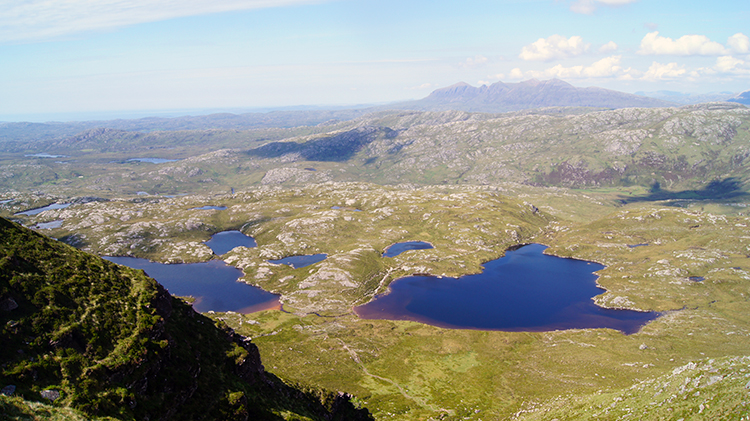 The view to the north from Suilven
I concluded I was flagging a bit again. It was hot, even on the top of Suilven with unbroken sunshine and no sign of a breeze. I needed another drink and a bit more to eat and I had little left. I drank half of my remaining drink before I set off down Bealach Mòr and then I steadily shuffled my way down. I walked as quickly as I could without accelerating to a canter. Short bursts of scree fall from loose rocks on the footpath followed my progress down the mountain. As I did while I was ascending Bealach Mòr I took short breaks descending it. I looked down with envy to the cool waters of the lochs below. My feet were heating up with the friction of slipping down the steep path and I knew I would cool them in Loch na Barrack.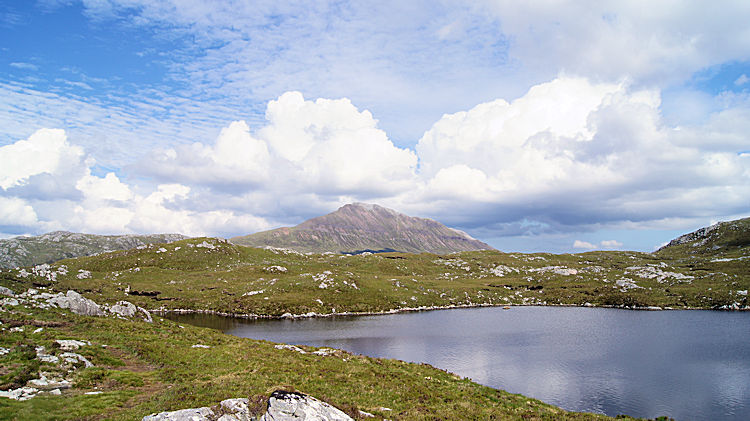 The view to Canisp from Loch a Choire Dhuibh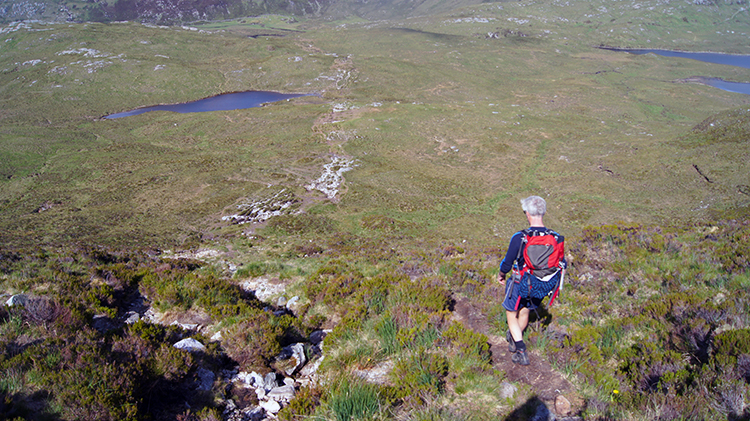 Heading back
After getting to the bottom of Bealach Mòr I headed towards the small sandy beach of Loch na Barrack. When I was about 100 metres from the sands I spotted a lady sitting on a rock beside the loch. I closed in. Then I noticed someone was swimming in the loch. I continued towards the pair and on seeing me approach the lady waved. I recognised her as one of the couple I had seen with bikes at the start of the walk. "Nice day for a swim" I said to her as I waved to her partner who was floating on his back in the water. I shouted to him "I think I will join you, but only for a paddle" and then I took off my boots and steaming socks before wading knee deep into the loch. It was such a lovely relief to cool my feet. After both of us had finished with our water frolics we got chatting. They were a married couple from Edinburgh, the gentleman originally hailing from Northern Ireland. They had half walked and half cycled to the foot of Suilven and stopped short of climbing the mountain, staying by the loch for a relaxing afternoon before making their way back. They had left the bikes by the main path so we walked off from Loch na Barrack together and back to the main track where they had left them.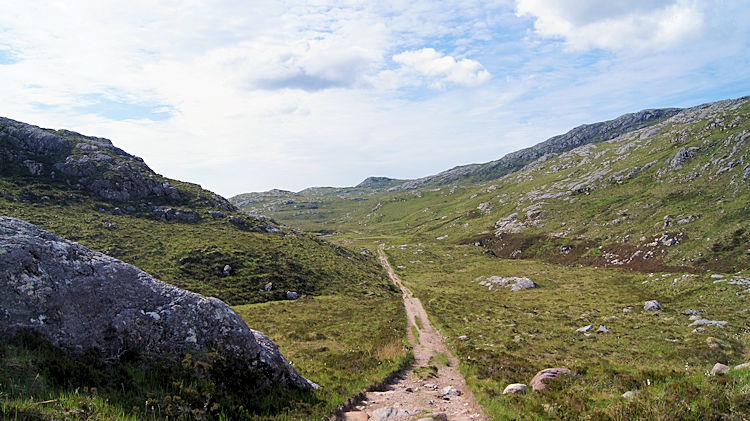 The long way home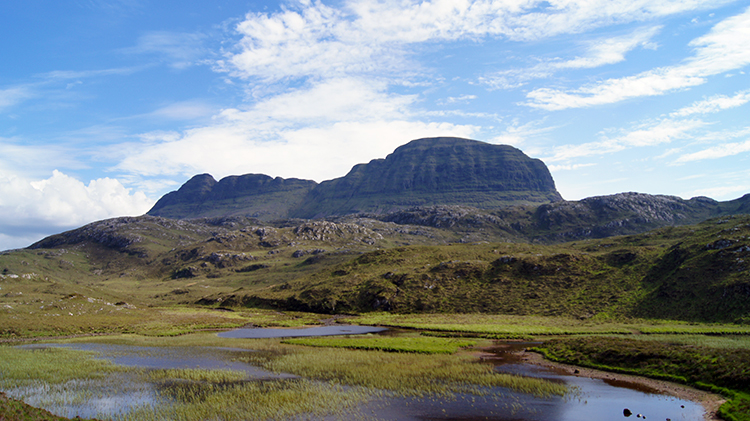 Looking back to Suilven from Lochan Buidhe
About walking in company to halfway back to where the couple had left the bikes I forged ahead. "I will see you when you pass me later" I said. "OK" the chap replied. I never saw them again. Back at the main track I sat on a rock near to a footbridge and drank my last sips of drink. I also chomped my last refreshment, a bar of chocolate which went down quickly. I then stood myself up and began walking the long way home. It was late afternoon but the sun was still high in the mid summer sky and it continued to beat down relentlessly, warming me quickly as I set about walking as strongly as I possibly could. On a couple of occasions I stopped to look back and marvel at the view of Suilven. Blue sky and wispy white clouds framed the mountain perfectly. What a picture it was. After filling my imagination with it I set off again on the long way home. I paced myself adequately, as quickly as possible without straining myself. I wished for a long drink when I got back to the car.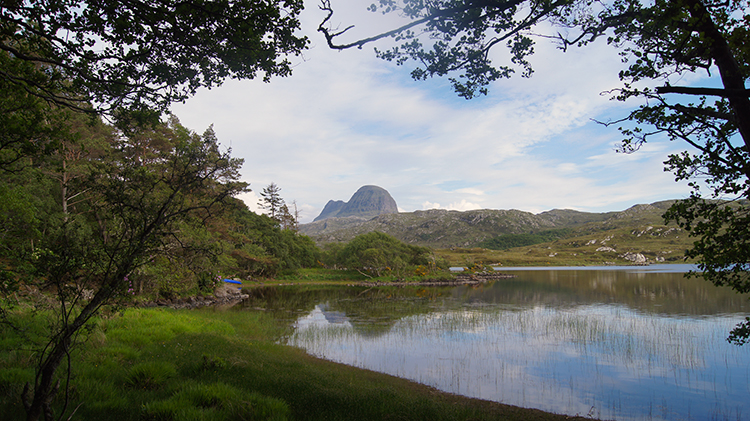 Loch Druim Suardalain and Suilven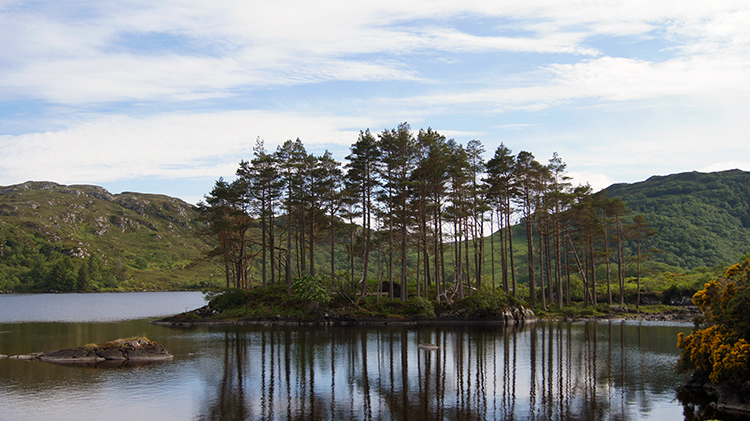 Island of firs on Loch Druim Suardalain
I walked and I walked, past corners I recalled from my outbound journey. I noted that certain points on the path, such as Loch an Alltain Duibh and Loch na h-Airigh Fraoich would serve as reminders of how far I had to go and that first sight of the beautiful yellow gorse with the scent of Vanilla would mark the final stages of my walk. Each came and went in turn, each thankfully ticked off the mental list. Then after a few more meandering corners, inclines and declines I came to the gate which heralded me back into the grounds of Glencanisp Lodge. I walked closely beside Loch Druim Suardalain and looked upon its beautiful setting. I was ambling now, the final stages of the walk in my grasp. The view across the loch to Suilven was stunning. The view of an island within the loch with upright fir trees packed onto the island was enchanting. I was rapt by all the wonderful scenes around and only the though of a long drink back at the car drew me away.

Soon enough I was back at the car and having cracked open a can of pop I stood to take everything in. I looked to Suilven, once more in the far distance. This time though I regarded the mountain to be a close friend rather than the enigmatic stranger it was when I had last stood at this spot before setting off to explore it. Suilven was my magic mountain before I had walked to find out more about her. Suilven remained my magic mountain on my return. Perhaps more so. Getting to know Suilven intimately was certainly the best 60th birthday present I could bestow to myself.
Copyright © 2003-2023 Walking Englishman. All rights reserved.