Mellon Udrigle, Rubha Beag and Meall Leac an Fhaobhair
Google Maps
Open Source Maps
| Statistics | |
| --- | --- |
| Start: Mellon Udrigle | Distance: 2.6 miles (4.1km) |
| Grid Ref: NG 89112 95815 | Time: 2 hours |
| Climbing: 115 metres | Rating: Easy |
| GPX Route File | Google Earth File |
Ordnance Survey Explorer Map (1:25,000)
Summary: A lovely invigorating walk from the small crofting village of Mellon Udrigle situated in the north west corner of the on the Rubha Mòr Peninsula to the north-east of Poolewe and immediately to the west of Gruinard Bay. The walk provides spectacular views across Gruinard Bay and further north and east to the mountains of Sutherland, Coigach and Assynt. The walk is a wildlife spotters opportunity too as Otters as feed in the bay and Dolphins, Porpoises, Whales and Basking Sharks are sometimes seen in nearby waters. I did not see any on my walk but I was more than entertained by lots of birds on show.
---
The Walk: I was about midway through a two week long walking trip to Scotland and I happened to be moving base from Durness on the north-west coast of the country to Loch Maree when I came upon the Rubha Mòr Peninsula. I fancied a walk to fill my day. Over the past few days I had completed two of my bucket list walks to first Sandwood Bay and second to Suilven. Both walks had been a delight on gorgeous sunny days and while today was overcast and a chilly day for the middle of June it did not dampen my enthusiasm. I was keen to explore a little piece of this remote Scottish peninsula.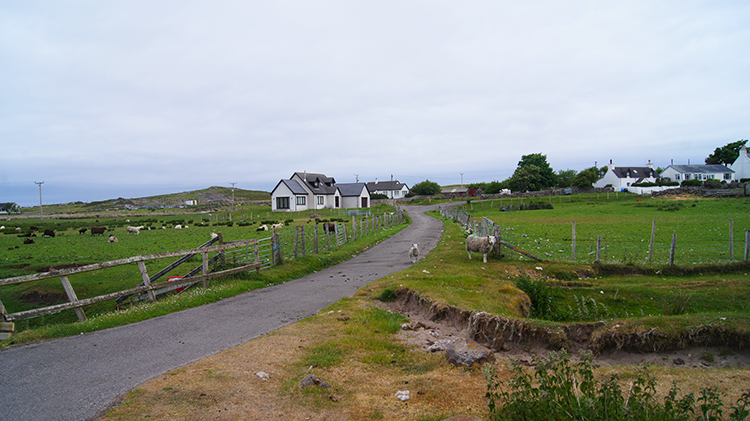 Mellon Udrigle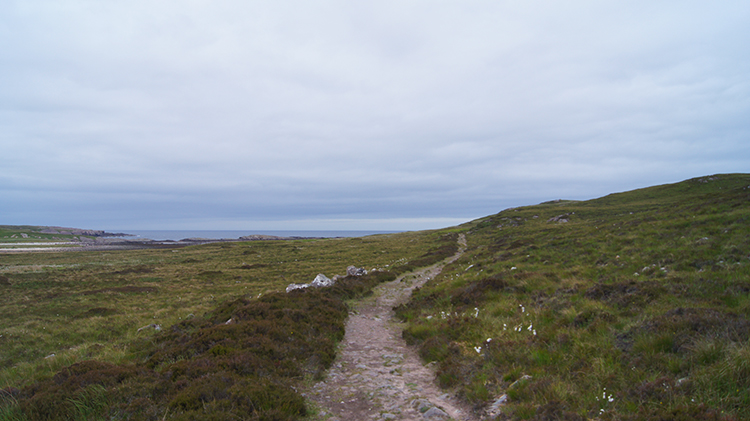 The track leading north to Camas Rainich
I parked up in a parking area provided for visitors to Camas á Charraig and set off on my walk heading north on the road through Mellon Udrigle which is described as a small remote coastal tourist, fishing and crofting hamlet. It was 10.00am and eerily quiet as I walked through the scattering of whitewashed bungalows and dormers which comprise the settlement. Nothing stirred, nobody showed. The only attention I got was from a family of sheep on the edge of the village who watched me as I walked on by. As I passed the watchful sheep I left the tarmac road which turned right towards the Old Schoolhouse. I kept straight on, walking northwards along a hard unmade track.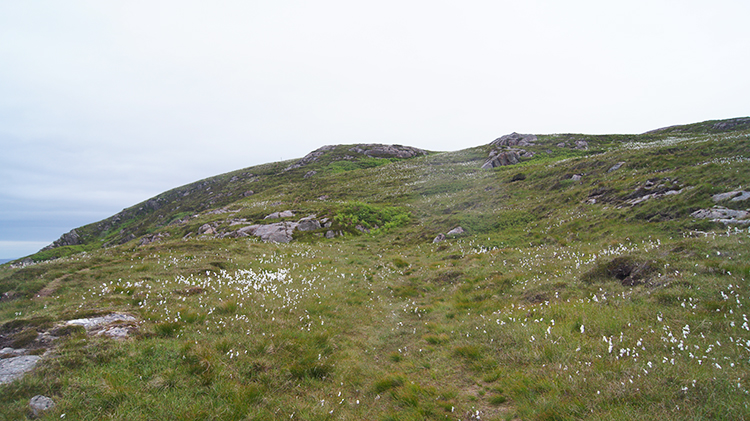 The climb to Rubha Beag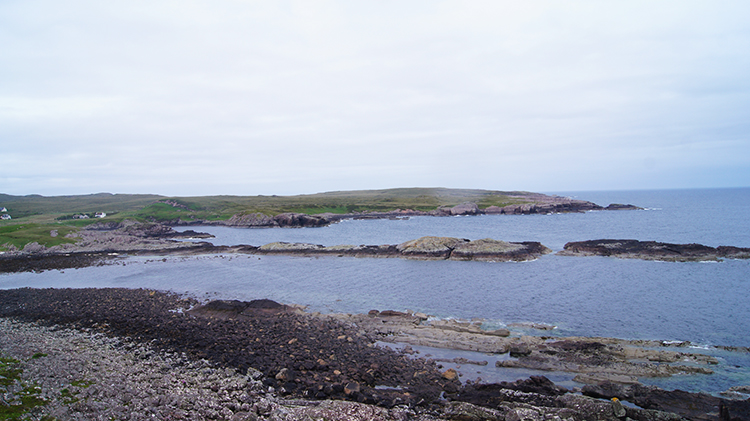 Camas Rainich
If it was not before when buildings were included in the view it was just me and the natural world now. Apart from the track on which my feet trod it was a scene of pure nature that filled my eyes. It was an intoxicating feeling, an unblemished world. As I walked on the rough track across land towards a lovely isolated cove some ground nesting birds including Skylark, Stonechat and Meadow Pipit provided me with a cacophony of song which while probably warning calls were melodic all the same as I made my way across the land. The birdsong captured my attention so much I seemed to arrive at Camas Rainich in no time at all. I stood on the north-west face of a seaside hill, Rubha Beag (summit Meall na Creige Moire) and looked over Camas Rainich for a minute or two. As with the walk across from Mellon Udrigle the setting was pure nature. The slow flowing freshwater of Allt Loch a Choire flowed gently into the bay. A pristine sandy beach stretched along the south-side river bank. I was tempted to walk across to it but refrained, instead leaving it unblemished by footfall. I guess that on close inspection I could have found plenty of bird steps in the sand. Not that I would have been able to identify any of them.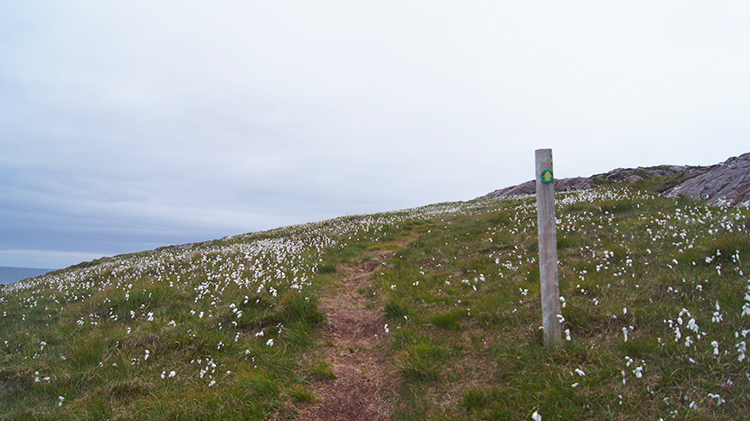 Passing a waymarker on Rubha Beag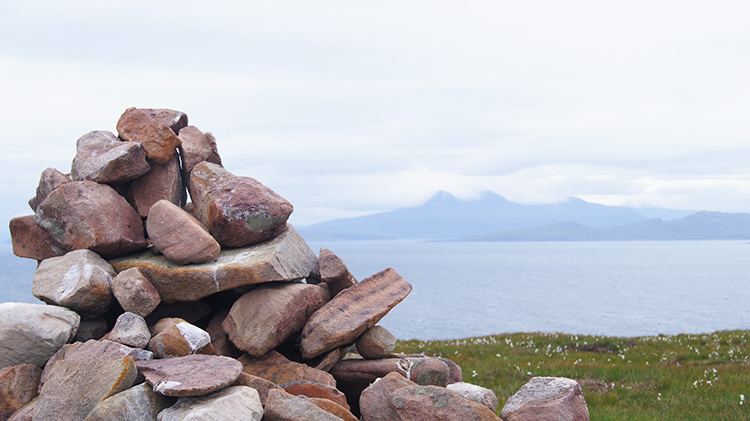 Rubha Beag view to Ben More Coigach
I climbed to the summit point of Meall na Creige Moire on Rubha Beag, an ascent of 30 metres to the peak of the hill at 57 metres above the sea level which I could hear. Waves of water were lapping the nearby coastline below me and just east of the hill. While climbing the hill I followed a clear path with an identifiable waymarker and once at the summit I was surprised to arrive at a significant stone cairn. Clearly other people do walk here, just not today. It was evident why there is a popular walk in this part of the Rubha Mòr peninsula though. From the cairn I looked north east across the sound of Gruinard Bay, Little Loch Broom and Loch Broom to the mountains of Ben More Coigach. The gray sky washed out a good view of the islands in between me and the mountains which was a shame. Priest Island and the Summer Isles were like shadows in the water.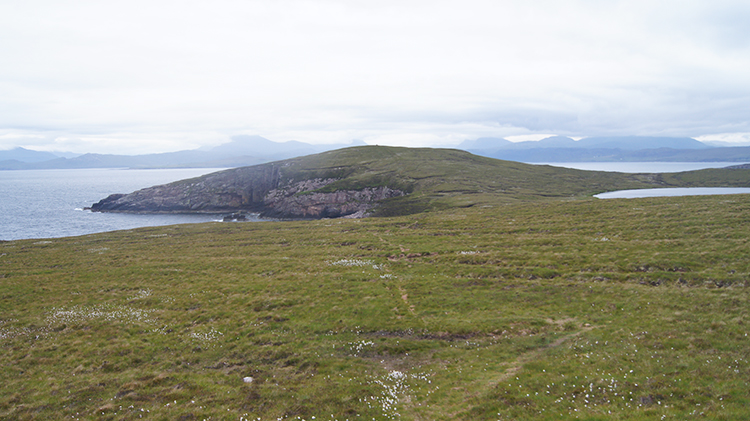 Meall Leac an Fhaobhair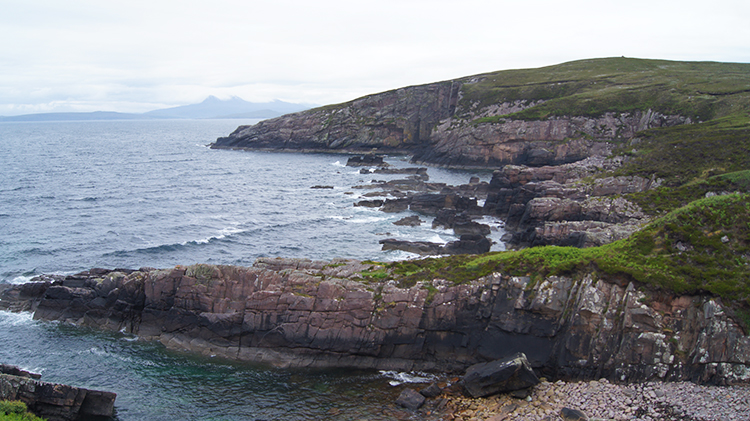 Geodhachan Tharailt
When climbing to Meall na Creige Moire I had noticed lots of Cotton Grass on the ground and once I resumed my walk from the summit cairn on a south-east course across the edge of the peninsula I noticed lots more. I bet the Cotton Grass here was used for traditional purposes in the past and maybe it still is in craft museums. Cotton Grass was traditionally resourced to make wicks for lamps. The bristles of Cotton Grass were also used as insulation for clothing and bedding, and for starting fires. I followed my own path through the land of Cotton Grass as the one I had followed up to Meall na Creige Moire was now no longer in evidence. Crossing over the land towards my second hill of Meall Leac an Fhaobhair I edged from the grasslands to an area of low cliffs and seaside outcrops called Geodhachan Tharailt which resembled a series of jagged fingers stretched out into the sea. It was a quite dramatic sight.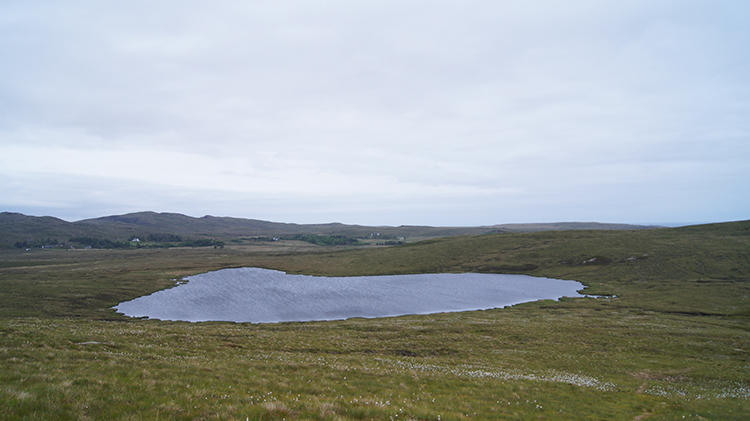 Loch Dubh Geodhachan Tharailt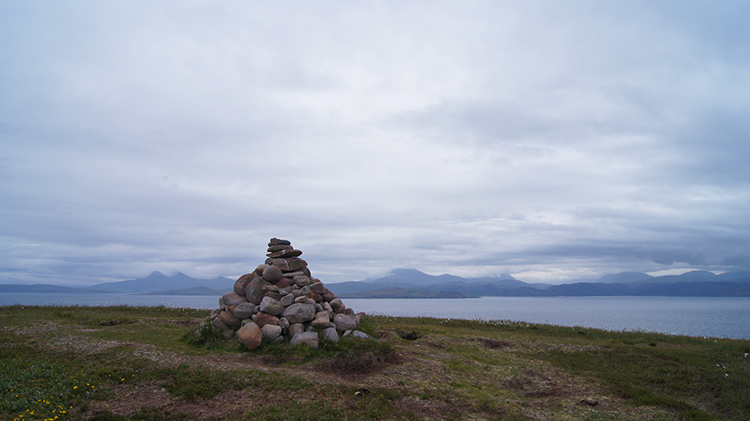 Cairn on Meall Leac an Fhaobhair
After visiting the locality of Geodhachan Tharailt I edged back inland to resume my walk across Cotton grassland once more. I looked to my right and viewed the water of Loch Dubh Geodhachan Tharailt. Unlike inland lochs fed by rushing watercourses this loch had no rivers or streams feeding it. The loch was a sump, slowly filling from Cotton Grass bogs and probably slowly oozing down to water drainage aquifers leading into the nearby salt sea. Once past the loch I climbed the short climb to Meall Leac an Fhaobhair where another impressive cairn stood atop. The climb to Meall Leac an Fhaobhair was a little tougher than that to Meall na Creige Moire. All of 40 metres this time! Though only 45 metres high I had dropped to almost sea level before climbing up to its heady height. As I had done while at my first cairn I once more enjoyed the lovely views provided across to the east. This time I had the bonus of unbroken views to Cailleach Head which stands at spit between Loch Broom and Little Loch Broom and to Gruinard Island which nestles in the centre of Gruinard Bay.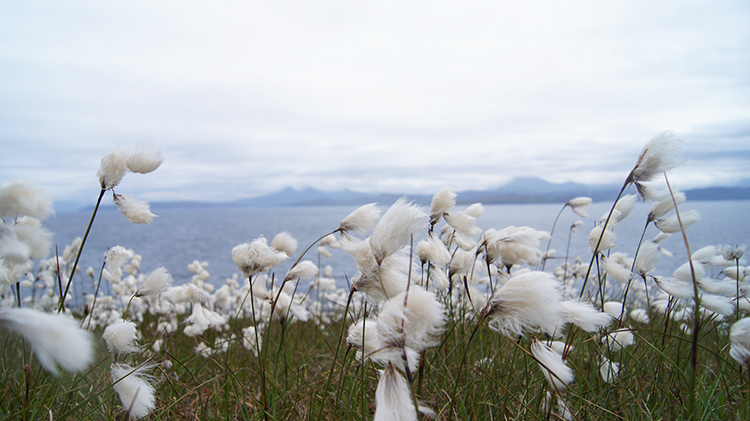 Cotton Grass was widespread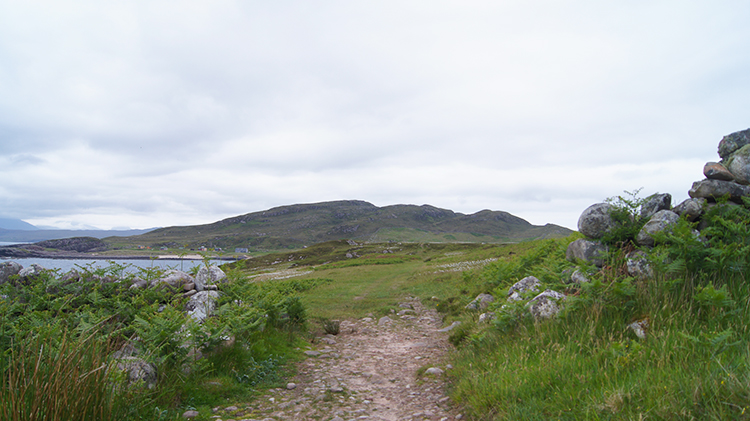 Heading back to Mellon Udrigle
From Meall Leac an Fhaobhair I continued my walk by heading south and back towards Mellon Udrigle. I passed close by another cove with a series of inlets and small cliffs and in this area of seaside drama Gulls were the starring feature. I stood for what seemed an age transfixed by the performance being played out before my eyes. It was magical watching young Gulls honing their flying skills. Some of the juveniles hovered effortlessly as if motionless in the air before a movement of wing and a stoop saw them gracefully plunge seawards. Only at the last moment did they bank and beach perfectly to take a float in the sea. I repeat, I must have been stood ages watching them. It was a privileged entertainment which I had all to myself.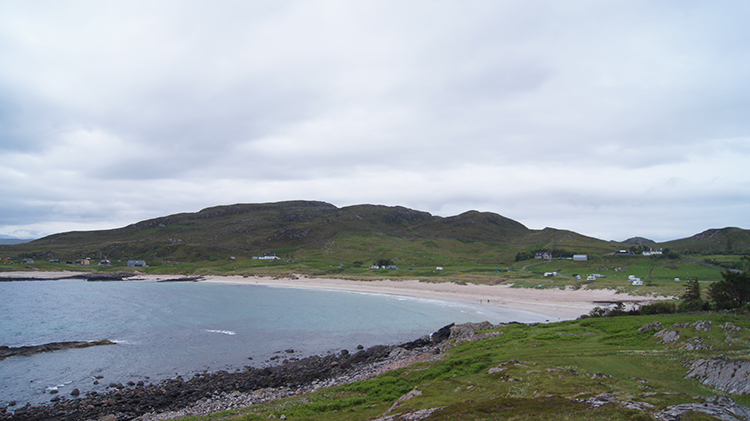 Camas á Charraig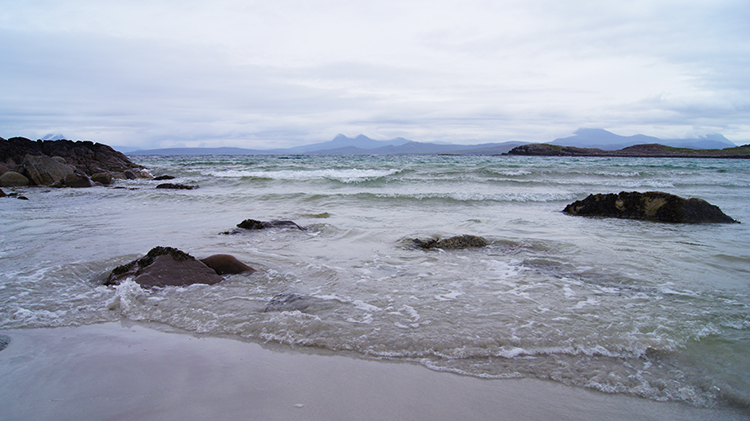 On the Beach
I finished my walk by returning to the sandy beach of Mellon Udrigle. I wandered across the sands of Camas á Charraig, only now seeing other people arriving to share the scenes. It was mainly couples, some were exercising their dogs and some were walking hand in hand. Personally I once more looked out over the sand and over the waves lapping the shore to the mountains of the north-west mainland. As I had seen when I first saw them at the cairn on Meall na Creige Moire the mountains had plumes of cloud rising from their higher reaches. I thought to myself how much I had enjoyed this lovely low level walk while whispering to the mountains "I will be with you another day".
Copyright © 2003-2023 Walking Englishman. All rights reserved.