Shieldaig, Loch Braigh Horrasdail, the Fairy Lochs and Sithean Mor
Google Maps
Open Source Maps
| Statistics | |
| --- | --- |
| Start: Shieldaig Farm | Distance: 3.6 miles (5.7 km) |
| Grid Ref: NG 80785 72393 | Time: 2 hours |
| Climbing: 250 metres | Rating: Moderate |
| GPX Route File | Google Earth File |
Ordnance Survey Explorer Map (1:25,000)
Summary: The word primeval means "of the earliest time in history" and is often used in the description of walks through lands of wilderness and particularly when in association with ancient forests. Often the use of the word is right but sometimes it is used inaccurately, for example when in royal forests and on lands which have been managed and sculptured by man since Neolithic times. However I am comfortable with using primeval in the description of this walk which leads me from Shieldaig Farm on tracks which while forged by man over the centuries lead me to places where I can see the interesting features and fascinations unveiled by some of the oldest rocks in the world, Lewisian Gneisses and Schists of around 3,000 million years old which surely qualifies them as being of the classification 'primeval'.

As well as exploring the very old I also walk to a scene of much more modern times, the tragic scene of an aircrash towards the end of World War II in 1945. In the midst of visiting old and not so old I also visit some delightful lochs and lochans before climbing a small hill with a trig pillar which provides a marvellous view of the Torridon mountains and of Loch Gairloch. In all, this is a great short walk in the middle of nowhere with much to offer the imaginative mind.
---
The Walk: After parking up near some farm buildings just off the B8056 road which winds its way around the Shieldaig peninsula before coming to a dead end at Redpoint I began my walk heading south-west along a good track. I had not gone far at all before I came to a sign which read "Take Care. You are entering remote, sparsely populated, potentially dangerous mountain country. Please ensure that you are adequately experienced and equipped to complete your journey without assistance". Despite the warning I felt OK with my plans, I would only be climbing to 225 metres altitude on the walk.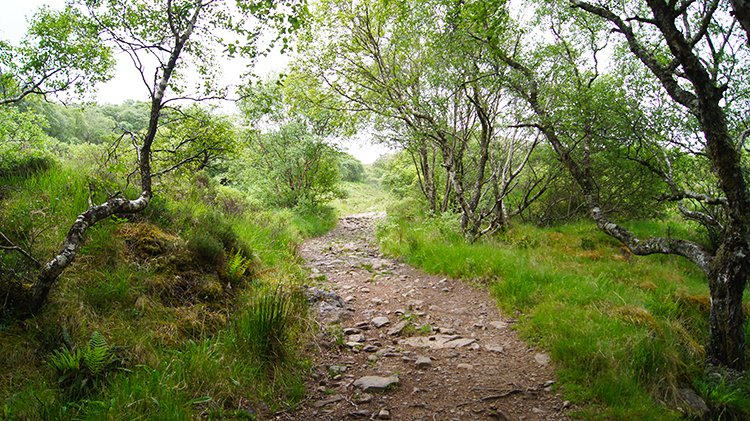 Following the track from Shieldaig Farm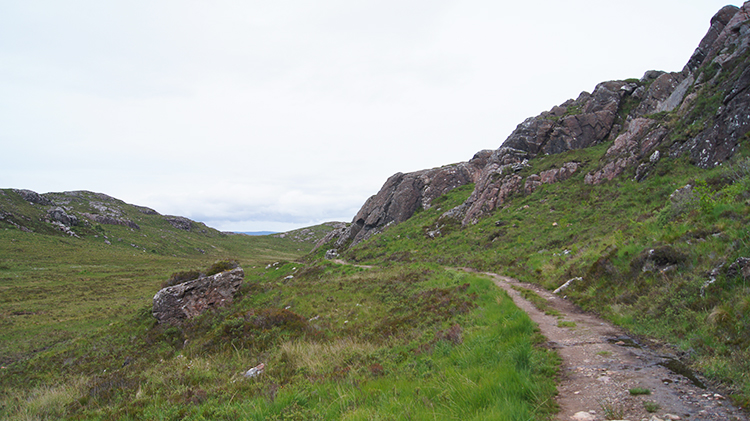 Lewisian Gneiss, 3,000 million years old
I continued along the track at a good pace, climbing gradually as I marched along the sparse birchwood avenues. Soon I came to a point where a path led off from my track to the left. Signs on the ground indicated the path led to the Fairy Lochs crash site. I already knew that, I would return by that path later on. And so I kept my course heading south-west towards Lochan Faur. I continued my steady climb, leaving the trees behind after ascending around 50 metres. Despite my still no reaching 100 metres altitude even the hardiest trees had given up the attempt to grow any higher at such a northern latitude in this place of constant north-westerly winds. I was OK, it was not blowing a wind at all this day but on many it does and with no protection from the wind the trees don't bother trying. The land was becoming stark and desolate as I rose to the 100 metre altitude level. I was entering the land of exposed Lewisian Gneiss and in doing so I was observing rocks as old as can be found in my native isles.

Compare this. My usual walking area is the Yorkshire Dales. A popular feature of the Dales is the limestone cliff of Malham Cove which was formed 12,000 years ago. The limestone itself is around 300 million years old. Moving on to the Lake District where the Skiddaw Group are the oldest rocks in the National Park. They were formed as black muds and sands settling on the seabed about 500 million years ago. Thus I was now looking at rocks 10 times older that my Yorkshire Dales limestone and 6 times older that the first formed of the Lake District. Now that is old. I continued to look at the 3 billion year old Lewisian Gneiss as I walked onwards and at points where outcrops came to the trackside I touched the oldest rock in Great Britain. It felt like any other rock to me at first but then I thought how hard it appeared to be. I picked up a small rock and set about trying to break off a chunk one of the outcrops. As I had imagined I could not chip pieces off as I could have with slate and nor could I scrape out lines which I could have with limestone or granite. This Lewisian Gneiss was tough as it has to be to withstand the abrasive climates over 3 billion years of time.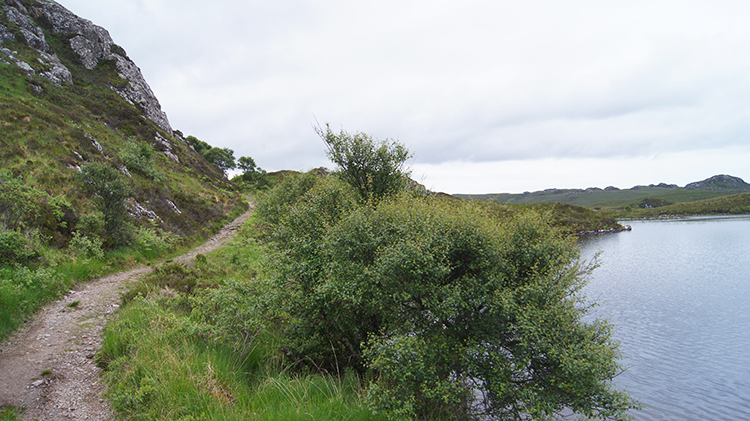 Lochan Faur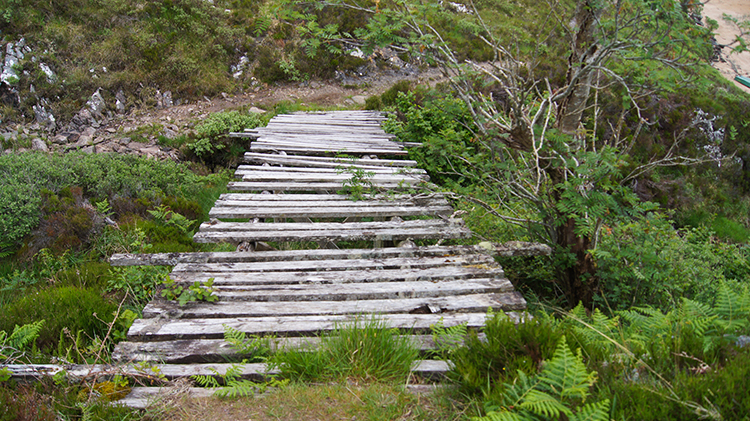 The rickety bridge
I came to my first waterside; I had reached Lochan Faur. Just before coming to the water I passed through a gate with a sign pinned to it. It read "PLEASE! Close the gate. We have planted a native woodland, which will take 10 years to establish. The deer will eat the growing trees if this is left open. Many thanks - Shieldaig Croft". So perhaps, with proper management, care and shelter then trees may prosper up at this height after all. I came to the Lochan and stopped to watch a lone fisherman. We talked and he asked if I had seen the trench being dug alongside the track further down. I said I had indeed seen it. "Power lines for another bloody wind farm" he said, and adding "...another eyesore in this until now perfect and untamed land". I had to agree. He went on about how the Scottish National Party's obsession with green energy is destroying Scotland's most precious wilderness. Without getting into a protracted debate on the issue I wished him a good day fishing and walked on, over the slight brow of a hill and then descending to reach a very ill maintained rickety bridge which I had map plotted to cross on my way to Loch Bràigh Horrisdale. I decided against the folly of crossing the decaying structure and walked a little further to a natural crossing of the ford which the old bridge spanned. I stepped over the ford safely and made my way down a track to the loch.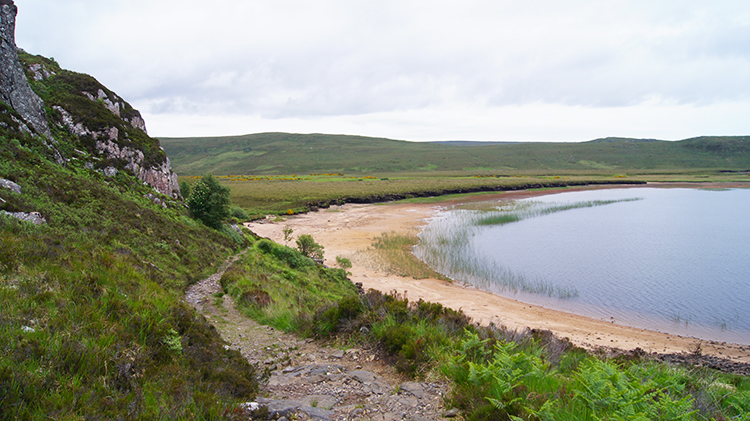 A sandy beach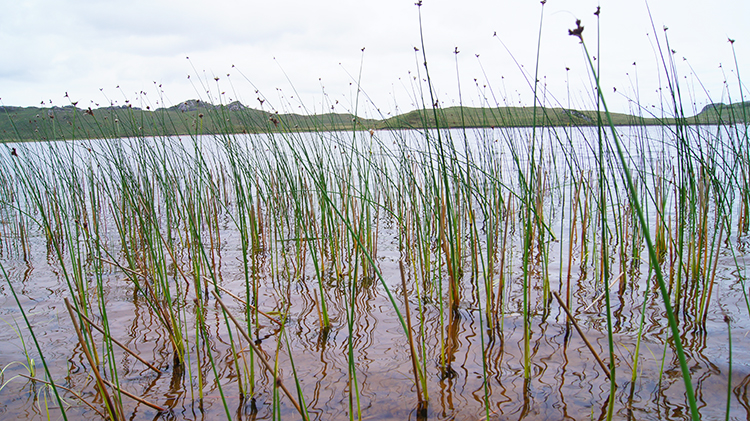 Loch Bràigh Horrisdale
Loch Bràigh Horrisdale was gorgeous. On its eastern shore it has a lovely sandy beach and I wandered across it at the slowest of paces. It was a perfect time for me to do so as I had already settled on having lunch while looking over this remote and quite loch. After my amble on the firm sands I retreated back to the edge of the sand where an upturned rowing boat provided the perfect seating for me to enjoy lunch. I looked out enjoying the solitude while taking refreshments. Five minutes later I heard noises and looked behind me to see a group of about six walkers coming down the path. "Blooming heck" I mumbled to myself as I had wanted to enjoy my lunch in the natural silence of Loch Bràigh Horrisdale. The group of walkers may have sensed my unsocial tendency of the time as the walked to the far end of the sands and wandered out to the loch edge without bothering me. I counted seven of them while I finished off my lunch before packing up my kit and leaving the lovely loch behind.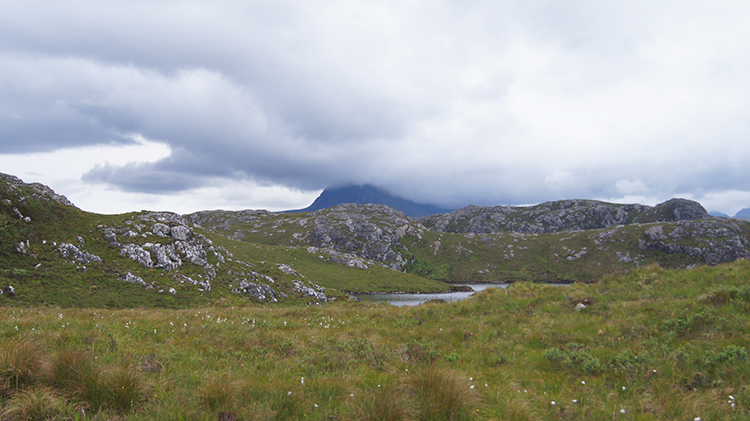 Primeval lands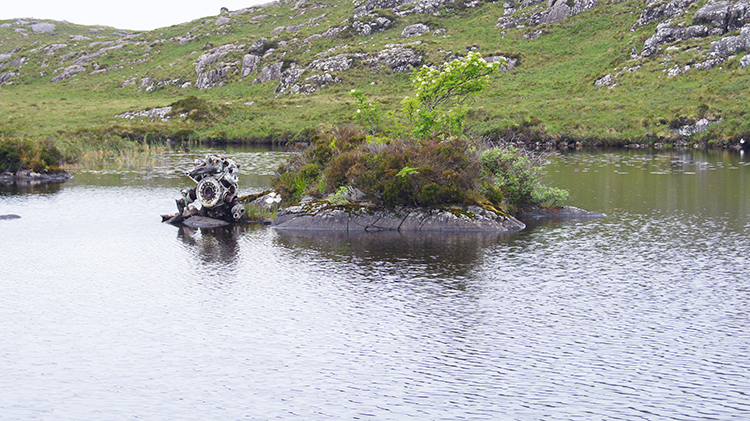 Lochan Sgeireach
I passed the wooden bridge which should not be crossed and walked back up to the ford crossing I had taken to reach Loch Bràigh Horrisdale before cutting off from the good track I had followed thus far to follow a more demanding course. Now I walked on a rough, sometimes boggy and always narrow path indicated by cairns towards the Fairy Lochs. Sometimes, and often across flat boglands the path disappeared altogether. Then I had to plot my line across the bogs to the next point of reference from where I could re-find the path line. It was never too difficult but it took a bit of looking. I guess in fog I would have stumbled across the path rather than find it by sight, aided by one of the number of cairns sat on higher outcrops showing the line. On this navigational and searching stretch of walking between bogs and billions of year old rock outcrops I indeed though to myself "These are the primeval lands I was hoping for". Despite the effort in finding my way it was great fun. Eventually I reached my goal of Lochan Sgeireach.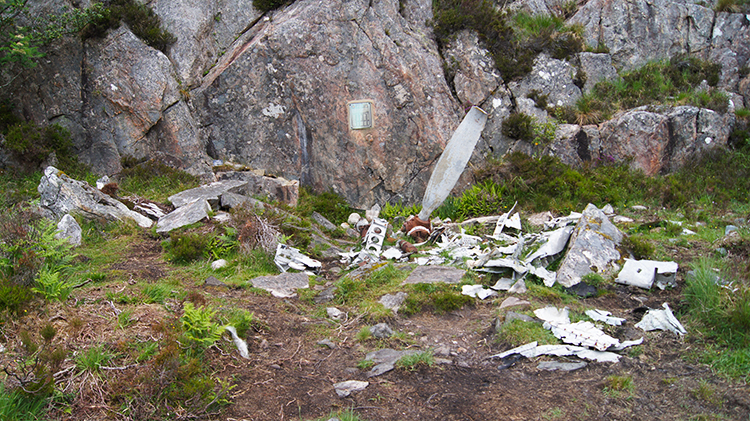 Debris from the USAAF Liberator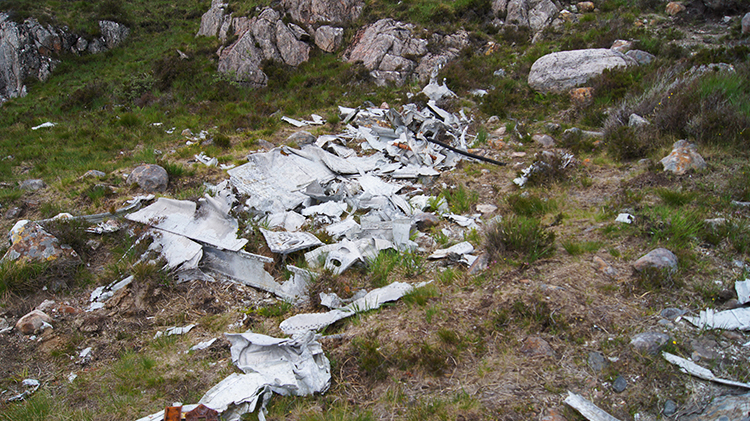 A tragic sight
Lochan Sgeireach is one of the Fairy Lochs which despite their name of enchantment are in fact the setting of a tragedy. Here in 1945 there was an aircrash in which 15 American servicemen serving towards the end of World War Two tragically lost their lives. The nine air crew and six passengers of the ill fated Liberator aircraft all died when the airplane came down in the vicinity of Lochan Sgeireach and exploded into a rock outcrop beside the loch. The wreckage of the Liberator is strewn all over, unmoved since the time it came to its horrible end. The airplane is in pieces over a wide area. The saddest sights for me included a detached wing engine sat on a small island in the middle of the loch, a propeller standing upright protruding from the water and the shattering of the aircrafts wings against a rock wall. A memorial pinned to the outcrop reads " USAAF. In memory of the crew and passengers of A B-24-H-Liberator Bomber Serial No 42-95095, which Became lost while returning the the U.S.A. on June 13th, 1945, and crashed at this place with the loss of all on board". Each crew member and passenger is named. It is a poignant place; I was moved by the scene.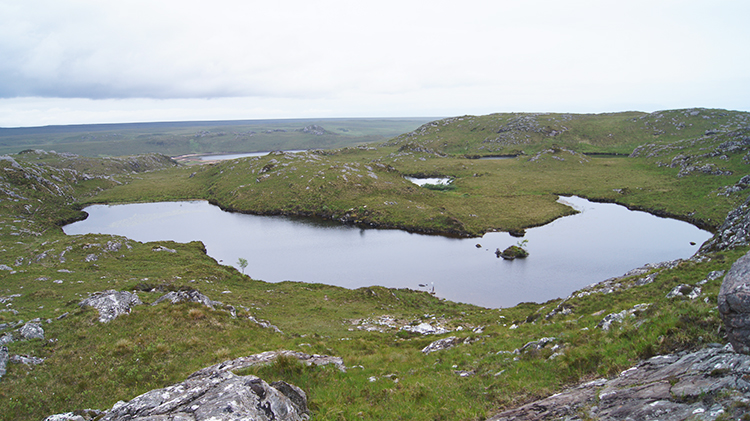 Looking back in respect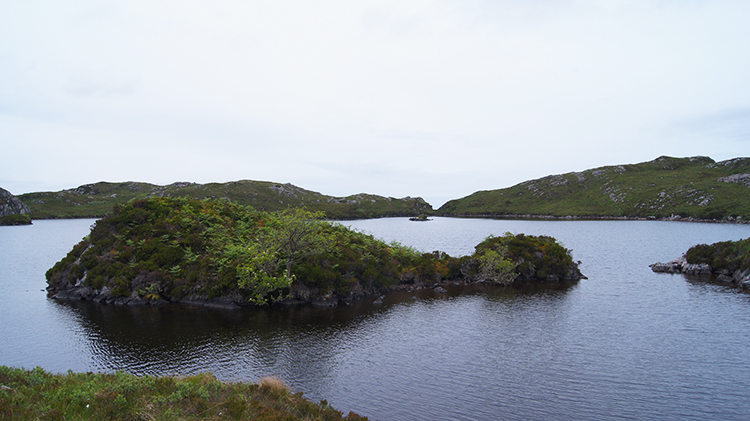 Loch na Glaic-Sieldaig
After paying my respects I made my way across the bank of another of the Fairy Lochs, namely Loch na Glaic-Sieldaig. I worked my way around the loch which was not easy at all with no path around it. I made my own path by sometimes treading close to the lapping shore and sometimes clambering over small hillocks by the loch side, at the same time working out my plan on how to climb the Big Fairy Hill, otherwise known as Sithean Mor. After my successful rounding of Loch na Glaic-Sieldaig there was no route to follow and so I had to forge my own path to the hill. n reaching its base I had to work out my own way to climb the small hill of Lewisian Gneiss. It was a short invigorating and easy scramble to the trig pillar on Sithean Mor which at 225 metres high was my high point of the walk. I was so chuffed when I touched the trig pillar and settled myself on top of the hill.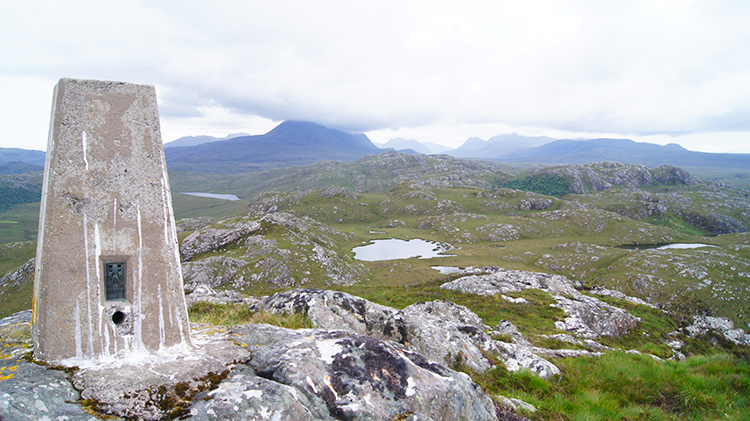 Sìthean Mòr, the Big Fairy Hill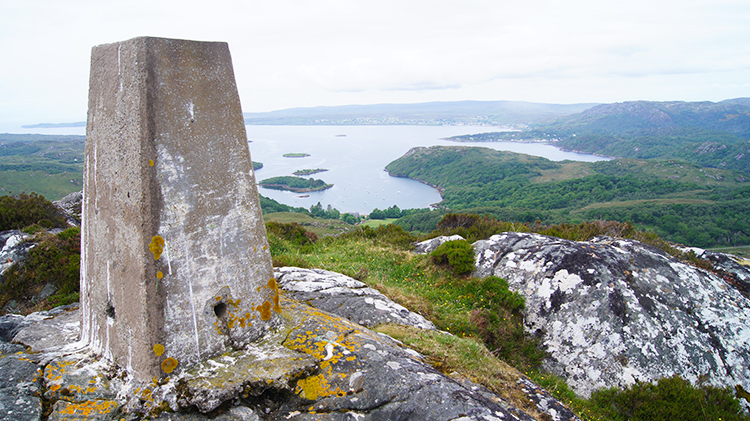 View from Sìthean Mòr to Loch Gairloch
I looked out at the full 360 degree panorama from my viewpoint on top of the Big Fairy Hill. The views to the nearby bays of Loch Gairloch to the north and west and to the mountains of Torridon to the south and east were exceptional. Those mountains are giants, fabled by Munro baggers and mountaineers as amongst the best in all for mountain expeditions in all of Great Britain. They include magnificent Beinn Eighe, intimidating Liathach and also the awesome thrill seekers twin challenge of Beinn Alligin and Sgurr Mor. As I looked across to them from my smaller perch I wondered "Shall I ever?" I hoped so.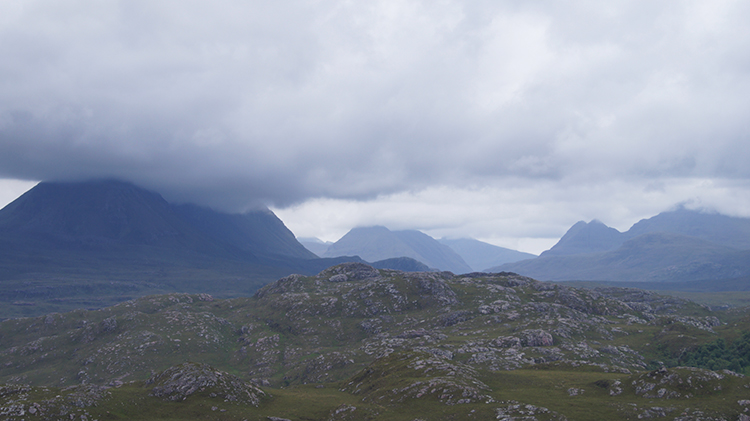 The Torridon Mountains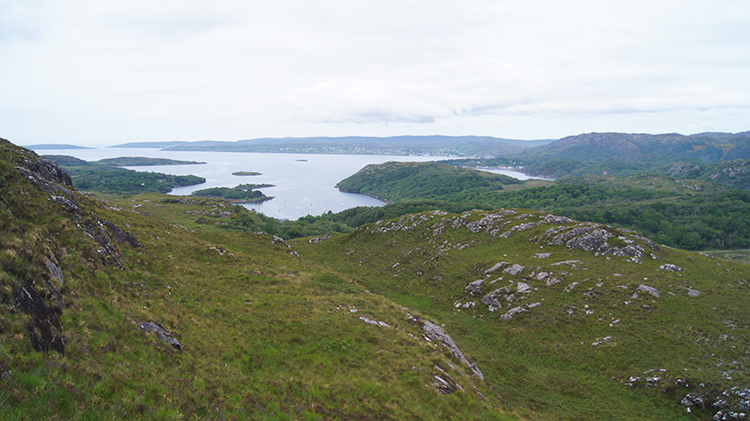 Loch Gairloch
After my fill of the views from Sìthean Mòr I carefully descended the rock dome to reach the trickling waters of Allt na Glaic-Sieldaig which I followed on a north-west course downstream. After a while my unforged route joined the semblance of a footpath which became clearer as I descended further. I worked out I was now following the footpath which had pointed the way to the Fairy Lochs near to the start of my walk. Indeed it was, first I fell below the tree line and soon after I reached the fork of paths where I had been early. A further short walk tracked me back to the car. My walk was done and the memories banked. What lasting memories too, of primeval landscapes and of thoughtful sad tragedy. A lovely and meaningful walk it was. One of adventure and one of respect in a very old land.
Copyright © 2003-2023 Walking Englishman. All rights reserved.