Rochester, Downs, Wouldham Common, Burham Marshes and River Medway
Story by Steven Spall
Google Maps
Open Source Maps
| Statistics | |
| --- | --- |
| Start: Rochester Castle | Distance: 13.9 miles (22.4 km) |
| Grid Ref: TQ 74237 68274 | Time: 6-7 hours |
| Climbing: 271 metres | Rating: Hard |
| GPX Route File | Google Earth File |
Ordnance Survey Explorer Map (1:25,000)
Summary: The walk over the down provides a wonderful contrast of chalk pebble fields and calm woodlands. After Dropping into Burham there is some interesting exploring to be done but be warned that the river bank becomes very tiring to walk as the ground has a bouncy and sponge like character which is able to sap energy out of you. Still this is a very pretty area and provides a lovely days hiking around one of the twee-er parts of the Medway. (For a shorter variation consider walking to the Robin Hood Inn and heading back through Monk Wood).
---
The Walk: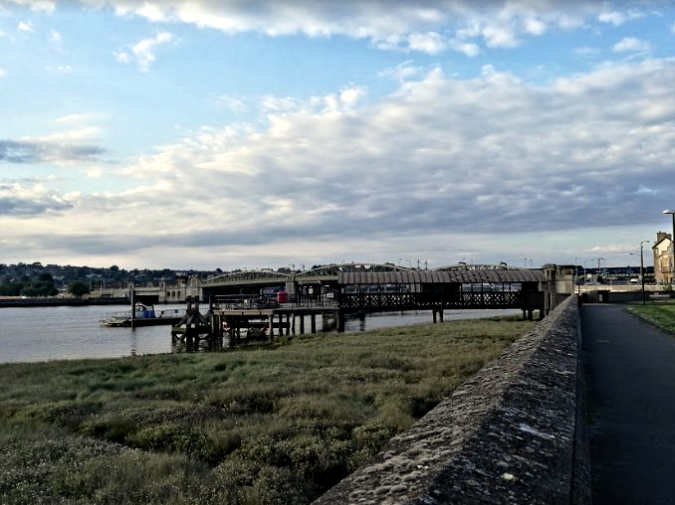 Rochester Pier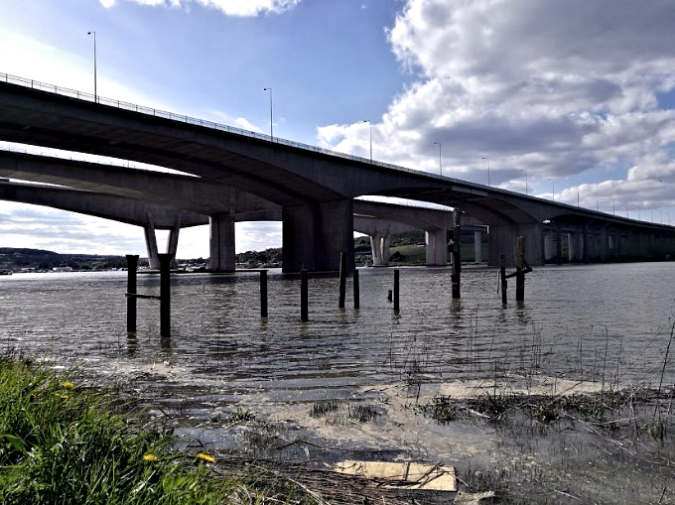 The Brutalist Three Medway Bridges
From Central Rochester we headed down to the river beside the Rochester Pier and along the Esplanade. The 0.03 km (0.0186 mile) pier, or if counting the pontoon then 0.21 km (0.13 mile) pier, is certainly a short pier but makes up for this with some lovely views of the river and castle. Although long gone this route leads past the old Shorts flying boat works and the remains of the slipway are still present and can be seen not long before Baty's Marsh.

Looking across the Nashenden Down
Staying close to the river we headed in front of the Marina but behind the local houses emerging at the impressive Medway Bridges, from here an unmarked trail leads up the side of the bank to Borstal or alternatively the river can be followed along to Wouldham if doing the walk in reverse. Staying between the road and rail bridges a small road leads to a walking route crossing HS 1 after Nashenden Farm and taking you onto the very scenic route over the down.

Crossing Nashenden Down
Following the route the agricultural landscape becomes a tree lined wood which after Robin Hood Inn slowly becomes a road. If followed the trail will lead onto a car park with a pleasant view out to Aylesford. Heading down the woods there are a choice of trails that lead to Burham where after passing the school a small walking path leads to a woodland next to a reservoir. Continuing on this trail past the water works it should now be possible to walk along the edge of the river where some interesting industrial archaeology can be seen on the Wouldham Marshes. At Wouldham the river can be rejoined or alternatively, a path up the hill leads back to the Nashenden Down.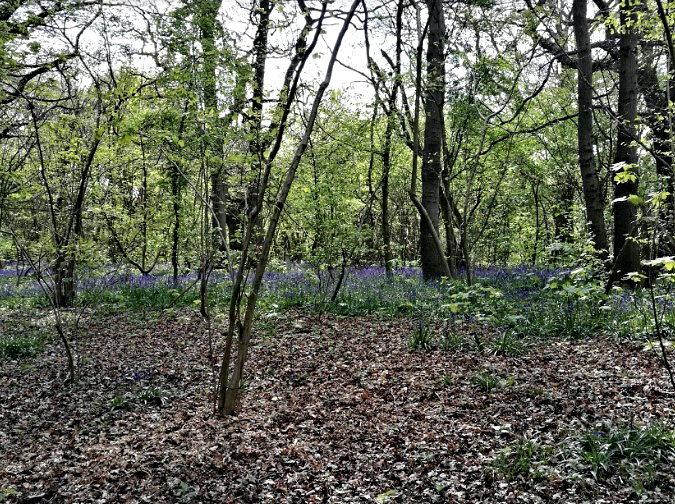 Bluebells in Harris's Copse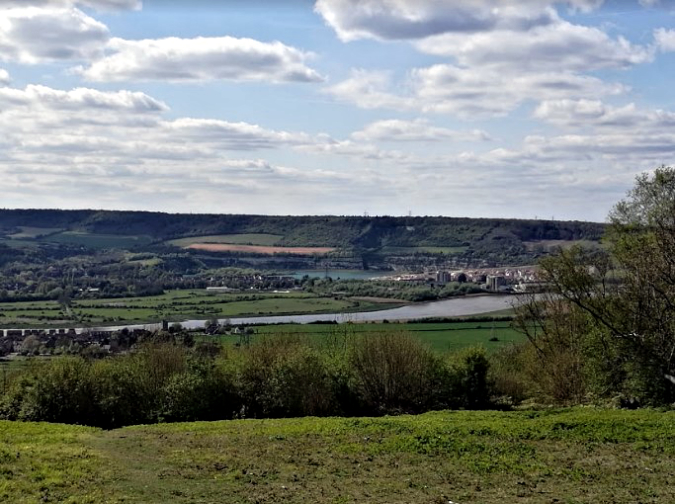 View over the Medway Valley towards Halling
Pictures courtesy of Kate Cash.
Copyright © 2003-2023 Walking Englishman. All rights reserved.