Pontneddfechan Waterfalls Walk
Google Maps
Open Source Maps
| Statistics | |
| --- | --- |
| Start: Pontneddfechan | Distance: 12.0 miles (19.3 km) |
| Grid Ref: SN900076 | Time: 5-8 hours |
| Climbing: 1,300 metres | Rating: Technical |
| GPX Route File | Google Earth File |
Ordnance Survey Explorer Map (1:25,000)
Summary: In my view this is the best waterfalls walk in Great Britain, it being the best one I have walked. Having walked to many of the fabulous waterfalls in Northern England including High Force in Teesdale, the Ingleton waterfalls in the Yorkshire Dales and the best of the Lake District and also some iconic Scotland ones such as Eas a Chual Aluinn, Falls of Glomach and Grey Mare's Tail I can speak with some experience. The reason I rate this waterfalls trail so highly is that there are many on the walk, all in scenic woodland gorges. Add the fact that two can be walked behind then you have a breathtaking walk to enjoy. I certainly did.

(note: the trackfiles show 9.3 miles but the actual trackfile was 15 miles - this is due to gradient and one way tracks down to some waterfalls)
---
The Walk: It was the last day of our late summer 2013 walking trip to South Wales. Having done three of the five walks planned - the 4th being abandoned for a later date due to a rainy day - the successes including the Skirrid, the Black Mountains and the Pen y Fan ascent at the third attempt, I was keen to do this walk on the final day. After three days of climbing above the tree line it was time to spend a day in the woods and along the rivers. I had read about this walk and having done so I was agog with anticipation. The reports were all enthusing with praise for the walk, I would see for myself if all the hype was justified.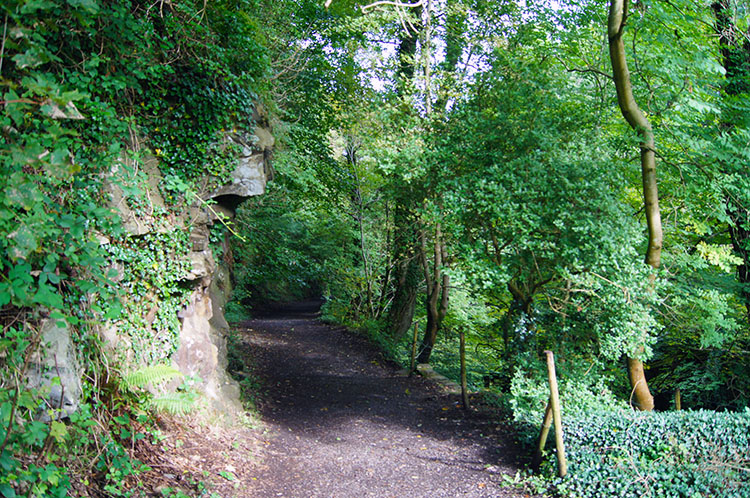 The track to the waterfalls from Pontneddfechan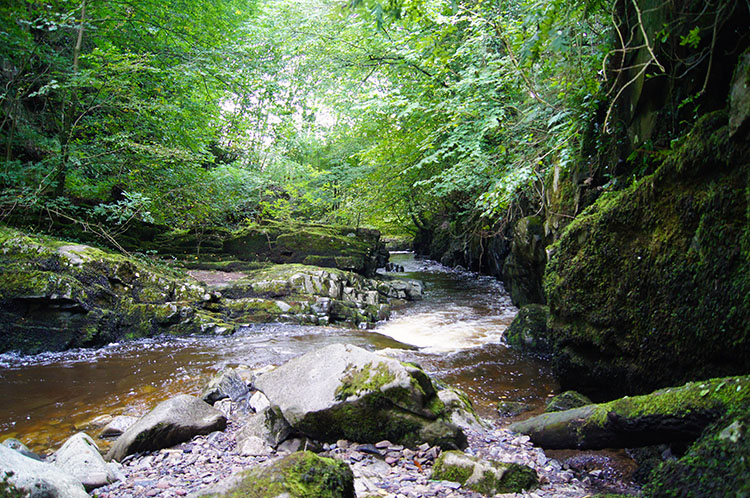 Nedd Fechan
Having enjoyed a lovely drive from Brecon to Pontneddfechan we parked in one of the four car parking spots available besides the odd shaped slate tiled building which said 'Waterfall Country - Bro'r Sgydau'. The building provided the confirmation of being in the right place. Leaving the car we set off through a gate across the road from the Angel pub and followed a good track following the left hand side of Nedd Fechan upstream. Immediately we were in the shroud of glorious woodland. Below us Nedd Fechan rushed on by, no waterfalls to show in Nedd Fechan during the very early stages but plenty of stretches of rapids. We climbed up the easy slope of the valley while enjoying glistens of sunshine piercing through the leaf canopy.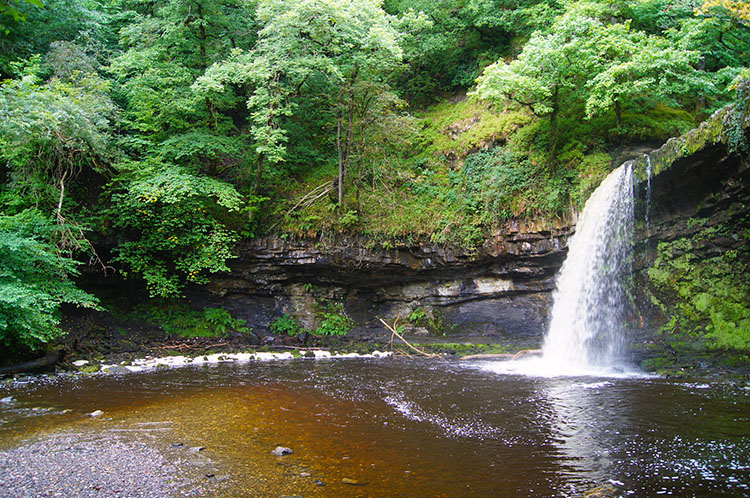 The waterfall I walked behind on Nedd Fechan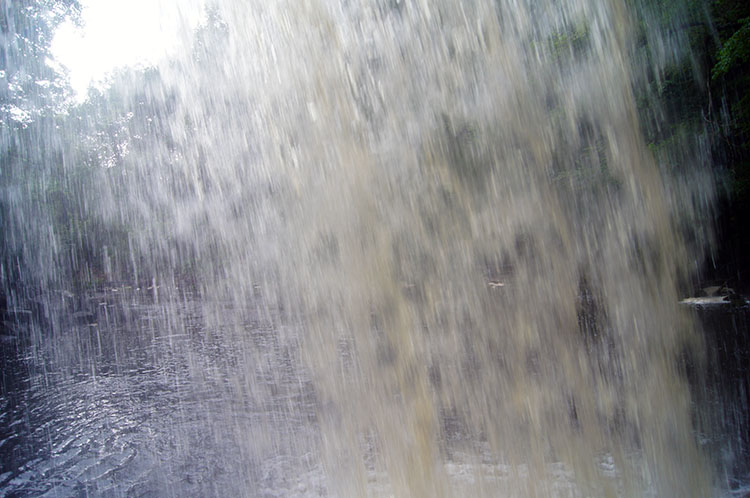 Behind the waterfall
It was not even one mile gone before we reached the first waterfall and what a delightful one it was. Small in relation to those to come but with a drop of about 15 feet which would be a good size for one in the Yorkshire Dales the waterfall had the added drama of a significant overhang which allowed me to walk up close to it and then completely behind. I could even walk, with ease, through the underside of the waterfall to the other side. It was a real thrill to do so. The waterfall sat in a bowl within the river which widened it quite significantly. If hot and bothered this is a place you could take off the boots and paddle.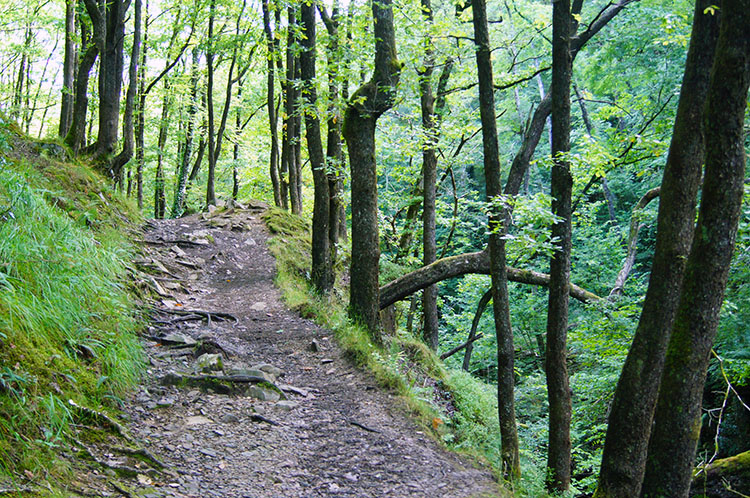 A roller coaster path as it tracks Nedd Fechan upstream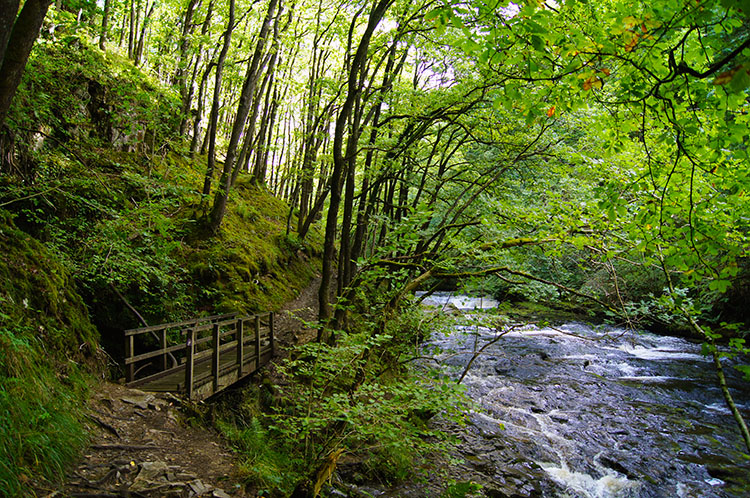 Down by the river once more
After my fun behind the waterfall we continued our walk along the path running beside Nedd Fechan. It was easy walking in some places and tougher in others as we frequently had to haul ourselves up and over tight cliffs, sometimes quickly gaining height of more than 30 metres before descending straight down to the riverside once more. In some places wooden bridges were in places to ease crossing of tributaries descending from the side of the valley into Nedd Fechan. We could see this is a popular walk and as such the paths are good and well maintained. Around 1.7 miles into the walk we took a short detour on the Afon Pyrddin tributary to the Scwd Einion Gam and Sgwd Gwladus waterfalls - map ref: SN 89685 09282 These are two more impressive waterfalls to enjoy before tracking back to Nedd Fechan.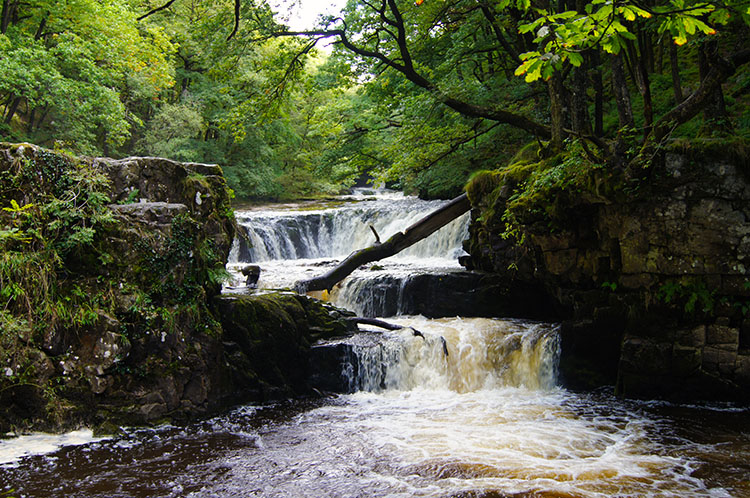 Smaller waterfalls cascading down Nedd Fechan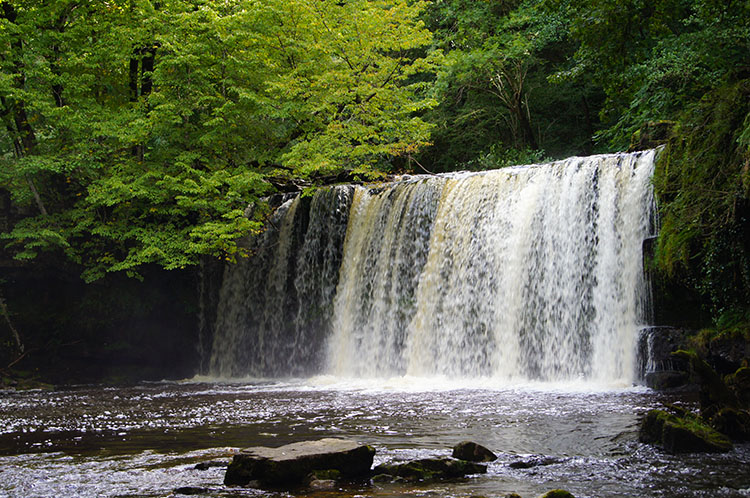 Sgwd Ddwli
Continuing to follow Nedd Fechan northwards and upstream towards its source on the flanks of Fan Gyhirych, Fan Fraith and Fan Nedd we came to yet more waterfalls, this time a series of smaller falls much like the popular series of waterfalls at Ingleton in the Yorkshire Dales. Where I took the photograph above left a much better equipped photographer with several lenses and tripod was encamped on rocks taking a series of photographs of the series of cascades. Soon after the small series of falls we came to a larger waterfall, this one named. We had reached Sgwd Ddwli, though not sure whether it was Sgwd Ddwli Uchaf, the higher gushing falls or Sgwd Ddwli Isaf, the lower gushing falls? There were so many waterfalls on view with so many names. Result - much confusion. Who cares, it was exquisite beauty we were amidst.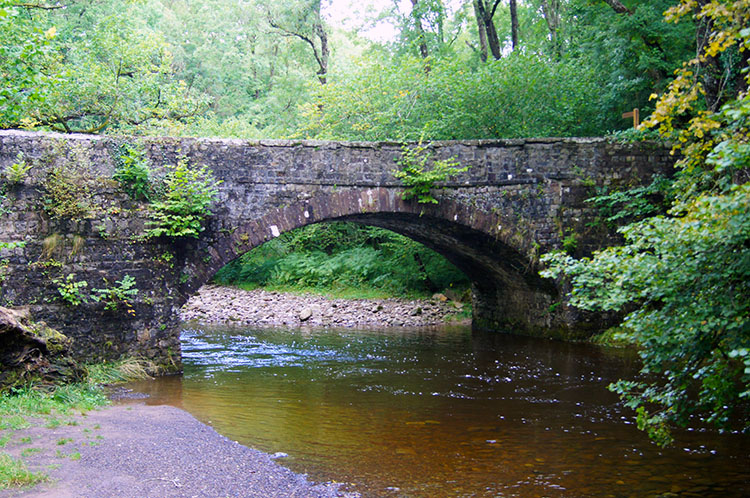 The road bridge at Pont Melin-fach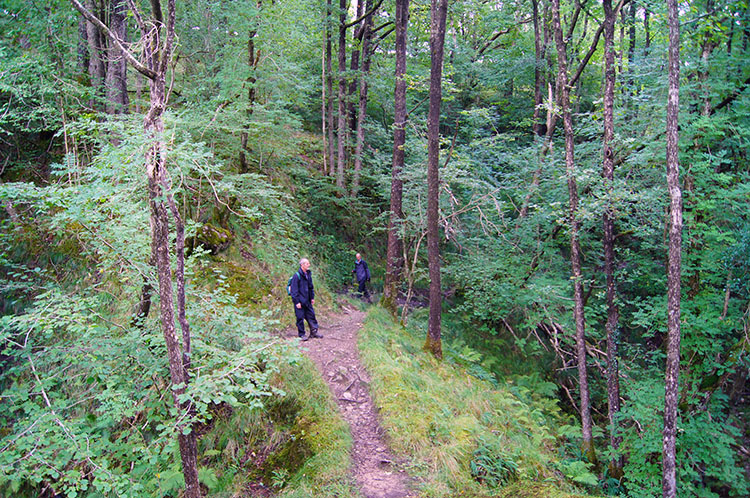 Through woodland towards Pont Rhyd-y-cnau
After about two hours of walking and stopping to watch the wonderful cascades along the walk along Nedd Fechan upstream we came to the clearing at Pont Melin-fach. Here there were a couple of picnic tables on the short grassed clearing in the woodland for walkers and day trippers in cars to enjoy a break in the lovely natural surroundings. We took our first break here - alas the table we choose had one of the wooded seats cut away by some oafs which they had used for a camp fire. What some idiots will do continues to disappoint me. On the other table, thankfully fully intact, someone had left a perfectly good pair of Wellingtons. Once refreshed, we left the Wellingtons to be claimed by others while we continued on from Pont Melin-fach by crossing the road bridge and then continuing to follow the upstream course of Nedd Fechan towards Pont Rhyd-y-cnau.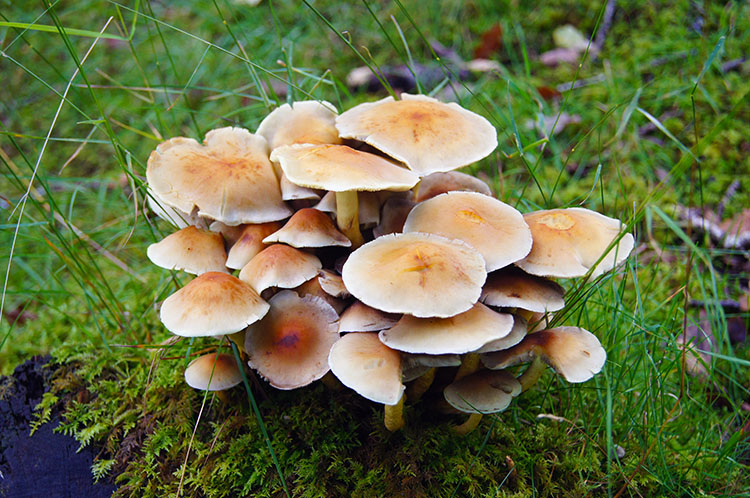 Fungi display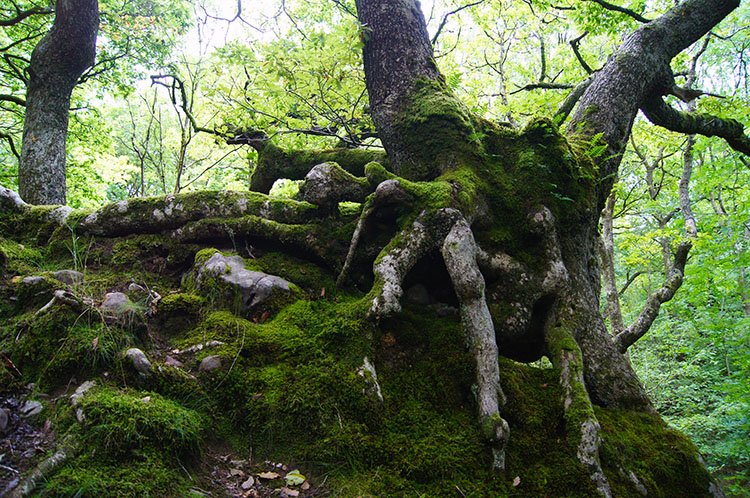 Finally leaving Nedd Fechan up a holloway track
During the mile long walk between Pont Melin-fach and Pont Rhyd-y-cnau there were some more testing ups and downs on the undulating riverside path. Being over 100 metres higher than from where we started at Pontneddfechan the environment had subtly changed. Fungi was now in plenty, grass was more course than the lush cut of lower down the valley and the paths slightly less even and certainly much narrower than before we had reached Pont Melin-fach. Despite the increasing height and more challenging path it was never too difficult to follow. We were away from significant waterfalls on this stretch too. At Pont Rhyd-y-cnau we left the northwards course of Nedd Fechan and followed a holloway track.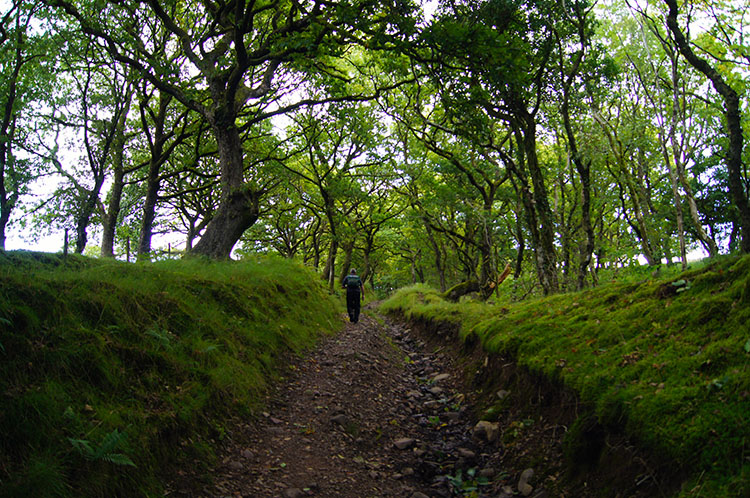 Still clinging on despite holloway erosion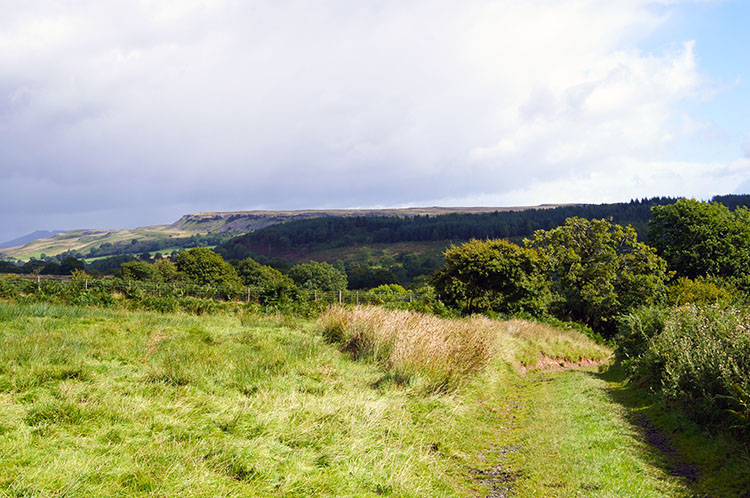 Up in clear air near Gwaun Bryn-bwch
We followed the holloway track due east to reach a metalled road near Gwaun Bryn-bwch. On reaching the road we stood and watched a Red Kite soaring just above us and we continued to do so as it did its graceful spiral upwards to greater height. I find Red Kites to be birds which capture my attention almost every time I see them. Certainly so when close and in flight. On reaching the tarmac we followed the road east for a few yards to a junction from where we crossed to a field gate which pointed the way to Cwm Porth. Before leaving the road though, which was at the highest point of our walk, I looked across to the Brecon Beacon mountains shimmering in the midday sun. The Pen y Fan range which we had walked two days ago was bathed in bright light just as it was when we were on top that day.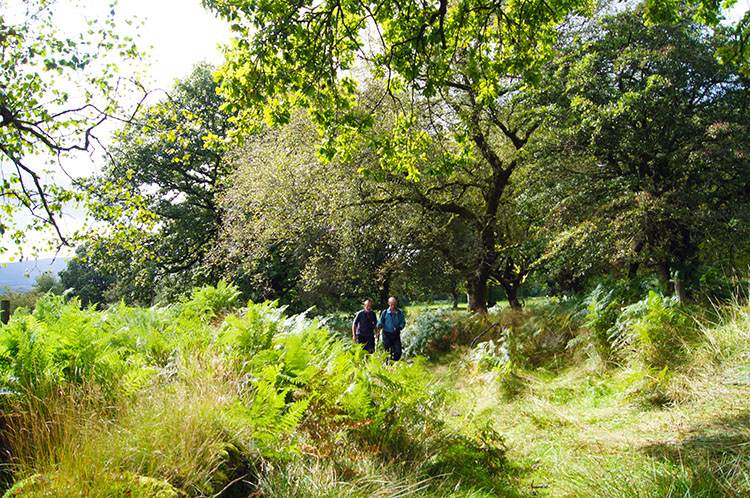 Following the trail down to Cwm Porth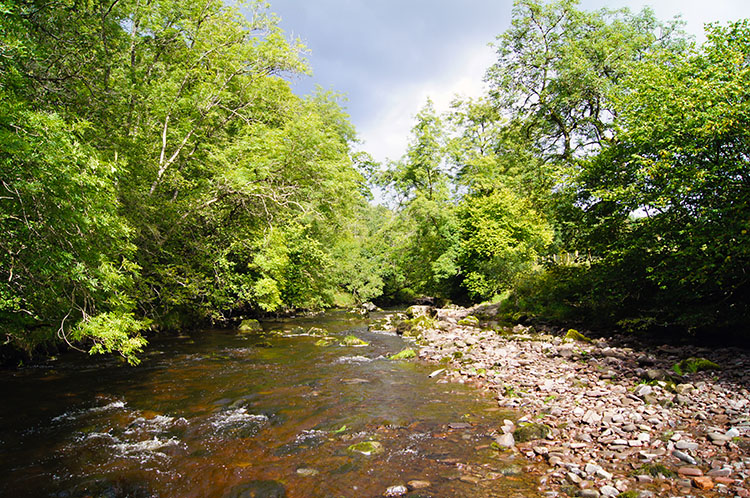 Afon Mellte
Descending to Cwm Porth gave us time to relax after the climb to just short of 300m altitude from our starting level of 75m at Pontneddfechan. The descent was on less used tracks which caused Dave and Steve to question if I was following the right one. Indeed I was but I could understand their reservations because the path was a times very narrow, overgrown and sometimes completely hidden by ferns. It was clear the path is not used too often and therefore this full waterfalls circular not done in full as much as the popular spurs from Pontneddfechan and Cwm Porth. That is a shame as will be revealed as I continue this report. If you make the effort to come to this area to see the waterfalls I do recommend you do the lot.
Afon Mellte before cascading over Sgwd Isaf Clun-gwyn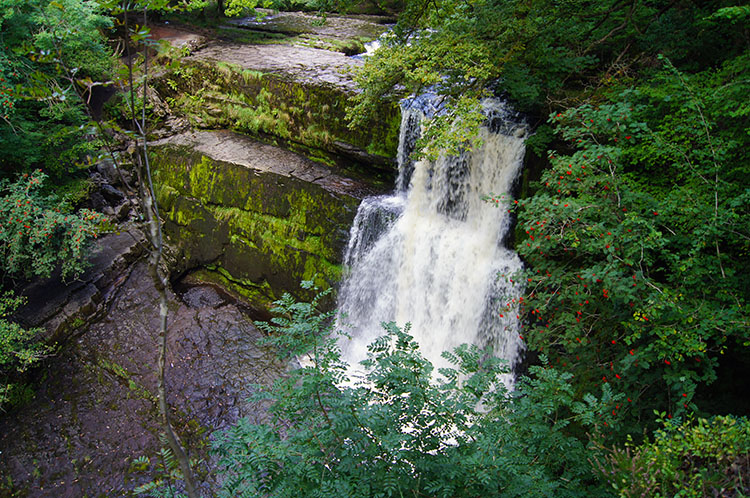 Sgwd Isaf Clun-gwyn
At Cwm Porth we reached Afon Mellte which courses downstream from source where Afon Llia and Afon Dringarth meet at Pont ar Llia/ Pont y Felin to its termination at Pontneddfechan where it joins with Nedd Fechan to become the River Neath. The walk upstream of Nedd Fechan had been amazing, the walk of Afon Mellte downstream to the tributary of Sgwd yr Eira was to be an even more incredible experience. It started gently with a lovely even ground walk beside the east side of the river from Cwm Porth to just before Sgwd Isaf Clun-gwyn. Then almost abruptly the peace was shattered by roaring noise.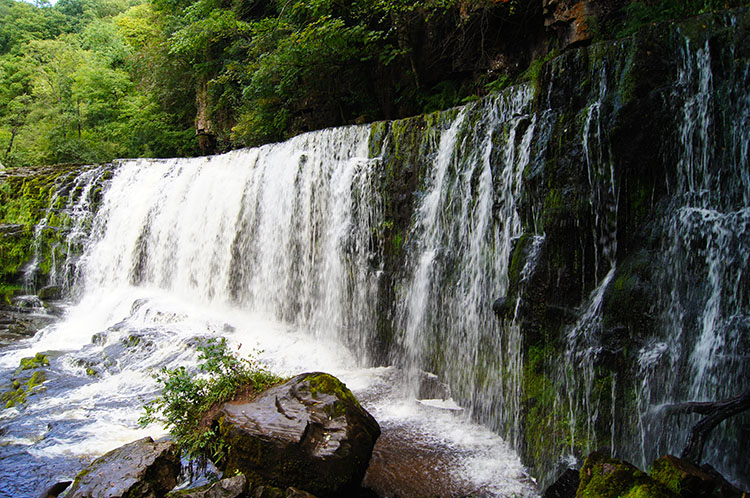 Down besides Sgwd Isaf Clun-gwyn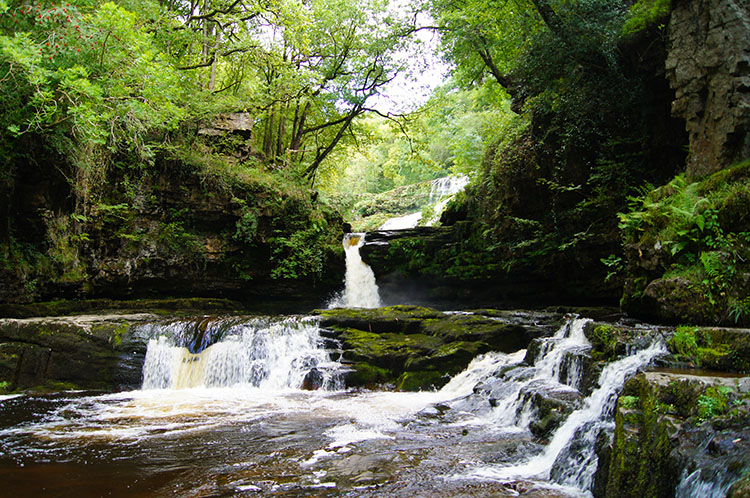 Water cascades below Sgwd Isaf Clun-gwyn
Sgwd Isaf Clun-gwyn stopped me in my tracks. I had walked on from Cwm Porth while Dave and Steve stopped for a break so I was alone when I reached the waterfall. I was glad in a way for this magnificent and powerful waterfall took hold of my attention and left me gaping with feet stuck to the ground. There was no way I was walking away from Sgwd Isaf Clun-gwyn in a hurry. I stood on a cliff above the waterfall for ages and looked down on the roaring Afon Mellte below. While looking down I saw Dave and Steve arrive on the other bank of the river at a level with the base of the waterfall. Steve stepped carefully across the dry side ledge to get a closer look and a photograph while Dave took a vantage point even lower. I had to get below the waterfall too so found a way down on my east side of the river to stand on a rock in the water right beside the waterfall. The rock in question is the one in the foreground of the top left photograph, the rock with a tree sapling attempting growth in the most dramatic place. I stood for ages once more, taking in all the power of one of the best and most symmetrical waterfalls I have ever had the pleasure of being really close up to. It was a magic moment, the second real magic one after the thrill of walking behind the smaller waterfall on Nedd Fechan earlier.

Eventually I had to drag myself away and it was with a deep pang of regret. I had been smitten with Sgwd Isaf Clun-gwyn and will forever hold that special memory when I was stood on the rock looking at the waterfall close up and around. Just beyond there were smaller waterfalls and again I stood for quite a while looking at them. These smaller cascades, like those on Nedd Fechan and again likened to the Ingleton Waterfalls were very pretty indeed. I hoped for Dave and Steve to catch up as I had beckoned them back to a footbridge before Sgwd Isaf Clun-gwyn. A good while I waited but no sign - they could have passed on the paths higher up or tracked back - Knowing they to be resourceful in finding their own way I continued on.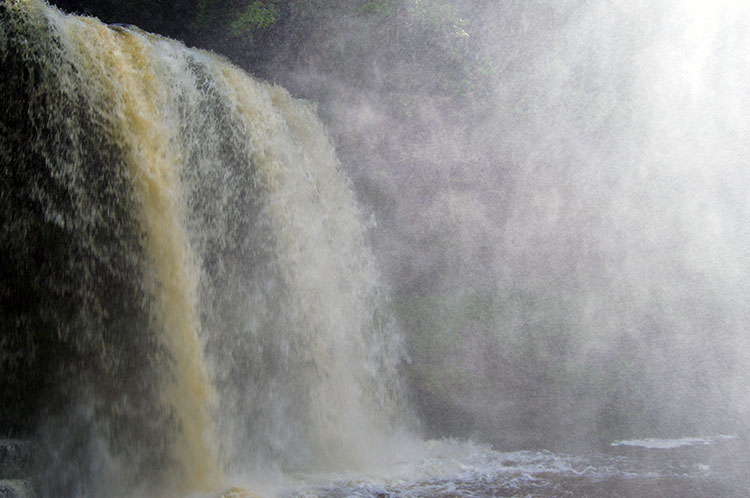 Sgwd yr Eira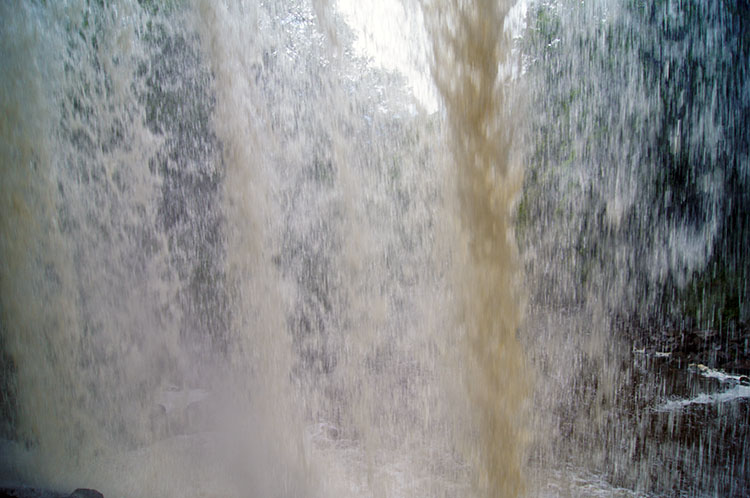 Looking out from behind Sgwd yr Eira
The magical walk along Afon Mellte ended soon after Sgwd Isaf Clun-gwyn and it was followed by a hard climb up the path to the tributary of Afon Mellte where the fabled waterfall of Sgwd yr Eira was waiting. After the climb came a steep descent down what I roughly counted to be over 200 steps to the base of Sgwd yr Eira. I was glad I was going down and not up. Then it happened. WOW, MAGIC. Those were my first thoughts on seeing Sgwd yr Eira, it cascading down from a rock plateau above into a natural shaped amphitheater. The path ahead from the steps took me towards the waterfall along the north bank of the watercourse. When I say path, that is not an accurate description. The walk on the north side of the river was on rocks scattered in the water. Do this and you will have wet boots for sure. On I had to go though because my path was across the waterfall to the other bank, a dry but mist soaked path underneath the torrent of water falling. I had trepidation at first but as I drew closer to the waterfall I could see a good path behind the waterfall. Part of the path was even cut and grooved in to assist walkers making the journey under the waterfall to the other side. It was magical - imagine a smaller version of Hawkeye's waterfall experience in the film adaptation of 'Last of the Mohicans' which starred Daniel Day Lewis and Madeline Stowe.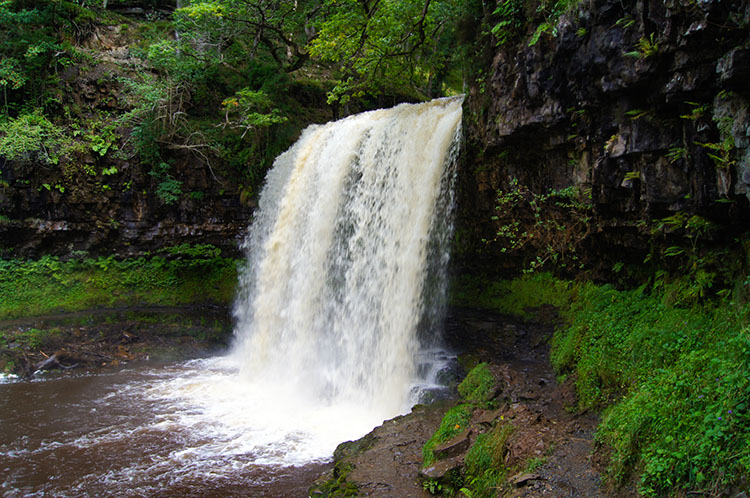 Looking back to the path behind Sgwd yr Eira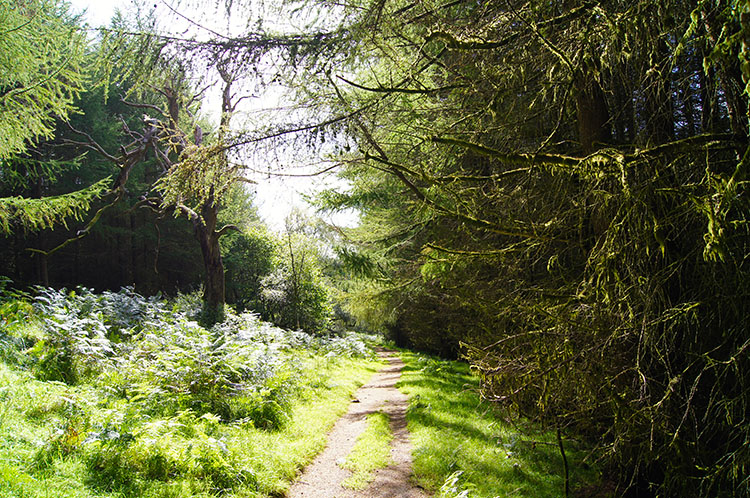 The woodland walk through Cilhepste-fach
Once I had walked under the cascade of Sgwd yr Eira I just had to do it again. So I went back. Then I returned to my exit point and went back again. Three times I made the there and back journey under Sgwd yr Eira. I admit it, I was acting like a big kid and thoroughly enjoying doing so. I could have played all day. Sgwd yr Eira proved to be the last waterfall of the walk but what a finale. WOW, MAGIC - I just have to exclaim again. It was a poignant farewell I made to Sgwd yr Eira and after a final glance I turned to climb the steep south bank which took me up to a good path leading through a pine plantation. After just over a mile of walking through the plantation of imported evergreen it ceded to native deciduous, a much more satisfying woodland to walk through. Eventually I came to a steep rocky descent to Craig y Ddinas which had rails fixed into the ground as hand grips to aid walkers in slippery conditions. For me it was dry so no hands needed but it I still needed to be careful for about 100 metres of the drop down to Craig y Ddinas.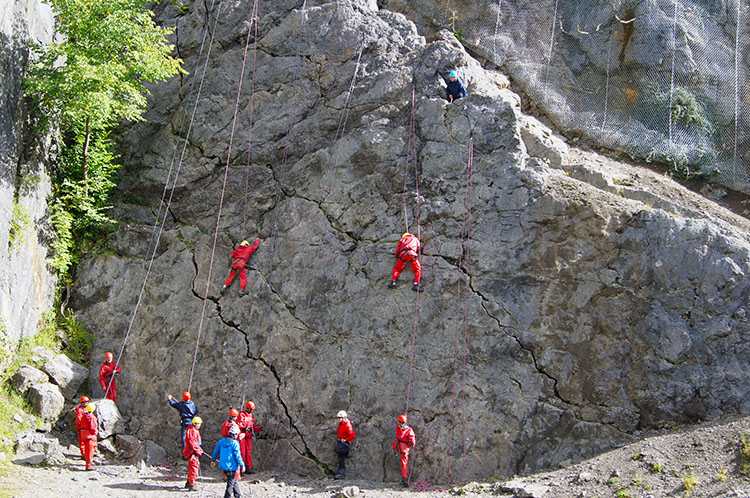 Trainee rock climbers at Craig y Ddinas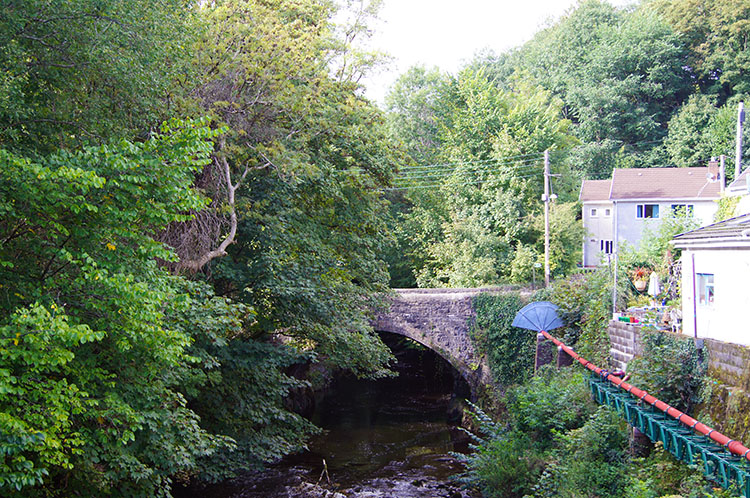 Back into Pontneddfechan
At Craig y Ddinas I watched what I imagined to be trainee rock climbers testing their abilities on the rock face. All were roped for safety. Soon I moved on to the finish though which took me along a village road alongside houses and sometimes with reacquainted views of Afon Mellte before it terminated into the River Neath at the point where we had started out from. I arrived back at the start just fifteen minutes before Dave and Steve arrived. They had made good time.

A brilliant unforgettable walk was over. I have no reservations in saying this walk is the best waterfalls walk I have ever done. The sheer number of waterfalls, a good few of them powerful torrential giants and many more gentle cascading falls resulted in tremendous variety. To say that some waterfall walks are rated as exceptional such as the Teesdale High & Low Force walk, the Falls of Glomach in northern Scotland, the Grey Mare's Tail in the Scottish Southern Uplands and the Ingleton Waterfalls walk I have referred to, and which costs money to follow are great walks is the correct point to make. However, this walk, less well known to most because of its location trumps them all. In my opinion this walk is Britain's greatest waterfalls walk. Easily.
Copyright © 2003-2023 Walking Englishman. All rights reserved.