Wales Coast to Coast
Stage Fifteen: Talybont-on-Usk to Crickhowell
Google Maps
Open Source Maps
| Statistics | |
| --- | --- |
| Start: Talybont-on-Usk | Distance: 12.5 miles (20.1 km) |
| Grid Ref: SO 11343 22686 | Time: 5-6 hours |
| Climbing: 600 meters | Rating: Hard |
| GPX Route File | Google Earth File |
Ordnance Survey Explorer Map (1:25,000)
Summary: After yesterday's unceasing rainfall the evening in Brecon saw the rain become much heavier and verging on torrential. The roads resembled rivers. Today is the last one of my Welsh Coast to Coast which I will walk in the company of Strolling Steve and I hope it's much better weather for us to enjoy. Signs are good, the forecast is an improving one though as I write it is still overcast and damp in Brecon. Today's course takes us along the Brecon Monmouthshire Canal towing path to Llangynidr where we will follow the Usk Valley Walk and tracks to Craig y Cillau Nature Reserve which should give us excellent lofty views of the surrounding countryside. Then we finish the stage by descending to Crickhowell via Llangattock.
---
The Walk: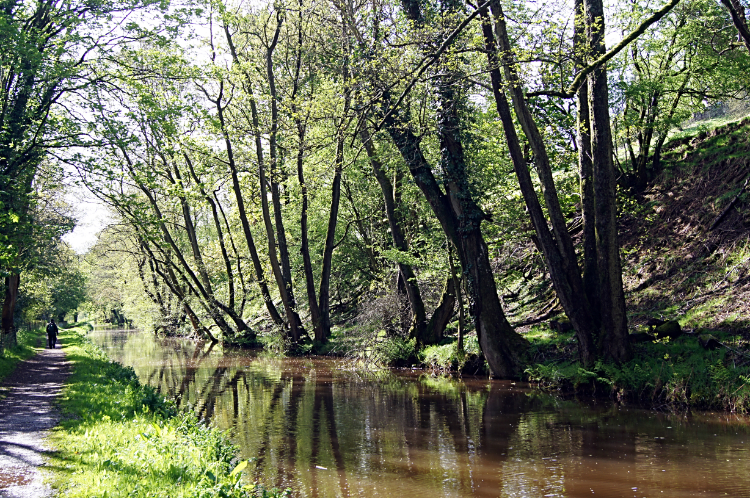 Monmouthshire Brecon Canal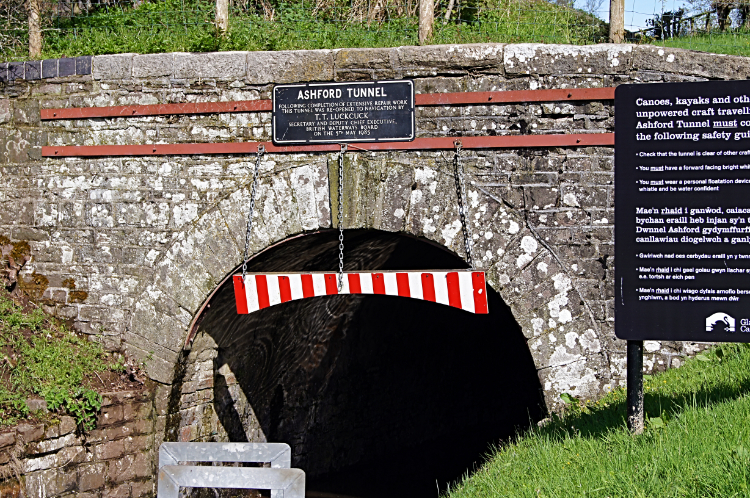 Ashford Tunnel
Today's walk from Talybont-on-Usk to Crickhowell was a cracker. Strolling Steve and I started out in the most welcome of sunshine by following the Monmouthshire Brecon Canal south and then east for four miles to Llangynidr. Sunshine again, the first sunny morning since I had sight of Cadair Idris over a week ago was such a relief. During the pleasant and easy towing path section of the walk we actually left the towpath for 343 meters to walk over the top of Ashford Tunnel, the longest tunnel on the navigable section of the canal.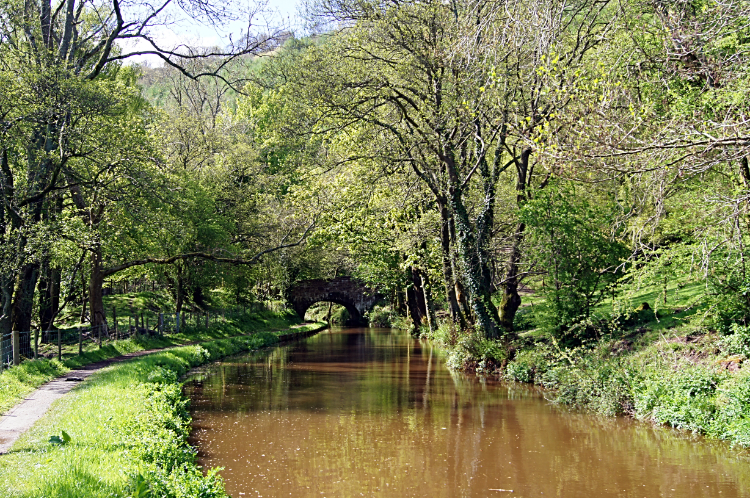 A lovely day for a walk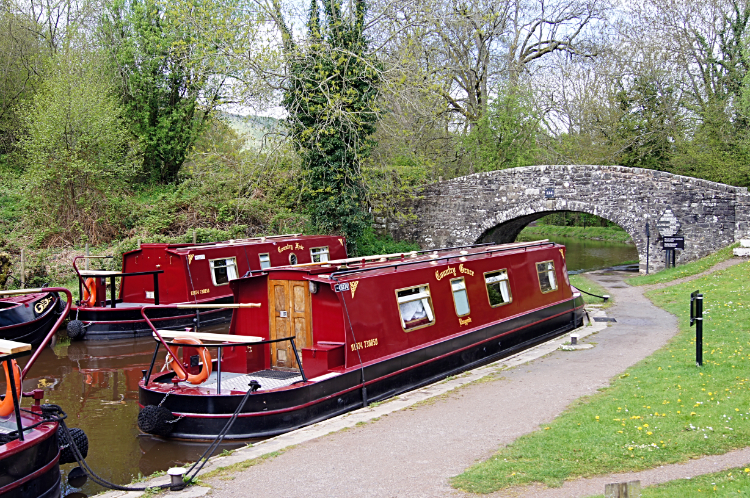 Near Llangynidr Locks
When back on the towpath we saw quite a few narrow boats cruising on the canal and a few more narrow boats negotiating their way through locks. We even stopped to help some of the navigators negotiate the locks. Steve was practicing anyway. A narrowboat ownership of his own was in pending. Continuing on our merry way in the warm sunshine we met boaters and strollers. Everybody we met was pleasant. All smiling. It is amazing how warm sunshine cheers us all up. Especially after the week of cloud and rain now behind us. Apart from the human encounters we also enjoyed listening to a chorus of birdsong along the way and we sighted many. Sparrows, Blackbirds, Blue Tits, Chaffinches and even a Tree Creeper doing exactly what its name implies.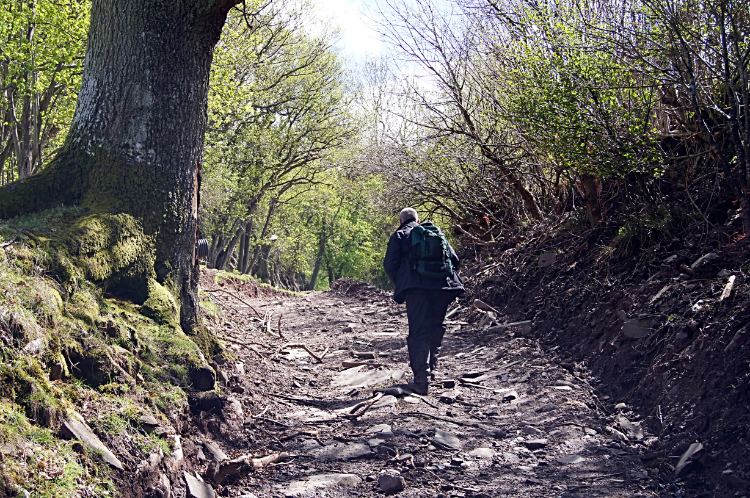 Climbing the lane from Rhiwgarn Farm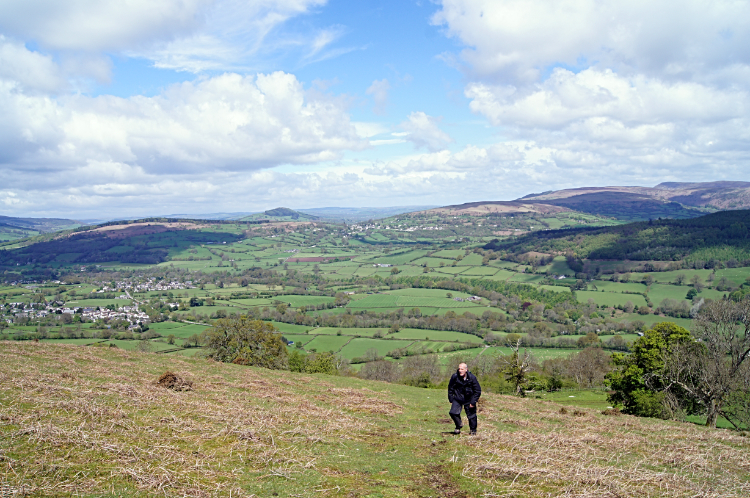 Back on the Brecon Beacons
After reaching Llangynidr we headed south, away from the canal, up through the village and up into the hills by way of the farm track leading to and then beyond Llwyncelyn Farm. It was very funny when a Ewe and her lamb nudged up to Steve when he was passing them. It was even funnier when they followed him up the lane for the next 100 meters. Very funny. Our course took us up a 300 meter plus climb via the Llwyncelyn Farm track to Pen-y-lan-fawr and then to Lan-fawr. Then afterwards we reached the end of the lane and walked on lush short grass, ideal for walking, by the roadside to Blaen Onneu before climbing to a cairn at just over 500 meters elevation on Twyn Pen-rhiw.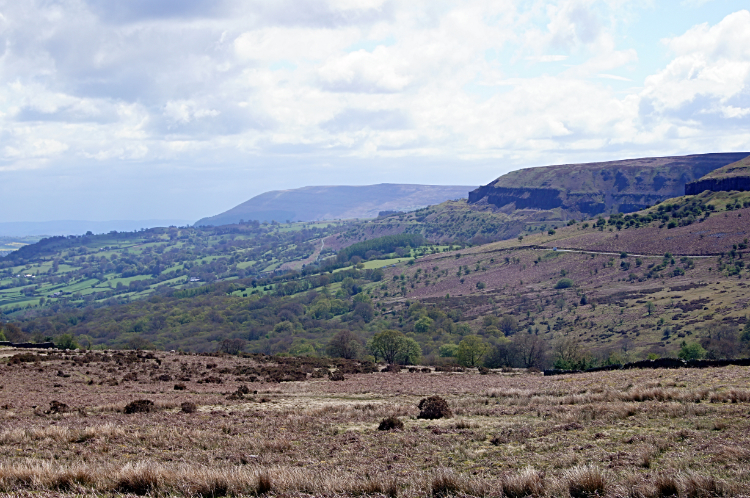 View to Craig y Cilau and Blorenge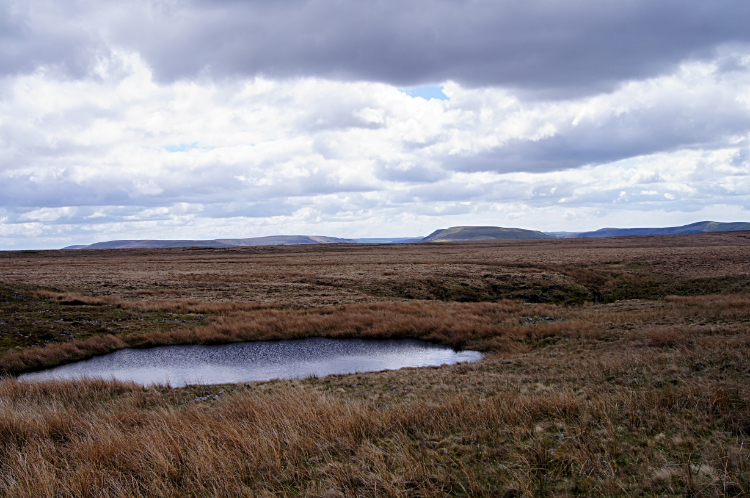 The desolate expanse of Mynydd Llangatwg
At our new height and while strolling across the desolation of Mynydd Llangatwg the views of the surrounding countryside were stunning. I first focused due east to the impressive near symmetrical slopes of Sugar Loaf and to the mass of Blorenge, both of which I climb tomorrow. Looking back to the west we could just see Pen Y Fan and the patches of fresh snow from yesterday. Definitely glad we did not endure in the storms up there yesterday.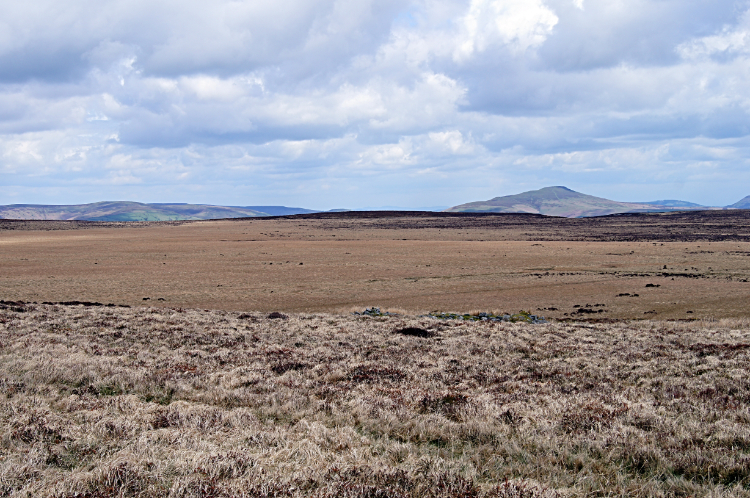 View across Mynydd Llangatwg to Sugar Loaf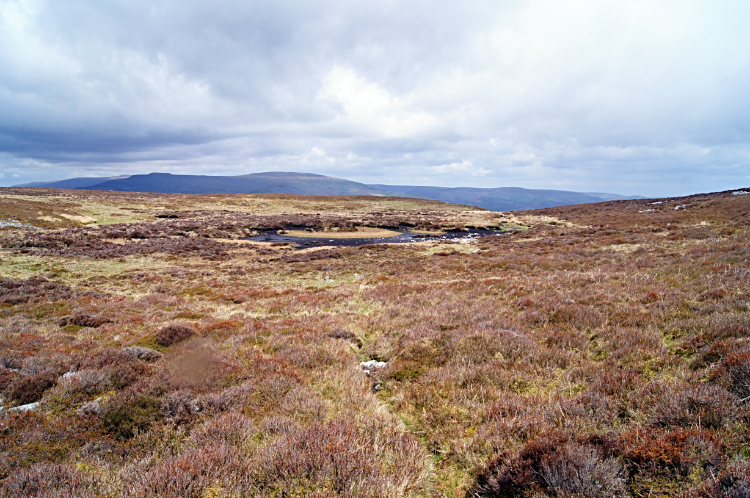 Pwll Gwy-roch
By turning ninety degrees clockwise and looking north we could see the remarkable sloped table top of Crug-Hywel Fort near Crickhowell which forms a south facing bastion of Pen Cerrig-calch. We could also see Crug Mawr, the most southerly Black Mountain and further north to more snow covered Black Mountains. From the cairn we had a bit of a struggle crossing the waterlogged soggy spongy ground of Mynydd Llangatwg to Craig y Cillau, a fantastic cliff on the north side of Twr Pen-cyrn. Then OUCH. I tripped over on the way to the small tarn of Pwll Gwy-roch and on doing so I screamed in pain. For about six months I had been suffering with a rotator cuff injury. With it the climb over Tryfan and the Glyders had been tough but so long as I did not yank it I could cope. But with this fall I smacked the bad shoulder on the ground and the bang reverberated in my shoulder causing excruciating pain. All I could do was take it and suffer until the pain calmed down. It took a good minute or two to do so. Steve continued walking away while I shouted expletives. Having suffered the same injury a couple of years ago he knew exactly what I was going thorough.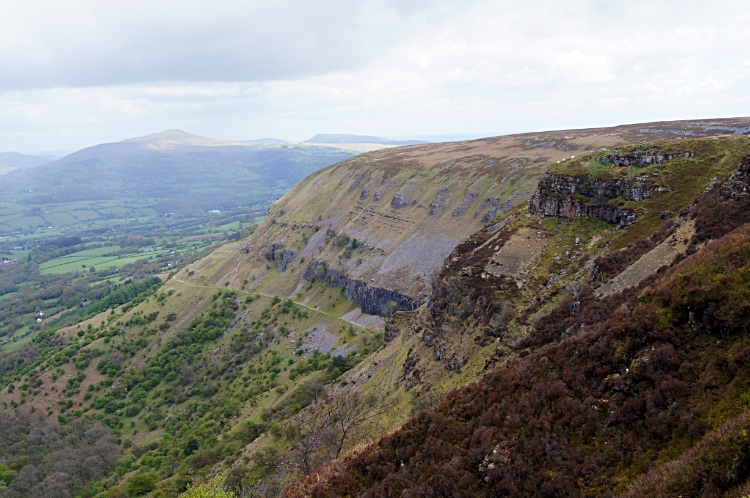 Craig y Cilau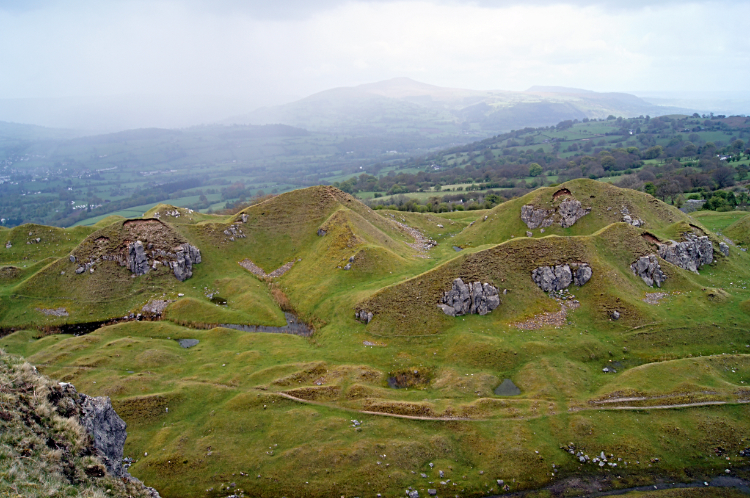 Disused quarries at Darren Cilau
The pain went. Thankfully. As we walked around Craig y Cillau and looking down on the cliffs we also watched a few heavy rainstorms chasing their way from west to east down the Usk valley. Luckily the rain missed us up high on the tops. We were having a dry day. Still, watching the storms race down the valley from Brecon and past Crickhowell towards Abergavenny was quite a sight. I have seen plenty from a distance when at height during my walks and will always stand and watch for some time. Unless they are heading straight for me of course. Then it is a case of scramble for shelter.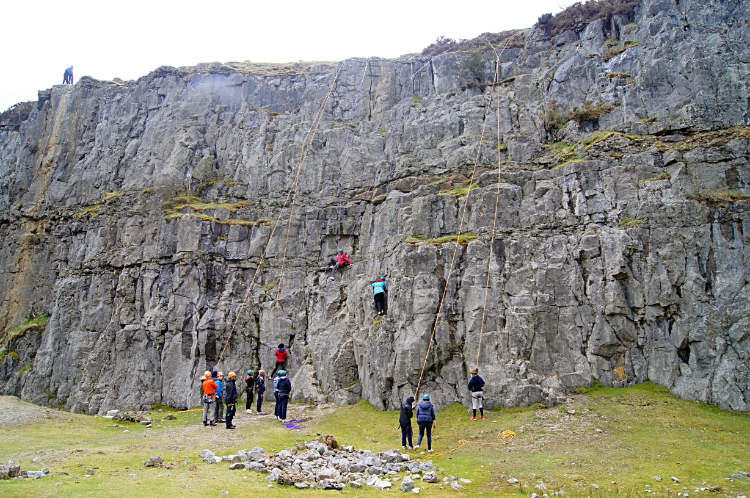 Learning climbing skills at Darren Cilau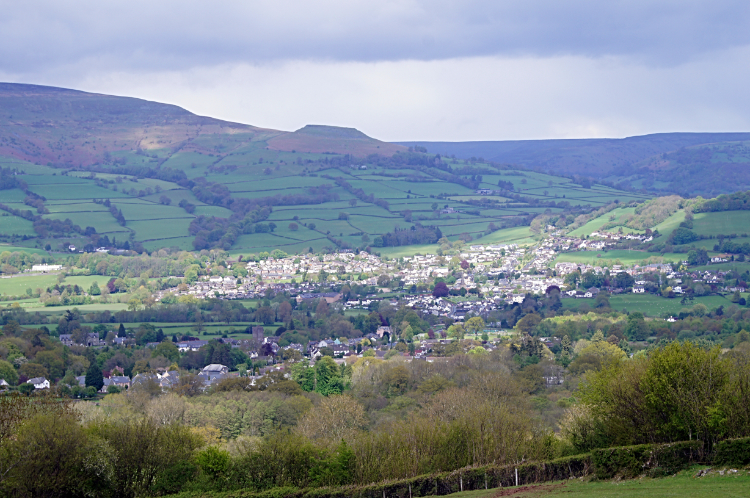 View from Darren Cilau to Crickhowell
After skirting around the cliff tops from west to east Steve and I came off the top plateau of Mynydd Llangatwg and descended to Darren Cilau where we stopped to be entertained by about thirty youngsters trying out new and somewhat impressive rock climbing skills. Another draw to our eyes here was the startling geology of Darren Cilau itself. As well as the cliffs there were some unusually shapes small knolls, some resembling giant ant hills.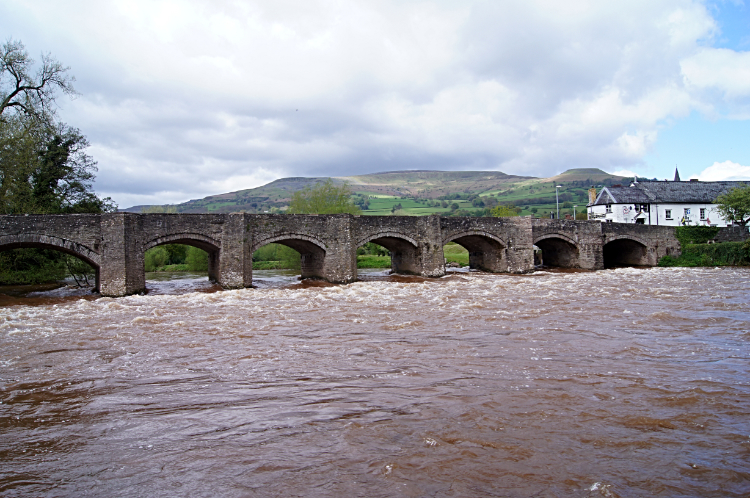 River Usk flowing under Crickhowell Bridge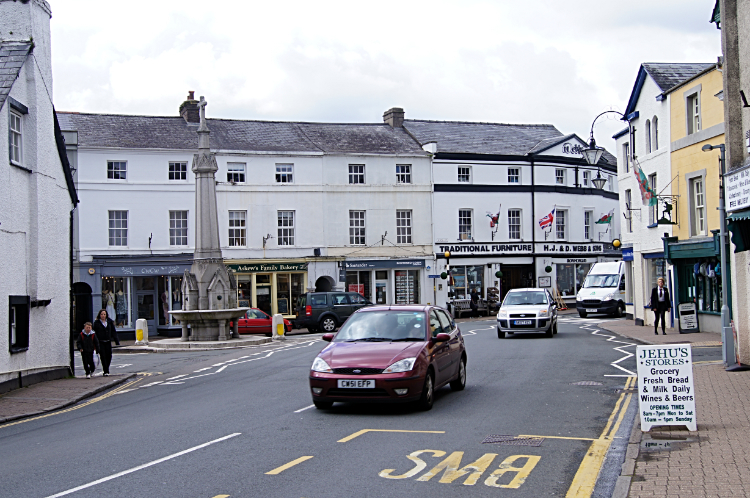 Crickhowell
With our entertainment break over we left the mountains by descending by tracks past Tir Phillip Evan and Llwmws Farm to Llangattock. Then it was a short mile to Crickhowell with a break to watch the noisy River Usk rushing under Crickhowell Bridge. The muddy brown floodwaters from the Brecon Beacons and Black Mountains, most of which fell in the last 24 hours, were careering to the sea. Then we reached Crickhowell and I bid farewell to my great walking mate Strolling Steve. Our three days passed too quickly as the always do. And now I have only three more days to go. This Wales Coast to Coast adventure will be over all too soon.
Copyright © 2003-2023 Walking Englishman. All rights reserved.