The Great British Walk
A personal record of my three month walk of the full length of Great Britain from north to south with written journal and photographs. Tracklogs for GPS units and for use with Google Earth are available for download for each stage.
---
Stage 57: Winchcombe to Birdlip
Google Maps
Open Source Maps
| Statistics | |
| --- | --- |
| Start: Winchcombe | Finish: Birdlip |
| Distance: 21.8 miles (35.1 km) | Time: 10-11 hours |
| Climbing: 1,181 metres | Total Distance: 789.3 miles |
| GPX Route File | Google Earth File |
Ordnance Survey Explorer Map (1:25,000)
Summary
My second day on the Cotswold Way was a very long day on the trail and the first time I covered over 20 miles of the Great British Walk since hiking through Southern Scotland during stage 33, almost four weeks earlier. The 21.8 miles took me from Winchcombe to Birdlip via Belas Knap Long Barrow, Cleeve Common and Cleeve Hill, Dowdeswell, Lineover Wood, Ravensgate Hill, Wistley Hill, Seven Springs, Hartley Hill, Leckhampton Hill, Crickley Hill, The Air Balloon and Birdlip Hill.
(Note: My walk of the Cotswold Way was a part of my
Great British Walk
from the north coast of Scotland to the south coast of England)
---
Stage Report
After a lovely night in Winchcombe I was in much brighter spirits than the weather which greeted me in the morning. It was overcast and not what I had expected. Nevertheless after a delicious hearty breakfast at my wonderful accommodation at Blair House I bid my hosts a fond farewell and set off on my long walk to Birdlip. Thank you Sarah and Ian, I so much enjoyed my stay in your lovely home.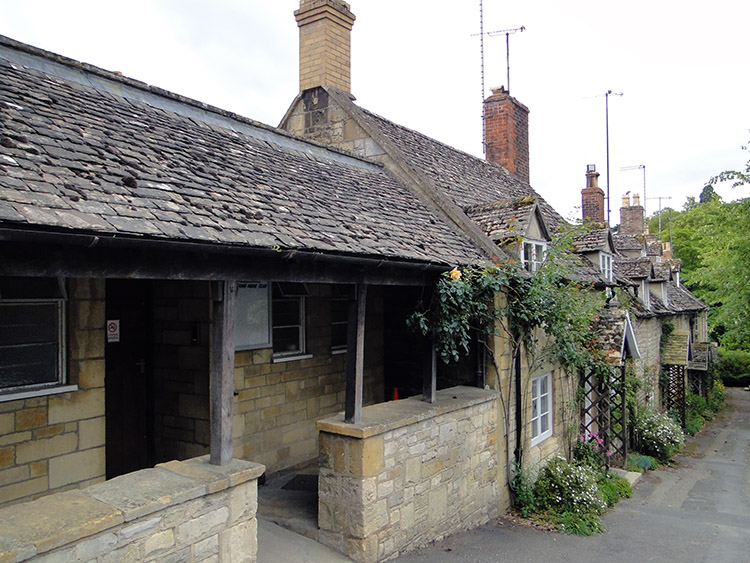 Vineyard Street, Winchcombe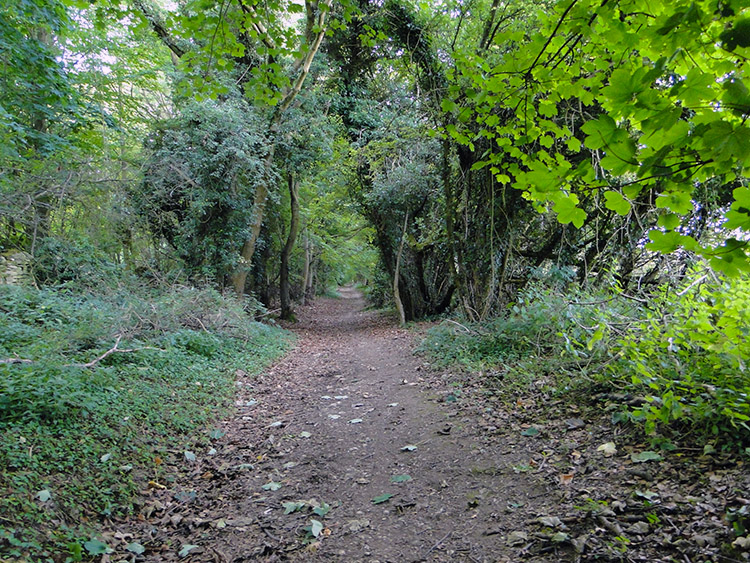 Country lane near Belas Knap
My walk from Blair House led me along Winchcombe High Street and past the Plaisterers Arms where I had dinner and a few drinks the night before. I recalled talking with a visitor to the area in the pub who showed great interest in my walk. It had been a very pleasant evening in the Plaisterers. After passing the pub I turned left to follow the Cotswold Way down Vineyard Street which was feted with stunning 18th century cottages on either side. It was a wonderful walk along the street which led to the entrance to Sudeley Castle which is the burial place of Queen Catherine Parr, the sixth wife of King Henry VIII. Having a long way to go I did not visit the castle, instead continuing on along the road which narrowed into a country lane. I left it near a wood to follow the Cotswold Way across fields to Wadfield Farm.

When one field short of Wadfield farm my first climb of the day began. It led me up 200 metres in one of the irritating dog leg detours of ground which would become familiar to me on the Cotswold Way. The path could have led me in a straight line along the edge of a field and wood for 300 metres instead of the 1.4 kilometer meander that followed. Still the green country lanes were nice to walk along and I suppose they did lessen the angle of the climb. Once the dog leg was done a straight stretch of walking along yet another woodside led me to Belas Knap Long Barrow. The ancient site is a neolithic chambered long barrow in which around 50 people were buried. Barrows are graveyards of an ancient time. Invariably when I visit them it is on an upland walk, in a beautiful place. As Belas Knap was.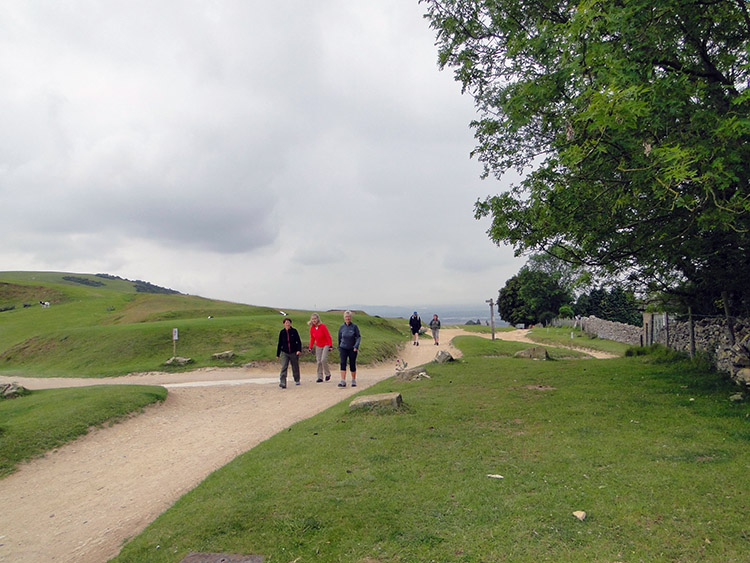 Walkers on Cleeve Common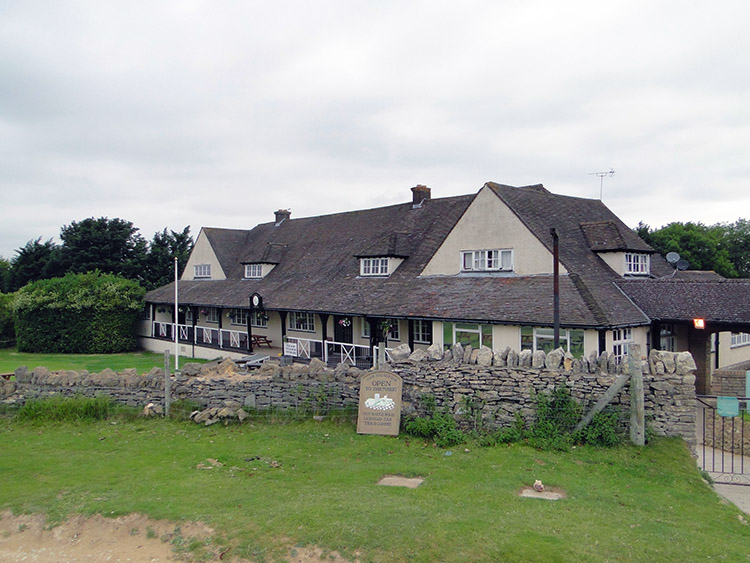 Cleeve Hill Golf Club
The walk to Belas Knap had been lovely. The next bit was not. From Belas Knap I followed a long field edge and then a long farm access lane to Wontley Farm. It was the least exciting mile of the day. After Wontley Farm I crossed another two boring fields before things changed again, this time for the better which was the way it would stay for the rest of the day. I reached Cleeve Hill which I would cross on the east side walking north and cross on the west side walking south. I was not to complain about this particular meander though. My walk on Cleeve Hill was delightful. I read a sign with a series of bylaws which included "not to remove railings, fencing or hedging. No cutting, felling, burning, breaking or otherwise doing wilful damage or injury to the timber of other trees, shrubs, brushwood, flowers, gorse, furze, fern or turf from the common. No taking, cutting, digging, damaging or removing gravel, sand, sods, bogearth, clay, turf or other substances off or from the common. No nuisance should be committed. No wilfully disturbing sheep or cattle on the common". By order of the Board of Conservators. I met ang greeted people walking at leisure as I crossed Cleeve Common and I passed close to the clubhouse of Cleeve Cloud Golf Club.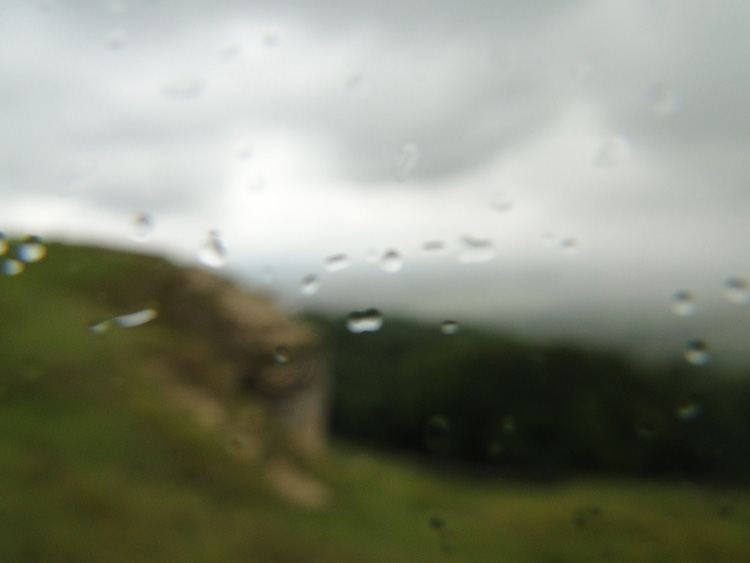 Storm on Cleeve Hill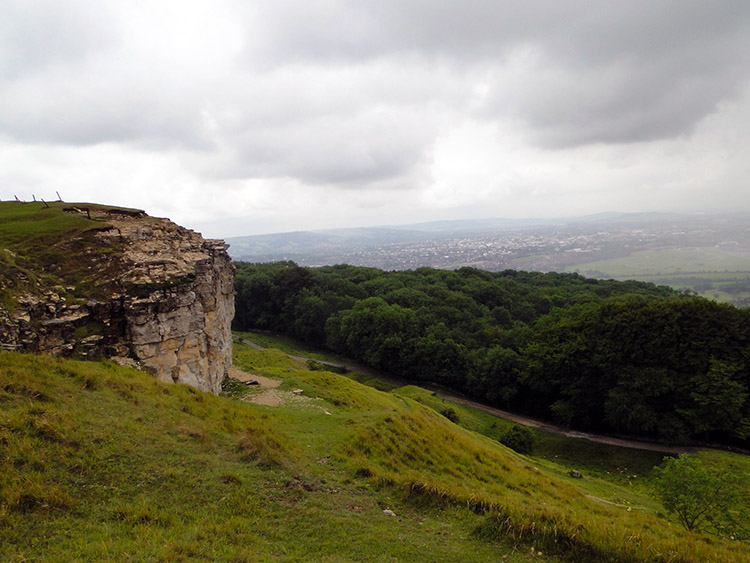 Ben's Tump
Cleeve Hill is also known as Cleeve Cloud and it is the highest point of the Cotswold Hills. Thus by just the morning of day two I had reached the highest point of my walk. It did not seem that high, 317 metres being the summit point. However it was exposed and as I turned from north bound to south bound the extent of the escarpment on the western edge of Cleeve Hill revealed itself. The views became quite immense. I could see Woodmancote and Bishop's Cleeve directly below me. I could see Cheltenham to the south west. And I could see the storm sweeping in from the south west too. As I reached Cleeve Hill trig pillar Cheltenham became obscured in cloud. Less than a minute later the storm reached me. The wind picked up and rain poured down. It lasted all of a minute. The wind had taken it over the hill so quickly that it went as quickly as it came. The two photographs above are recorded on my camera at 10.35am. Both of them. I was stood looking at the impressive limestone outcrop of Ben's Tump when the storm hit and I still looking at Ben's Tump when the storm was over.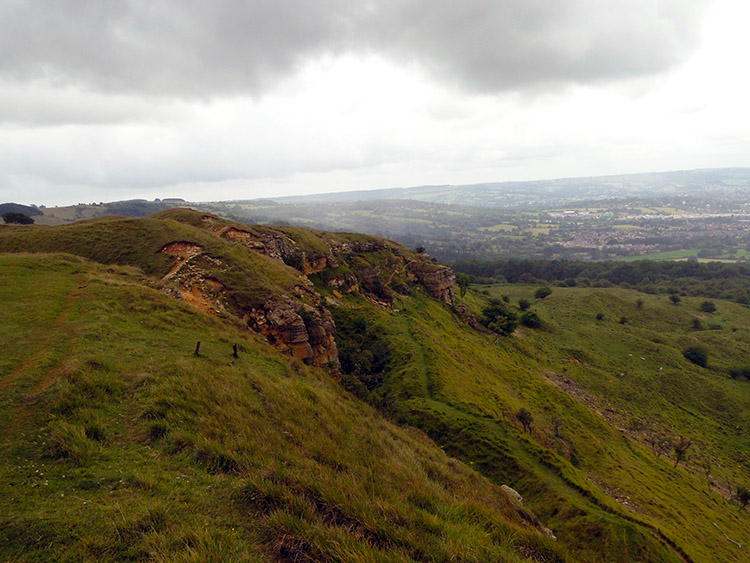 Cheltenham as seen from Cleeve Hill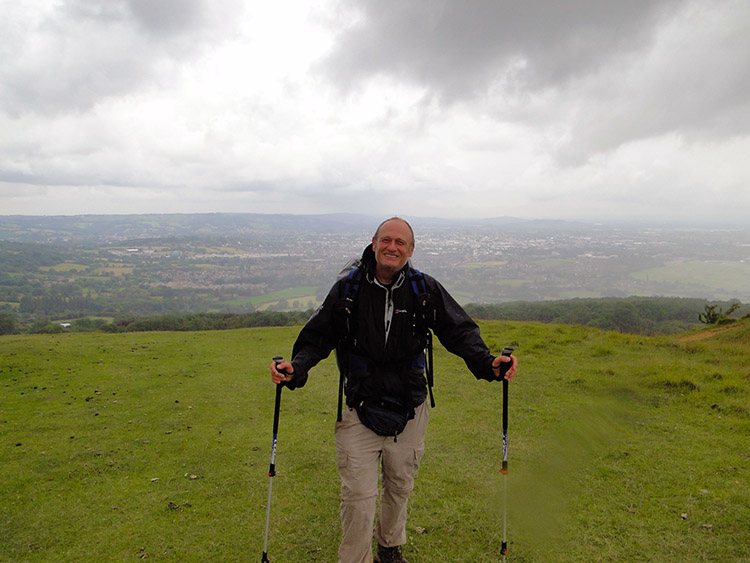 A happy me on Cleeve Hill
When the short sharp storm had battered me on Cleeve Hill at least I had my wet weather clothing to protect me. I had enough time to put my top coat on, not bothering with my over trousers as the rain burst proved to be short lived. As I left the sight of Ben's Tump to walk past an old fort near Huddlestone's Table I noticed two young men walking east across Cleeve Common who had not been so lucky. They were clothed for fine weather in light tops and denim jeans. "Did you get wet" I asked. "We managed to scamper under some trees" replied one of them. He added they had walked up from Woodmancote for some fresh air in order to walk off the effects of a late night. And they were courteous enough to take my photograph. Thanks chaps. I wished them luck in getting off the hill and back home dry which it did.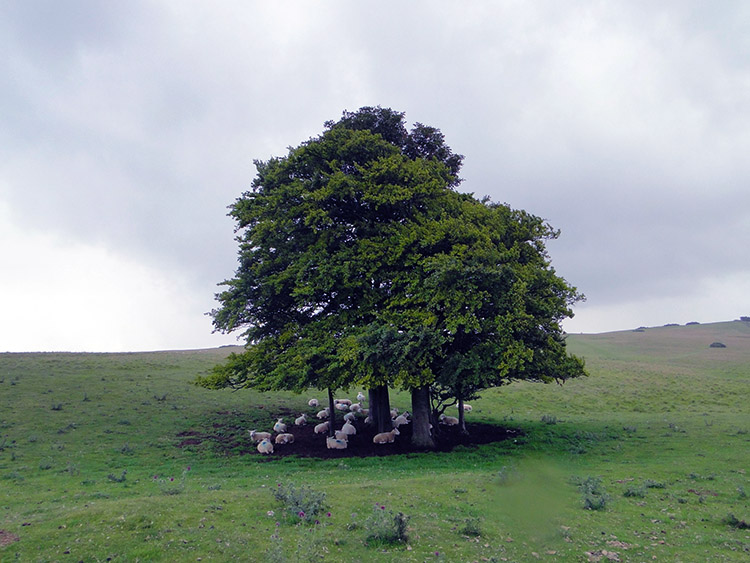 Sheep sheltering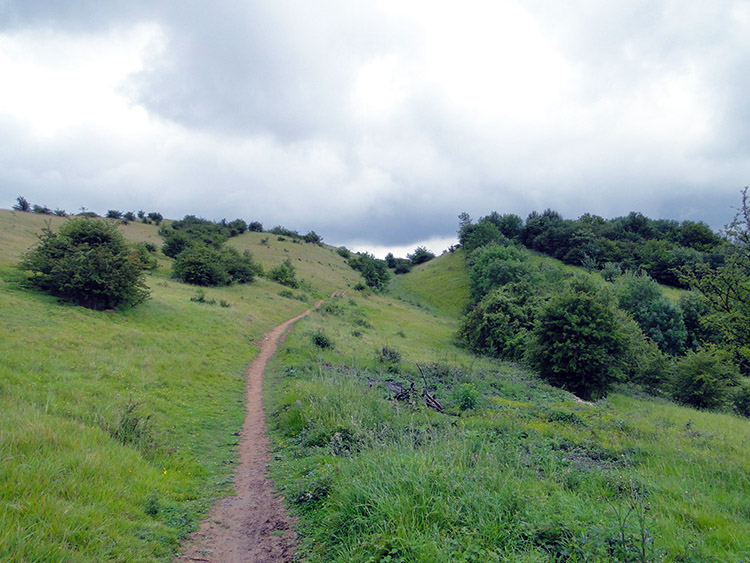 Bill Smyllies Reserve
Leaving Cleeve Hill behind I headed due south on not just the Cotswold Way but now also on the Gustav Holst Way. It was an undulating course on the crest of the Cotswolds escarpment ridge to what was Bill Smyllies Reserve on the map and Prestbury Hill Reserve according to an information board. The reserve is dedicated to Butterfly conservation and the information board said "This reserve has some of the best unimproved limestone grassland on the Cleeve Common escarpment". It also showed some species of Butterfly to look out for. Not knowing at the time I would get some experienced help with Butterfly identification in due course. It was around 11.15am when I passed through the Butterfly reserve. As I did so the weather began to improve. If it did further, the Butterflies might fly.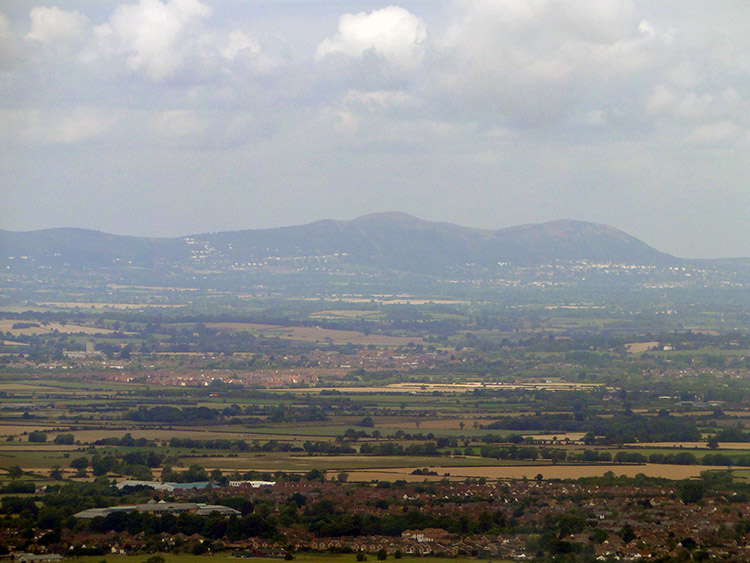 View to the Malvern Hills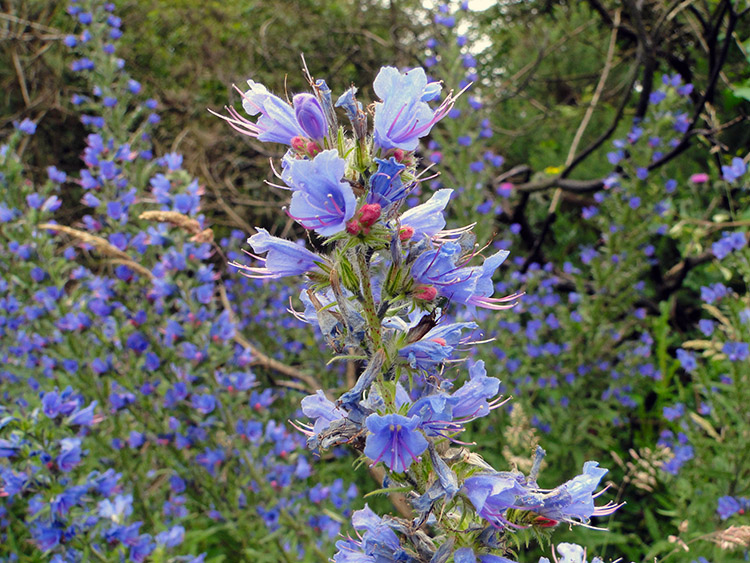 Beautiful Viper's Bugloss
From the escarpment due east of Cheltenham I had a great view straight down to Cheltenham Racecourse. The times I have watched the Cheltenham National Hunt Festival and seen horses galloping around the racecourse with the backdrop of the Cotswold Hills in the picture. Now I can imagine "I was there". Looking straight over Cheltenham town as the clouds of the morning began to clear and the long distance views extended I could see the vast plains of the Severn Estuary, the wood green of the Forest of Dean and the bulk of the Black Mountains in Wales. It was an entrancing sight. Local to my path were scatterings of wild flowers. I especially took a liking to the Viper's Bugloss. The delicate light blue trumpet flowers captivated me.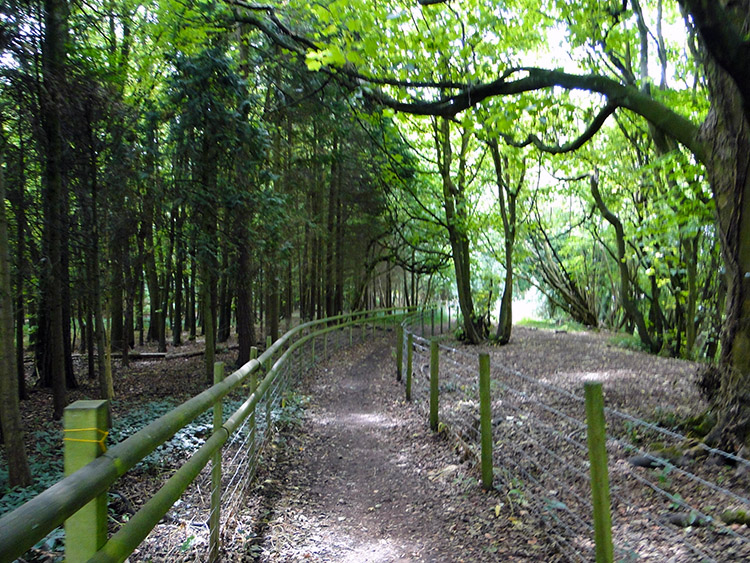 Dowdeswell Wood Nature Reserve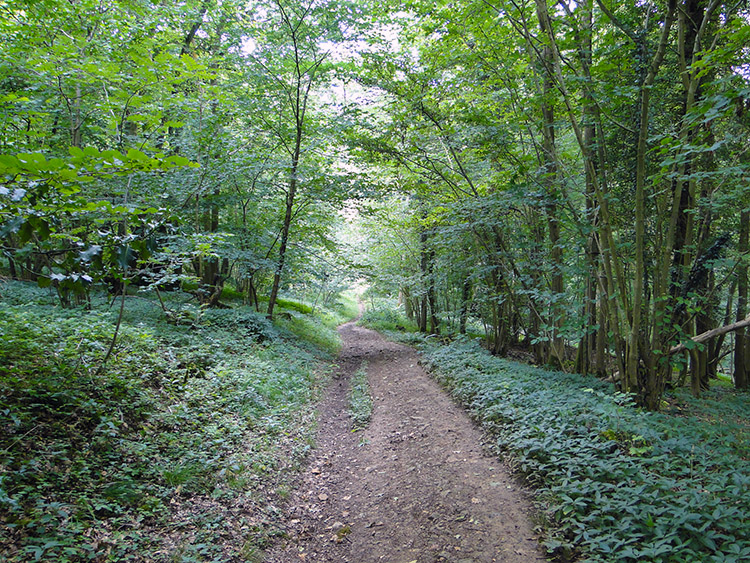 Lineover Wood
I reached Dowdeswell Wood Nature Reserve at which point the high escarpment began to peter out. s I walked along the Cotswold Way path through the woodland a descent took me from the 200 - 300 metre altitude line I had been on for eight miles since the climb to Belas Knap all the way to a height of just 110 metres when I crossed the A40 near Dowdeswell east of Cheltenham. The crossing of the road welcomed us to Lineover Wood, walking through which involved an ascent of just over 100 metres, the longest climb of the day. Lineover Wood is Woodland Trust managed and it was beautiful. It was inhabited by an eccentric too. Or so it seemed when I spotted him crouching and sneaking through the undergrowth not far from the footpath. I had to ask what he was up to.

I approached him carefully, so not as to spook him. I started the conversation in a quiet voice and saying "Can I ask what you are up to?". He replied "I am looking for a special type of Butterfly". He went on to explain he was looking for a particular Butterfly, I forget which type, maybe the Duke of Burgundy or the Brown Argus, which is most likely seen between the hours of 1.00pm and 2.00pm. It was the right hour for him to look. "I always take my lunch break one hour later when they are active" he said and added "I am on my lunch break now, I work down nearby". You often learn something new during chance meetings while out walking. I had just done on this occasion. Never before had I realised certain species of Butterflies are only active at certain times of the day. To avoid competition with other species and/ or to avoid predators perhaps? I left the searcher to rummage on in the undergrowth. I had a walk to do.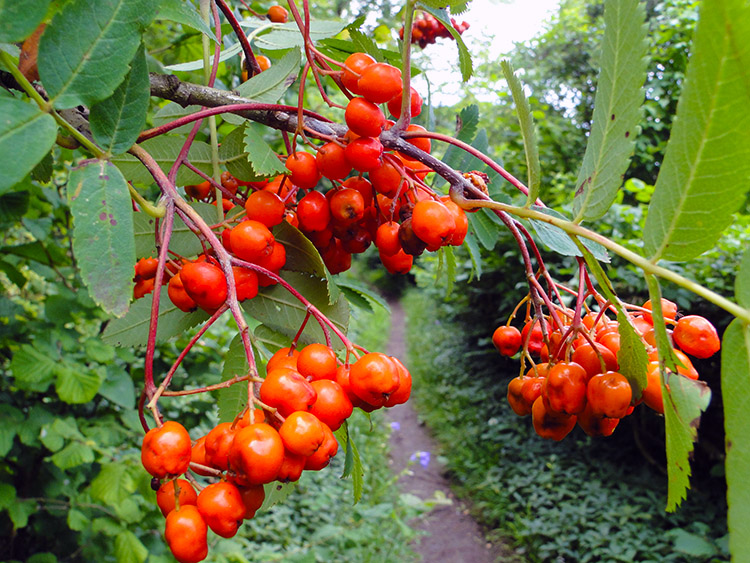 Rowan Berries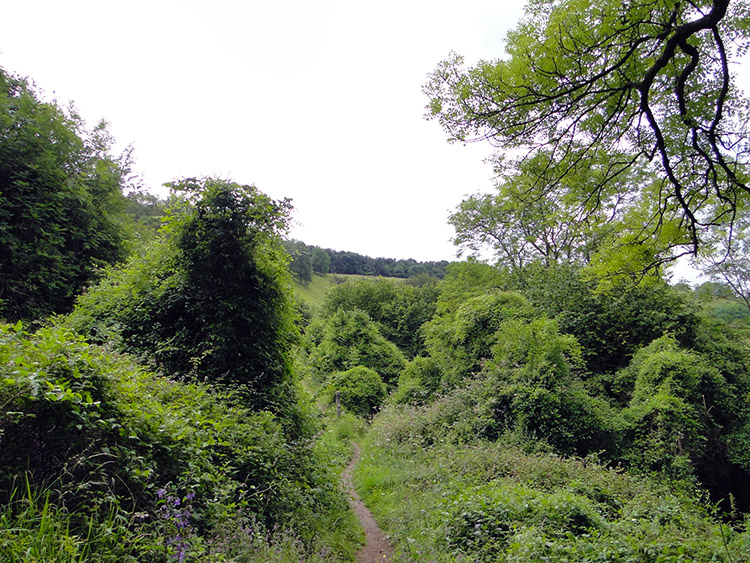 Ravensgate Hill
Apart from the meeting with the part time lepidopterist there was another feature to Lineover Wood which was so charming. There were lots of pretty flowers to be seen as I walked through the wood. These included more Viper's Bugloss as well as various types of Bellflower in blues and in white, Poppies, Cats Ears and Hawkweeds. Rowan Berries also hung in colourful clumps from sheltered trees. I thought it a little early in mid July. Apparently if short of water due to dry weather they will produce berries. It was warm but it had not been overly dry. Leaving Lineover Wood I left the wood canopy and came out into the open. The sun was warm and I noticeably heated up for the first time in the day as I climbed towards the top of Ravensgate Hill.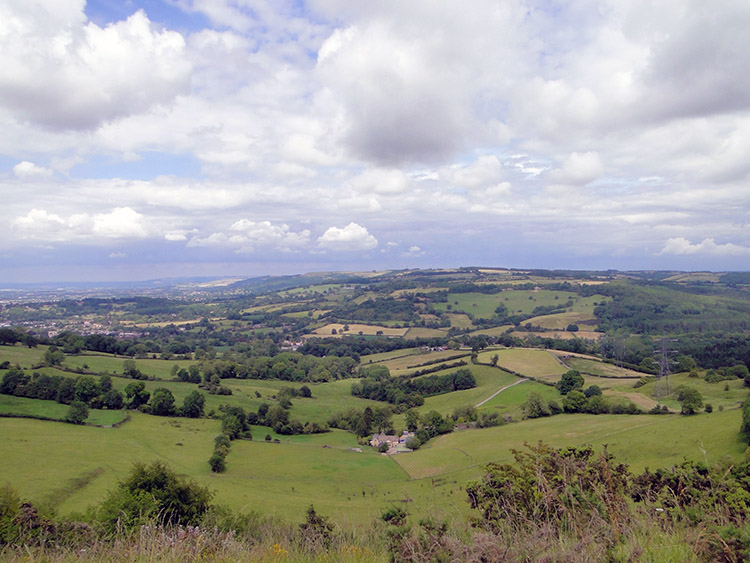 View from Wistley Hill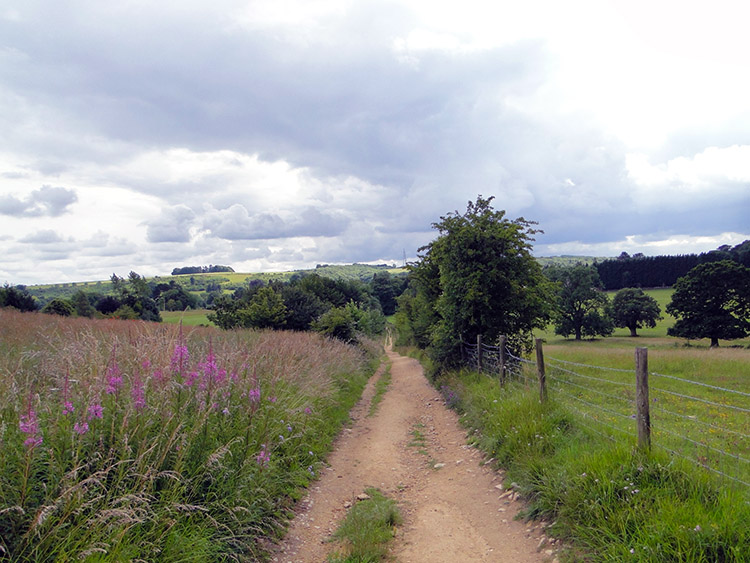 Track near Hartley Hill
It was time for lunch. I passed over the top of Ravensgate Hill and continued on the new ridge crest to Wistley Hill. There was a bench waiting for me on top of Wistley hill. Fortunately nobody occupied it, being the perfect spot for lunch. As I sat and took refreshment I took off my boots and socks to air my feet. I also stripped down to my T-Shirt. It was very warm. The view to the rural gap between Cheltenham and Gloucester was a lovely sight to take in over my lunch with the lushness of the Vale of Gloucester in clear view beyond the conurbations. I had completed around 11 miles of my day and had around 11 to go. It was 2.00pm and I felt great.

After my lunch break I cracked on with the walk which led me from Wistley hill to Seven Springs at the junction of the A435 and A436. From there I followed a B road past Windmill Farm to reach Hartley Hill. The going was good and I walked fast, wanting to put a few miles in quickly. I passed a trig pillar, elevation 293m and a sign to Devil's Chimney. Rather than divert to see the limestone pinnacle which is in fact a quarryman's folly I carried on across Leckhampton Hill and on to the entrance to Ullenwood Manor College. My only stop was to have a five minute chat with an elderly gentleman walking his dog. We discussed the glory of the countryside.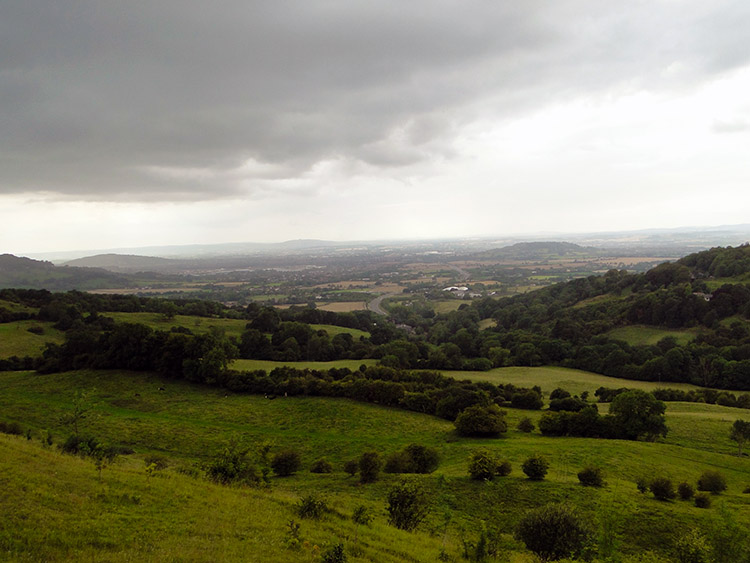 View from Barrow Wake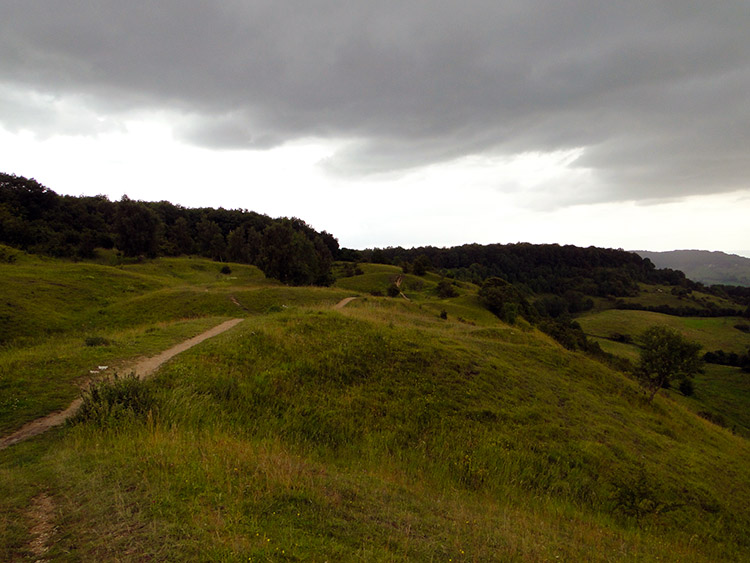 Birdlip Hill
After my sunny middle day the skies began to darken as the afternoon progressed. Still making haste in an attempt the get to my temporary home before the heavens broke I walked along a road past a horse riding centre and some covered reservoirs to reach Crickley Hill Country Park. There are National Trust and Wildlife Trust sites on Crickley Hill and it is not difficult to see why. Crickley Hill enjoys extensive views over the surrounding countryside, views that are hard to beat on a clear day. Even on a not so clear day such as when I arrived they were great. I could see straight down to the M5 with traffic streaming along it in either direction. In front of me an information plaque told me I was looking over "500 million years of Britain's history" with in terms of geology and looking from south to north top layers of New Red Sandstone, May Hill Sandstone, Blue Lias Sandstone, Malvern Gneiss, Pea Grit and Shelly Oolite. It also pointed out the landscape features in my view which included the Forest of Dean and Malvern Hills.

While walking across Crickley Hill I came to Barrow Wake. According to Gloucestershire Wildlife Trust who manage it, Barrow Wake contains a similar flora to Crickley Hill but is especially notable for its population of Musk Orchids and abundant Devil's Bit Scabious. I missed out there then. It was getting darker and I guessed a cloud burst was imminent so I chose not to linger any longer and move on.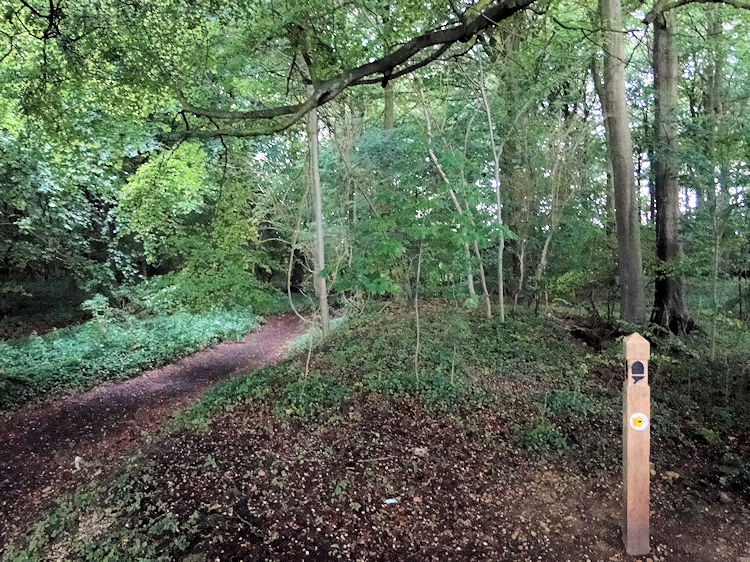 Birdlip woodland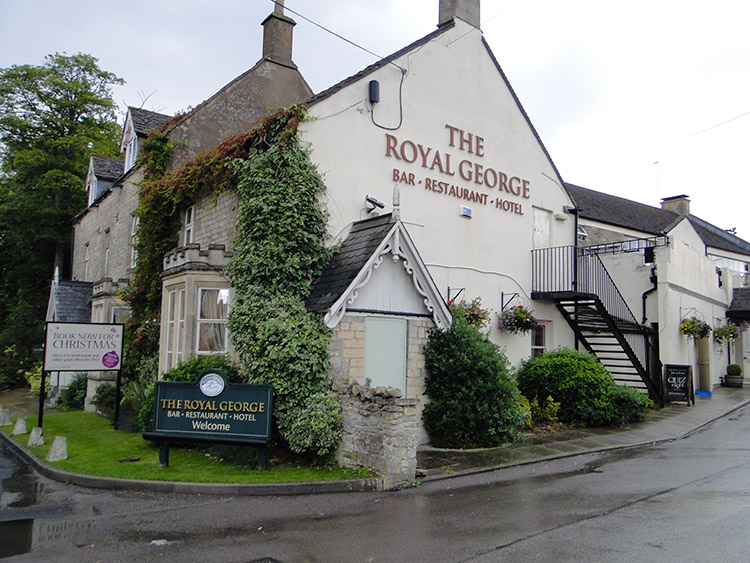 The Royal George, Birdlip
I got into the partial shelter of Birdlip Wood just in time. The clouds did as I expected them to and from them water cascaded down. The sound of rain pelting down on to summer woodland is quite exhilarating. I stood in Birdlip Wood hearing the heavy rain crashing into the dense canopy above while I walked on through staying quite dry. The odd drop got through but it did not impede me walking onwards to my end goal for the day. I covered just over a half mile walking through the wood, just long enough for the rain to come and go. I emerged from it on the road leading into the village of Birdlip which I followed. The first place I came to was the Royal George, my home for the night. The roads were wet. I was dry.

I had covered around 22 miles during the day and I felt absolutely fine when I finished my walk. Fitness was with me now and endurance too. Unlike my last 20+ mile walk four weeks earlier when I had walked in to the finish a wreck this time I felt invincible. No aches and pains, nothing at all. Everything was good. The day had been good too, a walk with lots of interest and plenty of charm. I was falling for the Cotswold Way big time and so looked forward to the next stage. (A note of accomplishment: This stage of the walk took me to over 30,000 metres of accumulated ascent. I was chuffed with that fact, being well into my fourth from sea level climb of Mount Everest!)
Continue the walk
Great British Walk