County Tops of England: Cheshire
Black Hill: 582 metres (Grid Ref: SE078046)
Google Maps
Open Source Maps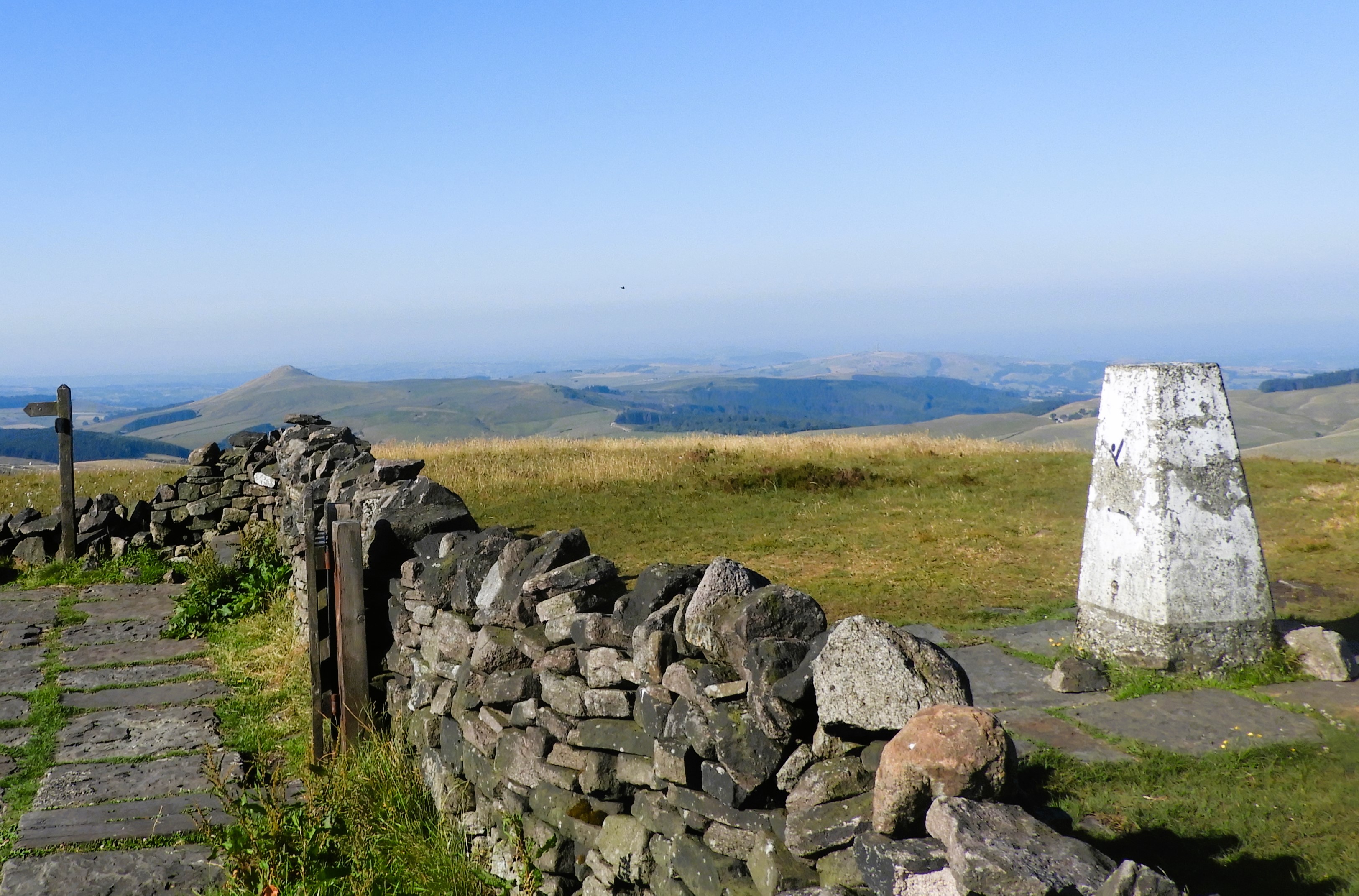 Trig Pillar on the summit of Black Hill
---
The Walk: A straightforward there and back walk along the good hard-stone footpath formed from reclaimed material which once made up the floors of old mills and other derelict buildings of the neighbouring towns and villages. Once trodden by mill workers and the like they are now trodden by walkers on this stretch of the Pennine Way footpath. From Wessenden Head on the A635 walk south on the footpath down to cross the head of Dean Clough and then climb steadily to Black Hill. Take breaks to look east for a great view across the countryside of West Yorkshire including the dales around Holmfirth which were featured in the Last of the Summer Wine. It is a gorgeous view. Note the views disappear when you close in on Black Hill but you can enjoy them on your way back. The summit of Black Hill is obvious. An elevated trig pillar marks the spot; it once stood level on the moor but peat erosion has seen the hill drop in height a little over the years. Once the trig has been reached turn tail and return on the Pennine Way path to Wessenden Head.

Note: Nearly all County Tops of England are the same in lists of counties and county boundaries which existed pre and post 1970's governmental changes. However, Cheshire is different as Black Hill is now in West Yorkshire. The modern county top of Cheshire is Shining Tor. It is found four miles west of Buxton at OS Grid Reference SJ993737 and can be climbed up to from the roadside of the A537 Buxton to Macclesfield road. (Map and route file on request)

The Walk I Would Do: If I was on a mission to bag the county tops as quickly as possible and by the easiest route this would be the one to do. However, Black Hill is visited on one of my favourite South Pennines walks and if circumstances allowed I would do this walk instead.
---
Information: Black Hill is a hill in the Peak District, England. It is the highest point in the historic county of Cheshire, but now lies on the border between the boroughs of Kirklees in West Yorkshire and High Peak in Derbyshire, reaching 582 metres (1,909 ft) above sea level. The top is peaty and thus very boggy after rain. The area surrounding the summit itself had virtually no vegetation and was very dark, giving the hill an appropriate name. However, recent restoration work has eliminated much of the exposed peat. Black Hill is crossed by the Pennine Way whose now-paved surface allows walkers to reach the top dry-shod even in the wettest of weather. (Source: Wikipedia)
---
County Tops of England
Homepage

Copyright © 2003-2022 Walking Englishman. All rights reserved.