Bollington, White Nancy, Kerridge Hill and Macclesfield Canal
Google Maps
Open Source Maps
| Statistics | |
| --- | --- |
| Start: Adlington Road Car Park | Distance: 5.1 miles (8.2 km) |
| Climbing: 248 metres | Grid Ref: SJ 93026 78017 |
| Time: 2-3 hours | Rating: Moderate |
| GPX Route File | Google Earth File |
Ordnance Survey Explorer Map (1:25,000)
---
The Walk: The route, apart from when in Bollington, is on field paths and along towpaths. And apart from the short steep climb to White Nancy and the Saddle of Kerridge it is mostly level walking. White Nancy and the Saddle of Kerridge is an excellent vantage point with extensive views over the Cheshire Plain. Being the end of the Pennines, the hill makes a dramatic rise from the plain. Along these hills you follow a section of the Gritstone Trail before descending to the Macclesfield Canal, passing mills, aqueducts and narrowboats.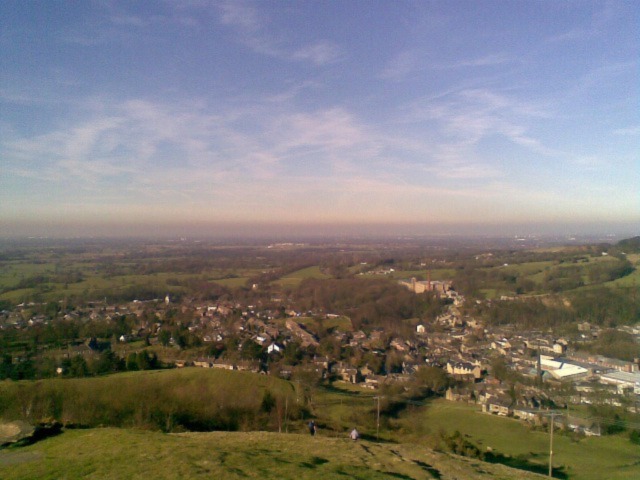 View of Bollington from White Nancy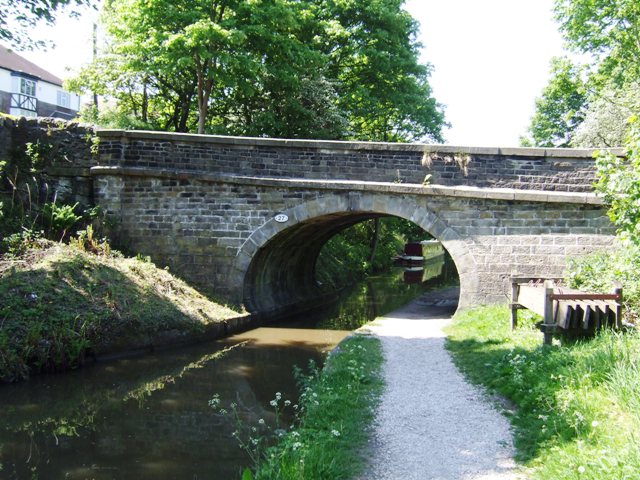 Macclesfield Canal
The town of Bollington is dominated by the 1,000 foot (305 metre) high ridge of Kerridge. There were numerous mills in the town that were driven by power from the many streams and later by coal carried on the canal. The last cotton mill ceased operating in 1960. Many of the mills and houses are built from stone quarried from Kerridge Hill.

The prominent and renowned landmark of 'White Nancy' is a cylindrical white painted dome. It is believed to have been built by the Gaskell family to commemorate the Battle of Waterloo. Nancy was a member of the Gaskell family. Kerridge Hill, which tops out at 313 metres, marked with a trig pillar, is a particularly good viewpoint for looking over the rooftops of Macclesfield. The full route of the Gritstone Trail which you follow for a short way along the hills is 35 miles long. It runs from Disley in the north to Kidsgrove in the south.

The Macclesfield Canal was fully operational in 1831 and is 27 miles long with thirteen locks. It forms a part of the 97 mile Cheshire Ring canal circuit. By the 1950's it was little used but with the restoration of the Peak Forest and Ashton canals it was used again and is today one of the most attractive skirting the base of the Pennine hills. While walking along the canal Adelphi Mill is passed. Built in 1856 it was originally a cotton mill but closed in the 1970's.

The car park at the beginning and end of the walk is beside the Middleton Way. At eleven miles long from Marple to Macclesfield it runs along the disused M,B and M Railway. The line opened in the 1860's and closed in 1970. In 1985 it was reopened as a pedestrian, cycling and horse riding route.
---
Acknowledgment: Text derived from the Out and Out Series; Discovering the Countryside on Foot. Pictures courtesy of Wikipedia.
---
Feedback and Suggestions: To suggest a link for inclusion on a this page please complete the Walking Englishman Feedback Form. Thank you.