Near the start of the walk you reach Berkswell's little triangular village green with the five-holed stocks in the middle. Beyond that is Well House, a red brick building with handsome shaped gables, and in front of it is the ancient well which gave the village its name. The first part of the walk leads through the churchyard, but the church is not a building to rush by, for even a first glance shows how unusual the structure is, Made of sandstone, it has a number of typical Norman round headed windows. The tower is later, built of different stone, and it has a clock and a sundial. The oddest feature though is the porch, timber framed, with a priests room above it. Inside is a wooden font by Robert Thompson, the mouseman carpenter of Kilburn.

The walk goes out into the parkland of Berkswell Hall. The great house looks out across fields and grassland. The centerpiece is the lake, with its tiny island, and the waters are busy with a variety of birds from moorhens to swans and geese. The footpath itself begins on a boardwalk laid out beside the little stream, then goes into a copse of pine trees. The path is carried over the stream by a rough plank bridge, but alongside you can see the grander stone bridge built for the path to the house.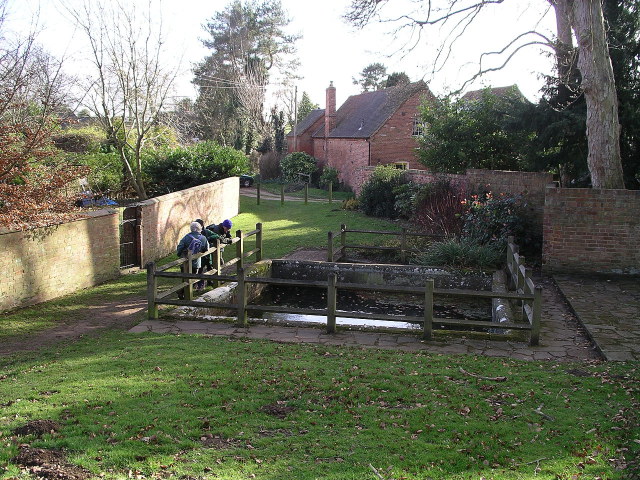 Berkswell village well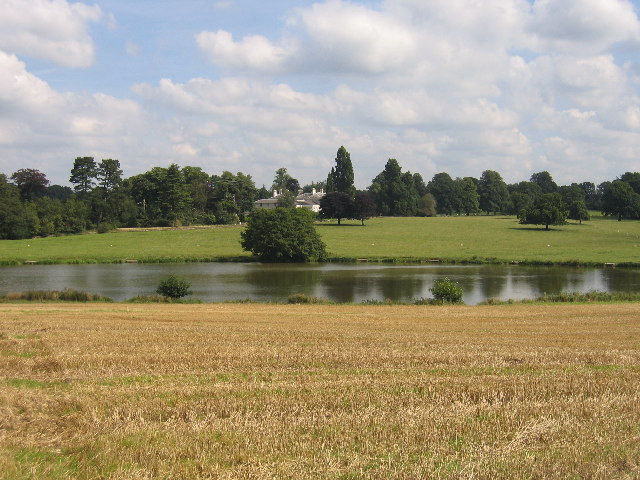 Berkswell Hall and lake
The route follows a fine hedge and then turns in to follow the edge of an extensive pine wood. After the woodland the path turns to cross the fields and a pair of footbridges take it over little streams before it emerges by an extensive area of quarries. Bypassing the scars on the land the walk resumes its now familiar character of fields interspersed with coverts for game birds, before heading towards the road with the old keeper's cottage, and a little wood with a reedy pond in the middle. There is a short section of walking along the country lane past Cornets End Farm.
The final stage of the walk is part way along the Meriden to Berkswell Road, past the entrance road to Home Farm, before heading back into Berkswell village. Once there, an option for refreshments is at the Bear Inn, well deserved after this invigorating walk.
---
Acknowledgment: Text derived from the Out and Out Series; Discovering the Countryside on Foot. Pictures courtesy of Wikipedia.