Wales Coast to Coast
Stage Seven: Minffordd to Machynlleth
Google Maps
Open Source Maps
| Statistics | |
| --- | --- |
| Start: Minffordd | Distance: 9.3 miles (15.0 km) |
| Grid Ref: SH 73292 11506 | Time: 4-5 hours |
| Climbing: 477 meters | Rating: Moderate |
| GPX Route File | Google Earth File |
Ordnance Survey Explorer Map (1:25,000)
Summary: The mountains of Snowdonia were behind me now, six days of adventure over the rocky mountains and across the wild woodlands and countryside of one of my favourite National Parks. I love Snowdonia and while it was a shame to leave it behind I was excited at the adventures ahead of me as I walked into mid Wales, a region completely unknown to me. I had never visited before, never mind walked in the areas I was to travel by foot over the next nine days until I reached Crickhowell. First up was today's walk, an easy prelude to longer days ahead. Due to my route planning I was obliged to follow roads through the Dulas valley much of the way. Therefore I was not expecting much on this shorter stage of my Wales Coast to Coast but as happens with many of my walks there were unexpected thrills and further moments of enlightenment along the way.
---
The Walk: A humorous start to the walk today. After camping before the previous stage I stayed at the Gwesty Minffordd Hotel overnight. When staying in hotels, pubs or guest houses during a long distance walk my routine is fixed. Part of it is to wash all the used smelly clothing I can. In the bath, shower, sink, whatever. And then dry them by hanging up anywhere I can. On room furniture, over a chair, over the end of the bed, on a radiator and if it is a good summers evening I hang whatever I can out of the window to dry and air. As it was a good day and fair warm evening last night I did just that by hanging a couple of pairs of undies out of the window. The problem? I was two miles down the road today before I remembered about them. They were still hanging out of my guestroom window and there they stayed!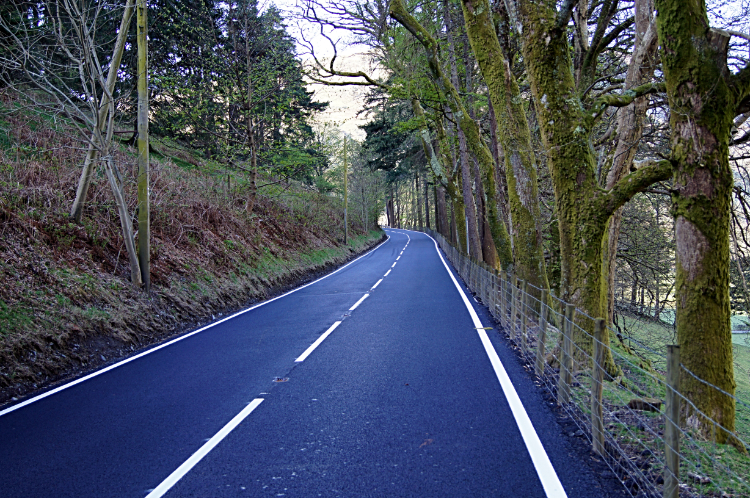 Walking along the A487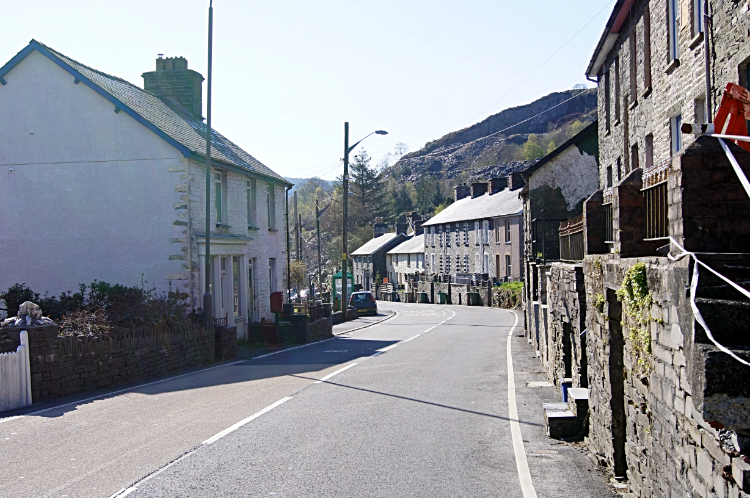 Corris Uchaf
So, a little lighter in backpack weight, I set off from Gwesty Minffordd Hotel on another fine and sunny day. Having now diverted from following the course of the Cambrian Way I followed the traffic free B4404 towards Tal-y-Llyn Lake, turning before reaching it to climb with the road to Dol-ffanog. From the village, or row of houses, From there I was forced to follow the A487 trunk road for a mile to Mountain Centre, Corris Uchaf. he A487 runs through the Dulas valley thanks to the local slate quarry owners pressing for it in the 1840's. Luckily for me the quarries are now silent and thus the road was not that busy. Of course I had to hop into the bank on occasions when heavier traffic passed but as an experienced long distance walker I am used to that. I did experience a crescendo of noise as I walked into Corris Uchaf though. Not from the road traffic but from a group of low flying Military Jets which flew, banked and turned with the contours of the valley. It was great to watch. I later found out I was walking in the region of the Mach Loop, a set of valleys between Dolgellau and Machynlleth which are regularly used for low level flight training, with flying as low as 250 feet (76 metres). No wonder they were loud. (Here is a video of aircraft on the Mach Loop with Tal-y-Llyn Lake in view.)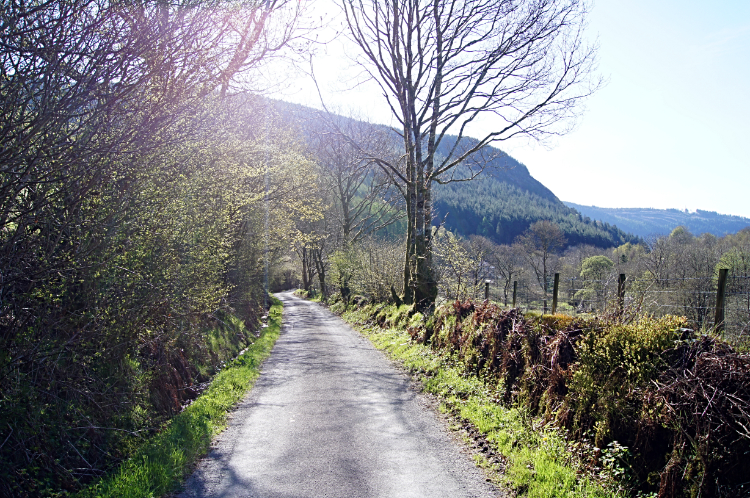 Off the main road at last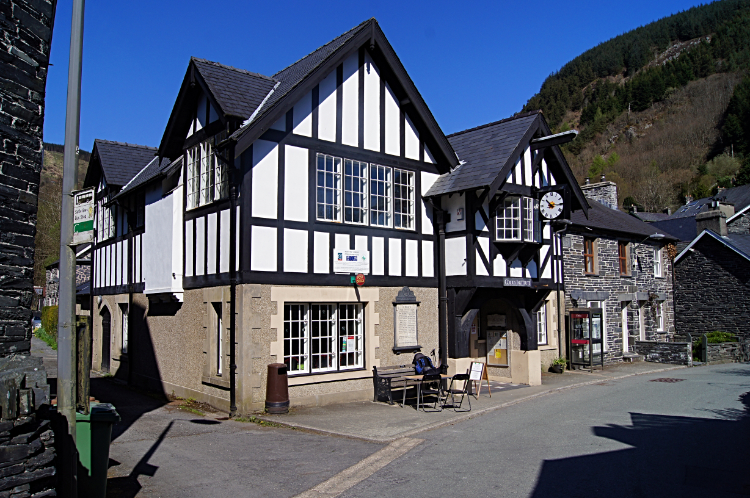 Corris Institute Cafe
Leaving the trunk road I walked down across fields and on an access road into the heart of Corris Uchaf. I was instantly smitten with the place. Calm and peaceful from the first step in the village, low flying aircraft disappeared for a while, I walked down to the village bridge standing over Afon Dulas and just looked down to watch the river flow. Apart from the sound of running water birdsong was just about the only other thing I could hear. It was lovely. The weather helped. still sunny and warm. I had plenty of time on my hands so strolled around the village. Past the whitewashed Slaters Arms, past the Salem Welsh Independent Chapel and stopping at the Corris Institute building which had a small cafe inside. And with a small sitting area outside. It was free so I decided to take advantage of the opportunity and enjoy a refreshment break. It was just nine in the morning but so what. I had all day.

From a Facebook post I made while in the Corris Institute Cafe: "Enjoying tea and cake in the sunshine at the Corris Institute in Corris and all for £1.20 (I gave an 80p tip!). What delightful people I have met in Corris this morning. It is another gorgeous day and apart from the lovely scenery in the valley my eyes have constantly being focused into the sky watching stream after stream of low flying military jets doing low level manoeuvres and loops as they fly through the valley. It has been very entertaining. I am loving this walk".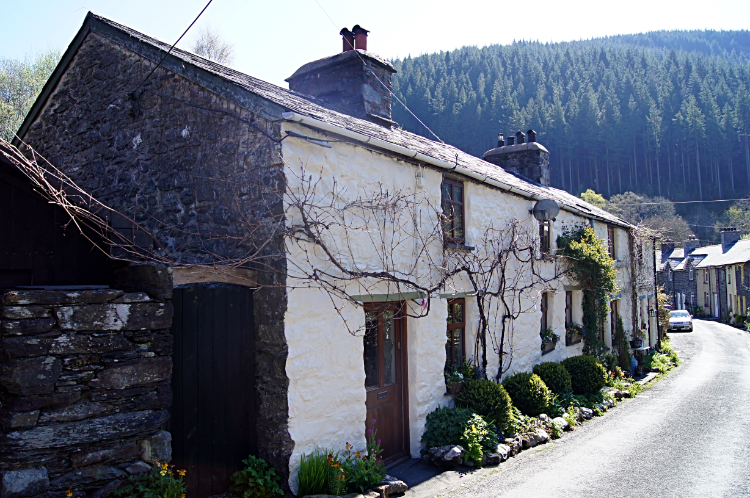 On the back road to Abercorris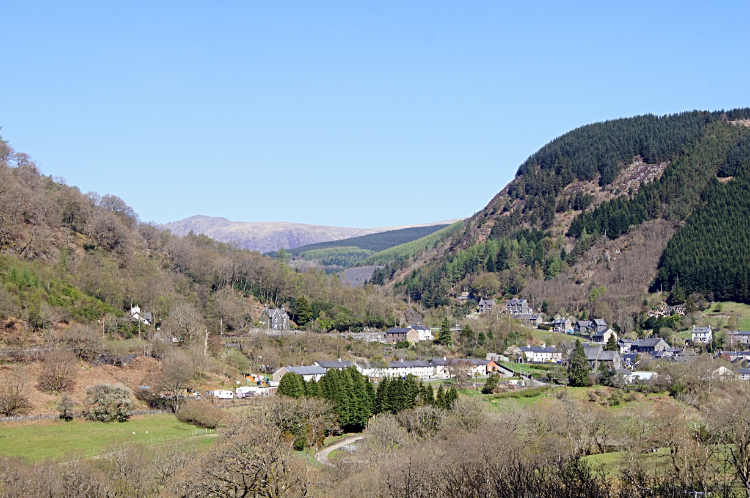 A view over Corris Uchaf to Cadair Idris
At nine-thirty I thanked my cafe hosts and continued in my way from Corris Uchaf on the narrow back road leading to Abercorris. Cars were parked here and there, alongside rows of terraced houses and outside semi detached and bigger homes too. But none were moving. It was as if time was stood still around here. I pondered at the lack of any traffic "It is the day after May Day Bank Holiday. Perhaps everyone is taking the week off?". With the road all to myself I watched a moment of animal drama which my presence affected the outcome of. About twenty meters up the road I saw a cat come from a field and stop when it saw me approaching. It was carrying something which it dropped before scurrying off. I walked closer and soon I realised the cat had dropped a young rabbit. It was alive, seemingly unharmed but shivering with fear. I tried to be the reassuring Saviour and picked it up, sitting it gently down in the field from where it had been caught. More rabbits were in the field. I stepped away and said "Go on, off with you. Get lost before the cat comes back". I could not hang around forever but I did stay ten minutes. The rabbit did not move. I hoped it did after I had left. I continued on, catching a great view of the rooftops of Corris Uchaf and a scintillating view of Cadair Idris lit up by the early day sunshine.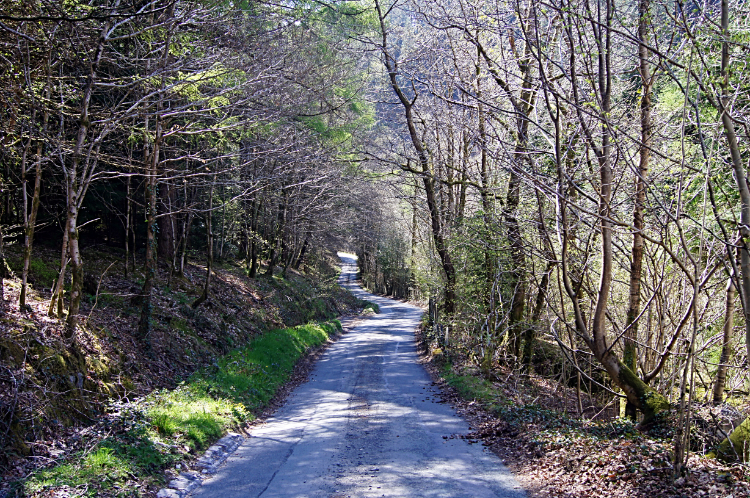 The road of no traffic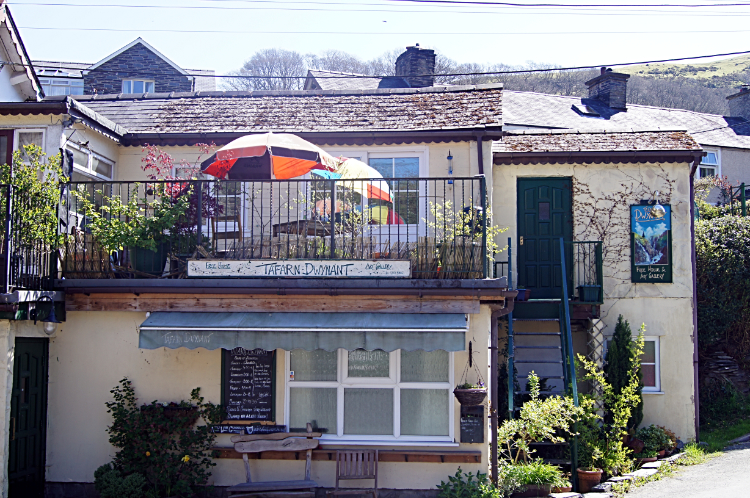 Tafarn Dwynant Free House and Art Gallery
On I went along the road, unimpeded as I travelled through the valley of Afon Dulas to Abercorris and from there to Ceinws, also known as Esgairgeiliog. Place names and the names of features in Wales can be confusing. Usually there are two names, the Welsh language original and the Anglicised English version. Afon or river for example. I have learned there are usually pairs of landmark names. Fawr and Fach are great and small. As are Mawr and Bach. With place names I can usually tell which is which but this had me beat. I guess Esgairgeiliog is the Welsh one. Anyway, I passed another nice cafe with an art gallery attached which may have been worth a bit of time out. But nobody was around. Hours of business showed a 5.30 start. I would have had to wait over seven hours. "Let's move on" I said to myself.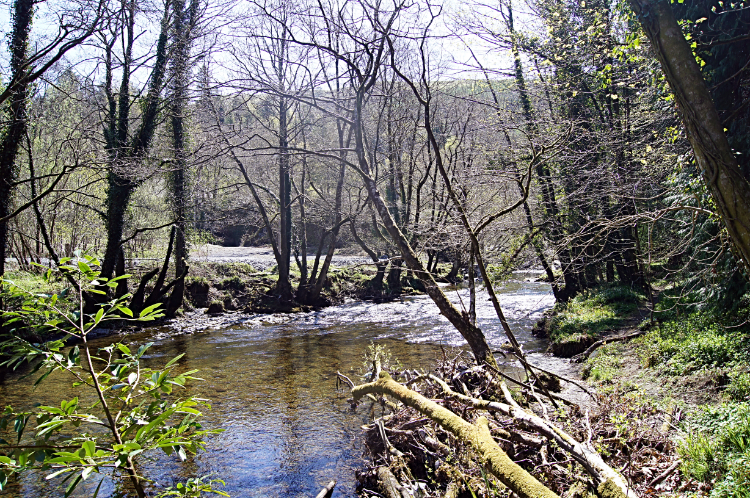 Afon Dulas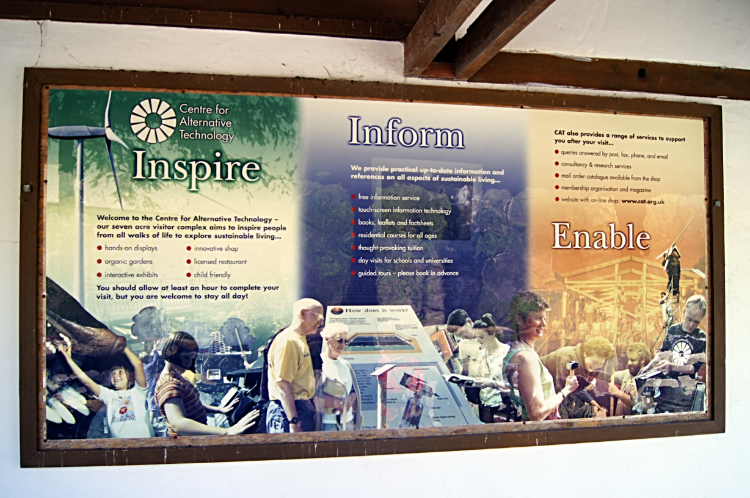 Centre for Alternative Technology
Walking along the quietest of roads with the complete absence of traffic was surreal. And in that a total delight. The small River Dulas ran close alongside and I could sense it constantly. If not by the sound of water by the sound of the birds who make waterside their habitat. Birdsong still filled the air, the perfect spring day letting them get on with the business of nesting, pairing and bringing up a family. It was that time of year. I came to a bridge across the river near to the hamlet of Pantperthog. Here I left the roadside to drop down by the side of the bridge to sit in shade of trees on the riverbank. Backpack off, I rested. Laying flat on my back I enjoyed the break, fifteen minutes of doing nothing in the midst of exhilarating nature. I looked up to the sky, half dreaming. Just as I did a dark figure flew directly over my head and in my eye line. The noise gave it away. The low flying aerobatic performing jets were back. Just three this time. On a single run. They were probably returning to base. I took to my feet at 10.30am. I would be finished and in Machynlleth by noon at this rate. But I had a plan.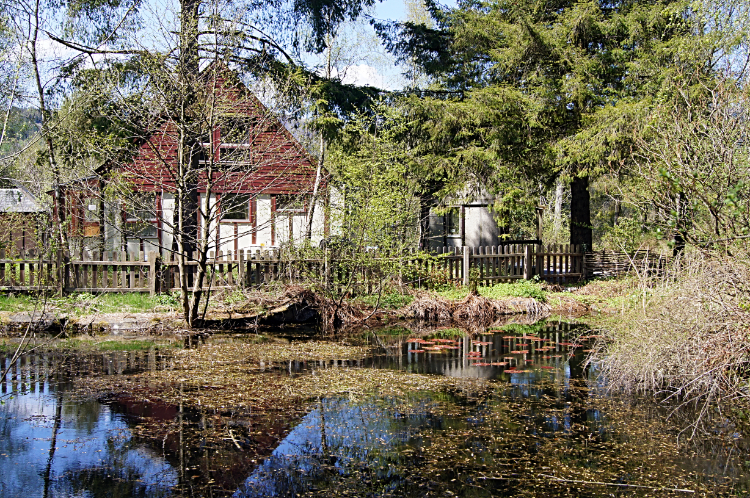 Beautiful setting within the Technology Centre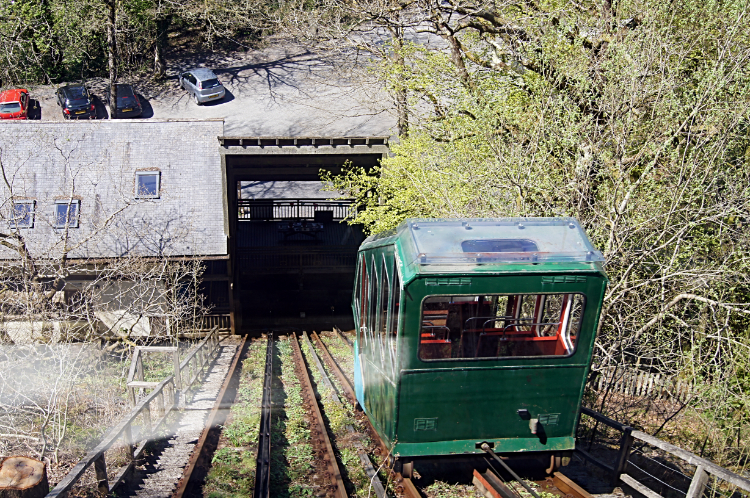 The Technology Centre Tram Lift
I backtracked from the bridge to find the entry point of a particular site I had planned to visit since constructing the walk route back home in the late winter months. I had seen 'Centre for Alternative Technology' marked up on digital maps and on Ordnance Survey Explorer maps too. I had to visit. I had planned in advance so I knew it was open. I stepped into the site for a look around, an education and possibly an opportunity. My other life, the working for a salary one, was as Head of Innovation in a major company. Perhaps I could take some new ideas back? I shall that other business in its box now. However, the visit was enjoyable. Apart from taking up an hour of my time I got to see a tram lift, an organic garden which gave me ideas for home, a solar dome and examples of renewable energies which have since become mainstream. There were pretty break out areas too. It was a very nice hour spent.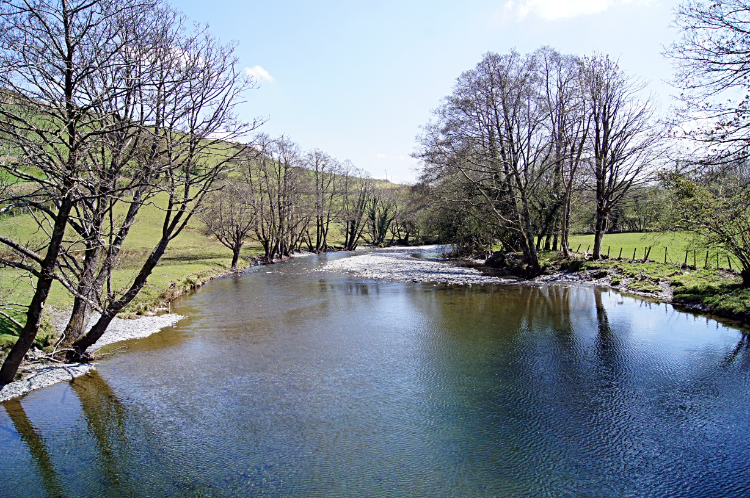 Afon Dyfi/ River Dovey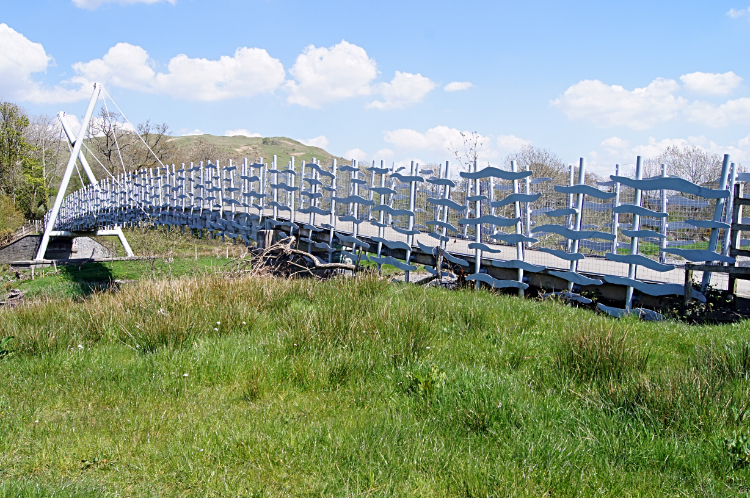 Machynlleth Millennium Bridge
Still it was just after noon when I left the centre and I had only two miles to go. Not that I was bothered. So long as I could drop my bags off at my accommodation in Machynlleth then I could spend the afternoon exploring the town. After all I had come off the back of three big days of distance walking with plenty of climbing thrown in and I faced a big walk in uncharted territory tomorrow. Chilling out this afternoon was the plan. First I had to get there. Along the quiet road once more, this time stopping for a chat with a very friendly horse on the way to rejoin the A487 for no more than a few steps before exiting roadside to cross Afon Dyfi by the Machynlleth Millennium Bridge. Once across the bridge a riverside path would lead me downstream to Pont ar Dyfi which Machynlleth a short distance beyond. Machynlleth Millennium Bridge, what a structure it is. The bridge, designed by the artist Jon Mills, is a very interesting design. Criss crossed iron lattices, designs which look like eels to me. Striking to look at.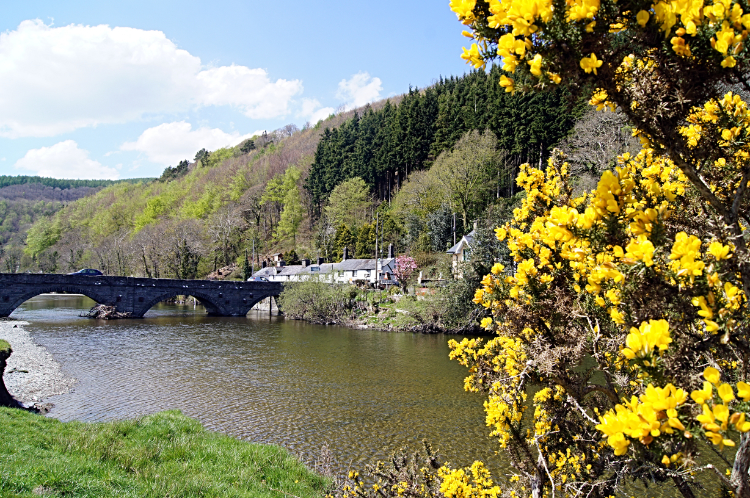 Pont ar Dyfi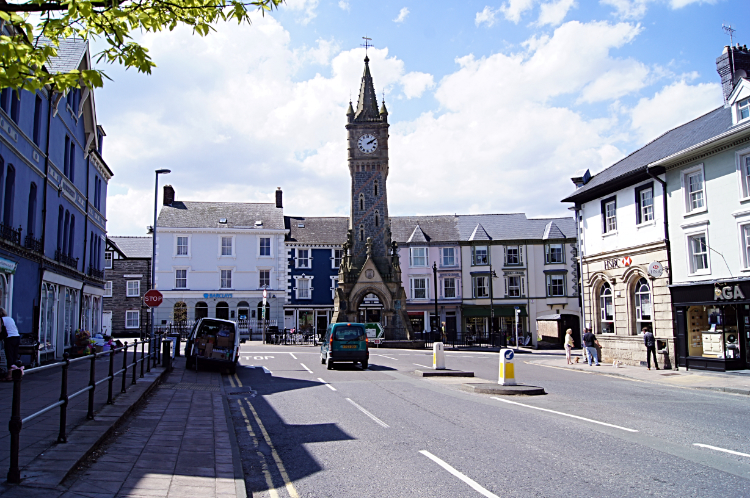 Machynlleth
From the bridge I followed the riverside path westwards. Flowering gorse added colour to the early spring. Despite being in May now the hedgerows were greening but the trees were trailing, vainly trying to catch up. Grass was growing well now though. I reached Pont ar Dyfi from where I left the riverside and followed the A487 into town. A road sign greeted visitors with 'Croeso - Welcome. Machynlleth. Prifddinas Hynafol Cymru. Ancient Capital of Wales'. Passing railway station, war memorial, St Peter's Parish Church and the town clock tower led me to my accommodation. It was a quarter past one in the afternoon. By two o'clock I was sitting outside a cafe with lunch watching the stirrings.

From a Facebook post I made on finishing the stage: "I have just reached Machynlleth with first blisters forming so glad today's over early. Its been another scorcher of a day so the sun tan is topped up. I need to find a shop for walking socks as my first job having left my spares hanging to dry in the window of last nights hotel! It's not the first time I have left something behind and not the last. Machynlleth looks a lovely market town to explore this afternoon before resuming my walk through Powys tomorrow.."
Copyright © 2003-2023 Walking Englishman. All rights reserved.