Wales Coast to Coast
Stage Fourteen: Cray Reservoir to Talybont-on-Usk
Google Maps
Open Source Maps
| Statistics | |
| --- | --- |
| Start: Cray Reservoir | Distance: 19.6 miles (31.6 km) |
| Grid Ref: SN 87693 20207 | Time: 7-9 hours |
| Climbing: 455 meters | Rating: Strenuous |
| GPX Route File | Google Earth File |
Ordnance Survey Explorer Map (1:25,000)
Summary: The route of today's stage was not planned. Until the morning of this stage when Steve and I woke to the most miserable weather. The original route was to follow the Cambrian Way from where we had finished yesterday at Cray Reservoir up to Fan Gyhirych and then due east across to Storey Arms, then up to Corn Du, Pen y Fan, Cribyn and Fan y Big before finishing at a car park near Taf Fechan Forest. Bad weather was set in for the day and there would be no chance of seeing anything up on the tops so we contrived an alternative route taking in much of the low level countryside east of our intended route. A route marked on the map as Three Rivers Ride would help us most of the way. As would the Taff Trail. So, with the new route determined we looked forward to twenty miles of new adventure.
---
The Walk: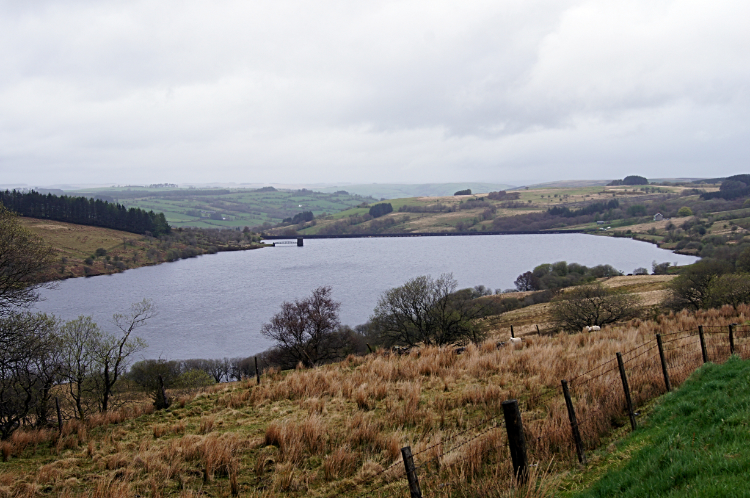 Cray Reservoir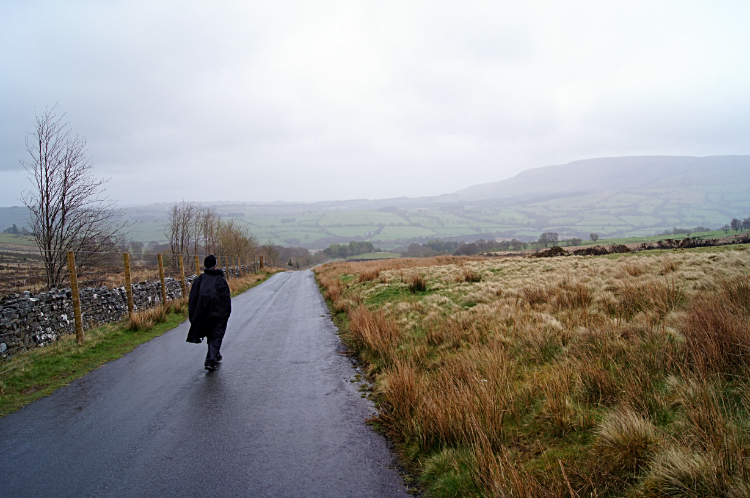 The road to Heol Senni
Matt the BBC weatherman has just said last night of today's forecast: "Don't be surprised to see a bit of snow on the Brecon Beacons". On hearing Matt's doom and gloom premonition I had replied "Oh yummy, something to look forward to on Pen y Fan!". Then on the taxi ride from Brecon to Cray Reservoir we reasoned against the idea of climbing and instead we worked out this new low level route.

Steve and I were disappointed to miss out on the high level walk over the Brecon Beacons but on arriving at the start of today's stage and looking up towards Fan Gyhirych in the pouring rain we had made the right decision. We could see no further than half way up the bank of the hill. Instead of heading up into the cloud we tracked north a little way down the A4067 road to meet the minor road turning left to Heol Senni. The quiet country road actually took us onto a climb for the first mile. To our highest point of the day at 420 meters. We were practically in cloud at this height so what it was like up top we did not want to imagine. From the highest point of our revised route we walked a straight line two mile descent to the hamlet of Heol Senni. On the way we passed a farmer on a quad bike taking hay to his sheep in the nearby fields and once in Heol Senni we watched the comedy show of the interaction between a removal van and large wagon which was stuck with nowhere to go. The removal van was either clearing or filling a house in Heol Senni. I did not work out which. The large articulated wagon was having to wait until removal van was done. The road was too narrow for both to pass. Some shuffling would have to go on. We carried on with our walk, often looking right to the clag sitting on the hills and thus confirming to ourselves we had done the right thing. A little further down the road we turned off the tarmac and across unmade ground for the first time at exactly five miles into our walk.
Mud glorious mud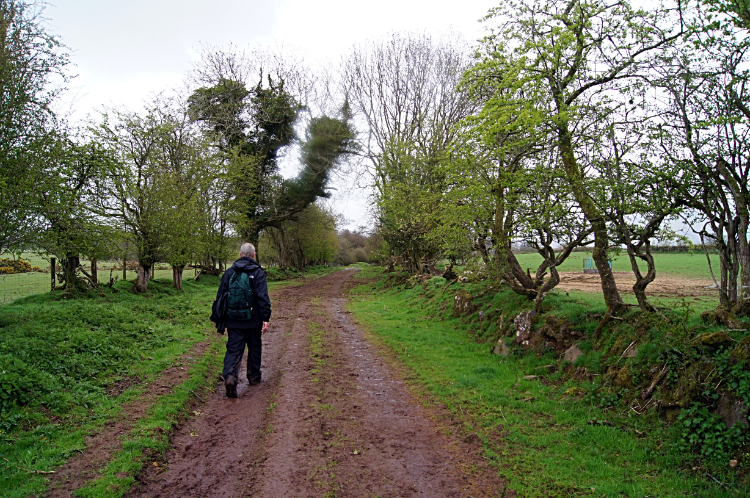 Daudraeth Illtyd Nature Reserve
Through Pontbrengarreg wood we went and then across first bog and second field-sides to a farm called Blaenbrynich. One more field after the farm we made a right angled turn to head north-east past Forest Lodge, one time Youth Hostel now private Bunkhouse. Around here the rain stopped for a while but the air was still damp. At least we could put our hoods down and look around with ease though. Walking on, we skipped on and off the unmade tracks. There were puddles. Lots of them and lots of mud too. From Forest Lodge a short stretch of road allowed us to stamp the mud off our boots before we caked them up again while crossing Daudraeth Illtyd Nature Reserve. The only animals we saw were Sheep. All the other animals in the reserve were staying clear of the bad weather.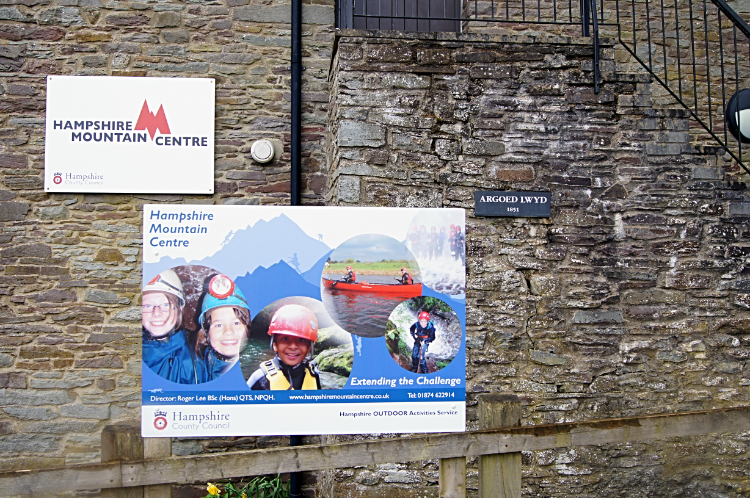 Hampshire Mountain Centre, Libanus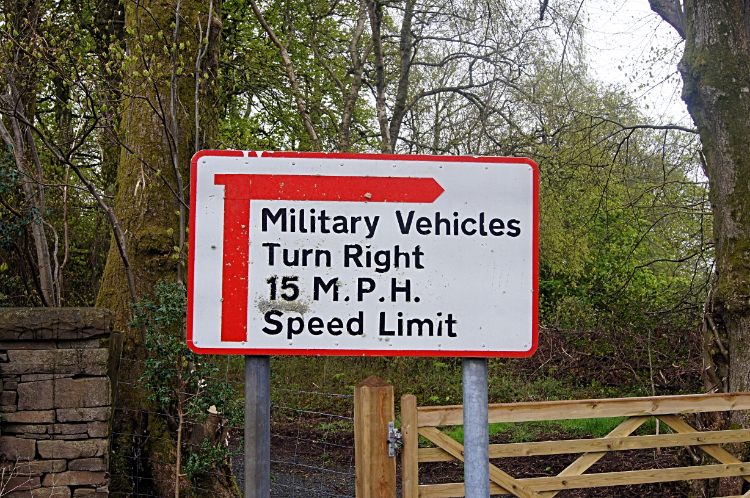 Military access to Pen y Fan
At the far end of Daudraeth Illtyd Nature Reserve we arrived at Hampshire Mountain Centre. The centre provides education in geography, biology, history and the environment for Hampshire's youngsters. The centre can also be used as a base for youth groups and those involved in the Duke of Edinburgh Award Scheme for expeditions and training. I wish there had been similar opportunities for me as a lad although I do recall field trips to the Yorkshire Dales and North York Moors when I was a nipper. The outdoors looked much bigger back then when I was four feet tall. From the mountain centre Steve and I soldiered on to a sign which suggested a site for soldiers. We had walked through Tai'r Bull and on to the roads north of Pen y Fan when we reached a sign showing military vehicles a right turn after which they must travel at no more than fifteen miles an hour. No doubt we were standing beside the road from which soldiers are taken up for their fitness and stamina training on the Brecon Beacons. "They would have fun up there today" I said. "Best conditions for them. At least they won't overheat" replied Steve. (Very sadly, just a month later in June 2013 three SAS reservists died in a selection march on the Brecon Beacons. It had been a sweltering day and they all died from dehydration).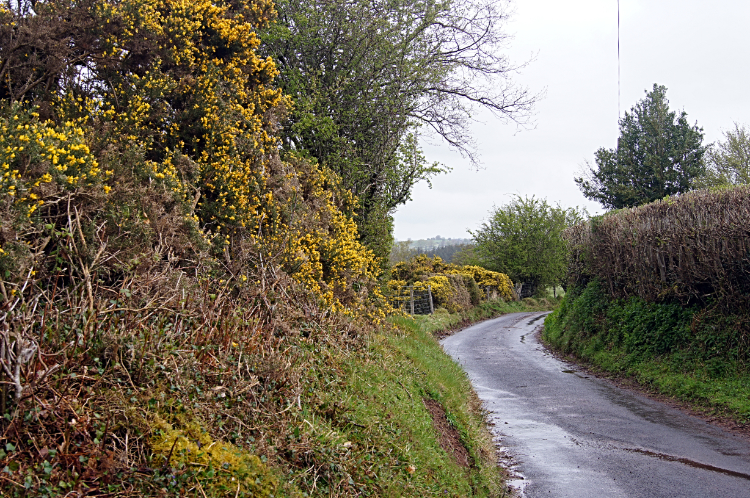 The road to LLanfrynach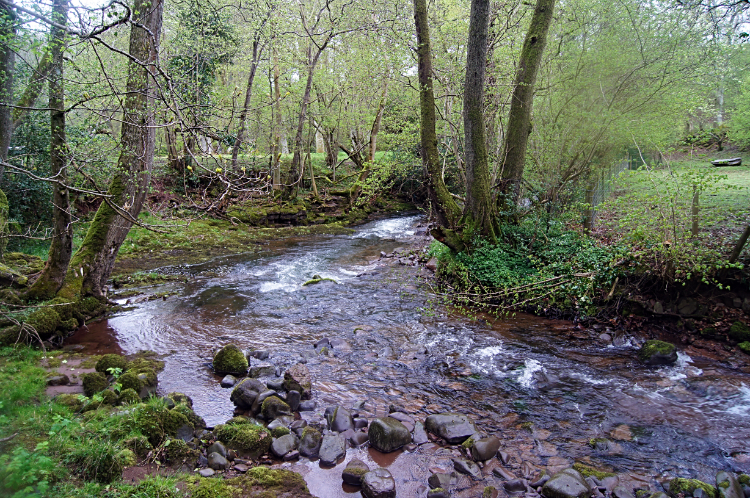 Nant Menasgin
On we went in the continuing rain. It was never heavy, just a persistent drizzle. As we passed the big boys of Corn Du, Pen y Fan and Cribyn towering one mile distant and six hundred meters higher we could still not make clear identification of the tops. Reassured once more at making the right call on today's route we continued on, walking, talking, storytelling, laughing. And picking up on the local sights we came across. Sheep in the fields we walked past watched us with a look of bewilderment. They must have thought we were mad to be out in this. There were quite a few fields with horses too. Most came to greet us as we walked by. They must have been bored. We passed an unattended horse box and laughed with the occupants. It had not horses in it but instead it housed Sheepdogs. They all came to the window slits and called us to give them a pat on the nose. Which we did. All was good. More road walking, more fields. One field was full of Bullocks who guarded the exit gate. We had to keep a brave face in order to get them to part. They did so. Reluctantly.
St Brynach Church, Llanfrynach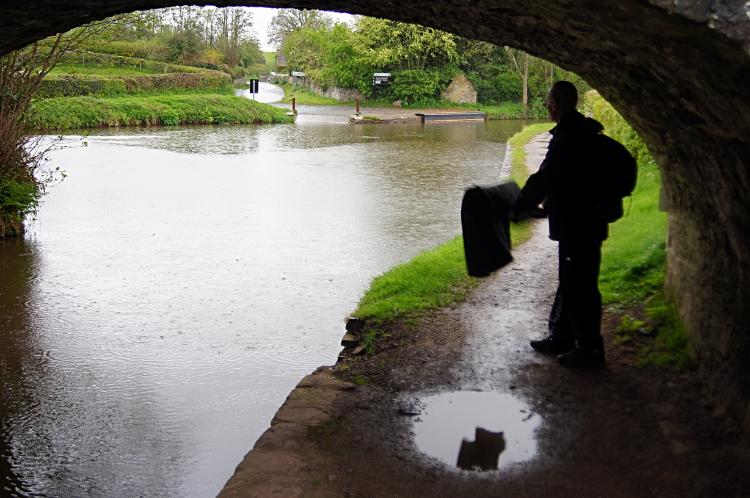 Shelter under Pencelli canal bridge
For much of the way, since crossing Daudraeth Illtyd Nature Reserve eight miles back we had followed a route called Three Rivers Ride, the very first National Bridle route to travel through the Brecon Beacons National Park which was launched at the National Park Visitors' Centre in Libanus in 2004. So we had been walking the route of the horses. Not entirely though. We had hopped on and off the equine now and again to find relief from the tarmac. We were back with it though to walk through two lovely villages. The first, Llanfrynach was a very pretty place with a splendid church, more gorgeous cottages of pleasing colours and best of all a red public telephone box converted into the village library. A notice on the telephone box library said "FREE BOOKS. Take One. Or Two or Three!" A lovely place it was. The second, Pencelli marked the end of our walk on the Three Rivers Ride and the beginning of the end of today's walk, a lovely stroll along the Monmouthshire Brecon Canal. We had reached Pencelli in a pour down so we sheltered under the bridge for a while.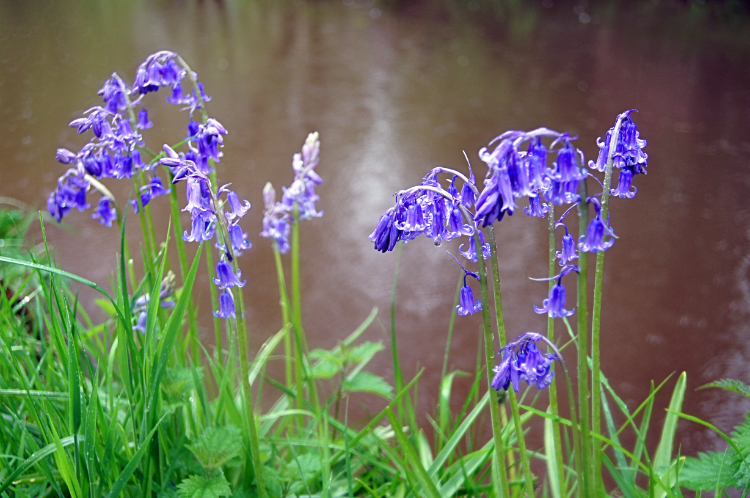 Bluebells beside Monmouthshire Brecon Canal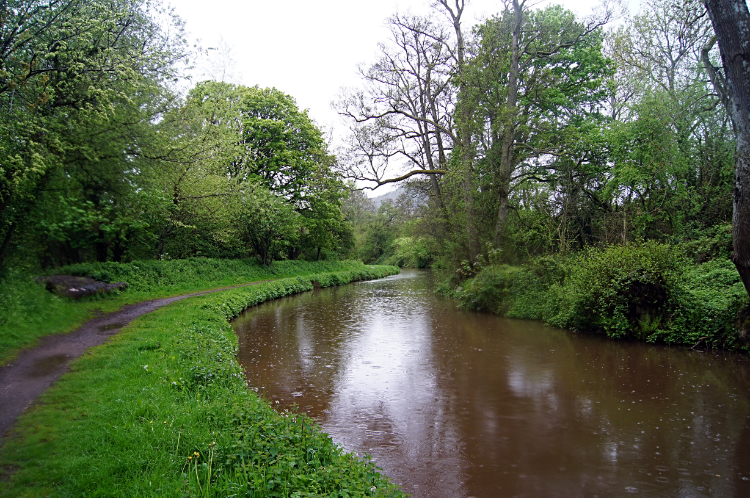 Monmouthshire Brecon Canal
Fifteen minutes after giving up our shelter through the urge to walk on Steve and I braved the rainfall and started our two mile walk on the towpath of the Monmouthshire Brecon Canal, heading south to Talybont-on-Usk. Walking easily along I was delighted to be seeing more spring green trees and also the first fully opened Bluebells on the trip. Springtime was definitely on the advance in the south of Wales and no rainy day was stopping it. I thought about how much more advanced new growth was than what I had seen in Ceredigion. There many of the trees were still in their winter slumber. Birdsong was more evident too with quite a lot of song coming from the trees beside the canal. The bad weather was not stopping them either.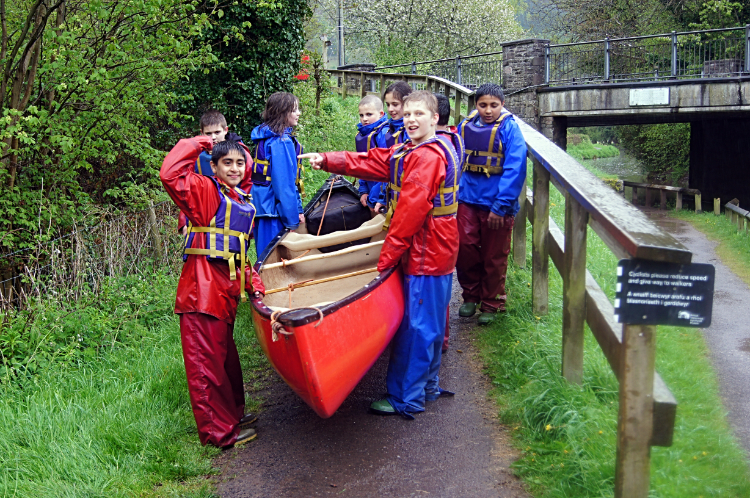 Learning boating skills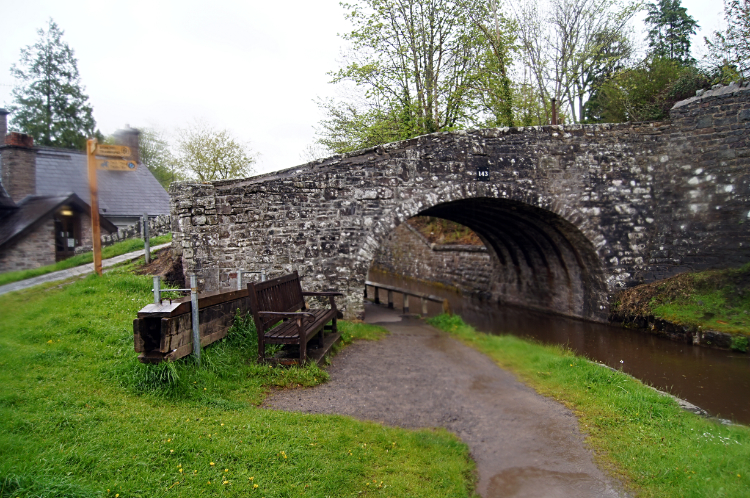 Talybont-on-Usk
Steve and I arrived in Talybont-on-Usk and to the end of our near twenty mile walk. We were wet through, drenched after seven hours in the rain but we were in no way down. In fact we were full of beans and thrilled at having enjoyed such a good day out walking. Different yes but sometimes adversity just makes you laugh. There were a final couple of events to laugh even more. First we met a group of eight youngsters, around twelve years old I guess, all carrying a boat down to the water. Most of them looked miserable and were probably not wanting to be there. Two boys at the head of the group were the most enthusiastic. "Who is the boss then?" we asked. One of the boys pointed to his mate who raised his hands to confirm the fact. Whether he was or not didn't matter but at least he was smiling. The second laugh.. we had made it on time. unlike yesterday our pre-arranged taxi was waiting. "We're soaked" we said. "Get in" said he.

From my Facebook post in the evening: "There was no way Strolling Steve and I were going over the tops of the Brecon Beacons today. People who know the area warned us not to do so last night and when we couldn't see the mountains on our taxi journey from Brecon to Cray Reservoir we agreed it would be foolhardy to do so. Instead we plotted an alternate lower level route around the northern edge of the hills. The route added seven miles to the original plan so instead of doing thirteen miles we did twenty. We walked from the top side of Cray Reservoir to Heol Senni where we met two wagons facing us on the single track road. One was a big removals van emptying a house and the other was a 40 ton articulated. Neither would give an inch as we walked on past. From Heol Senni we continued by following the Three Rivers Trail on quiet high hedged lanes, paths and fields to Libanus. It was lovely walking through lovely lush green countryside with rolling hills, streams everywhere flowing off the Beacons and with the reassuring looks up to the hills seeing clouds encamped on their slopes. And they were not for moving. From Libanus we continued on the Three Rivers Trail to join the Taff Trail and other trails too on our way to Talybont on Usk. Marvellous sections of wooded dells and rushing streams across countryside took us to the Brecon Monmouthshire Canal which we followed for the last two miles. Brilliant day, lovely views at a height we could actually see from and great conversation. That's what makes for a great day walking in company".
Copyright © 2003-2023 Walking Englishman. All rights reserved.