Yorkshire Wolds Way
A personal record of my walk the Wolds Way with written journal and photographs. Tracklogs for GPS units and for use with Google Earth are available for download for each stage.
---
Stage Three: Nunburnholme to Thixendale
Google Maps
Open Source Maps
| Statistics | |
| --- | --- |
| Nunburnholme Church | Distance: 15.0 miles (24.1 km) |
| Grid Ref: SE848749 | Time: 6-8 hours |
| Climbing: 703 metres | Rating: Hard |
| GPX Route File | Google Earth File |
Ordnance Survey Explorer Map (1:25,000)
Summary: The 76 miles of the Yorkshire Wolds Way includes 40 miles of footpath and 16 miles of bridleway. The remaining 20 miles is either minor road, public path or byway open to all traffic. The idea for the Wolds Way came from the East Yorkshire and Derwent branch of the Ramblers Association. It became an official National Trail in 1982.

I decided to complete the Yorkshire Wolds Way in March 2003. Since I had moved to Beverley in 2000 I had been uninspired by the flat and open landscape. I was soon yearning for the rugged openness of the Yorkshire Dales that I had grown used to while living in Leeds. Despite the criticisms of the Beverley landscape I had enjoyed some nice walks in the area, particularly to the north west of Hull. It's just they were not challenging enough, no big climbs and no great distances. How could I remedy this? Walk the Yorkshire Wolds Way, that was how.
---
The Walk: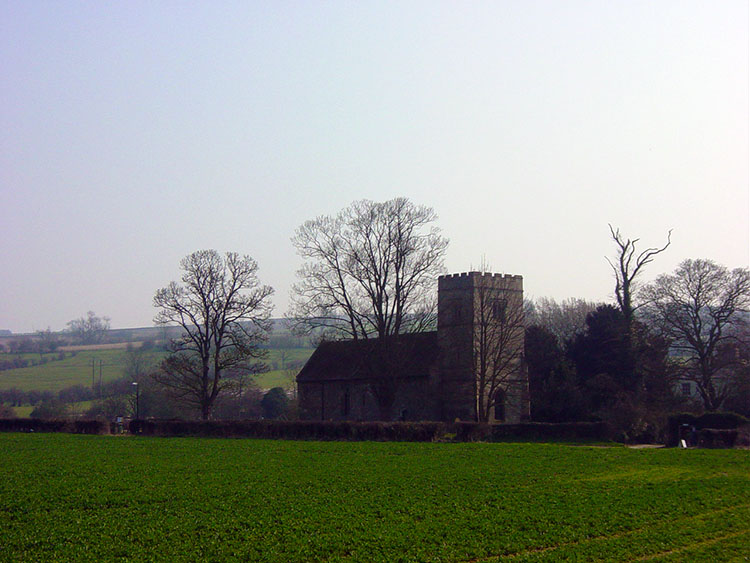 Nunburnholme Church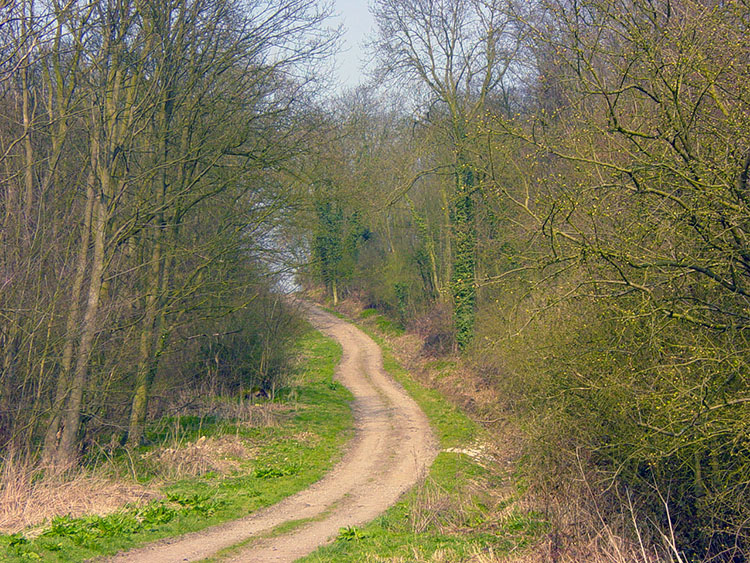 Jenny Firkin Wood
If I was asked to choose one stage of the Wolds Way to recommend as an introduction to walkers new to the area then this would be it. Between the start outside Nunburnholme church to the finish in Thixendale village lies some lovely viewpoints and wonderful dales. The walk begins by climbing out of Nunburnholme into Bratt Wood and further up through the wood to a crest near Wold Farm that commands splendid views of the town of Pocklington and of Kilnwick Percy House with its landscaped gardens and park. Continue on the marked way to Low Warrendale Farm that is fortunate to neighbour the lovely Warren Dale and Jenny Firkin Wood.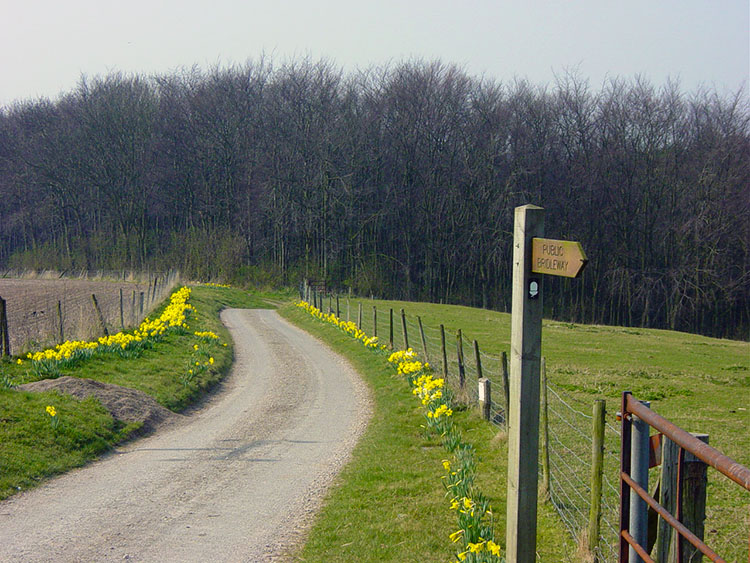 Path near Kilnwick Percy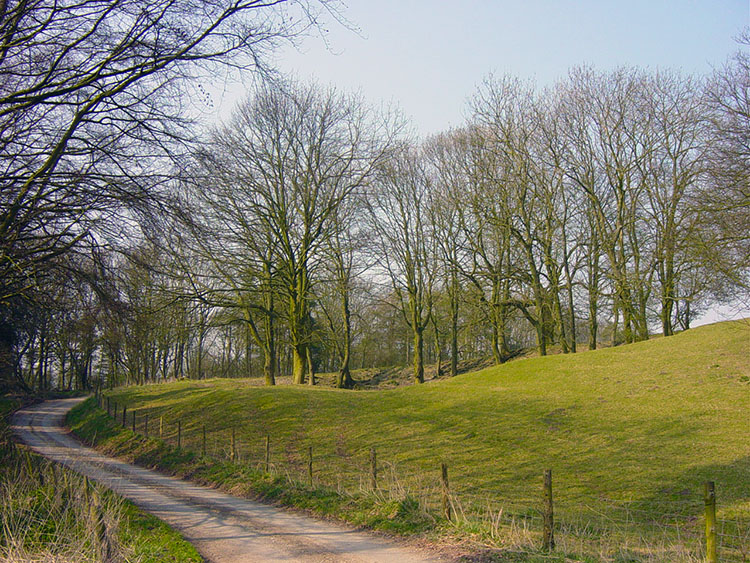 Warren Dale
Follow a bridleway from Low Warrendale Farm to the public road and when you reach it turn right to climb steadily up a field and then alongside the edge of Warrendale Plantation until you cut left at the end of the tree line. Note you are standing at 200 metres above sea level now, a heady height for the wolds and 150 metres higher than from which you started.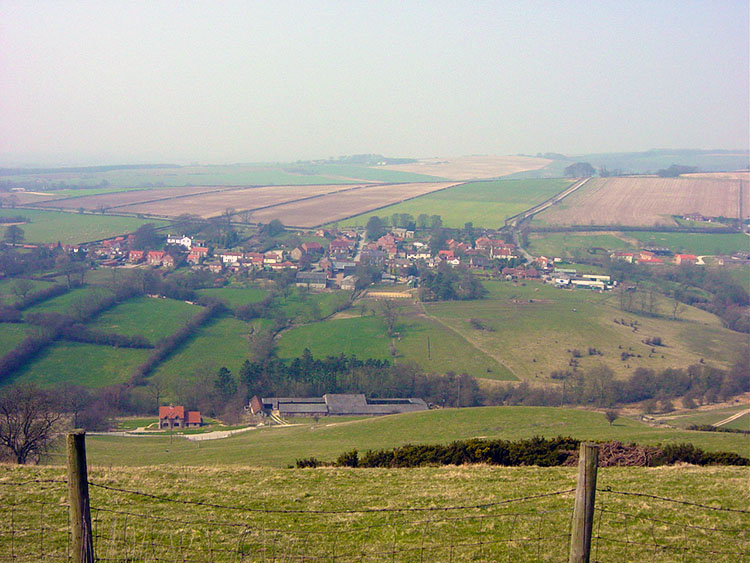 Looking towards Millington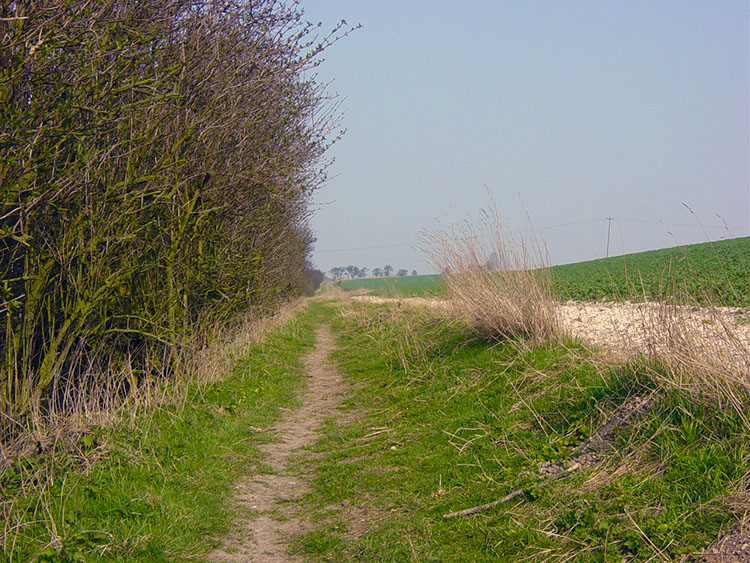 On the Chalkland Way
You will realise you are high when you have crossed the field because the land opens up in front of you as you walk to the edge of a ridge that gives great views of Millington village and the surrounding countryside. (by the way, take note to look out for the Millington Way Posts during this section of the walk) This view is with you for some time as you walk towards Warren Farm and further to the fringes of Sylvan Dale.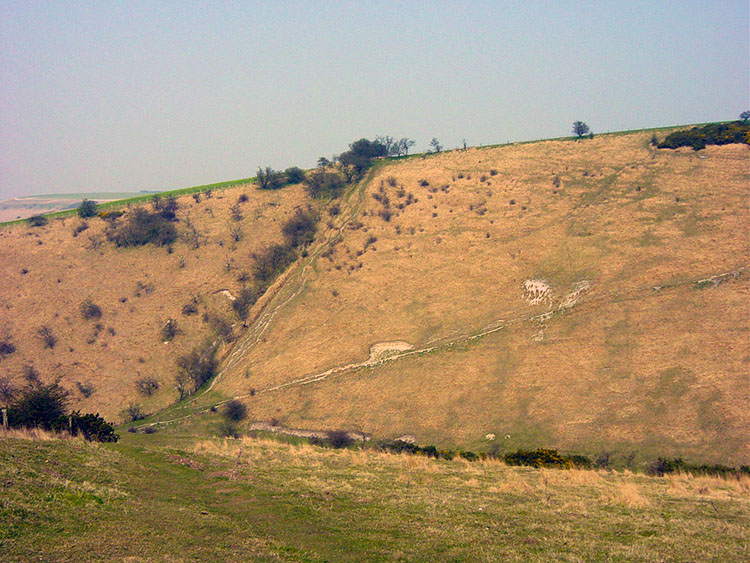 Sylvan Dale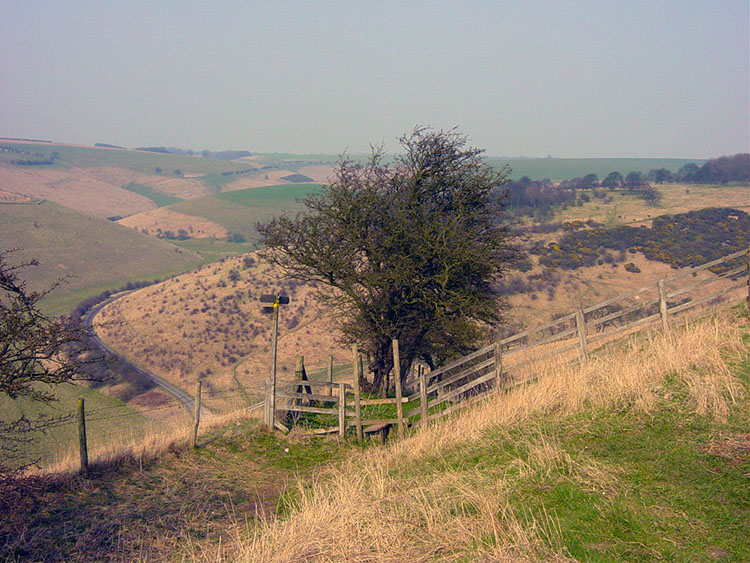 Cow Moor
Sylvan Dale is one of the most inspiring places in the whole of the Yorkshire Wolds. As its name suggests it is exquisitely presented. As you approach it Sylvan Dale opens up in front of you and as you follow the track to the point of descent take a moment to look left and right along the contours of the dale. It beguiles but do not be seduced as there is a brutal climb to escape from it. It seduced me though being such a wonderful dale and though it has not got the woodland the name implies (dictionary term: sylvan = wooded and rural) it is a striking place. I took the opportunity to lunch in the sun trap at the bottom of the dale before steep and arduous climb out to Cow Moor.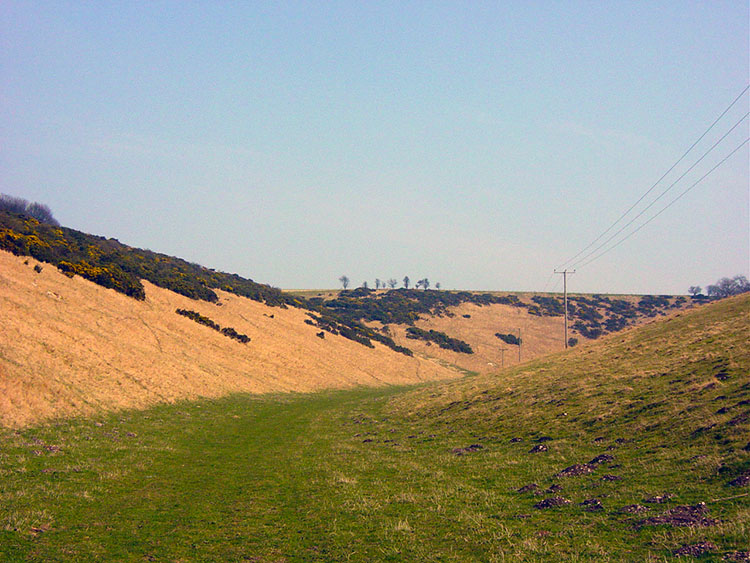 Nettle Dale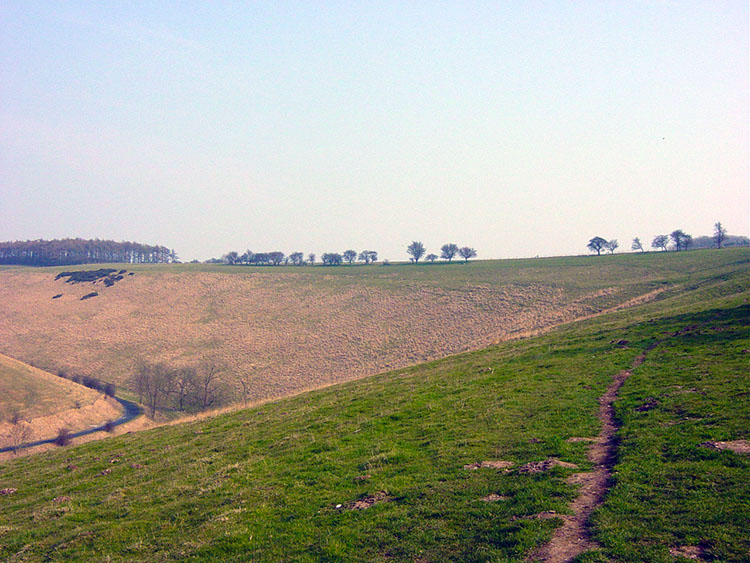 Wolds Way path above Pasture Dale
From Cow Moor I continued along my merry way to Nettle Dale which had no sting, it was simply the latest in a series of beautiful dales to walk through. After Nettle Dale walk through the wooded avenues of Jessops Plantation and then follow the ridge of Pasture Dale until you emerge at a road junction. This last few miles has been a walk through or over dale after dale. It was a quiet and delightful few miles. There follows a three mile interlude into normal rural walking alongside cultivated fields and on bridleways and roads around the fringes of Huggate village until yet another dale is reached. This is Horse Dale which you descend into and shortly afterwards Horse Dale leads to a walk though Holm Dale.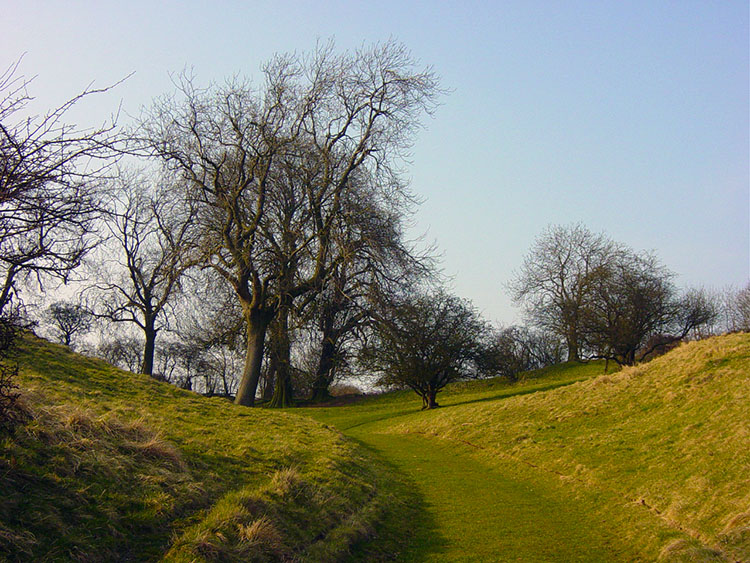 Holm Dale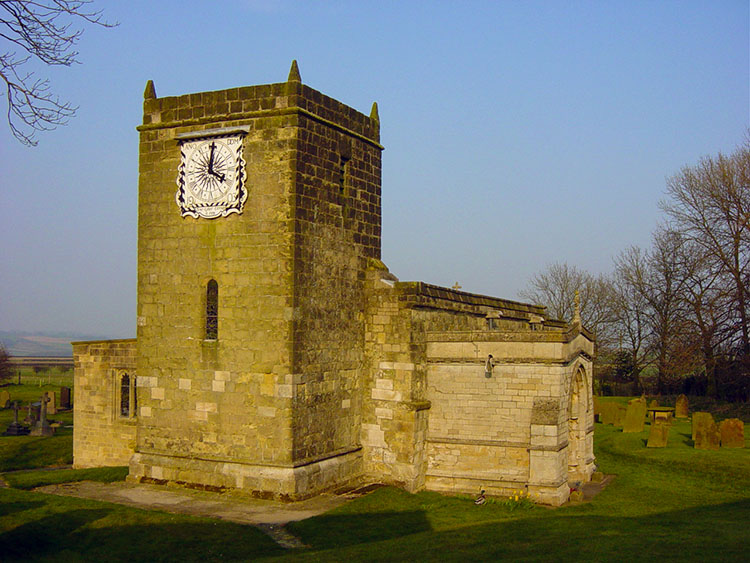 Fridaythorpe Church
The walk along the bottom of Holm Dale, a fantastic enclosure that you follow for about a mile ends with a climb out of it to the village of Fridaythorpe. Take care when crossing the busy A166 road and then take a detour to visit the quaint church with its unusual clock face that bears the inscription "Time is Short, Eternity is Long".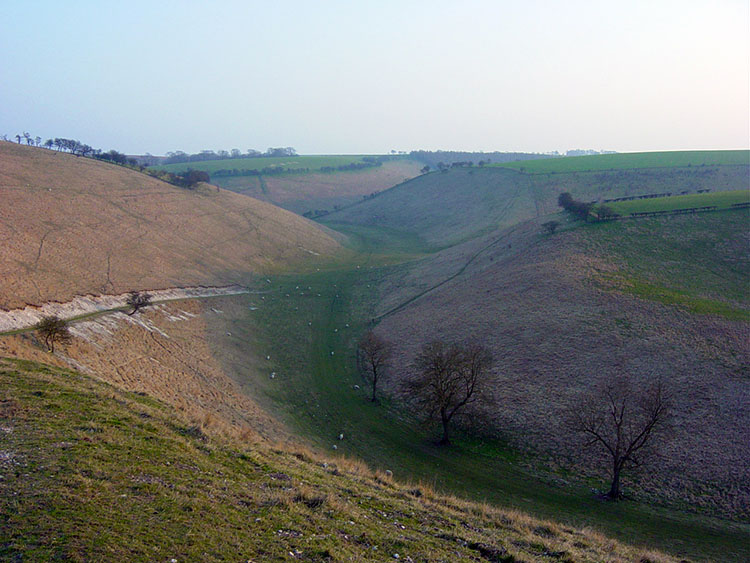 Brubber Dale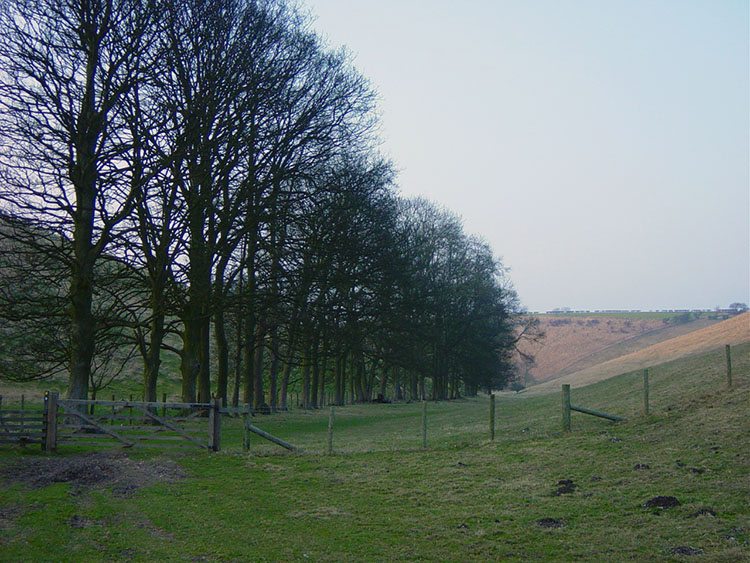 Thixen Dale
From Fridaythorpe follow the trail to West Dale and then Brubber Dale until crossing to another awesome place, Thixen Dale. You firstly drop into the dale and then turn sharply almost upon yourself to follow the dale out to the village bearing its name. This leg finishes in the village itself outside the church. This leg has been the best days wolds walking I have ever done. I look forward to continuing on to the walks to ending in Filey in 35 miles time. I am over half way having done 44 now.
Copyright © 2003-2023 Walking Englishman. All rights reserved.