Yorkshire Wolds Way
A personal record of my walk the Wolds Way with written journal and photographs. Tracklogs for GPS units and for use with Google Earth are available for download for each stage.
---
Stage Four: Thixendale to West Heslerton
Google Maps
Open Source Maps
| Statistics | |
| --- | --- |
| Thixendale village | Distance: 14.2 miles (22.9 km) |
| Grid Ref: SE841611 | Time: 6-7 hours |
| Climbing: 538 metres | Rating: Hard |
| GPX Route File | Google Earth File |
Ordnance Survey Explorer Map (1:25,000)
Summary: The 76 miles of the Yorkshire Wolds Way includes 40 miles of footpath and 16 miles of bridleway. The remaining 20 miles is either minor road, public path or byway open to all traffic. The idea for the Wolds Way came from the East Yorkshire and Derwent branch of the Ramblers Association. It became an official National Trail in 1982.

I decided to complete the Yorkshire Wolds Way in March 2003. Since I had moved to Beverley in 2000 I had been uninspired by the flat and open landscape. I was soon yearning for the rugged openness of the Yorkshire Dales that I had grown used to while living in Leeds. Despite the criticisms of the Beverley landscape I had enjoyed some nice walks in the area, particularly to the north west of Hull. It's just they were not challenging enough, no big climbs and no great distances. How could I remedy this? Walk the Yorkshire Wolds Way, that was how.
---
The Walk: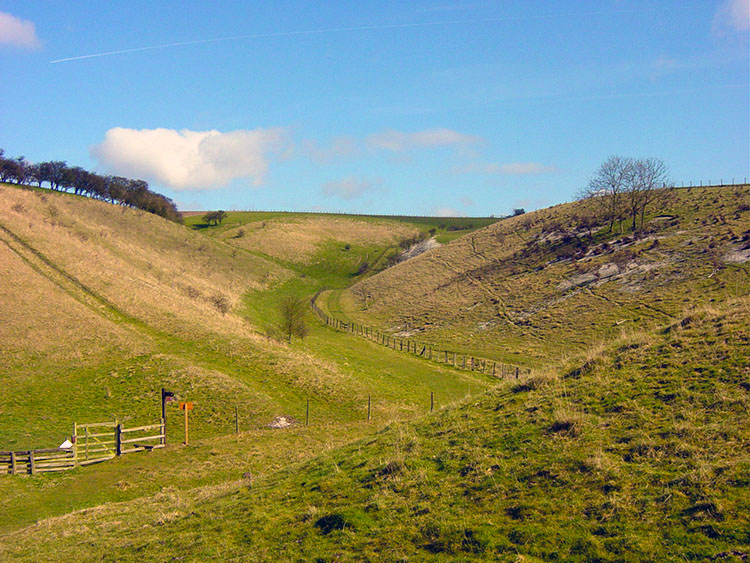 Vessey Pasture Dale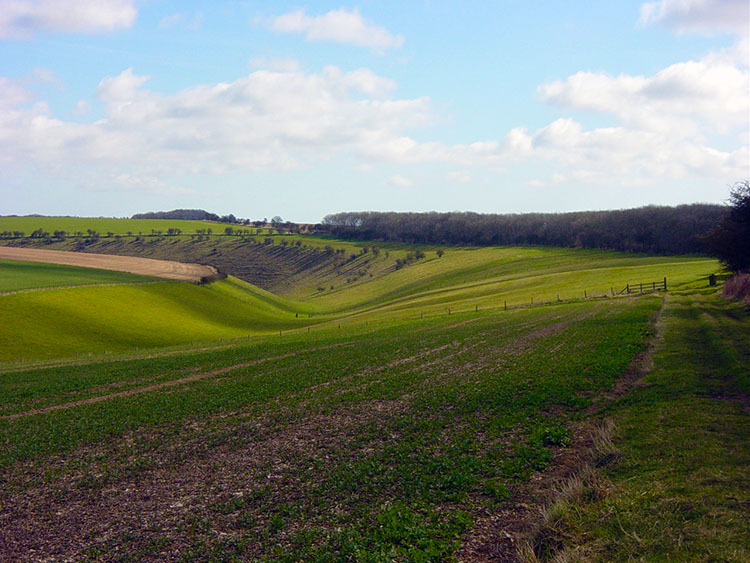 Approaching Deep Dale
After the last stage and the roller-coaster ride of dale upon dale this stage is more 'open land' that provides more opportunities to view areas some appreciable distance away. It is a subtle but distinct change that takes place giving the walker the feel that they are leaving the inland dales of the wolds and heading out into more open terrain and the coastal goal. However there are still fantastic dales to be enjoyed, just not so many. Indeed the next dale is not too away from today's start in Thixendale village. I left the village on another fine sunny spring day although the cloud had just begun to build up. It is a stiff climb out of Thixendale following a bridle until you level off at just over 200 metres at Cow Wold Barn. Cross a field and climb a stile that leads you to the descent of Vessey Hill into Vessey Pasture Dale. Enjoy a quiet walk through this lovely dale until climbing out onto the open countryside.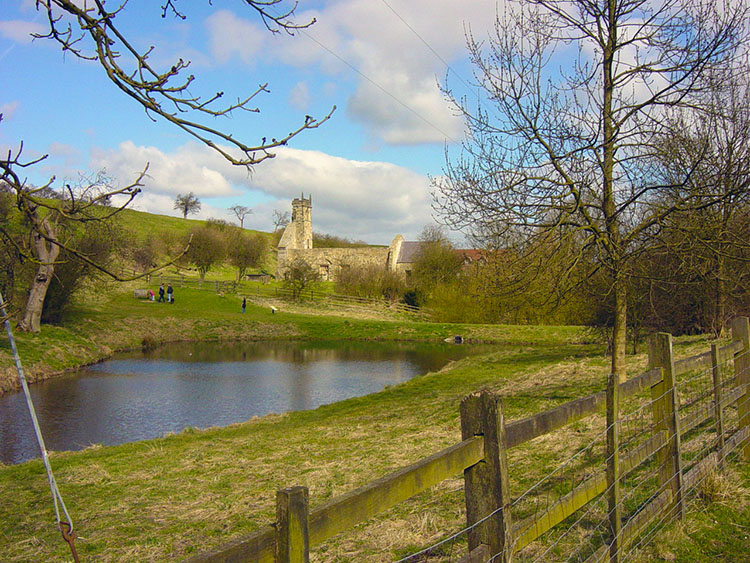 Wharram Percy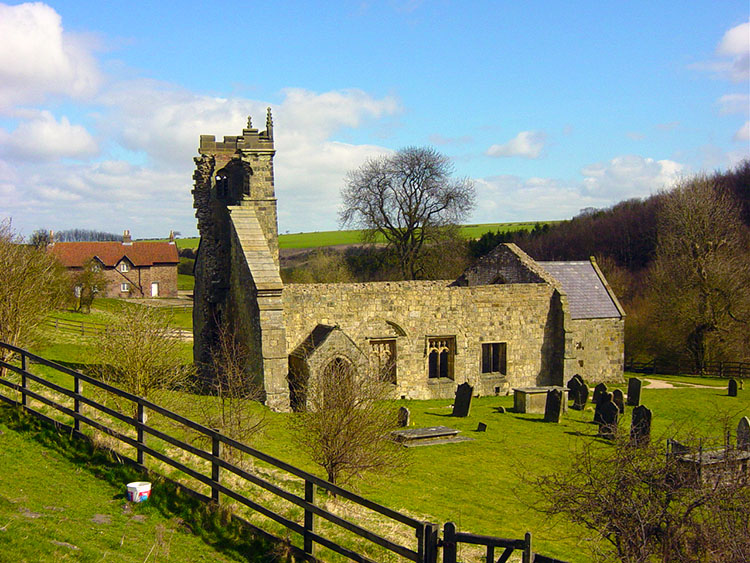 Wharram Percy Church
The next two miles are now spent on the tops as you cross huge pasture fields looking to your left at Wharram Percy Farm that is open to your view only. Its other three sides are surrounded by the farm plantation. Once you have past the level of the farm it will no longer attract your attention. This will be now focused on the opening dale directly in your path. This is Deep Dale which you skirt round to its right. As you reach the head of the dale look to its far end. On a clear day you will see a church and large house. There is more to see besides once you reach one of the most celebrated deserted villages in the country. This village is Wharram Percy. The Church is at the heart of the deserted village of Wharram Percy which has evidence of Iron Age origins, a medieval history and a recent past. The village was cleared by the landowner in favour of sheep in the 16th century but the church (partly) and the railway house (fully) stand as a ghostly reminder to the village's past. I always stop for a while to contemplate at the village, I am sure you will too.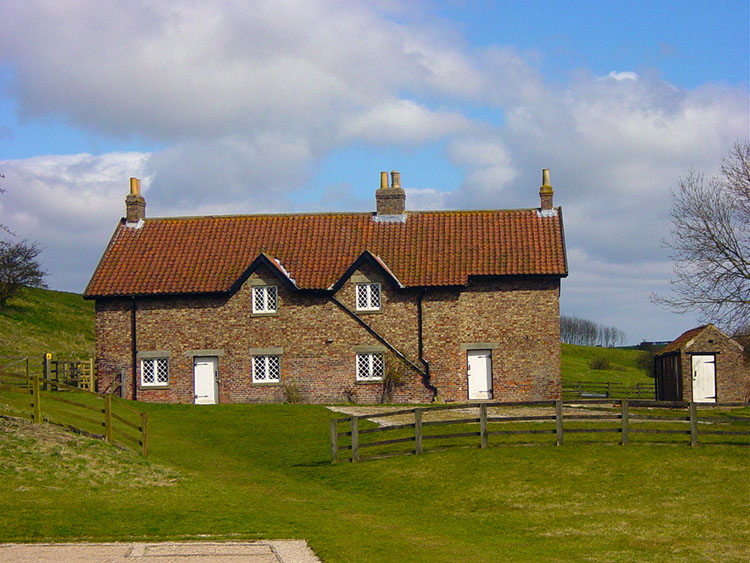 Houses in Wharram Percy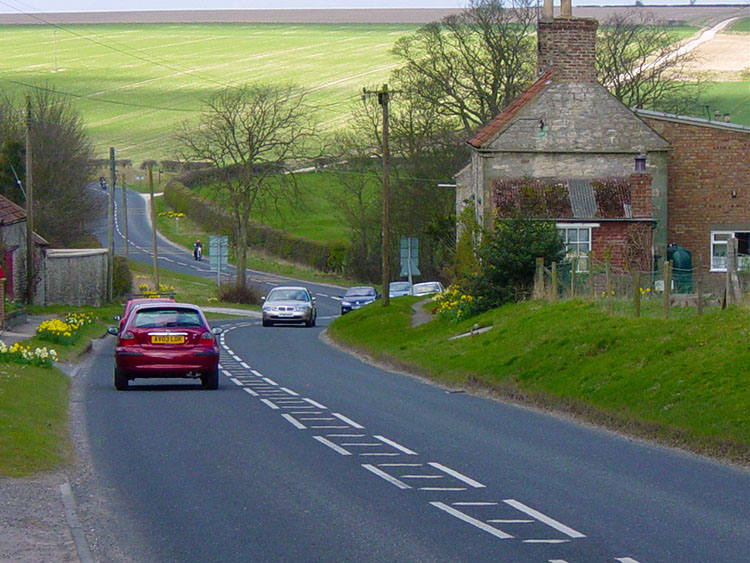 Wharram le Street
I lingered in Wharram Percy as long as I could, Knowing I had more miles to go before finishing todays stage. I took a final glance at the pristine houses of the ghostly Wharram Percy and turned my attention back to the continuation of the Wolds Way. After the village I walked along the little beck to follow a bridleway past a disused quarry until you reach railway house. Here rejoin the road and walk into Wharram le Street. Beyond Wharram le Street, which stands on the busy B1248. Take care crossing the road.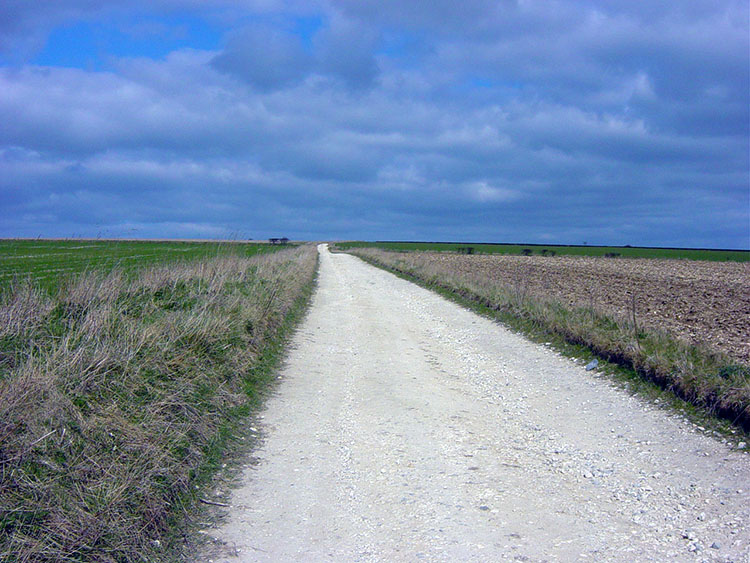 Broad Balk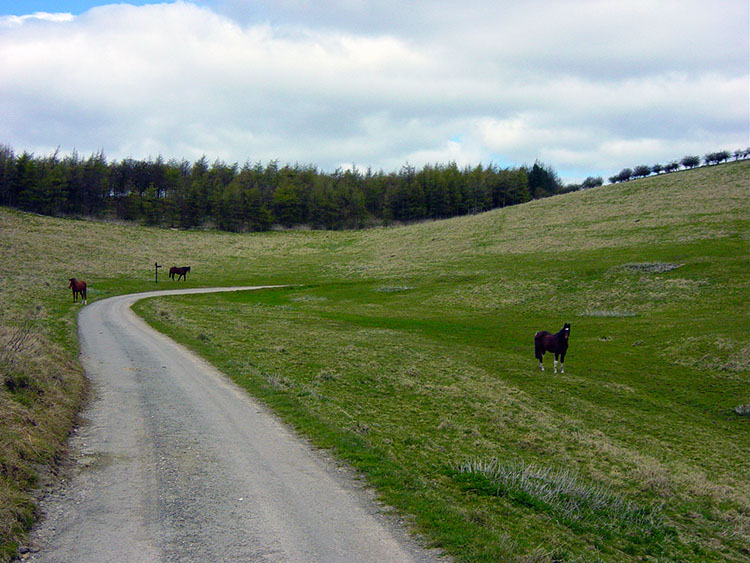 Nine Spring Dale
From Wharram le Street follow the Broad Balk bridleway which is followed to the crossing of High Street. This is a wide open agricultural and nondescript section of the Wolds Way so keep a steady pace up to High Street. Once the road is crossed you are stood on a hilltop and you will see Nine Spring Dale directly ahead. The western fringe of the dale is your goal so follow the signs that lead you past a barn to The Peak. Drop down from The Peak to Whitestone Beck and cross to climb to Wood House Farm.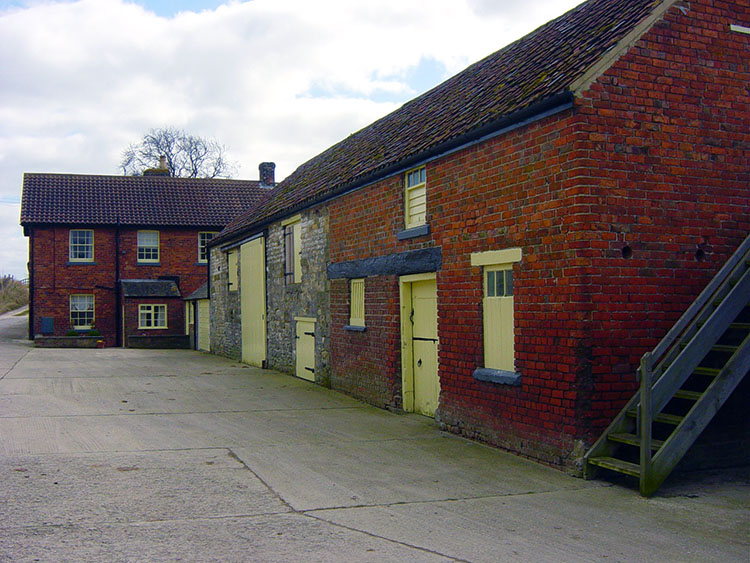 Stables at Wood House Farm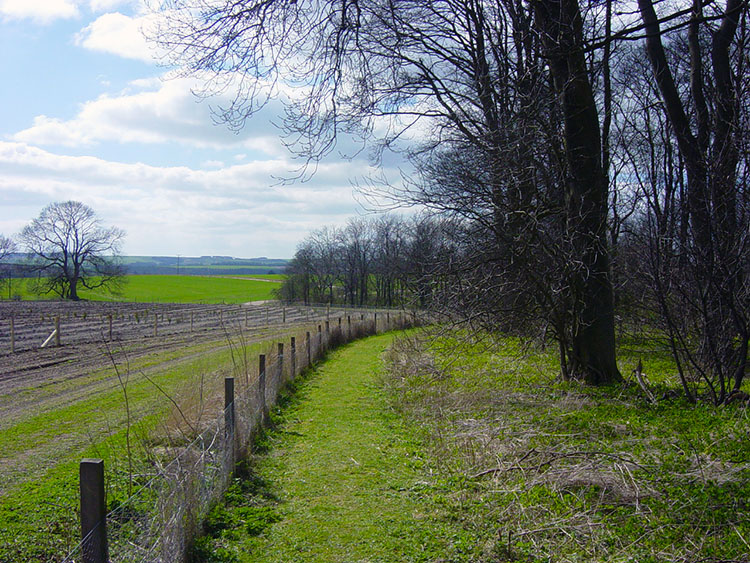 Near Settrington Wood
Wood House Farm is home to some fine horses, the farm having diversified to quality equine stabling. From Wood House Farm head to Settrington Wood and climb to Settrington Beacon. Cross the road and continue into Beacon Wood passing a Trig Point on your left.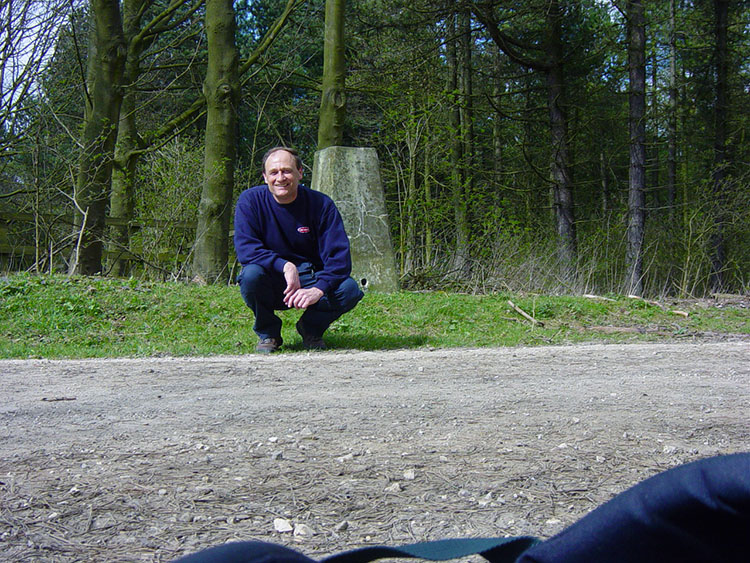 Trig Point at Settrington Beacon, Height 199m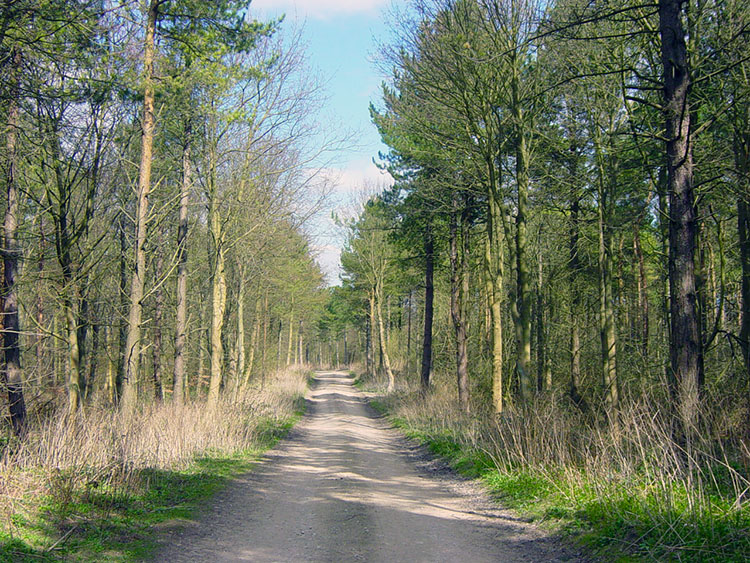 Beacon Wold
The trig point at Settrington Beacon has a height of 199m but it is not quite the highest point on the Wolds Way. You passed that high point earlier today as you climbed to the north side of Vessel Pasture Dale at Ordnance Survey grid reference SE836628. Then you were at the heady height of 216m. Still you are beside a trig point so enjoy the moment. From the trig point follow the path northwards through Beacon Wold which houses a plantation.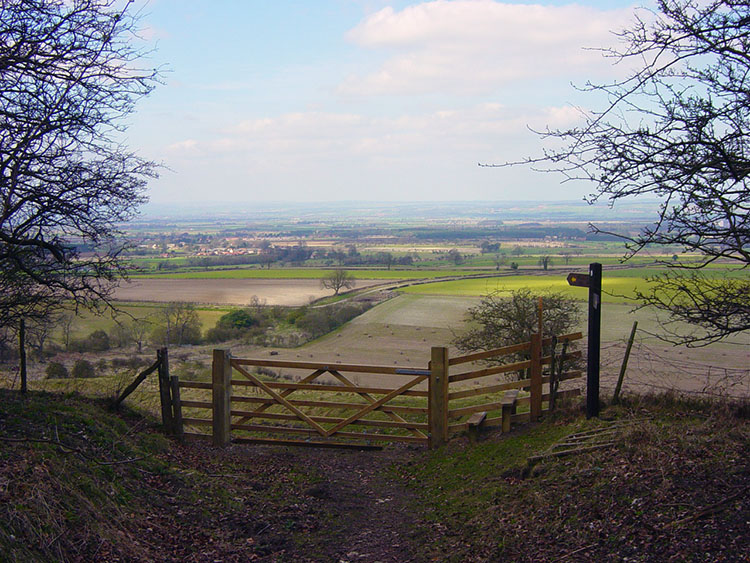 View from Basset Brow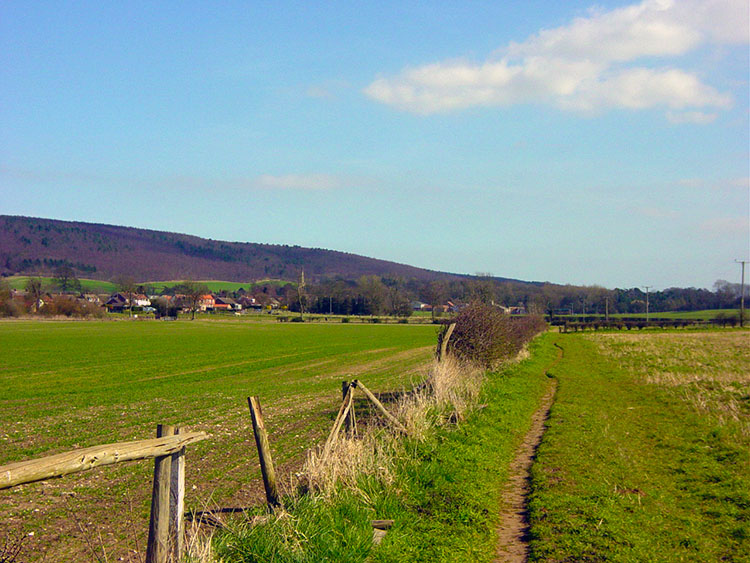 Approaching Wintringham
When you leave the plantation on Beacon Wold at Basset Brow there is a short and fairly steep descent to a road that you follow for over a mile until cutting left by a closed reservoir to cross some fields and a beck to the village of Wintringham. At the village skirt around it and follow a bridleway towards the villages distinct church spire and then climb steadily into Deep Dale Plantation. Then make a much stiffer but thankfully shorter climb out of the plantation and cross some high farmland to the edge of Knapton Plantation.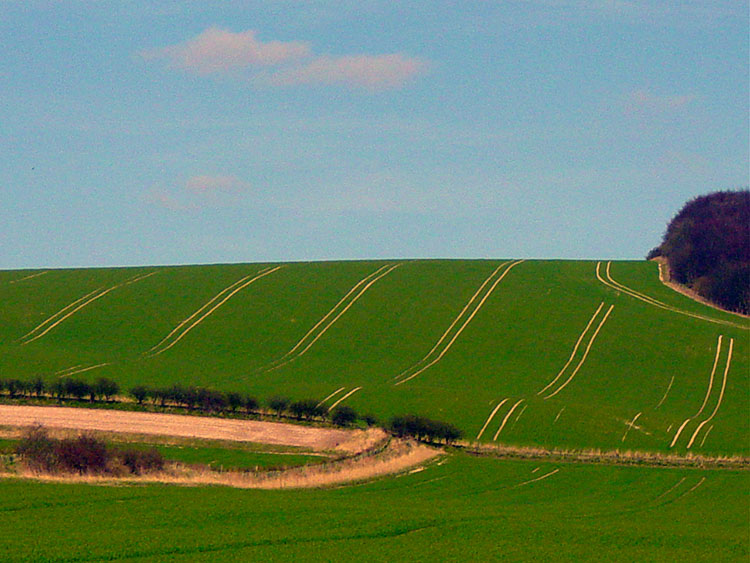 Yorkshire Wolds scene near Knapton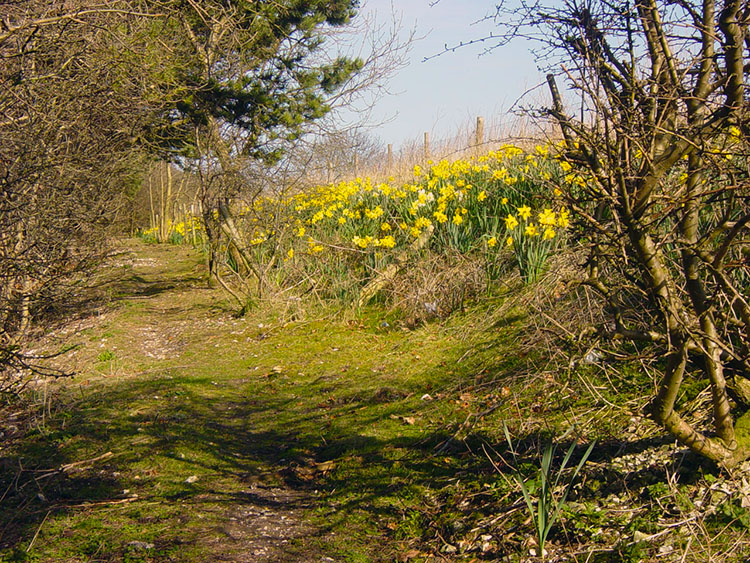 Daffodils on the Wolds Way at West Heslerton Brow
You walk just inside the plantation on the edge of the escarpment. My walk was done at the best time as it was now wonderfully sunny and the daffodils were out in full bloom to brighten my walk even more. From here it was a simple level walk of less than a mile to day's end at West Heslerton. A lovely days walking with a number of lovely dales, some lovely sights and just a couple of 'head down' tracks particularly after Wharram le Street and before Wintrington. I am now looking forward to the final stage and my walk into Filey to complete my 'Wolds Way'.
Copyright © 2003-2023 Walking Englishman. All rights reserved.