Mount Everest Base Camp Trek

Summary: This is a report of Neal Lever's spectacular trip and walk to Base Camp of Mount Everest, a trip he made in February 2012. During the journey of a lifetime Neal met many new friends, walked in the footsteps of explorers and experienced sights many people can only dream of. Follow Neal's personal report on these pages which includes a good selection of superb photographs. They are an inspiration to all of us who love walking and value the amazing natural world we have.
---
Day 4: Monday 13 February 2012 - Lukla to Phakding
7.30am. The flight to Lukla from Kathmandu was delayed due to early morning fog which, from what we gathered, is a regular occurrence. The wait seemed forever and I was not feeling great with waves of wanting to die and then vomit followed by reprieve for a while. After two and a half hours delay we took off and the journey had started. We were all crammed into a twenty seater Twin Otter aircraft including air stewardess who did not have a lot to do except offer boiled sweets round, "er no thanks I'll puke". The flight to Lukla was unbelievably breath-taking, I was flying over the Himalayas for the first time and I knew then it would not be my last. You could see many small communities below which looked entirely self-sufficient with terraces of planting all around and cattle, mainly yaks and goats. Miles and miles of the toughest terrain and yet lived on, it was amazing.

The sudden drop in altitude of five hundred feet or so was a bit hair raising, ask any of the screaming women, then also the realisation that we had to land on nothing but a postage stamp of a runway. The runway is only fifteen hundred feet long and tension was running high. With a successful landing and mountain air in my lunges I was soon feeling a lot better.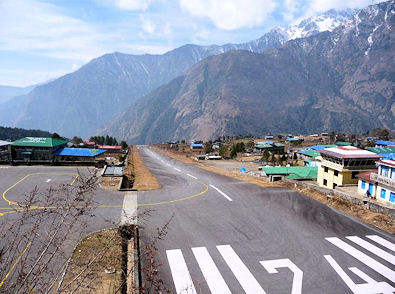 Lukla airport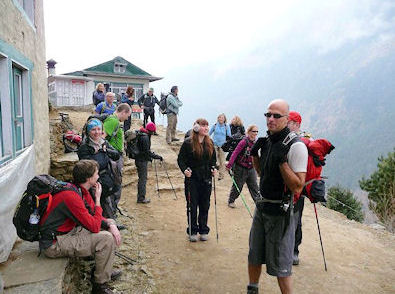 The start of the trek
We had a three hour trek to Phakding which was a gentle beginning to the holiday. Starting the trek was eagerly awaited and setting of through the streets of Lukla was as good a start as any. We did stop at a lodge that we would eventually stay at on our trip back down from Everest.

A drink of tea, how civilised I thought. I am sure when I say this that the whole party (16 of us) would agree. We never drank so much tea in two weeks before in our lives. But it was rather pleasant and refreshing. The stop was brief so we were soon on our way, Yak train and all. As we set off I was thinking to myself, "I wonder what Hillary would have made of Lukla now". Remember there was no airport when he first arrived at Lukla and his party would have to have trekked for a further two weeks just to get here. Hillary built Lukla airport in 1964 with views to transport the supplies for the Himalayan Trust projects in the Khumbu region. At that time, Hillary purchased the farm land on behalf of the government of Nepal for a total of $635 which was quite a substantial sum in that area in those days. Lukla lies in the Solu Khumbu region at the height of 2840mts above sea level where most people begin and end their adventure in the region.

Lukla airport is the well-known high altitude airport that people usually refer to as the gateway to Mount Everest. It witnesses a constant flow of trekkers and mountaineers towards the most popular Everest base camp in Nepal. Today, somewhere between 90-95% of the foreign nationals who reach Lukla will arrive by a half hour flight from Kathmandu. Lukla is quite a big town now with all mod cons. Internet cafes, bars, shops and hotels. A very different place but still basic to most westerners who visit I am sure.

The three hour trek was mainly downhill through Rhododendron, magnolia trees and pine forests all of which were not in bloom this early in the season. Still it is very quiet at this time of the year and that is the trade-off. We reach the village of Phakding passing through several small settlements with prayer wheels, flags, pointed Mani stones (prayer stones), tearooms (lodges) and shops. One thing is for sure, the immediate beauty of this valley overwhelms you and is intoxicating. "It is a camera fest" said Chris, making the comment you feel obligated to point and press your camera in every direction and he is right the initial views are magnificent. The crashing of melt water rushing down the valley in the form of the Dudh Kosi (or 'milk river') so named because of the water foaming white whilst rolling over the by now well rounded stones. We cross the river for the first of many times during our trek on a newish built suspension bridge. Many of these bridges are next to or above the original bridge, probably built by Hillary all those years ago.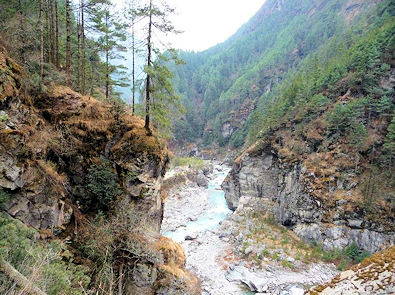 Dudh Kosi (or 'milk river')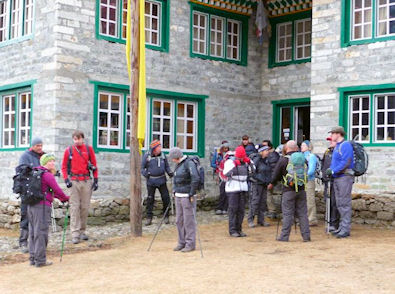 Outside 'Mountain Resort'
Our first teahouse (lodge) is called simply "Mountain Resort" and seems quite new. The main room is 30ft square with window benches around three sides and tables up to them with chairs on the other side. In the corner of the room there is a bar that serves, amongst beer and wine, provisions like chocolate, crisps, biscuits and more importantly water and toilet paper. In the middle of the room is a log burner which I might add is the only heating in the whole building. The bedrooms are very simple, two single beds a small table in between and a ceiling light. The height of luxury.

There is one toilet between sixteen of us and it is an Asian style squat toilet. I feel we are going to get to know each other very quickly indeed. There is a shower available in this tearoom, a propane run shower but we are all a bit dubious as we have heard a tale of a guy collapsing from a leaky gas pipe.....not one person rushes for a shower, still its only day one and nobody seems to smell that much. This is typical of the accommodation that we will be spending our nights staying in although the higher we climb towards Everest the more basic the lodgings become. My first mountain meal was tomato soup, not too adventurous I know but I am still not feeling too good and did not want to be up and down to the loo all night. Everyone else's meals looked great though. The variety of food is not bad, such food as pasta, noodles, rice, all with vegetables or eggs. There are potatoes of all types and the infamous Dhal bat, a traditional Sherpa curry usually with no meat but is very tasty indeed, just ask Katy "the dhal bat queen". If meat is available it is normally chicken or Yak steak which tastes great but will need more than false teeth to disperse it. Sherpa stew (thick soup) is normally on all menus and was a trekking favourite with our expedition. Although it did vary in heat (spicy) and was a lottery for those who did not care for chillies, the hotter the better as far as I am concerned.

Early to bed for me (9pm) as I am hoping to recover overnight and eat the breakfast I have just ordered for the morning, omelette with two toast with honey and black coffee. Don't want it reappearing!
Copyright © 2003-2020 Walking Englishman. All rights reserved.