Mount Everest Base Camp Trek

Summary: This is a report of Neal Lever's spectacular trip and walk to Base Camp of Mount Everest, a trip he made in February 2012. During the journey of a lifetime Neal met many new friends, walked in the footsteps of explorers and experienced sights many people can only dream of. Follow Neal's personal report on these pages which includes a good selection of superb photographs. They are an inspiration to all of us who love walking and value the amazing natural world we have.
---
Day 13: Wednesday 22 February 2012 - Pereche to Tengboche
7.00am. I rise to what has become a bit of a morning ritual, porridge with black coffee. Today, people are feeling a whole lot better which is good, apart from Chris, who is still suffering from shall we say, not wanting to wander too far away from the loo! It is amazing though, the drop in altitude and your wellbeing go hand in hand. Even breathing in is so much easier. The journey today starts with quite a few metres drop to the valley floor and we cross the Dudh Kosi (or 'milk river') river on our first suspension bridge for what seems like ages. The river is raging more and more fiercely as we descend and with the joining of other valleys and the fact that the temperature has risen quite dramatically melt water is swelling the river. I am walking today in shorts and just a base shirt although it is still chilly in the shadow of the pine trees and rhododendrons bushes that line these well-trodden paths.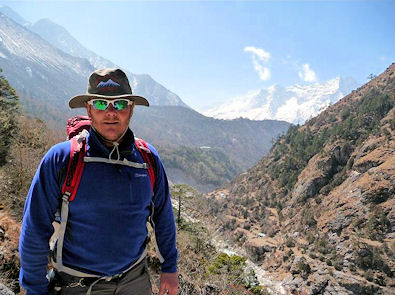 In need of a shower and shave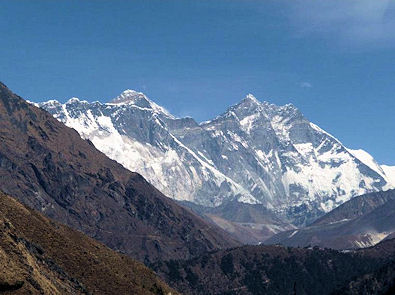 Everest towering over Nuptse and Lhotse
I think of Hillary and his team seeing these beautiful valleys for the first time in full bloom. As I have said earlier we are too early in the season to see that but there are some small wild flowers starting to show. Much sunshine has melted all but high snows by now. Very different from our upward leg. We pass many plants; heather, gorse and wild berry trees that in a month or so will be exquisite in colour. The trade-off is less traffic, you can't have everything. Even on our second day down there is more traffic going up in the guise of Yak trains full with provisions for base camp. It is being taken up to Gorak Shep ready to be moved on. In only a month from now base camp will be bustling.

Lunch at Pangboche is good and I stare through the window to the side-on view (not the best) of Ama Dablam (6814m). This mountain will have etched a lifelong lasting impression on most people's minds for its magnificent splendour and for the fact that the summit looks inaccessible.

We finish todays walk with a steep climb back to Tengboche only to be greeted by monks playing cricket, astonishing. I drop my rucksack down outside our tearoom destination to be welcomed by the ritual cup of tea but I am hot and thirsty and only a beer will do. The tea is soon replaced with an "Everest Beer" and it tastes exquisite. Quite a few have a beer or a cold drink as the temperature is unbelievable. The sun has not stopped shining for days and although it is still cold at night it must be mid-sixties at the moment.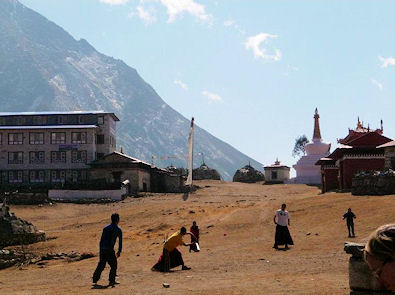 Cricket at Tengboche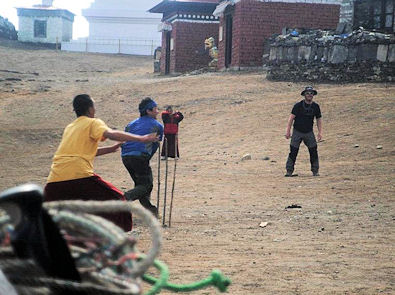 Dowa smashing me for six
The cricket seems to be played in good spirit and it's not long before Dowa (one of our Sherpa's) invites me to play with him and the monks as he knows them well. I am fielding on the most unassuming cricket pitch complete with the community prayer stooper and a slope all around that would not be conducive to local league cricket back home. To be quite honest everything is acceptable with the vista of Everest and countless other surrounding mountains. I actually could not think of a single better cricket ground around the world including international venues. I take a nice catch on the boundary and for my efforts I am brought on to bowl. I am tossed an indoor type cricket ball (soft) and I am bowling downhill with the breeze behind me to Dowa. I decide to play in the spirit of the game and toss one up to Dowa which he duly dispatches over extra cover for six. Right, that's the game is it Mr Dowa. The next ball is a little more match like and I deliver a beautiful leg spin (disguised with a crap action of course) and knock his off pole down. "Howzat" I cry. There was rapturous applause from my fellow trekkers. The Dowa has fallen.

I played for half an hour or so and felt privileged to be part of their game. Whilst we had dinner that night the monks played football for hours until it was dark. It was good to see and was a great day.
Copyright © 2003-2020 Walking Englishman. All rights reserved.