Mount Everest Base Camp Trek

Summary: This is a report of Neal Lever's spectacular trip and walk to Base Camp of Mount Everest, a trip he made in February 2012. During the journey of a lifetime Neal met many new friends, walked in the footsteps of explorers and experienced sights many people can only dream of. Follow Neal's personal report on these pages which includes a good selection of superb photographs. They are an inspiration to all of us who love walking and value the amazing natural world we have.
---
Day 5: Tuesday 14 February 2012 - Phading to Namche Bazar
5.30 am. Early rise and a good breakfast after a great night's sleep with no illness, hoorah! I ate all of my breakfast, an omelette and toast with honey and a coffee, lovely. I swear nothing tasted as good.

In the morning before you go to breakfast you have to pack you expedition kit bag (unless your name is Joanne then you have to rush around and pack in the morning and always be late for breakfast) and your day ruck sack leaving your kit bag outside your bedroom to be picked up by the Sherpa's. This is then loaded onto the yaks. The Yaks are wonderful creatures with so much power and yet they are mild mannered beasts and are without doubt the best off-roading 4 x 4s in the world and they don't need tyres.

The trek today was some of the best walking I have ever done crossing the valley and river three times on high suspension bridges. We slowly climb up off the valley floor through the pine forest and the last of the large suspension bridges which is one hundred and nine metres long and is as high again above the river. On a cloudless day you get your first look at Everest's peak on this bridge way way up the valley but the cloud kept its secrets for a while longer and to be honest, I was glad.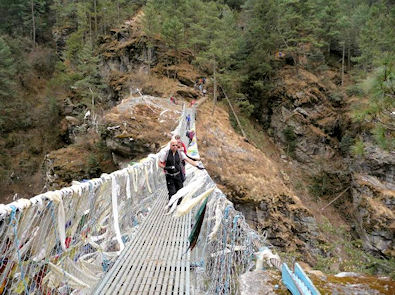 Crossing the suspension bridge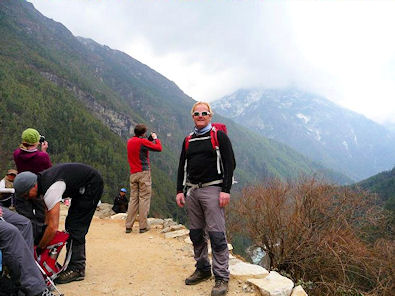 What a view
The walk was some six hours in total with a gruelling five hundred meter climb at the end before reaching the capital of the Sherpa people, the village of Namche Bazar. A couple of weeks before we arrived, there had been a violent storm in which the aftermath was plain to see for all of us. Many trees had been upended or simply snapped in half and although the staff of the national parks had been busy trying to clear all the routes we had to do a bit of off-roading to get by. It was our yaks I felt sorry for but they just took it in their stride.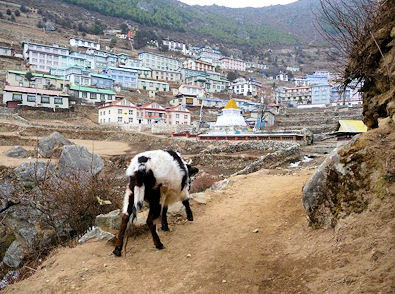 A Yak leading the way to Namche Bazar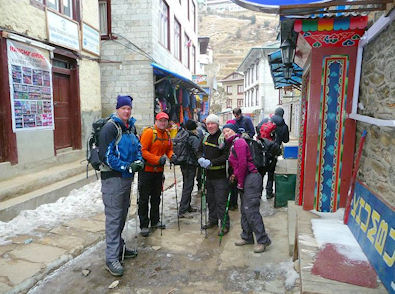 Namche Bazar
Tea on arrival as every lodge does, lemon tea seems to be the favourite to deal with the ever drying throat (due to the extremely cold and dry air) although there are many other teas like Masala tea, ginger and cinnamon to name but a few and all available with honey. After a brew we all do a bit of kit shopping as it is so cheap here in Namche Bazar and haggling is the norm. I manage to buy a few hats for the boys back home oh and some more bog roll....very important. It fell dark quite soon and very cold.....to the lodge I heard my inner self cry, anyway it was almost dinner time.

On the menu tonight for me was; veggie Pahora (similar to pakora) then veggie fried rice with chocolate pudding to follow and yes all washed down with tea, lemon tea to be precise. We have a meeting every night after dinner just to go through the following days trek. After selecting the following mornings breakfast, which is bizarre after just eating dinner, time is pushing on to bedtime. Bedtime came at the right time because quite a few were feeling the effect of AMS (acute mountain sickness) for the first time, slightly woozy, light headed but nothing serious but I will speak about this again further on. I have a full on cold by now and feel I should apologise to all on our trip for the constant coughing at night and retching during the day, sorry. I hope everyone can sleep tonight, oh er porridge with honey and black coffee for breakfast.....sweet dreams.
Copyright © 2003-2020 Walking Englishman. All rights reserved.