Mount Everest Base Camp Trek

Summary: This is a report of Neal Lever's spectacular trip and walk to Base Camp of Mount Everest, a trip he made in February 2012. During the journey of a lifetime Neal met many new friends, walked in the footsteps of explorers and experienced sights many people can only dream of. Follow Neal's personal report on these pages which includes a good selection of superb photographs. They are an inspiration to all of us who love walking and value the amazing natural world we have.
---
Day 15: Friday 24 February 2012 - Phakding to Lukla
7.30am. It is the last day in the mountains and I feel a touch of sadness. This will be a hard place to leave behind and in three days I will be back home and everything will be but a memory. Fifteen people that I shared a magical place with will all go back to their normal lives. A Doctor, Physio, Policeman, Psychiatric nurse and business people to name but a few will all miss this place and I am sure at some point in their lives they will return.

After a good night's sleep and a large breakfast in the morning we set off in lovely sunshine. It is now warm enough to sunbathe in and as we have a relatively short distance to cover the pace is slow which is nice. The usual place where the Exodus company stop for parties to eat is not open this early in the year so Nima is sent ahead to choose another place for lunch as they will need at least two hours to prepare food in such primitive kitchens. How they produce the food they do for large groups is beyond me. We have been walking close to the Dudh Koshi River for most of the day. In and out of small towns all in crop planting mode, mainly potatoes in the higher valleys, but here they can grow all sorts from cabbages to lettuce and trade is the normal thing here. The higher mountain Sherpa people will trade sweet potatoes for greens and so on. We climb away from the river for the last time on our way up to Lukla.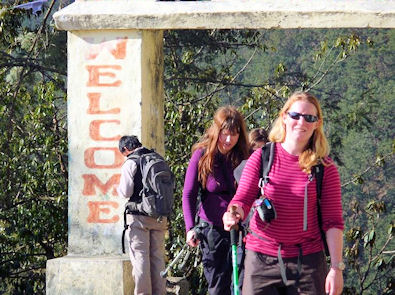 Katy and Joanne at the gates of Lukla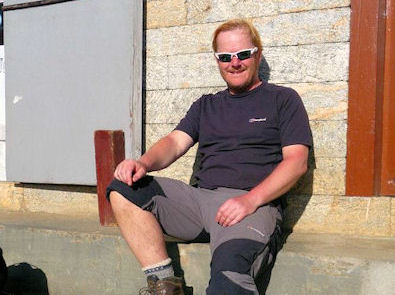 Beer anyone?
We arrive at Chheplung, a small village built on both sides of a mountain steam that runs through down to the main river. A small flour mill still stands here in working condition and will mill flour for many people. We all sit down to lunch, most take of their boots and sit in the sun whilst waiting for their lunch which takes ages to come but no one seems to mind. We spent over two hours there soaking up the rays and chatting the afternoon away. It was a perfect afternoon lunch.

The last climb up to Lukla was steep and intense and surprised most of us. David and I decided to put the gas on which turned into an impromptus race. I came second and I put this down to David's clean living and Cornish air (surf dude) unlike Mill town and heavy beer! We all congregated at the gates of Lukla then with a gentle walk through town we arrived at our digs. We are to stay overnight here and an early flight back to Kathmandu tomorrow.

We have showers and the water is hot no word of a lie hoorah luxury. that simple thing we take for granted back home was so good. I must have been in that shower for ages washing days and days of trekking sweat and muck off. I did not recognise the new smell, Davidoff and Cool Water all the rage you know.

After a great meal, Yak steak (oh my teeth) and chips with veg, the party commenced. We had a great evening and all the staff were thanked. Be under no illusion the staff were brilliant and helped make the holiday what it was which was fantastic. Persang (leader) Nima (chief sadar) Dowa (guide) Tenzing (guide who has since past his leadership) and the Yak man of whom I wish I knew his name where all truly brilliant. We all partied on into the early hours with some fascinating dancing to say the least.
Copyright © 2003-2020 Walking Englishman. All rights reserved.