Mount Everest Base Camp Trek

Summary: This is a report of Neal Lever's spectacular trip and walk to Base Camp of Mount Everest, a trip he made in February 2012. During the journey of a lifetime Neal met many new friends, walked in the footsteps of explorers and experienced sights many people can only dream of. Follow Neal's personal report on these pages which includes a good selection of superb photographs. They are an inspiration to all of us who love walking and value the amazing natural world we have.
---
Day 11: Monday 20 February 2012 - Everest Base Camp and Gorak Shep
4.30 am. I wake up early as we have a long and gruelling day ahead of us with a minimum of nine hours net walking time. It starts with a three hour climb to Lubuche Pass and a rest with a cup of tea of course. After our brief stop it is a three and a half hour push to base camp which is a gruelling climb up and we pass our overnight accommodation at Gorak Shep at 5140m. We are walking on the lateral moraine of the Khumbu Glacier which is a tough path and when you stand still and quiet you can actually hear the glacier moving. The sound is a type of crack or a scraping sound occasionally.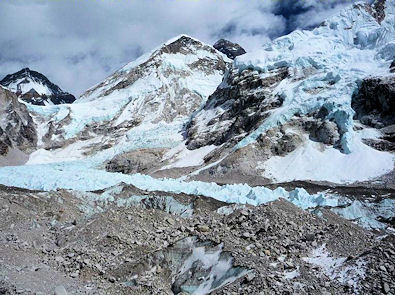 Everest Peak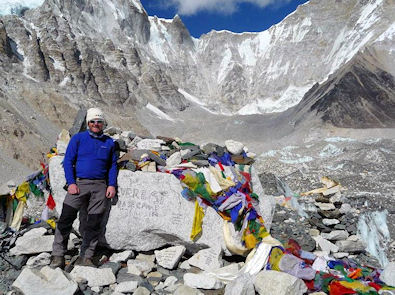 Everest Base Camp 5360m
Everest does not seem to get any nearer and by now we have five of the world's highest mountains in such a small area. I am really struggling now with a full on cold and altitude sickness is creeping in with every step. It is getting increasingly harder. I have to get there. The trail ascends the side of the glacier for a couple of hours before we finally drop onto the glacial moraine itself. Not far to go now. The trail winds up and down through fascinating ice seracs to the area known as Everest Base Camp. We arrive, finally, all of us in various states of health but all ecstatic. We all made it which is a feat in itself as not many groups are complete at base camp. We spend half an hour or so here taking photos and hugging each other etc. One of our group Martin even finds time to strip off down to his very bright pink woolly underpants with sheep on them and well, why not!

It is almost like a natural amphitheatre. If there is an end of the world then you're here. When you look up at the mountains surrounding you it makes you feel there is no further to go. Absolutely breathe taking and truly a wonder of our world.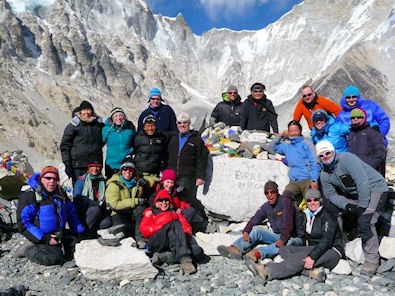 We made it!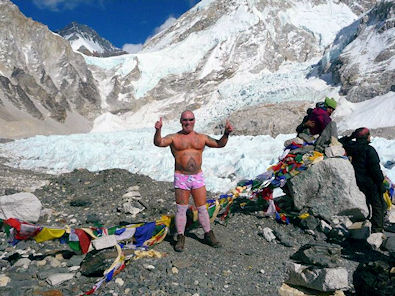 The magical Martin Locker
In two weeks from now the base camp will start to take shape with tents and supplies arriving for the thirty one expeditions from various countries around the world. Pasang feels that there will be several deaths this year as many of the people that come have paid lots of money to climb but have little or no experience in mountaineering. Have no fear this is a brutal place that has thirty five per cent less oxygen available in every breath than at sea level because the air is thinner. Everyone bar me (idiot) is taking Diamox by now and I am feeling the effects of AMS a little more which combined with a cold and the realisation of another three hours or so back to our lodging I am not looking forward to the slog back.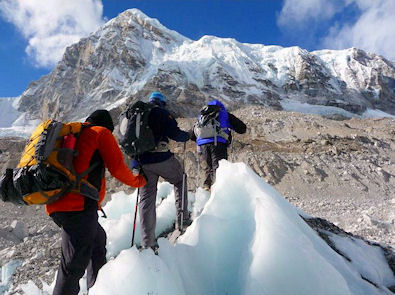 Crossing the Kumbu glacier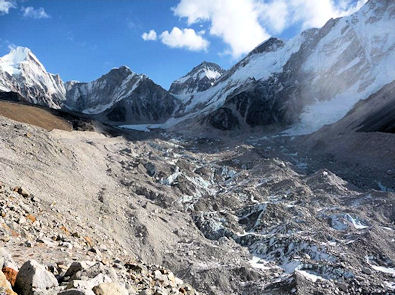 Kumbu glacier
We arrive back in a little over three hours, that's over nine hours walking and this is without a doubt the hardest thing I have ever had to endure in my life. Completely depleted of energy and with no appetite all I want to do is sleep and it's not even seven o'clock. At dinner I can only manage to eat half a bowl of soup. The conversation was a little quiet that evening even though we had achieved something that most people never will. I guess we were all just spent and it is extremely cold inside never mind outside I just want my sleeping bag.
Copyright © 2003-2020 Walking Englishman. All rights reserved.